Call of Duty: Modern Warfare 2 — List of bugs and launch issues
A few glitches and errors to keep in mind.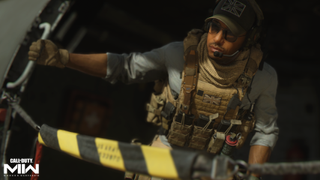 (Image credit: Activision)
Call of Duty: Modern Warfare 2 is here, and while millions players are jumping in across the multiplayer and campaign, there are some issues that a few players are encountering as they're trying to play.
We're keeping track of these issues as we verify that players are running into different problems, as well as responses from teams at lead developer Infinity Ward and the supporting studios on Call of Duty: Modern Warfare 2. Here's the list of bugs and launch issues in Call of Duty: Modern Warfare 2 that we've found so far.
List of bugs and launch issues in Call of Duty: Modern Warfare 2
Unfortunately, the reality is that due to how large and complicated games have become, more often than not, the release of a big game will see a fair few bugs. This is especially true for multiplayer titles, which have to contend with possible networking and matchmaking issues around the world.
- Connection failure "HUENEME - CONCORD"
Details: Sometimes, connections may fail and return the error code "HUENEME - CONCORD," this is due to the way Call of Duty performs connections on Xbox and PC.
Solution: We have a troubleshooting guide for fixing Hueneme - Concord Call of Duty errors over here.
- Helicopter leaving map
Details: Occasionally, the helicopter goes too high and leaves the bounds of the multiplayer map.
Nov. 12, 2022: Infinity Ward is still investigating this issue.
- Server Problems
Details: You might have issues trying to find matches, or get an unspecified error and return to the lobby.
Solution: Because the game's multiplayer opened up on Oct. 28, 2022, so many players trying to play together may be causing some server issues. This problem will likely clear up in the next few days.
- Parties Crashing
Details: Your game might suddenly crash when playing together online in a party.
Oct. 28, 2022: Infinity Ward confirmed via Twitter that the team is aware of this issue, and is currently investigating the problem.
Nov 12, 2022: Infinity Ward says this issue has been fixed, and should no longer cause a problem.
- Audio Errors
Details: You might suddenly stop hearing game audio for a seemingly-random amount of time. This issue seems particularly prevalent on the PS4 version of the game.
Oct. 28, 2022: As shared on Twitter, Infinity Ward has received reports of this problem, and is currently looking into it.
- Menu Access

Details: Players may suddenly be unable to open the menu while in the middle of a multiplayer match.
Nov. 3, 2022: Infinity Ward is currently looking into the problem.
- Driver Stability
Details: When playing Call of Duty: Modern Warfare 2 on PC, you might have issues getting the game to start.
Solution: Beenox, the studio that is handling the PC port of the game, has confirmed on Twitter that there are known issues with NVIDIA drivers 526.47. For now, PC players using NVIDIA graphics cards are recommended to keep on using the 516.59 or 522.25 drivers. NVIDIA has also acknowledged the problem, and will be rolling out drivers to fix the issue at some point in the future.
- Missing Operator/Vault Edition items

Details: A handful of players aren't properly receiving their Oni Operator or Vault Edition items.
Solution: Per Infinity Ward, this requires a license reset. Players need to take the following steps:

1. Go to Settings.
2. Go to Users and Accounts
3. Select Other.
4. Select Restore Licenses.
5. Restart the game.
- APC getting stuck

Details: When playing Ground War on Santa Seña, the APC sometimes gets stuck once it respawns.
Nov. 3, 2022: Infinity Ward is aware of the issue and is currently investigating.
Teething pains
Some issues are expected at the launch of any big multiplayer game, so be sure to keep an eye on this page and official sources, as it's fair to expect most of the major problems will be cleared up shortly after the game's widespread launch. If you're a newcomer to Call of Duty as a whole and you're having trouble figuring out where to begin, consider consulting our Call of Duty: Modern Warfare 2 beginner guide.
All editions of Call of Duty: Modern Warfare 2 are now currently available across Xbox Series X, Xbox Series S, Xbox One, PC, PS5, and PS4. The game also supports cross-play, so you can play together with your friends no matter what systems you all have.
Get the Windows Central Newsletter
All the latest news, reviews, and guides for Windows and Xbox diehards.
Samuel Tolbert is a freelance writer covering gaming news, previews, reviews, interviews and different aspects of the gaming industry, specifically focusing on Xbox and PC gaming on Windows Central. You can find him on Twitter @SamuelTolbert.