Call of Duty: Modern Warfare 2 — Release date, rumors, and everything we know so far
By Cole Martin last updated
Not to be confused with Call of Duty: Modern Warfare 2 (2009).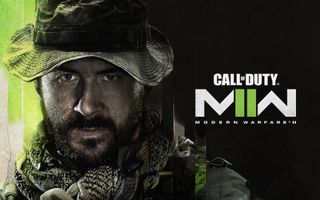 (Image credit: Activision)
Call of Duty, the ever-expanding first-person shooter franchise published by Activision, is one of the few games that players can consistently count on for a reliable release schedule. This year is no exception, as Infinity Ward revealed earlier in 2022 that a sequel to 2019's Modern Warfare reboot was in the works for a fall release while in a call with content creators regarding the state of the game.
After a series of less-than-subtle clues, Infinity Ward eventually unveiled the logo and confirmed that Call of Duty: Modern Warfare II (not to be confused with Call of Duty: Modern Warfare 2, which was released in 2009) will be released later this year. While official details are still forthcoming, there is no shortage of leaks, rumors, and speculation to keep us busy until the game's full release.
Call of Duty: Modern Warfare 2 — First look, reveal, and release date
On May 25, 2022, the Call of Duty franchise unveiled players' first look at Modern Warfare II by maneuvering a massive cargo ship featuring a 90,000-square-foot wrap displaying key art of the returning fan-favorite character Ghost. The cargo ship then docked with a port at Long Beach, lining up with a second vinyl wrap to reveal a giant puzzle. Along with revealing the members of Task Force 141, the event also revealed that Call of Duty: Modern Warfare II will release on Oct. 28, 2022.
A teaser trailer featuring the tagline, "The ultimate weapon is team," was released on June 2 that further confirmed the anticipated reveal date. The trailer shows the squad of Task Force 141 in the back of an armored vehicle as they gear up before heading into combat. An additional set of teasers were subsequently released, including a variety of characters such SNL alum Pete Davidson and streaming personality TimTheTatman.
The trailers were all a lead up to the release of the official trailer on June 8, kicking off the season for game announcements formerly known as E3. Activision is a confirmed partner for the upcoming Summer Game Fest event. The official Summer Game Fest Twitter account revealed that a first look at Modern Warfare 2's campaign gameplay demo would take place during the show.
Call of Duty: Modern Warfare 2 — How we got (back) here
While it initially found its footing as a World War II-era shooter developed exclusively by Infinity Ward, the popularity of Call of Duty led to a massive collection of spin-offs that spanned across multiple timelines. As the franchise grew, it required support at by just about every single studio under the Activision banner. Original development studio Infinity Ward began alternating annual releases with Treyarch Studios and eventually Sledgehammer Games, allowing each team to have more time to work on the blockbuster titles.
In 2007, we saw the introduction of the Modern Warfare spin-offs, beginning with Call of Duty 4: Modern Warfare. This was the first Call of Duty title to shed the World War II setting in lieu of a more modern timeline.
The series went on to include two follow-up entries with record-breaking sales numbers that further cemented the Modern Warfare legacy. In 2016, Call of Duty 4: Modern Warfare was remastered and bundled together with the Call of Duty: Infinite Warfare at launch. Reception for Infinite Warfare was lukewarm, at best, and eventually Call of Duty: Modern Warfare Remastered was released on its own.
During the mid-2010s, Call of Duty titles had taken a turn towards science fiction with more futuristic gameplay mechanics. Fans were becoming more critical of over-the-top movement gimmicks like jet packs and grapple hooks that the titles from this period introduced. However, Call of Duty: Modern Warfare Remastered showed that there was still an appetite for boots on the ground combat in a modern setting. In 2019, Infinity Ward released a freshly modernized and rebooted Call of Duty: Modern Warfare.
Call of Duty: Modern Warfare (2019) is a fresh telling of the events leading up to the creation of Task Force 141 set in the Call of Duty: Black Ops timeline, but it does feature the return of franchise staple character Captain John Price. Following the events of the game, players see Price briefing CIA handler Kate Laswell about potential threats while requesting a few operatives whose names players were sure to recognize — John "Soap" MacTavish, Kyle "Gaz" Garrick, and Simon "Ghost" Riley. Mexican Special Forces operative Col. Alejandro Vargas was revealed via key art showcasing members of Task Force 141.
Call of Duty: Warzone, the free-to-play battle royale that was released as a tie-in to Call of Duty: Modern Warfare (2019), did feature events that tied into the plot for Modern Warfare. However, Infinity Ward has stated that Modern Warfare II will be a direct sequel to the 2019 reboot.
The reveal trailer for Modern Warfare II set the premise for the campaign, with players being briefed on how the fight against Al-Qatala, the terrorist organization at the center of Modern Warfare (2019)'s events, is moving the battle stage out of Iran.
Call of Duty: Modern Warfare 2 — Gameplay, DMZ, and Warzone 2.0
Modern Warfare 2's campaign will feature missions that take players across Europe, Asia, and the Americas. The blockbuster campaign will feature explosive assaults from 30,000 feet above enemy strongholds, along with new vehicular combat mechanics. Call of Duty Insider CharlieIntel shared on Twitter that during a preview event hosted for content creators that showed off several campaign missions, they saw mechanics like rappelling, jumping from car to car, and traversing a waterside port.
Both Modern Warfare 2 and Warzone 2.0 are expected to offer all new AI technology for players to engage with. The AI are programmed to react dynamically to player behavior, have environmental awareness, and will go so far as to work together to flank the player. The highly anticipated sandbox mode was reportedly tested with upwards of 300 AI along with 100 live players, according to CharlieIntel.
Without official confirmation, a lot of details pertaining to gameplay for Modern Warfare II boil down to speculation and rumors. Insider and notorious leaker Tom Henderson, for example, reported that Modern Warfare II will feature a new mode titled DMZ that will be similar in terms of gameplay to Escape from Tarkov. Players would be expected to work together as a squad while acquiring loot across the map before extracting as a team. DMZ is expected to feature multiple large-scale maps and has reportedly been in development since early 2018. However, there was no mention of a DMZ mode during Modern Warfare 2's reveal event.
Call of Duty: Modern Warfare II was confirmed to be releasing with an all-new battle royale, Call of Duty: Warzone 2. There is no official release date for Warzone 2, nor many other details. Following the reveal of Modern Warfare II, it was confirmed that Warzone 2.0 would not be available at the launch of MW2 but would still release before the end of 2022. The two games are being built upon an entirely new engine that will serve as the foundation for all future Call of Duty titles.
Call of Duty's new engine is the most advanced ever for the franchise, building upon the foundations of the engine used for Modern Warfare (2019) and introducing refined AI, movement, and gunplay. Modern Warfare 2 will feature a physically based material system to allow for realistic photogrammetry, a hybrid tile based streaming system, along with new PBR water and underwater decal rendering systems.
According to CharlieIntel on Twitter, the new water mechanics afforded by Modern Warfare 2's engine were showcased during the aforementioned preview event in the mission Wet Work. Swimming will be possible in Modern Warfare 2, but only pistols and melee weapons can be used underwater. Equipment such as proximity mines can be used, as well, and will behave accordingly by floating and moving along with currents.
Call of Duty: Modern Warfare 2 — Platforms and how to play
When released on Oct. 28, 2022, Call of Duty: Modern Warfare 2 is confirmed to be available on Xbox Series X|S, Xbox One, PS4, PS5, and PC via Battle.net and Steam for $70. An open beta will be available later this year.
While Call of Duty: Modern Warfare II has been promoted as a "new generation of Call of Duty," the game will still be available on Xbox One and PlayStation 4. More than 115 million players have launched Call of Duty: Warzone since its release, with the largest install base being on last-gen consoles. It's simply not feasible to leave behind such a large install base amid shortages of the Xbox Series X and PlayStation 5.
Along with the release to last-gen consoles, it has been confirmed that Call of Duty: Modern Warfare II's PC release will find its way to the Steam marketplace. The franchise has been exclusive to Activision's own Battle.net launcher for the last five years. Both Steam and Battle.net will be supported for Modern Warfare 2 with the PC port being handled by Beenox.
Call of Duty: Modern Warfare 2 — Beta information
It was announced in January 2022 that Microsoft would be acquiring Activision; however, PlayStation currently holds the marketing rights for Call of Duty, and PlayStation players will receive early access to the Modern Warfare II beta. While there may be limited cosmetic rewards for players who purchase Modern Warfare II on PlayStation, it does not seem that there will be an exclusive game mode for the platform like we saw in 2019's Modern Warfare and 2020's Black Ops Cold War.
Microsoft's acquisition of Activision is not expected to be completed until mid-2023, and they have committed to honoring all currently existing contracts with PlayStation following the merger. It is unlikely that we will see any details relating to Modern Warfare II at the Xbox Showcase on June 12. The game is also not expected to launch on Game Pass on day one.
Play dates for the beta have not yet been announced.
Call of Duty: Modern Warfare 2: Preorders and bonuses
Preorders for Call of Duty: Modern Warfare 2 went live immediately following the release of the first official trailer. The title may come with a bit of sticker shock, however, as there is no discounted version for last-gen only consoles like we saw for Black Ops Cold War and Vanguard. The standard Xbox version of Modern Warfare 2 is what would have previously been referred to as the Cross-Gen bundle and will cost $70, much like previous Cross-Gen bundles did. This version will be playable on both Xbox One and Xbox Series consoles interchangeably.
For those looking to add a little something extra to their experience, there is the Call of Duty: Modern Warfare 2 Vault Edition upgrade for $100. A copy of Call of Duty: Modern Warfare 2 for cross-gen is included with the Vault Edition along with the Red Team 141 operator pack and FJX Cinder weapon vault. Weapon vaults appear to a new option for bundling blueprints with themed attachments that match so that the weapon camo isn't broken once the player changes the weapon's attachments, but no official information is currently available. The Vault Edition also includes the Season 1 Battle Pass for Modern Warzone 2 and 50 tier skips.
Players who preorder Call of Duty: Modern Warfare 2 will receive early access to the game's beta, but no further information regarding dates are available just yet.
Cole is the resident Call of Duty know-it-all and indie game enthusiast for Windows Central. She's a lifelong artist with two decades of experience in digital painting, and she will happily talk your ear off about budget pen displays.
Windows Central Newsletter
Get the best of Windows Central in in your inbox, every day!
Thank you for signing up to Windows Central. You will receive a verification email shortly.
There was a problem. Please refresh the page and try again.