Celebrate Steam Deck's Birthday with 10% off!
The Steam Deck is on sale-deck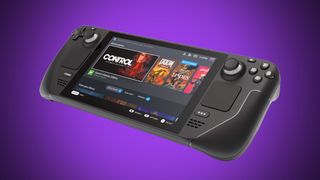 (Image credit: Valve)
What you need to know
The Steam Deck is a powerful handheld gaming PC and is celebrating its one-year anniversary since its launch.
As part of the Steam Spring Sale, the Steam Deck will be 10% off all models until March 23rd.
The 64GB, 256GB and 512GB models are priced at $359/$476/$584 respectively.
---
The Steam Deck burst onto the scene in February 2022 and has been a roaring success for Valve, with over one million units sold so far. Today Valve is celebrating the Steam Deck's first birthday with an incredible offer, for the first time ever the Steam Deck is on SALE and you can get it for 10% off.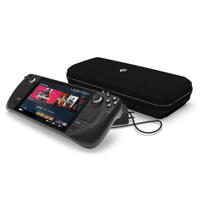 Steam Deck from $399 $359.10 at Steam
A portable PC gaming powerhouse that lets you play your Steam library on a 7-inch touchscreen. with 16GB RAM and three storage options, don't leave your games at home.
All three models are in the 10% offer,and there are no differences in frame rates or graphics quality between the three, its mainly a question of storage. You can get:
64GB for $399 $359.10
256GB for $529 $476.10 (with SSD for speedy storage)
512GB for $649 $584.10 (with SSD, premium anti-glare glass and exclusive carrying case)
The Steam Spring sale runs until March 23rd and is also slashing prices on some incredible games to play with your Steam Deck. With 50% off games like Hades and No Man's Sky, it shouldn't take you long to fill up your library if you're looking for some new titles. Steam sales are notoriously generous in their available titles, but the landing page for the Steam Deck has a handy top 100 games list which should narrow down your choices. We also have a guide to the best Steam Deck accessories if you want to pimp up your new travel rig.
Happy Birthday Steam Deck! In celebration of a successful first year (of many more to come!) Steam Deck is 10% off from now until the end of the Steam Spring Sale on March 23 at 10am Pacific. https://t.co/RfIsomkC5h pic.twitter.com/Gy4e9pENvgMarch 16, 2023
The launch of the Steam Deck in 2022 was arguably one of the most significant PC gaming moments in recent years, and definitely at the top of most gamers' wishlist due to its versatility and ability to run AAA games with ease. The Steam Deck sells well at full price, and was incredibly hard to get hold of in 2022, with some people on waiting lists for stock - so if you've been waiting to pull the trigger on a Steam Deck we suggest you go fast!
Get the Windows Central Newsletter
All the latest news, reviews, and guides for Windows and Xbox diehards.
Jen is a News Writer for Windows Central, focused on all things gaming and Microsoft. Anything slaying monsters with magical weapons will get a thumbs up such as Dark Souls, Dragon Age, Diablo, and Monster Hunter. When not playing games, she'll be watching a horror or trash reality TV show, she hasn't decided which of those categories the Kardashians fit into. You can follow Jen on Twitter @Jenbox360 for more Diablo fangirling and general moaning about British weather.