Buying a Steam Deck: Price, how to reserve, and current ship dates
Get your hands on this handheld later this year.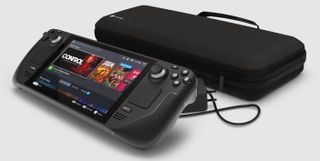 (Image credit: Valve)
The Steam Deck is Valve's new Switch-esque handheld that will allow gamers to play their Steam games while not sitting at a computer. It not only runs Steam, but can also run any PC software, meaning players can potentially get all of their PC games onto this handheld. If you've ever wanted to play your PC-exclusive titles from a handheld, Steam's new machine seems like it's right up your alley.
So how do you purchase a Steam Deck? Here's what you need to know.
Reserving a Steam Deck
The Steam Deck officially launched back in February 2022 after being delayed out of 2021. Reservations for the units are currently open on the Steam website. Steam allows users to reserve any of the three models of the console for a $5 fee (this counts towards the Deck's purchase price). While each model has different internal storage options (SSDs of different sizes), and the 512GB has anti-glare glass, every model will come with a carrying case.
Please note that not just anybody will be able to reserve a Steam Deck. The reservations will only be available via one's Steam account, and the account must both be in good standing and there must be purchases made on the account before June 2021. According to Steam's FAQ, only one console can be reserved per account. Presumably, this is to cut down on potential scalpers who would make multiple accounts to reserve multiple consoles.
Reservations are currently open to Steam users in the U.S., Canada, European Union, and U.K., with more regions to open later on in the year. You can cancel your reservation and get your fee refunded any time before the consoles launch. If you cancel within 30 days of making your reservation, you can get your fee refunded to your payment method, whereas if you cancel after that, it'll be refunded to your Steam wallet.
So you've reserved ... now what?
Once you've made your reservation and paid your fee, you will be placed in a queue. When the Steam Deck becomes available for purchase, reservations will be converted to orders in the order in which they were received. When it's your reservation's turn, you will receive an email from Steam.
Steam has noted that while it will try to convert all reservations into orders, it cannot guarantee availability. If you're not able to purchase the Steam Deck right now, you can add the console to your wish list, and you'll be notified when it becomes available for general purchase.
All models of the console have started shipping, but when exactly you get your Steam Deck depends on a wide variety of factors. In general, we've noticed that the more higher-end model you've chosen, the further out the order may be. Expected availability at the earliest is slated to be around Q3, or October 2022, but this could change as time goes on.
In the meantime, you can prepare yourself by either getting a great PC gaming headset (the Deck has a headphone jack, so you have wired and wireless options) or a microSD card to expand your storage. Not all games work perfectly on the Steam Deck, but for those that do, it'll be worth the wait to take your PC library on the go.
An ultimate PC handheld
Bring your Steam library on the go

The Steam Deck is a powerful little machine that's set to deliver your PC library almost anywhere you are. By natively running games on the system, you don't have to worry about cloud-streaming limitations.
Rachel Kaser is a Windows Central gaming contributor, who's been writing since 2013 and gaming since the age of five. She's covered everything from gaming news, reviews, and analysis -- if it exists in gaming, she knows about it. She also contributes to Future's other sites, iMore and Android Central. If you want to hear her opinions on games, pop culture, tech, and everything in between, follow her on Twitter @rachelkaser.
It looks great but I'd be waiting for V2!

Or a version that runs Windows so that ALL Windows games run, not just part of the Steam library.

I believe potentially all Windows games will run, not just Steam. It is Linux after all, so you should be able to install whatever you want. They will undoubtedly prioritize optimizing Steam games though.

Linux is not magic. It doesn't run everything. It has technical limitations that Windows does not have - specifically when it comes to GPU usage and scheduling. There is a reason games on Windows perform as well as they do. As for 'potential' to run Windows games - Proton/Linux gaming will never be better than running natively on Windows. There is also a long road before most games will even run, let alone run well. Even the games that are green lit as running well on Proton still have issues - for example there are games that avg a good FPS - but have latency and stutter issues when running on Proton/Linux. Developers and publishers are also not so keen with games running on Proton when they can't properly test for cheating - which doesn't work well for competitive gaming titles. There are also licensing and IP issues that do not legally allow game content to be sold for use on Proton/Linux. So 'potentially' - Proton/Linux gaming could be 'ok' - but right now, it sucks and the potential is still along way off. Alternative to SteamDeck thought:
AMD's new 6000 mobile processors with a faster RDNA2 GPU means there should be several mobile gaming systems similar to SteamDeck appearing this year. And they should perform as well or better with the newer faster zen cores. SteamDeck's advantages are the input controller mechanisms specific to the Steam controller offering motion, touchpad, joystick. This and a low cost is what is good about the SteamDeck.
Windows Central Newsletter
Thank you for signing up to Windows Central. You will receive a verification email shortly.
There was a problem. Please refresh the page and try again.