After a fairly great entry in UFC 4, EA Sports returns with another stellar entry in its fighting series. The addition of a deeper impact system, changes to the submission system, and new striking mechanics make UFC 5 not only more fun to play, but just as thrilling as its predecessors have been.
Pros
+

Real Impact System results in more mature, realistic experience

+

New striking mechanics make things feel even smoother

+

Seamless Submissions system makes grappling way more fun
Cons
-

Career Mode hasn't been updated in too long

-

Random bugs and glitches still persist during fights

-

Not enough to do in terms of any other game modes
Why you can trust Windows Central Our expert reviewers spend hours testing and comparing products and services so you can choose the best for you. Find out more about how we test.
EA Sports' UFC franchise took a massive step forward in 2020 with the release of EA Sports UFC 4, a title that established that the fighting game franchise wasn't ready to tap out just yet. A few years later (the UFC franchise isn't typically a yearly one, like other EA Sports titles), and EA Sports is back With EA Sports UFC 5.
The newest entry in the UFC series looks to build on what made UFC 4 so enjoyable, and thankfully does so in many ways. The implementation of a new impact system, a bump in rating, and an entirely new grappling system might just make EA Sports UFC 5 the best MMA fighting game ever.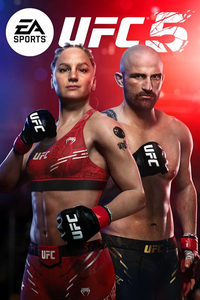 The mixed martial arts fighting game is back with another great entry. This time, there's been some big overhauls to animations, grappling, and more, making EA Sports UFC 5 feel like the best in the series' history.
Buy at: Amazon (Xbox) | Xbox Store
EA Sports UFC 5: What's good
What's worth noting first is that EA Sports UFC 5 is far and away the best-looking MMA game ever. From the very first time to step into the virtual Octagon, the game's updated visuals are noticeable. For fans of fighting, it's a feast for the eyes and honestly, one of the more impressive-looking games in terms of action and chaos once a fight begins.
While the game does look incredible (especially on powerful consoles like the Xbox Series X), where UFC 5 shines is in its presentation. Entrances to the Octagon mirror that of the real-life UFC, and the crowd reacts to things just like you'd expect a real-life one to. Big hits or punches draw huge gasps from the crowd, and the commentary team in the game also reacts with shock when something like a stunning knockout occurs.
The presentation and graphics all come together in one great display thanks to UFC 5's new Real Impact System. The latest system completely overhauls how players react and take damage during fights, and thanks to the game's new "M" for Mature rating, this results in a surprisingly big advancement.
Developer: EA Vancouver
Publisher: EA Sports
Genre: Sports
Install Size: ~38 GB
Playtime: ~40 hours
Release date: October 27, 2023
Price: $69.99
Platforms: Xbox Series X|S, Xbox One, PlayStation 4, PlayStation 5
Reviewed on: Xbox Series X
Much like its name suggests, UFC 5's Real Impact System acts as an upgrade to the already enhanced graphics found in the game. According to developer EA Vancouver, there are now eight regions on a fighter's face that can be affected by damage taken in a fight. These areas include the eyes, brows, and forehead, and each injury to those areas can aggravate throughout a fight.
Due to the game's "Mature" rating, this evolving damage means that fighters can get pretty badly damaged if a fight goes for some time. Cuts will start out small but grow in size, more blood will appear on a fighter's face, and bruises will begin forming after a big hit lands.
While fans may ask why this is such a big focus in the game, it does result in some extremely realistic looks and gameplay. Fights that stretch across multiple rounds look much more like their real-life counterpart now, with fighters going to the corner a mess before being cleaned up for the next round.
Outside of just looks, though, the Real Impact System does have an actual function in the game. Cuts on a fighter's brow or close to their face can result in worse vision, and big hits to the nose or face can result in lower stamina due to the impaired breathing fighters will have to deal with.
Likewise, kicks to the legs or chest will also result in actual animation changes, including limps and more. All told, the new system not only makes matches more fun to partake in, they also make things a lot more realistic, and make fights feel like an actual battle between two people than before.
The second-biggest change in the game is found in the new "Seamless Submissions" system. This system completely replaces the minigames found in UFC 4 that would pop up once you entered into a grappling session with an opponent. Now, there will still be a menu that pops up that allows you to attempt to cycle through different submissions, but transitioning in and out of moves is a bit more simplified.
The new submission system does take some getting used to, especially if you were a big submission specialist in UFC 4. However, in my short time with it, it's been a much more rewarding experience. I never found myself looking to take down enemies in UFC 4, but have found myself in grappling bouts much more thanks to the system.
Lastly, UFC 5 introduces "Fight Week" into the game, syncing up with real-life UFC cards to allow players to make predictions, check out stats, and play out the matches before they happen in real-life. It's a neat feature that makes things feel even more connected to the UFC, but doesn't offer up a lot in between, simply playing out some fun fights.
EA Sports UFC 5: What could use some work
While the gameplay of UFC 5 is stellar and clearly received a ton of love in its development cycle, it often feels like that's the only thing EA Vancouver focused on when making the game.
Perhaps more so than any other sport, UFC is a sport of personality, with fighters making a name for themselves on not only their talent, but their outspokenness or looks.
When it comes to doing this in UFC 5, options are sadly limited. Career Mode does return again, but things feel pretty much the exact same as they did in UFC 4. You'll be able to sign contracts for fights, partake in "trash talk" that happens behind simulated screens, and train for fights.
Unfortunately, it feels like not enough changed in a mode that was desperate for it.
Things like dialogue, player customization, and even systems from the original game could've used some tweaks, but at times it feels like you're playing UFC 4's Career Mode.
Thankfully, there were some changes, including the much-needed ability to simulate through training sessions you've already done, meaning you won't have to grind out training before a fight as you did in UFC 4.
Still, the repetitive nature of the mode, combined with no real storyline to offer than you trying to become the greatest of all time, means it's pretty easy to fall out of love with the mode.
EA Sports UFC 5: Should you play it?
After a disappointing entry in UFC 3, EA Sports clearly went back to the drawing board and wanted to make the UFC franchise better. They did in UFC 4, and with three years to work on a follow-up, returned with what is likely the best mixed martial arts fighting game of all time.
That's not to say that the game is perfect. The game could use some love in a ton of its secondary modes, and more to do outside of just hopping into "fight now" matches. Certain bugs continue to prevail throughout the game, and online mode can be a bit clunky depending on who you match up against.
Still though, fighting in the digital Octagon has never felt better, and with a new impact and submission system, EA Sports UFC 5 is something any MMA fan is going to want to get their hands on.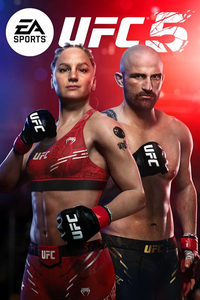 The mixed martial arts fighting game is back with another great entry. This time, there's been some big overhauls to animations, grappling, and more, making EA Sports UFC 5 feel like the best in the series' history.
Buy at: Amazon (Xbox) | Xbox Store
Anthony Nash has been writing about games and the gaming industry for nearly a decade. When he's not writing about games, he's usually playing them. You can find him on Twitter talking about games or sports at @_anthonynash.