Lords of the Fallen: How to play co-op multiplayer with friends
You don't have to journey through Mournstead alone, Lampbearer...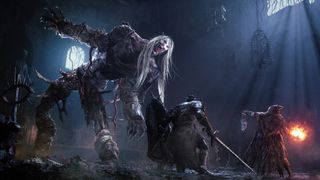 (Image credit: CI Games)
Lords of the Fallen Guides
- Best Lords of the Fallen classes
- Blacksmith location and how to find
- How to respec
- How to get boss weapons
- Rune Tablet: Gerlinde or Sparky?
While Lords of the Fallen is a fantastic game to play solo, Soulslike combat and exploration is often even more fun when you're doing it with an ally at your side. Indeed, co-op is very enjoyable in HexWorks' new reboot, and thankfully, it's also very easy to set up. Whether you're looking to play with your friends or with other random Lampbearers, you can get started in no time.
For a full overview of jolly cooperation in Lords of the Fallen, follow the guide below. It includes everything you need to know about co-op multiplayer, including how to engage with it and also how it works compared to FromSoftware's games and other Soulslike titles.
Lords of the Fallen: How to play co-op multiplayer
Though Lords of the Fallen never actually explains how to co-op with friends and other players directly, doing so is a quick and easy process. Follow the steps below and you'll be playing with others in no time.
How to invite friends and players to co-op
If you'd like to invite friends or random players to your world, you'll need to do the following:
1. First, find and interact with a Vestige checkpoint.
2. Then, select Multiplayer from the options that appear.
3. If you want to invite a friend, select Beckon Friend.
4. Select the person from your friends list you want to invite.
5. Finally, select Beckon Friend.
6. Alternatively, you can invite random players by selecting Beckon Lampbearer, and wait for matchmaking to find you a partner.
How to join a co-op session
What if you'd like to join someone else's world to help them progress? This, too, is very simple. Here's what to do:
1. If joining a friend, simply accept the invite they sent you to join them.
2. If joining a random player, interact with a Vestige.
3. Then select Multiplayer.
4. Next, choose Accompany Lampbearer, and wait until the matchmaker finds you a suitable host to join.
How to use password matchmaking
Password matchmaking isn't as necessary for co-op with friends as it is in games like Dark Souls and Elden Ring since Lords of the Fallen allows you to directly invite people from your friend's list, but it still comes in handy if you have a large group of friends all trying to co-op or if you're trying to, via crossplay, play with a friend using a different platform. By setting a password, you limit the co-op matchmaker so that it only connects you with people also using that password. Here's how to set up a matchmaking password:
1. First, open the pause menu with the Menu button (Xbox), Start button (PS5), or Escape key (PC).
2. Then, navigate to the Settings menu on the right.
3. Next, go to the Multiplayer tab.
4. Lastly, enter your desired password next to the Session password setting.
Remember to clear your password if you decide you'd like to play with random players again!
Lords of the Fallen co-op explained
Compared to many other Soulslikes, co-op in Lords of the Fallen works a bit differently. In general, most barriers that limit how much you can play with other people have been removed. Joining or inviting players doesn't require a currency of any kind, and there doesn't need to be a boss in the area the host is in in order for them to be able to invite someone to their world. The host and co-op partner can also move around all of Mournstead without having to resummon in each area, and if the host dies or a boss is defeated, they don't have to resummon their ally afterwards as well. Co-op partners can't go too far away from the host without being teleported, though.
The host controls whether the world state is in Axiom or Umbral, and can even revive their co-op buddy if they go down. If they die, though, both players are returned to the last Vestige visited. Notably, the damage dealt by both players is reduced in order to preserve the challenge of the gameplay.
Co-op multiplayer is limited to two players in Lords of the Fallen, so if you have a large group of friends looking to play together, you'll need to split up into several pairs or bounce between each other's worlds with password matchmaking.
---
Lords of the Fallen is available to play now on Xbox Series X|S and PS5 for $69.99, as well as on Windows PC (Steam and Epic Games) for $59.99. It's quickly become one of my favorite Soulslikes ever, and is undoubtedly one of 2023's best Xbox games and best PC games.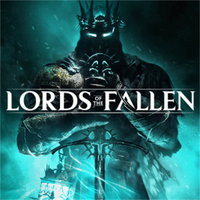 Lords of the Fallen
With responsive, precise, and challenging combat, innovative twists, stellar grimdark presentation, and more, Lords of the Fallen is one of the best Soulslikes available. Don't sleep on it if you're a fan of the genre.
Buy at: Xbox | Epic Games Store (PC)
Get the Windows Central Newsletter
All the latest news, reviews, and guides for Windows and Xbox diehards.
Brendan Lowry is a Windows Central writer and Oakland University graduate with a burning passion for video games, of which he's been an avid fan since childhood. You'll find him doing reviews, editorials, and general coverage on everything Xbox and PC. Follow him on Twitter.