ASUS ROG Ally price leaks: Can it beat Steam Deck on performance value?
ASUS could be dangerously close to Valve's prices.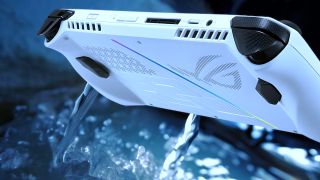 (Image credit: Bing Image Creator | Windows Central)
What you need to know
Apparent prices have leaked for both models of the ASUS ROG Ally, as reported by The Verge.
The 256GB model features an AMD Z1 CPU and is implied to cost $599.99 at launch, according to reliable leakers Roland Quandt and SnoopyTech.
A more powerful 512GB variant includes an AMD Z1 Extreme CPU, apparently launching at $699.99, with ASUS' official ROG Ally announcement set for May 11.
---
The ROG Ally is an upcoming PC gaming handheld going head-to-head with Valve for the portable gaming crown currently (and arguably) adorned by the Steam Deck. Officially, we're still waiting for confirmation on the ROG Ally's price, but that hasn't prevented a flood of ROG Ally price leaks from spreading around the Internet, and they look as legitimate as it gets. Naturally, any leak should be taken with a sizable pinch of salt. Still, third-party retailer listings with matching specs hint at accurate prices, and they're dangerously close to the competition.
Lining up with everything we know about the ASUS ROG Ally, a collection of reliable sources recently leaked prices for both planned console models. Like the Steam Deck, the ROG Ally comes in two flavors: one with 256GB of solid-state storage and the other doubling it to 512GB. The real difference is that the larger variant also boosts its CPU power by including the beefier AMD Ryzen Z1 Extreme mobile chip rather than the Ryzen Z1, both based on the Zen 4 architecture with RDNA3 GPU cores.
Best Buy product page leaked the price of the Asus ROG Ally. It will be priced at $699 dollars for the 16GB/512GB variant. pic.twitter.com/CbfERTkGT4April 27, 2023
Sharing info from leakers Roland Quandt and SnoopyTech, an implied price was backed up by leaked screenshots of accidental listings on Best Buy for the 512GB Z1 Extreme model at $699.99, reported by The Verge.
Barely a couple of days later, another slippery leak from the same sources hit the Verge with an apparent price confirmation of $599.99 for the 256GB Z1 model. That's two comparable options against the three Steam Deck variants, apparently skipping only an entry-level 64GB eMMC model, which is an understandable move given the gigantic installation sizes of modern games.
Comparing the prices against Valve's Steam Deck shows a much closer race than I anticipated, given the expected performance boost from ASUS' selected components lurking inside the ROG Ally. More details are expected on May 11 as part of the big reveal, and if ASUS can offer the ROG Ally in more regions than the Steam Deck, it could be a formidable rival to the current portable PC gaming champion.
ASUS ROG Ally 7" AMD Z1 (not Extreme) = $599.9916 GB LPDDR5, 256 GB NVMe M.2 SSD https://t.co/X6hAE6ZtLF pic.twitter.com/ueKYpeMzusApril 28, 2023
Windows Central take
I use my Steam Deck daily and recommend it to whoever will listen. However, ASUS' choice to use Windows could give the ROG Ally an edge over the Steam Deck when connecting to a docking station for a more approachable desktop environment for those already comfortable with the world-leading operating system. This, plus the raw performance gains from building a handheld with more modern hardware, means there's real competition for Valve.
Again, price leaks are anything but concrete, but these, in particular, seem to hold a lot of water when considering ASUS' place in the market. It won't be long before ASUS officially unveils the ROG Ally, hopefully including plans for worldwide distribution and more in-depth details regarding battery life, which can make or break a handheld gaming experience.
I'll keep you posted if any other exciting information slips through the cracks, potentially making the ROG Ally announcement a repeat of what we already know.
Get the Windows Central Newsletter
All the latest news, reviews, and guides for Windows and Xbox diehards.
Ben is the channel editor for all things tech-related at Windows Central. That includes PCs, the components inside, and any accessory you can connect to a Windows desktop or Xbox console. Not restricted to one platform, he also has a keen interest in Valve's Steam Deck handheld and the Linux-based operating system inside. Fueling this career with coffee since 2021, you can usually find him behind one screen or another. Find him on Mastodon @trzomb@mastodon.online to ask questions or share opinions.