Asus ROG Ally: How it compares to Steam Deck and everything else you need to know
This might spell doom for the Steam Deck.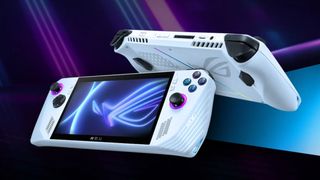 (Image credit: ASUS)
For years, gamers have dreamed of having a quality handheld system that can not only handle more intensive titles but do so while providing smooth performance and high resolution. While the Steam Deck has somewhat fulfilled this dream, Valve's device is also somewhat limited. But now, the Asus ROG Ally seeks to give us an improved handheld PC gaming experience like nothing before it.
This is a Windows gaming handheld that, unlike the Steam Deck, will be able to play a broader range of games out of the box since it isn't designed around any specific gaming service. But will it actually deliver the handheld gaming experience that we so crave? Here's a look into everything you need to know about the Asus ROG Ally to help you determine if it's right for you.
It isn't easy to talk about the ROG Ally without discussing the Steam Deck, so I'll explain how the two handhelds compare and contrast as well.
What is the ROG Ally?
The ROG Ally is a handheld gaming device that Asus has specifically declared as a direct competitor to the Steam Deck, Valve's handheld gaming device, which plays compatible games from the Steam library. Though the ROG Ally was initially seen as an April Fools Day joke, this handheld is indeed a real product and one that Asus hopes will "redefine handheld gaming."
At a quick glance, it appears that the ROG Ally is a handheld competitor to be reckoned with. Even though the Steam Deck has been successful, it is rather limited out of the box since it uses a custom SteamDeckOS operating system and is specifically designed to access Steam games. This has led several people to hack the device in order to make it work with other services. Meanwhile, the Asus ROG Ally could have an edge over Steam Deck since it uses Windows 11; this will make it capable of accessing more gaming services right out of the box.
ROG Ally: Tech Specs
ROG Ally specs
Price: $699 | ($599 version ships in Q32 2023)
Chipset: Custom AMD Zen 4 APU
Storage: 512GB SSD
OS: Windows 11 Home
Display: 7-inch 1080p LCD touchscreen 120Hz
Ports: 1x USB-C port, 1x PCIe port, 1x headphone jack
Dimensions: 11.0 x 4.4 x 0.5 inches
Weight: 1.3 lbs
Battery Life: 8 hours (Asus estimates)
As a quick comparison of Steam Deck and Ally specs tables shows, the Ally will support a higher resolution at 1080p compared to Steam Deck's 800p, a higher refresh rate of 120Hz compared to Steam Deck's 60Hz, and offers a built-in PCle port (which Valve's handheld doesn't have) to help connect it to other devices. It's also worth noting that the Ally features all of this while still managing to weigh slightly less than the Steam Deck (as verified by attendees during the last hands-on event).
One of the things that makes the ROG Ally so appealing is that it actually uses Windows 11 Home as its operating system. This means that it will be able to run the best PC games from various services (yes, even Steam games that aren't compatible with Steam Deck) and won't be as limited as Steam Deck's SteamOS 3.0. This alone makes it a better option for anyone who plays games on more than just Steam.
Storage-wise, the ROG Ally offers a 512GB SSD, which is the same as Steam Deck's premium version and should be able to handle several games. Space can also be expanded using the built-in MicroSD card slot.
The ROG Ally uses a custom AMD Zen 4 RDNA3 4nm APU, basically a processor with an integrated graphics card that was designed specifically for this handheld. It looks like it will be a powerful enough mobile processor, but we cannot wait to run tests on it to really see what it's capable of.
ROG Ally official unboxing
The ROG UK Instagram account has uploaded an official video of the ROG Ally unboxing. Take a look to get a better feel for the upcoming handheld.
ROG Ally: Compare to the Steam Deck
I've been comparing the Steam Deck and the ROG Ally throughout this page, but now it's time to discuss things that haven't been mentioned yet. I briefly mentioned this previously, but the ROG Ally can be a better Steam Deck than the Steam Deck itself. That's because it should be able to run more games on Stream, not just ones that are "Steam Deck compatible."
It seems that Asus intends for the ROG Ally to be better than the Steam Deck when it comes to performance. Where the Steam Deck features a 16:10 7-inch touchscreen IPS LCD panel that supports up to 800p and 60Hz, the ROG Ally 7-inch LCD touchscreen will be 16:9 and support up to 1080p and 120Hz. This higher resolution and refresh rate are both more conducive to intensive gaming, as is the more standard display ratio for gaming.
The ROG Ally is just slightly smaller in both length and height than the Steam Deck and noticeably slimmer at just half an inch deep compared to the Steam Deck's 1.9 inches. Depending on the grip design, this might make the ROG Ally more comfortable to hold for long stretches.
ROG Ally: Battery Life
Asus has estimated that the ROG Ally will be able to last for up to eight hours. However, it's likely that the handheld will run out of juice much sooner than this during an average gaming session.
As a reference, Valve also claimed that the Steam Deck could last for two to eight hours, but it's been known to poop out in under two hours depending on the display brightness level, other spec settings, and how demanding a game is. We'll need to perform battery tests before we really know what the ROG Ally's power capabilities are.
ROG Ally: ROG XG Mobile
What really makes the ROG Ally a powerful gaming device is its ability to connect to the ROG XG Mobile line. This is an external eGPU that has the potential to significantly boost the ROG Ally's performance while providing even more port connections for the handheld. This way, players can play their games while docked to whatever TV or monitor they want to use.
The huge downside to all of this is that the XG Mobile dock is extremely expensive, more so than the ROG Ally, costing $799 for the lower GC32 version and $1,999 for the GC33. Still, the ROG Ally's ability to connect to a dock means that third-party options will likely pop up online and be available at much lower prices.
ROG Ally: Accessories
It's unclear just how many ROG Ally accessories there will be, but it's looking like there could be plenty to choose from as an ROG Ally screen protector from dbrand has already been announced. With this being the case, it's likely that other third-party options will also be made available. ROG Also produces several gaming accessories including monitors and controllers, so we'll undoubtedly see official ROG Ally accessories announced in the future.
Additionally, in an official trailer for the ROG Ally, two players are shown using wireless controllers while playing the handheld. It's very likely that this gaming device will work with several different accessories, including headphones, protective carrying cases, and screen protectors. I fully expect there to be lower-cost third-party options to choose from as well. I'll update you if any other official accessories are announced.
ROG Ally: Price
As far as pricing goes, there will be two versions of the ROG Ally. The more powerful one ships on June 13, sells for $699, and is currently available for preorder at Best Buy and the Asus website. Another version of the ROG Ally which utilizes a slightly less powerful processor will sell for $599 when it ships in Q3 2023.
Meanwhile, the Steam Deck comes in three different versions, each with different amounts of storage; these are priced at $399, $529, and $649, respectively. In this way, the Steam Deck is more accommodating since it can appeal to people of different budgets.
ROG Ally: Release Date
The more powerful version of the Asus ROG Ally launches on June 13 while the less powerful version will launch sometime in Q3 2023. The more powerful AMD Ryzen Z1 Extreme ROG Ally is currently available to preorder from Best Buy and Asus.
ROG Ally: What does "ROG" mean?
"ROG" is short for "Republic of Gamers" and is the name of a tech subbrand known for making gaming laptops, computer towers, GPUs, monitors, as well as other hardware and accessories. Asus has been using ROG brand products since 2006, and many of its best gaming products are related to this brand, so it's no surprise that the Ally handheld is an Asus ROG device.
ROG Ally: Will it actually be good?
It's always hard to say how good a brand-new device will be based solely on claimed specs. However, if Asus manages to deliver the gaming experience that it claims the ROG Ally offers, then this handheld could very well dominate the on-the-go PC gaming space like nothing ever has before it. It just needs to be able to consistently last for at least four to six hours while delivering smooth gameplay to really seal the deal.
The ROG Ally's biggest draw is the fact that it uses Windows 11 rather than a proprietary operating system. This will make it far easier to access other gaming services and distributors such as the Epic Games Store, NVIDIA GeForce Now, and Xbox Game Pass — and could thus make it the go-to handheld PC Gaming device for many people.
Regardless of how well the ROG Ally does, I'm sure the Steam Deck will continue to be a powerful player in this space simply because Steam is so widely used and tends to be the default place where many people buy most of their PC games. It also helps that Valve offers three different versions of the Steam Deck at different prices to make it more appealing to a wider audience. Still, if the ROG Ally works smoothly and doesn't have any blaring issues, it could be more appealing than the Steam Deck to many gamers.
Get the Windows Central Newsletter
All the latest news, reviews, and guides for Windows and Xbox diehards.
Self-professed gaming geek, Rebecca Spear, is one of Windows Central's gaming editors with a focus on Xbox and PC gaming. When she isn't checking out the latest games on Xbox Game Pass, PC, or Steam Deck; she can be found digital drawing with a Wacom tablet. She's written thousands of game guides, previews, features, and hardware reviews over the last few years. If you need information about anything gaming related, her articles can help you out. She also loves testing game accessories and any new tech on the market.