How the ASUS ROG Ally's Windows OS could give it an edge over the Steam Deck
A fully-fledged Windows desktop could be the key to handheld gaming success for ASUS.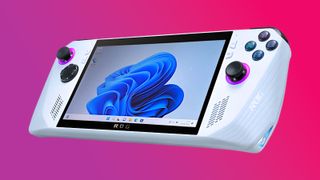 (Image credit: ASUS | Windows Central)
Since the Steam Deck launch in early 2022, few legitimate competitors could stand up to the versatility and value of Valve's portable PC gaming handheld. There have been a few attempts, and all follow a similar trend: practically nobody had ever heard of the competing brands, which tends to stifle the potential of consumers taking your device seriously.
Valve has a massive starting advantage with its handheld console, given that it's all built around Steam, the world's most popular digital PC game storefront. Anyone picking up a Steam Deck can log into their account and immediately access any purchased game from their library, with varying degrees of performance quality if it's not part of the official list of games verified for Steam Deck.
Some of the only real Steam Deck downsides relate to its SteamOS operating system, built upon Linux. This double-edged sword offers tremendous potential for tinkering and tweaks but can also appear intimidating for those who usually stick to Windows. Nothing stops you from following my guide to installing Windows on Steam Deck. Still, there's more to be said for devices specifically designed to run our favorite operating system — and it's more than unlocking full access to Xbox Game Pass.
---
ROG Ally vs Steam Deck: The Windows advantage
The primary reason for installing Windows on a Steam Deck is to play games that otherwise refuse to work on SteamOS, namely those with prevalent anti-cheat systems that aren't compatible with variants of Linux like Destiny 2. It's a drastic solution for one or two games, but gaining access to the full selection of titles on Game Pass for PC is arguably a far bigger deal than playing your favorite free-to-play multiplayer shooters on the go.
Since Microsoft still relies on UWP (Universal Windows Platform) for all PC games on Game Pass, there's no method for installing them natively on a standard Steam Deck. Your only other option is streaming directly from Xbox Cloud Gaming. Still, there's no guarantee that your chosen title is available on the cloud or will even detect the Steam Deck's controller inputs properly since it's technically still running inside a browser window, a method that hasn't changed for over a year.
It's not all about Game Pass, though. There are more advantages to running Windows 11 on a handheld gaming PC than accessing some of the best games locked inside a finicky UWP package manager. One, in particular, feels somewhat overlooked when the conversation turns to theoretical comparisons of compatibility and resource usage against Linux distros: a fully-fledged desktop mode. Don't get me wrong, Valve's Steam Deck is a capable PC, but not everyone is willing to learn about Linux. On the other hand, Windows is the world's leading OS by a country mile, with Windows 10 still holding a substantial market share.
Alongside the sheer performance potential for loading the ROG Ally with cutting-edge AMD Ryzen Z1 CPUs, the concept of a portable Windows device that's even more versatile than a gaming laptop is the most exciting thing since Windows Phone (RIP.) Some aggressive players in the hardware market continue to develop impossibly-thin ultrabooks with complete Windows environments and a fair amount of game support. However, settling in for gameplay on a laptop is an uncomfortable nightmare unless you pack a compatible controller or an external mouse and keyboard. Tedious.
An authentic solution to portable Windows
I use my Steam Deck daily, usually playing for at least a few minutes before bed. It rapidly became one of my all-time favorite pieces of gaming hardware, and I have no qualms about getting my hands dirty with behind-the-scenes Linux tinkering. Some hardly need much effort, and you can play Minecraft on Steam Deck with only a small amount of customization. Despite all this, I'll likely never believe in 'the year of the Linux desktop' — and that's okay.
Any rival manufacturer must adopt Windows if they want to go further than Valve and its triumphs with Steam Deck, and it's clear that ASUS understands. None of this means you have to abandon Steam and its unfathomably gigantic library of games. You'll benefit more than ever with a gaming handheld running Windows, backed up with generations of bug fixes and patches curated by developers and the community, alongside a genuinely portable desktop experience with no caveats.
The killer selling points for the ROG Ally will come down to performance per dollar and the (so far) unanswered question of battery life. If ASUS can prove that you're getting an appropriate boost in raw gaming power for the (presumably) higher cost than a Steam Deck, they'll have a genuine chance of standing alongside Valve as its main competitor. And competition is fantastic for consumers in the long run. After all, if Microsoft isn't moving towards a portable form factor, someone else should.
Get the Windows Central Newsletter
All the latest news, reviews, and guides for Windows and Xbox diehards.
Ben is the channel editor for all things tech-related at Windows Central. That includes PCs, the components inside, and any accessory you can connect to a Windows desktop or Xbox console. Not restricted to one platform, he also has a keen interest in Valve's Steam Deck handheld and the Linux-based operating system inside. Fueling this career with coffee since 2021, you can usually find him behind one screen or another. Find him on Mastodon @trzomb@mastodon.online to ask questions or share opinions.