With better exploration, fantastic combat, and emotionally-resonant story, Star Wars Jedi: Survivor is a must-play adventure marred only by some performance issues.
Pros
+

Great combat with numerous options

+

Dense and rich level design

+

Wonderful performance acting and story
Cons
-

Some performance problems
Why you can trust Windows Central Our expert reviewers spend hours testing and comparing products and services so you can choose the best for you. Find out more about how we test.
"Everything I'm doing seems pointless. The Empire's only growing stronger."
So says a weary Cal Kestis to his friends, lamenting how the last five years of effort haven't made a dent in the Imperial war machine. There are always more Stormtroopers, while the Empire reaches new planets every day. But then Cal learns something about a long-hidden planet that even the Empire doesn't know about. Somewhere people could take refuge from constant war. Somewhere Jedi could thrive again. Cal Kestis and his friends can't topple the Empire, but maybe they can outlast it.
Star Wars Jedi: Survivor is a fantastic game, with developer Respawn Entertainment taking everything so good about Star Wars Jedi: Fallen Order and building on it to reach new heights. The result is a well-told tale with surprisingly personal yet extremely emotional stakes that asks what it means to be a Jedi and a survivor in the face of an all-consuming Empire.
Combined with improved exploration, accessibility, and combat options, this is one adventure that delivers not just as a Star Wars story but as one of the best games of the year so far.
Disclaimer: This review was made possible by a review code provided by Electronic Arts. The company did not see the contents of this review before publishing.
Star Wars Jedi: Survivor review — Story and characters
Cal Kestis returns as the protagonist of Survivor, and it's his frustration at the state of the galaxy that drives so much of the plot. Cal is the same quiet but trusting guy from years past, but he's clearly tired. Cameron Monaghan turns in an excellent performance that really sells just how weary Cal is over the repeated loss of friends.
However, learning of Tanalorr, a planet that has been hidden since the days of the High Republic, ignites a second wind in Cal as he tries to protect everyone around him. Despite the importance of this revelation, the story ends up being surprisingly personal. While it doesn't swing for the fences too often, the result is a narrative that ends up being meaningful in a way that most Star Wars media simply isn't.
Swipe to scroll horizontally
| | |
| --- | --- |
| Developer | Respawn Entertainment |
| Publisher | Electronic Arts |
| Genre | Action-Adventure |
| Install size | 139 GB |
| Playtime | 25-30 hours |
| Players | Single-player |
| Platforms | Xbox Series X|S, PC, PS5 |
| Release date | April 28, 2023 |
| Xbox/PC Game Pass | No |
| Price | $70 |
| Reviewed on | Xbox Series X |
I already liked Cal, but this game made me honestly care for him. Ultimately, it's Cal's relationships with his friends that define this story, and they get to shine in spades. The returned Jedi Cere (as performed by Debra Wilson) is a beacon of guidance to Cal, while the ever-chummy Greez and the mysterious Nightsister Merrin (performed by Daniel Roebuck and Tina Ivlev, respectively) bring out the best in Cal's bravery and compassion.

Newcomer Bode Akuna (performed by Noshir Dalal) seems like just another gun for hire, happy to fight the Empire, but he, too, has a more personal reason for belonging to the group. Meanwhile, Dagan Gera and Reyvis (performed by Cody Fern and DC Douglas, respectively) are two mysterious living relics from the High Republic that provide a nice juxtaposition with the core group.
If I had to draw a comparison to any other piece of Star Wars in recent history, it would be Andor, despite the prominent difference in the number of lightsabers on screen. You're not getting massive plot twists that shake the very nature of the Force, but you see the very concept of Jedi examined under the cruel lens of survival. Can you hate an enemy that is pushing you to extinction? What does betrayal do to people who are already lost in their obsessions? It's in asking these questions that Star Wars Jedi: Survivor truly shines.
Star Wars Jedi: Survivor review — Gameplay and customization
The tight, tough-but-fair, give-and-take lightsaber combat of Fallen Order returns better than ever. Cal hasn't lost any of his abilities, and he'll quickly gain some new ones. In Survivor, there are several ways to play through the different Lightsaber Stances: single-bladed, double-bladed, dual-wielding, crossguard, and blaster. Every stance has different advantages and disadvantages, as well as a corresponding number of skills to unlock.
For example, using a lightsaber in double-bladed form allows you to hit multiple enemies quickly. Meanwhile, the crossguard stance is slow with awkward timing but deals massive damage on connecting attacks. Outside of the tutorials, you'll never have to use a stance you don't want to, and it grants a huge amount of flexibility in figuring out how to take on the myriad dangers lurking in the dark corners of the galaxy.
All of Cal's Force powers return as well, and he's got a few new ways of getting through scraps, such as with Jedi mind tricks, which can temporarily sway enemies to your side, providing much-needed breathing room in more hectic battles. From time to time, you can also command allies to assist (if they are present). Dealing with a dozen Stormtroopers and an AT-ST suddenly becomes a lot easier with Bode laying down cover fire or Merrin tethering enemies to the ground.
One of the weaker points in Fallen Order was the level design, which utilized a Metroidvania-esque approach of having players return to areas over time with new abilities that unlocked new paths. The problem was that there was no form of fast travel, and many areas — I'm looking at you, Zeffo — were borderline counterintuitive to navigate. In all these respects, Survivor is an absolutely massive improvement.
Paths across different planets frequently reveal new shortcuts in smart locations, meaning that you're rarely too far away from a meditation point where you can rest and recover. On average, this made the experience a bit easier than the preceding game, not because the combat challenge was tuned down but because it felt less unfair whenever I did die. Fast travel is also available, allowing you to quickly go between meditation points on the same planet — load times never took longer than 6-7 seconds.
You can also use some of the different alien fauna to make your way around, gliding to new locations or riding different creatures to reach otherwise-inaccessible ledges. This provides variety for solving different environmental puzzles, and there were more than a few times when I had to really think carefully about every tool available to me to unlock a hidden path.
While Fallen Order only allowed players to customize their lightsaber, swap a few skins, and collect the now-infamous ponchos, Survivor allows for a much deeper level of customization. You can adjust Cal's hair, beard, and clothing at an in-depth level. BD-1 is similarly customizable to an extreme extent. Do you want your little droid buddy to resemble the unfinished state of C-3PO in The Phantom Menace? That's available.
While not quite an open-world game, a couple of the planets you'll explore are pretty extensive, particularly the secluded frontier world of Koboh. There's even a saloon here that functions as a kind of hub, with minigames like gardening and a holotable. Sometimes you can find characters and recruit them, bringing them back to the saloon for new conversations, shops, and dialogue trees. None of this is strictly required, but it gives you even more of a reason to explore outside of the main path.
Star Wars Jedi: Survivor review — Visuals and audio
Leaving the last generation of console hardware behind, Star Wars Jedi: Survivor can look quite impressive. From burning nebulas to strange alien creatures, the galaxy is a vast place, with this game turning in some improved character models compared to the previous entry, as well as a few downright gorgeous areas. It's not the best-looking game I've seen, but considering the increased location sizes and denser world, that's a trade-off I'm okay with.
Star Wars Jedi: Survivor has two modes on Xbox Series X: A visual-focused mode that runs at 30 FPS and a performance mode that targets 60 FPS. As best I can tell, both modes use dynamic resolution, with the performance mode explicitly capping the resolution to 1440p to improve the framerate.
Performance mode mainly was fine throughout my playthrough, with one notable caveat. Whenever I was exploring Koboh and got close to the hub area, the resolution and framerate noticeably tanked, with some textures even taking a couple of seconds to pop in. It was jarring whenever it happened, with a marked difference in the game's visual quality and the responsiveness of the controls, so I hope this is something the developers can improve before or shortly after launch.
Star Wars Jedi: Survivor review — Accessibility and approachability
There are several accessibility options available in Star Wars Jedi: Survivor, with the ability to adjust the game's field of view (FOV), tweak navigational assistance, alter HUD scaling options, choose between having to button mash or hold a button down for inputs, and more.
It's not the most exhaustive list of options seen in a game, but it does mean that this adventure is far more accessible to a range of players than its predecessor. The developers have also noted they'll be adding more options after the game's launch.
Suppose the game's difficulty is a concern. In that case, there's also a new Story mode that provides a much simpler gameplay experience, meaning players don't have to master dodging and parrying enemy attacks. This way, you don't have to worry about being killed quickly in a fight.
Broadly speaking, Star Wars Jedi: Survivor is accessible to new players. The game does a good job reintroducing characters without coming off like it's dumping large amounts of info on your head. There's even an in-game databank for any players like myself that want to read and re-read the lore of...well, pretty much everything.
Star Wars Jedi: Survivor review — Should you play it?
Star Wars Jedi: Survivor is a fantastic action-adventure game and a testament to what developers can do when taking feedback. Everything here is just fun, and while the more personal tone of the story may not work for everybody, it's the kind of thing that will bring me back to the vast universe of Star Wars over and over again.
There are some performance problems in specific areas right now, which I hope to see addressed because it's a small tarnished spot on what is otherwise a stellar adventure. Where Star Wars Jedi: Fallen Order introduced a Padawan on the run, Star Wars Jedi: Survivor shows Cal Kestis genuinely earned the title of Jedi Knight.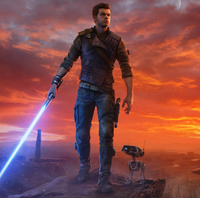 Star Wars Jedi: Survivor
Respawn Entertainment has taken feedback from what didn't work in Fallen Order, and the result is an adventure game that Star Wars fans are sure to love. The story is surprisingly personal, and while things may be dark, it's time for Cal Kestis to shine.
Samuel Tolbert is a freelance writer covering gaming news, previews, reviews, interviews and different aspects of the gaming industry, specifically focusing on Xbox and PC gaming on Windows Central. You can find him on Twitter @SamuelTolbert.