SteelSeries Arctis 7X goes brrrrr with new white colorway
The Arctis 7X has gone Arctic with this beautiful new white edition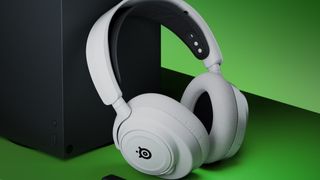 (Image credit: SteelSeries)
What you need to know
SteelSeries designs and manufactures some of the best gaming headsets you can buy.
On Tuesday, the accessory company announced a new color for its popular Arctis Nova Pro headset, which now comes in White.
The SteelSeries Arctis Nova 7X in White is available to buy now and retails at $179.99 US and £174.99 UK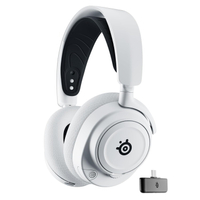 SteelSeries Arctis Nova 7X in White | $179.99
The Nova 7X has multiplatform connectivity with Bluetooth and 2.4Ghz, and is officially licensed to use with Xbox. Now with this sleek and lightweight headset in White you can perfectly match your accessories if you prefer the cooler white tones in your tech.
Buy from: Amazon | SteelSeries
SteelSeries is a renowned and widely recognized brand, celebrated for its wide range of PC and gaming accessories, with a particular focus on gaming headsets. In the past year, the company introduced the Arctis Nova 7X, a mid-range headset tailored for Xbox gamers, and it scored favorably in our review. Now though, the Arctis has gone arctic —the Arctis Nova is available in an elegant White version. If you're an Xbox Series S player who likes to match your peripherals this is fantastic news, or even if you are rocking the Series X, the black inner headband gives a great monochromatic effect against black accessories too.
The Nova 7 seamlessly integrates both 2.4GHz and Bluetooth wireless connections, guaranteeing compatibility with a wide array of devices, including PCs, Xbox, PlayStation, Switch, and mobile devices. With a remarkable 38 hours of battery life, rapid charging functionality, immersive spatial audio, and a suite of Nova AI-driven audio enhancements, along with a retractable bidirectional microphone, this headset is the ideal companion for gamers on every platform. The Nova 7X is officially licensed for use with Xbox, but you can enjoy its capability with other devices too.
The best thing about the new addition to the SteelSeries roster is that this White colorway is really complimented by the Nova Booster Packs you can purchase to craft your own personalized headset. So if you really want to create something personal to you, you can clip in new headbands and speaker plates in Red, Lilac, Rose Quartz and Mint. While it's not featured in the images here, just envision how the Pride booster pack would pop against the clean white canvas of the SteelSeries Nova 7 X Pro.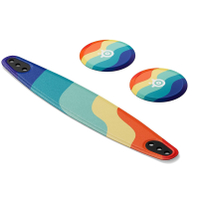 SteelSeries Arctis Nova Booster Pack | $34.99
Don't settle for just Black or White when it comes to your gaming headwear, switch things up according to your mood or style with an array of colors to choose from, or even the Pride edition that would look great against this new White headset.
Buy from: Amazon (Pride) | SteelSeries (other colors)

The SteelSeries Arctis Nova 7X in White is also compatible with the user-friendly Sonar Audio Software Suite. This software is like your personal audio toolbox, perfect for gamers, musicians, and podcasters alike. It simplifies audio editing and production tasks, offering a straightforward interface and precise control over individual frequencies. Whether you're into gaming or creating music and podcasts, it's a handy tool to enhance your audio experience or just provide more control for in-game audio.
Image 1 of 2
In an increasingly competitive mid-range headset market, SteelSeries consistently shines through with its sleek design and commitment to delivering quality products. While the SteelSeries Arctis Nova Pro has earned its place on our list of the Best Xbox Headsets, the Arctis 7X emerges as a strong contender that's also friendly on the wallet. Now, with these headsets available in two colors, it's excellent news for gamers seeking both style and performance.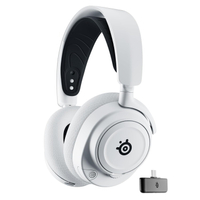 SteelSeries Arctis Nova 7X in White | $179.99
No matter your budget or platform of choice, SteelSeries has a Nova headset for you. Each new Arctis Nova gaming headset features the same audio system pioneered in the flagship Nova Pro headset.
Buy from: Amazon | SteelSeries
Get the Windows Central Newsletter
All the latest news, reviews, and guides for Windows and Xbox diehards.
Jen is a News Writer for Windows Central, focused on all things gaming and Microsoft. Anything slaying monsters with magical weapons will get a thumbs up such as Dark Souls, Dragon Age, Diablo, and Monster Hunter. When not playing games, she'll be watching a horror or trash reality TV show, she hasn't decided which of those categories the Kardashians fit into. You can follow Jen on Twitter @Jenbox360 for more Diablo fangirling and general moaning about British weather.