The SteelSeries Arctis Nova 7X is a perfectly great headset with solid design, audio quality, battery life, and features, but it also doesn't amaze or innovate in any category, making it a little boring. It's a fantastic multi-purpose wireless headset, even if there are better headsets strictly for gaming.
Pros
+

Multiplatform connectivity with Bluetooth and 2.4GHz wireless.

+

Great, lightweight design and build quality.

+

Solid audio quality and battery life.
Cons
-

Doesn't wow in any category at this price.

-

Still requires a USB dongle with Xbox.
Why you can trust Windows Central Our expert reviewers spend hours testing and comparing products and services so you can choose the best for you. Find out more about how we test.
If you're a gamer, there's a very good chance you've already heard of SteelSeries. The manufacturer of a vast assortment of gaming accessories and peripherals, SteelSeries rose to fame with its excellent Arctis gaming headsets and expanded into keyboards, mice, and more. Now, SteelSeries' flagship line of headsets falls under the Arctis Nova brand, and I've been using the mid-range, Xbox-specific Arctis Nova 7X as my primary gaming headset for a few weeks.
Priced below $200, the SteelSeries Arctis Nova 7X aims to offer a premium audio experience to gamers without breaking into the premium price sector by focusing on the basics and leaving behind extraneous features. It's a very good headset with solid audio quality, and it's weirdly nice as an everyday-use, multiplatform pair of headphones. It's not the most exciting wireless gaming headset, though, and it doesn't excel in every category that matters.
Disclaimer: This review was made possible by a review unit provided by SteelSeries. The company did not see the contents of the review before publishing.
Arctis Nova 7X: Price and availability
The Arctis Nova 7X is priced at $179.99 and is widely available from SteelSeries and other retailers. The headset undercuts other popular $200 wireless gaming headsets, and I personally think the price is fine for this headset's capabilities, quality, and its viability as a general-use headset. If you're just planning on using the Arctis Nova 7X for gaming (especially if it's exclusively with Xbox), this headset may feel a little overpriced. For those buyers, I've seen this headset go on sale for as low as $150, which feels like a sweet spot.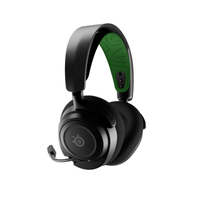 SteelSeries Arctis Nova 7X: $179.99 at SteelSeries
The Arctis Nova 7X is an excellent, multiplatform wireless gaming headset that also works well as a general use pair of headphones. If you'll take full advantage of its features, then it's well-worth the price.
Arctis Nova 7X: Design and build quality
Spiritually, the Arctis Nova 7X (and its other 7-series variants) is very much the successor to the hugely popular and much-beloved SteelSeries Arctis 7, one of our favorite gaming headsets from the time. Physically, it closely follows the new design language set by the hyper-premium (and expensive) SteelSeries Arctis Nova Pro, a flagship wireless headset that still sits near the top of the best Xbox gaming headsets of all time.
Arctis Nova 7X specs
Price: $179.99
Connectivity: 2.4GHz Quantum Gaming 2.0 Wireless, Bluetooth, 3.5mm wired
Drivers: 40mm, 20-20,000Hz, 36 Ohm
Microphone: ClearCast Gen 2, retractable, bidirectional noise canceling, 100-6,500Hz
Battery life: 38 hours (2.4GHz) / 26 hours (2.4GHz + Bluetooth), USB Type-C fast charge
Extra features: Swappable headband/speaker plates, spatial audio, SteelSeries GG software
Weight: 325g (0.72lbs)
Platforms: Xbox, Windows PC, PlayStation, Switch, mobile devices, Oculus
This means a thinner, lighter two-tiered earcup design constructed of matte plastic, with all the headset controls lined up on the upper tier of the earcups. You also get removable (replaceable) magnetic plates on top of the earcups, an adjustable metal headband, and a suspended strip of gently elastic fabric to take the place of headband padding. While the Arctis Nova 7X understandably doesn't quite compare to the premium fit and finish of its more expensive sibling, it's obvious at a glance that it's part of the same family of headsets.
The build quality is also very good. Everything is perfectly pieced together, and the headset has a decent amount of flex and adjustability for comfort and fit, but there's no creaking, and everything feels rock solid. It feels every bit like a premium mid-range $200 headset. My only build quality concern is that the retractable mic feels a little bit on the flimsy side, making me wonder how well it will retain its tension and function over years of use.
SteelSeries also provides some avenues for customization, as you can swap out the headband strap and magnetic speaker plates for a variety of different colors SteelSeries sells. The company sent me its rose gold booster pack (it's pink), and I can see a lot of people really enjoying this feature.
Comfort-wise, SteelSeries has made a great headset. The headset "floats" on top of your head thanks to the suspended strap, and the earcup cushions are soft and breathable. There are certainly lighter gaming headsets, with the Arctis Nova 7X clocking in at 325g, but I could wear the headset for hours of gaming without discomfort in my neck or the top of my head.
I think the physical earcups are a tiny bit too small (I wear earrings, so it feels a little cramped compared to some of the other headsets I have lying around), though. I also think the headset's clamping force is ever so slightly on the weak side, as the headset tended to slide around my head quite a bit with any sudden movements. Headbanging while listening to music is a no-go with this headset, sadly.
Overall, the SteelSeries Arctis Nova 7X is not the most comfortable headset I've ever used — that honor still goes to the Razer BlackShark V2 Pro (2023) — but it's certainly a very comfy, well-designed, beautifully constructed headset.
Arctis Nova 7X: Playback quality
SteelSeries is no stranger to building a great-sounding headset, and its Arctis Nova Pro is a prime example of this. That premium headset fully embraces hi-fi audio, and it sounds incredible. The Arctis Nova 7X does not offer that same audio experience, but the DNA is there. The 40mm drivers inside this headset sound clean and clear, with a decently wide soundstage that helps you hear everything as it's intended. It's a good sound if a little boring.
That's because SteelSeries went for a more neutral, natural sound profile. Some people prefer this sound, especially audiophiles, but most people would rather have a more dynamic, poppier audio experience with deeper bass and clearer highs. I enjoyed using the Arctis Nova 7X for all manner of things, and it sounded really nice with everything I threw at it. It's not tuned like a gaming headset, though, at least not to my ears.
Other, similarly priced headsets like the BlackShark V2 Pro (2023) sound better in games, flat out. I can hear more detail, and the things I need to hear stand out more. The Arctis Nova 7X feels more like a general-use pair of headphones that happens to be pretty good at gaming, not a gaming headset that happens to be good at all the other stuff. I almost preferred to listen to music on this headset than to use it to play competitive games like Valorant.
Of course, there are ways to tweak that sound profile to your needs, which I'll cover more below. SteelSeries' GG software and its Sonar component provide a lot of tools, but it only really helps if you're gaming on a PC. This is presumably an Xbox gaming headset first, and you lose all of that control there. The Arctis Nova 7x also doesn't have onboard memory to store different sound profiles, so you really are stuck with the headset's good (but not great) default audio sound profile and tuning.
Contributing to this good-but-not-great consensus, there is a very noticeable static in the background of the Arctis Nova 7X at higher volumes. I rarely had the headset loud enough to hear the static, but it is there and should be noted. The Arctis Nova 7X does not support active noise cancellation (a rarity in this price range), but it also has next to no passive noise cancellation.
The earcup cushions are nice and breathable for long play sessions, but they also do very little to block out external noise. I could hear absolutely everything around me, even while gaming or listening to music, to the point where I almost felt like the Arctis Nova 7X was acting as an echo chamber and amplifying outside noise rather than dampening it.
Arctis Nova 7X: Microphone test
I didn't have high hopes for the bidirectional mic on the SteelSeries Arctis Nova 7X, but I was pleasantly surprised by its quality. Again, though, it's just good and not great. I sounded perfectly fine in audio recordings, games, and in video conferences with the Windows Central team, with my voice coming in clear and sounding mostly natural.
This is SteelSeries' ClearCast Gen 2 mic. It's bidirectional, supports background noise canceling, and is retractable. You can listen to an audio recording of the SteelSeries Arctis Nova 7X mic below.
I believe most people would be perfectly happy with this mic, although content creators and professional gamers will almost undoubtedly still prefer a standalone mic or something better. It doesn't hold a candle to the consistency and quality of the Razer BlackShark V2 Pro (2023), for example, which is more responsive, sounds less compressed, and is far better at filtering out background noise.
That's the biggest weakness of the Arctis Nova 7X's mic — its tendency to pick up background noise. There is AI noise canceling options on PC with SteelSeries Sonar, but not with any other platform like Xbox. The mic regularly picked up the noises of my daughter talking while playing Minecraft in the next room (sounds that I could also hear, thanks to the lack of passive noise canceling on this headset). Apart from that, though, this is a solid headset mic; not the best, but very far from the worst.
When the mic is retracted, it is still active, so you can use it for phone calls without having to drag it out. The audio takes a hit like this (you'll sound more distant and compressed,) but it's serviceable for quick calls.
Arctis Nova 7X: Wireless connectivity
The SteelSeries Arctis Nova 7X is a true multiplatform wireless gaming headset. The only difference between this variant and the normal Nova 7 is support for Xbox through the 2.4GHz wireless dongle (there's a switch to change between PC and Xbox on the dongle), which means this headset supports Xbox consoles, Windows PCs, PlayStation, and Switch, and other mobile devices. This is thanks to the inclusion of 2.4GHz wireless (PC and Xbox), Bluetooth (everything else), and even the option to plug in directly when you need to go wired.
You also get simultaneous source mixing, which is a great feature and a must-have for many players. This means you can be connected to a PC or Xbox through 2.4GHz and another device through Bluetooth at the same time and hear audio from both at the same time. Want to play PC games while talking on the phone? You can do that. Playing on Xbox with Discord on your phone? You can do that, too. How about listening to music while playing games? Yup. It's a very nice feature, and SteelSeries has done a good job implementing it.
That's because there are basically two power buttons. One (actually labeled the power button) strictly turns on 2.4GHz, connecting your headset to the USB dongle automatically. The other is the Bluetooth button, which strictly turns on Bluetooth (I had to manually connect the headset to my phone each time, though). You can choose which wireless signals you need when you need them or turn on both for simultaneous audio. It's intuitive and works well.
One surprising, nice-to-have feature that further enables the Arctis Nova 7X as an everyday-use headset is multimedia controls when connected via Bluetooth. You can pause/play media and pick up / hang up calls with a single press of the Bluetooth button, skip forward a track with a double tap, and go back with a triple tap. With a volume wheel on the other side, you have everything you need to use the Arctis Nova 7X for listening to music and taking calls while on the go without needing to get your phone out each time.
I did have a few complaints about wireless connectivity, but nothing too serious. Besides needing to manually connect the headset to my phone each time I turned Bluetooth on, I also had issues getting the Arctis Nova 7X to connect to my Xbox after each time I used Bluetooth. For some reason, it would just refuse to connect via 2.4GHz until I unplugged the USB dongle and plugged it back in, then it worked.
Finally, the Arctis Nova 7X relies on a USB Type-C dongle that not only takes up one of the very limited ports on my Xbox Series X but also requires the Type-A to Type-C extender cable to connect (which isn't SteelSeries' fault, the Xbox Series X should have a Type-C port).
I don't think an Xbox-specific version of the Arctis Nova 7 was necessary since it's utterly identical in every way (including price) other than the USB dongle not supporting Xbox — Just make one version with the same platform support. A "7X" alternative should have native Xbox Wireless support, in my opinion, but that's pretty uncommon in wireless gaming headsets, sadly.
Arctis Nova 7X: Battery life
SteelSeries rates the Arctis Nova 7X at 38 hours of battery life over 2.4GHz wireless and 26 hours of battery life with simultaneous source mixing (2.4GHz and Bluetooth). After using this headset as my primary Xbox gaming headset for a couple of weeks, this estimate seems pretty accurate. The Arctis Nova 7x has great longevity, although not best-in-class (again, that honor goes to the Razer BlackShark V2 Pro). Still, it's an improvement over its predecessor and does sit among the upper ranges of battery life in wireless gaming headsets.
When you do need to charge the headset, you can do so via the USB Type-C port, which does support fast charging. Six hours of playtime will cost you 15 minutes of charging, and you probably get a full 0-100% charge in around an hour and a half. This is pretty standard for a modern gaming headset, and I don't really have any complaints in this category. The Arctis Nova 7X has good endurance and a good charging experience. You can always use the 3.5mm audio port and plug in directly if you run out of juice, too (a cable is included in the box).
Unlike the Arctis Nova Pro or some other high-end headsets, the Arctis Nova 7X does not feature swappable batteries or a charging dock. At this price, that's perfectly reasonable and expected.
Arctis Nova 7X: Extra features
The Arctis Nova 7X doesn't have a lot of extra features or niceties to its name. It's a straightforward, well-rounded wireless gaming headset. The only thing it really has is SteelSeries GG, a software platform for SteelSeries products that includes Engine (for lighting customization and firmware updates, among others) and Sonar, a comprehensive audio customization and equalizer platform that you can use with most headsets.
This software is...decent. There are quite a few options, which can be overwhelming but also provide granular control for users to tweak the audio profile of the Arctis Nova 7X to their heart's content, with a bunch of presets for specific games and tasks. You can also find various settings, such as noise cancellation for mics and even a feature to filter out background noise from your friends' voice chat from apps like Discord, which is very neat.
However, none of this is exclusive to the Arctis Nova 7X or even SteelSeries headsets. You can use all of these features with the headset you own now. What it is exclusive to is PC, which is a real shame. This is an Xbox gaming headset, but you don't have any control over the headset beyond its physical onboard controls when you're playing on Xbox. Hopefully, this will change in the future.
Arctis Nova 7X: Competition
There are a lot of sub-$200 wireless gaming headsets, but the top of the bunch is easily the Razer BlackShark V2 Pro (2023). I've already mentioned it a lot in this review and for good reason. It's more comfortable, sounds better, lasts longer, has more features, and has a far better mic than the Arctis Nova 7X for just $20 more. The only compromise? You'll lose Xbox support, and it's not able to do simultaneous 2.4GHz and Bluetooth wireless connections (you have to switch between them). It's a far superior gaming headset, but it's not as good as a general-use pair of headphones.
If you need Xbox support, you can also consider the Turtle Beach Stealth 700 Gen 2 MAX. This headset is very similar to the Arctis Nova 7X in that it supports Xbox and PC via a USB dongle and all other platforms via Bluetooth and has simultaneous source mixing. The Turtle Beach sounds better overall, though, with a more fun sound profile better suited to gaming and superior passive noise canceling. It lasts just as long (if not longer) than the Arctis Nova 7X and is also mighty comfortable. The Arctis Nova 7X has a better mic, though, and its Bluetooth connection is more stable and provides a better audio experience than the Turtle Beach.
You could also consider the LucidSound LS50X, another great multiplatform wireless gaming headset with a better overall audio experience than the Arctis Nova 7X. This headset was a lot more expensive, but now you can regularly find it heavily discounted, making it a high-value alternative to the Nova 7X. LucidSound headsets have some quality control concerns, though, with SteelSeries having a better reputation for durability.
Arctis Nova 7X: Should you buy it?
You should buy this if ...
You need a multiplatform wireless gaming headset that supports Xbox
You want a headset that you can use for far more than just gaming
You want audio source mixing with Bluetooth and 2.4GHz wireless
You should not buy this if ...
You plan to only use this headset for gaming and nothing else
You value great sound quality above everything else
I really like the SteelSeries Arctis Nova 7X. It's a great multiplatform, multipurpose wireless headset that's also very enjoyable to use for gaming on Xbox and PC. It's well-designed, lasts a long time, and doesn't have any major flaws or drawbacks. The biggest failing of the Arctis Nova 7X is just that it's not better than the best Xbox headsets in any area — It's just the same level of good all around. If you want one headset that can do everything for you, this is a fantastic choice.
If you just want a wireless headset for gaming, especially on Xbox, there may be better options for you with superior audio or feature sets. If you don't even care about Xbox support, the Razer BlackShark V2 Pro (2023) is quite simply the better gaming headset. Still, anyone picking up the SteelSeries Arctis Nova 7X as their next wireless gaming headset is bound to be happy with what they get... A headset that's good for gaming and for everything else.