The Razer BlackShark V2 Pro (2023) looks nearly identical to the original, but with a host of fantastic improvements — like an industry-leading mic, longer-lasting battery life, and even better comfort — that make the new version one of the very best wireless gaming headsets you can buy.
Pros
+

Genuinely fantastic mic that stands out among gaming headsets

+

Comfortable, ergonomic design that can be worn for hours with no issues

+

Nearly 3 times as much battery life (up to 70 hours) with no added size or weight

+

Added Bluetooth connectivity for compatibility with more devices and platforms

+

Intuitive Smart Switch button that makes it easy to switch between onboard sound profiles and devices
Cons
-

Doesn't work with Xbox consoles

-

No multi-source audio mixing between Bluetooth and HyperSpeed Wireless
Why you can trust Windows Central Our expert reviewers spend hours testing and comparing products and services so you can choose the best for you. Find out more about how we test.
Razer's BlackShark line of gaming headsets caters directly to competitive gamers, who value raw performance over added features. It's a focus that has led the brand to immense success, with the Razer BlackShark V2 Pro standing at the top of the heap as a fan-favorite wireless headset among eSports professionals and gamers alike. Now, that headset is even better.
Razer has taken the original Razer BlackShark V2 Pro from 2020 and updated it with a ton of improvements and changes. The design, weight, and overall dimensions are identical in the 2023 refresh, but the battery life is nearly tripled, the mic is now one of the best in the industry, the headset is even more comfortable, and Bluetooth support joins the fantastic Razer HyperSpeed Wireless dongle. The result? The Razer BlackShark V2 Pro (2023) is nearly perfect, and by far one of the best PC gaming headsets for those who value performance above all else.
BlackShark V2 Pro (2023): Pricing and availability
The Razer BlackShark V2 Pro (2023) enjoys a small price increase over its 2020 predecessor, with the wireless headset retailing for USD $199.99 directly from Razer. This makes the BlackShark V2 Pro a premium mid-range headset, placing it well above the sub-$100 price points of budget headsets, but below the flagship category that includes high-end $300+ headsets.
Razer's BlackShark V2 Pro update is available worldwide from April 27, 2023 directly from Razer, and should also come to third-party retailers over time. The headset is available in Razer's classic Black and Mercury (white) colorways.
Swipe to scroll horizontally
Razer BlackShark V2 Pro (2023)

| | |
| --- | --- |
| Connectivity | Razer HyperSpeed Wireless via 2.4GHz wireless dongle |
| Row 1 - Cell 0 | Bluetooth 5.2 (AAC, SBC codecs) |
| Drivers | Razer TriForce Titanium 50mm |
| Frequency response | 12Hz to 28,000Hz |
| Impedance | 32ohms |
| Mic | Razer HyperClear Super Wideband mic |
| Row 6 - Cell 0 | Detachable (3.5mm), unidirectional |
| Row 7 - Cell 0 | 32,000Hz sampling rate |
| Row 8 - Cell 0 | Internal & external pop filters |
| Mic frequency response | 100Hz to10,000Hz |
| Battery life | Up to 70 hours |
| Row 11 - Cell 0 | Charging via USB Type-C (up to 6 hours per 15 minutes) |
| Headset controls | Power button |
| Row 13 - Cell 0 | Mic mute button |
| Row 14 - Cell 0 | Volume wheel |
| Row 15 - Cell 0 | Smart Switch button (switch between sound profiles, sound profile types, and connection types) |
| Extra features | THX Spatial Audio |
| Row 17 - Cell 0 | On-board sound profiles |
| Row 18 - Cell 0 | Pro-tuned FPS sound profiles |
| Weight | 320g (0.71lbs) |
| Platforms | Windows PC, PlayStation, Switch, Android, iOS |
In the box, you get the BlackShark V2 Pro (2023) wireless gaming headset, the detachable HyperClear Super Wideband mic, the USB Type-A HyperSpeed Wireless dongle, a braided USB Type-A to Type-C charging cable, and a braided USB Type-A to USB Type-A extender cable (for the wireless dongle). The headset's battery is nonremovable.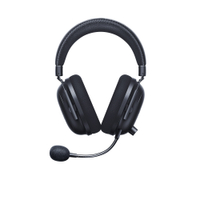 Available now — Razer BlackShark V2 Pro (2023)
The Razer BlackShark V2 Pro is one of the best wireless gaming headsets you can buy, and it's available right now. You can find Razer's latest flagship headset at the below links.
Buy from: Razer (Black) | Razer (White) | Walmart
BlackShark V2 Pro (2023): Design and build quality
Are you familiar with the original Razer BlackShark V2 Pro? Good, then you know exactly what you're getting with the new 2023 model. While there are subtle additions and changes in the name of new features and improvements, the design of the BlackShark V2 Pro (2023) is largely identical to that of its predecessor. You're still getting a headset with a shape and size inspired by pilot headsets, with a protruding volume wheel, a faux-leather wrapped headband, thick microtextured padding, and the unique headband sliders for adjustability.
Even if you're not familiar with the original, it's easy to tell what you're getting with Razer's eSports-tailored headset. That is to say, this is a very premium-feeling headset with excellent build quality, even if it's not comprised entirely of the most expensive or lavish materials. You're also not getting a flashy design here, with no bright splashes of color or Razer Chroma support, but that's okay.
The matte black (or white) plastic used for the earcups is high-quality and tightly constructed, there's no creaking anywhere to be found (even when flexing the headband unnaturally), and every button and control has a satisfying and reliable action. There's a reassuring consistency to the BlackShark V2 Pro; it has a simple design that does exactly what it needs to and nothing more, but it does it with enough confidence that I'd be shocked if this headset wasn't durable enough to survive years of hardcore gaming.
Razer did make some changes to improve the BlackShark V2 Pro (2023)'s durability, however. For one, the steel headband sliders that let you adjust the headset size have been reinforced. I'll be honest, I'd still prefer a more traditional adjustable headband design (these sliders are far too easy to accidentally adjust, tarnishing your perfect fit), but I admit the sliders are consistent and feel well constructed despite their diminutive stature.
Secondly, Razer also reinforced the detachable mic. It still retains its flexibility for very easy adjustments, but the connection point is far more sturdy than in the last model, according to Razer. There's a pretty obvious improvement here, with the mic connector being much longer than in the previous model. Hopefully, this will mean less mic failure due to frayed wires, a common occurrence in headsets that have detachable, flexible mics.
BlackShark V2 Pro (2023): Comfort
I was immediately shocked by how light the Razer BlackShark V2 Pro (2023) is. Despite its wireless capabilities and internal battery, this headset is actually significantly lighter than the wired Razer Kraken Kitty V2 Pro (even without its ears). Its weight is identical to the previous BlackShark V2 Pro, but Razer still made efforts to improve its comfort levels, even going as far as updating the microtexture on the cushions and padding.
Yeah, I can feel it. This headset is damn comfortable. The stronger headband and headband sliders, the refined clamping force, and the gently tweaked cushions are the exact (and only) ways Razer could've improved the original BlackShark V2 Pro, which was consistently praised for its comfort. I never felt any amount of discomfort while wearing this headset, either on top of my head or around my ears (and my earrings), even after hours of nonstop gaming.
This is now the most comfortable gaming headset I own, and by a decent margin. The headset is light, the earcup cushions feel cool and soft, and the headband padding (where many headsets stumble) is perfectly thick and cushioned. The headset does shift a bit with rapid side-to-side head movements, but I still feel the clamping force is almost perfect, an achievement in itself. All the headset controls are easy to locate by feel alone, too.
One thing that surprised me is how great the BlackShark V2 Pro is at noise isolation. This headset isn't active noise cancelling, but it still does a great job muffling outside noise when you're wearing it. Most impressively, the earcups achieve this seal without feeling stuffy, a pitfall other headsets like my Turtle Beach Stealh 700 Gen 2 fall into.
BlackShark V2 Pro (2023): Sound quality
The Razer BlackShark V2 Pro (2023) employs the same 50mm TriForce Titanium drivers found in Razer's other high-end headsets, and they sound just as good. It should be noted that this headset boasts an impressively superior frequency response to other Razer headsets, and it's almost immediately clear that the headset is tuned for gaming rather than general use.
Out of the box, the BlackShark V2 Pro doesn't sound as warm and inviting as other headsets like the similarly priced Kraken Kitty V2 Pro, but that's due to its default tuning leaning more toward a refined, slightly unnatural game-focused tuning. After all, the BlackShark line is all about gaming, especially competitively, and its default tuning reflects that. Fortunately, it's easy to change its sound with a series of default sound profiles and a custom EQ that you can tinker with in Razer Synapse.
One genuinely fantastic feature added to the new BlackShark V2 Pro is the inclusion of onboard sound profiles, which you can instantly switch between thanks to the handy Smart Switch button located on the right earcup. There are four standard sound profiles (Game, Movie, Music, and Custom), as well as five "eSports" sound profiles (Apex Legends, Call of Duty, Counter-Strike: Global Offensive, Fortnite, and Valorant) that are tuned by actual pro players using the headset. I'll go into more detail on this down below.
Suffice to say, the BlackShark V2 Pro can be versatile, especially if you're willing to customize the sound profile or take advantage of the onboard profiles. It takes only a second to switch between the "Valorant" sound profile when I want to play a round or two, then back to "Music" for general usage like Spotify and video conferences. There's also THX Spatial Audio support, although it's unfortunately separate from the standard and eSports sound profiles and can't be configured with the Smart Switch button or easily switched to if you want to regularly use both (not one or the other).
The Razer BlackShark V2 Pro (2023) isn't the best sounding gaming headset in the world, but its sound quality is perfectly great for this price point, and is bolstered by clever features like Smart Switch to change your sound profile on the fly depending on what you're doing (yes, Smart Switch works with Bluetooth devices, too). Sound-wise, this is now my favorite headset for gaming, but the addition of Bluetooth support and the aforementioned Smart Switch make a compelling case for the BlackShark V2 Pro as an everyday headset, too.
BlackShark V2 Pro (2023): Mic quality
Recently, we published an opinion piece on the state of gaming headset microphones that was well founded. Quick summary: they mostly suck. And while it wasn't specifically directed at Razer, the company noticed and reached out. Specifically, Razer noted that it has been working on a new headset where the microphone wasn't only better, but it was a key focus point. You guessed it, that headset is the BlackShark V2 Pro 2023 edition.
Razer was also kind enough to explain not only what it's doing to make the microphone better, but what the issues have traditionally been, especially on wireless headsets. The problem is that traditional wireless headset microphones lose a lot of your vocal detail during the transmission process. So however good the hardware is, what it picks up doesn't all get transmitted. Razer has fixed this on the BlackShark V2 Pro (2023) with what it's calling its HyperClear Super Wideband microphone.
It benefits from a 32KHz polling rate, double that of basically every other leading wireless headset. This translates to being able to retain more of that crucial detail, which then results in a clearer, crisper, more natural sound. Think of it like this — You have four straight lines between your mouth and the PC. Most headsets will see those four lines at the microphone, but then only two of them will make it through. So, the sound is flat, lacks any real definition, and sounds like you're working in a call center. The increased bandwidth and sample rate alone is enough to provide a richer sound, but Razer has also optimized its signal processing algorithms to work in tandem to get the best possible result.
Razer's new microphone will see and transmit all four of those lines, preserving the detail and the sweet sound of your voice. It isn't going to replace a high-end dedicated microphone anytime soon, but for most of us, the sound quality you're getting with this headset isn't just adequate... It's plain great.
Besides our opinion, Razer has been secretly seeding this headset to pro gamers for some time now (hiding in plain sight because it looks like the old version) and the feedback there is every bit as good.
So how does it sound? You be the judge.
The secret sauce is stuff you won't see, with that extra bandwidth and optimizations under the hood. But the microphone itself is a capable piece of hardware. It has a super cardioid pickup pattern to suppress background noises such as your keyboard, and two pop filters, including one built into the microphone so you can use it without the cover and still get those harsh 'P' sounds filtered out. Razer also opted for a condenser-style mic rather than a more common dynamic-style mic. Condenser mics are what are usually used in studios for music, podcasts, and other content creation, and are very focused on capturing your voice and nothing else.
Even the microphone arm has been improved, as Razer found it was sagging too much over its lifetime. It's still completely detachable and bendable, but it'll stay tense for much longer.
The microphone is so good on the BlackShark V2 Pro (2023) it's now comparable to Razer's budget Seiren USB microphones. That's a huge deal. For a lot of gamers and content creators, especially those tight on space or budget, this headset is a one-stop solution for great sounding audio in your ears and from your mouth. — Richard Devine (with contributions from Zachary Boddy)
BlackShark V2 Pro (2023): Wireless connectivity
Similar to the last BlackShark V2 Pro, this headset's primary way to connect to your devices is via a 2.4GHz wireless dongle powered by Razer's HyperSpeed Wireless. Razer's HyperSpeed is a known quantity at this point, and is a reliable connection with low latency and high stability. It works well here, with the headset connecting instantly and seamlessly once powering on. In the box, Razer now includes a braided USB Type-A extender cable, as well, so you can plug your wireless dongle in and place it somewhere away from your computer and other wireless devices (to hopefully reduce interference).
One major new feature with this refresh, though, is the addition of Bluetooth 5.2 support. Now, the Razer BlackShark V2 Pro can connect to a much wider variety of devices. You may get higher latency and more potential for interference while using Bluetooth, but the trade-offs for convenience are well worth it. A simple double-tap of the Smart Switch button is all you need to switch between HyperSpeed and Bluetooth connectivity, and it's quick and painless to pair. When connected via Bluetooth, I had no issues with sound quality or stability. You can also still switch sound profiles even on Bluetooth!
It's worth noting, though, that the BlackShark V2 Pro (2023) cannot do simultaneous connections, which means no multi-source audio mixing. It's either connected via HyperSpeed or Bluetooth, never both. It's simple to switch, but it's not the same as playing games on your PC while being able to be in a Discord or phone call on another device. Whatever audio you need to hear on your headset, it all needs to come from the same place. Also, the BlackShark V2 Pro seemingly can only connect to one Bluetooth device at a time.
I did encounter some bugs. There was a brief issue where all sound output from the headset was heavily digitized and basically nonsensical; this could've been from wireless interference, but I have the HyperSpeed wireless dongle plugged into my headset stand on the other side of my desk from my PC. More intriguing, though, is a bug where the stereo channels (left and right) were switched when I changed from standard to pro-tuned sound profiles, which made the headset basically useless for gaming. I had to turn the headset off and on again to fix it. Finally, I encountered an issue where the headset was connected but there was no sound, a problem I was able to fix by changing Windows' sound output to a different source and then back to the headset.
All three of these bugs only happened once and were easily fixed, and I was unable to reproduce any of them. The BlackShark V2 Pro also received a firmware update a few days before this review was published, although it's unclear what was changed or improved. All I can attest to is that I've encountered zero issues or bugs since the update.
BlackShark V2 Pro (2023): Battery life
The original BlackShark V2 Pro boasted up to 24 hours of battery life and microUSB charging. This was respectable, especially in 2020, but Razer has been making significant strides since then. The new 2023 BlackShark V2 Pro nearly triples that rated battery life, and relies on USB Type-C for a superior charging experience.
Up to 70 hours of battery life seems ridiculous, especially considering there's no change to the headset's weight or size, but it honestly doesn't seem too far-fetched in my testing. I've been using the BlackShark V2 Pro consistently for over a week, regularly playing games like Valorant, attending video conferences with the Windows Central team, and listening to music. I charged the headset up to 98% before first using it, and after all of that usage (at least 25 hours), my unit is down to just 60%. If I need to top it up, Razer says you can get 6 hours of usage in just 15 minutes, although that means a full charge will take quite a long time.
That's okay, though, because even using the Razer BlackShark V2 Pro (2023) every single day, at least three or four hours a day, I'd still only have to charge it once every two weeks. That's incredible, and makes the fact that the BlackShark V2 Pro does not have hot swappable batteries, like the SteelSeries Arctis Nova Pro, much more palatable. If I ever discover I'm low enough on juice that a feature like that would be helpful, then it's just because this headset lasts so long it's easy to forget you need to charge it all. Seriously, I have no idea what kind of wizardry Razer pulled off to make a nearly 3 times increase in battery life happen.
One thing I wish the BlackShark V2 Pro did, though, was give you a quick message on its current battery level when you first power it on. This is something I like about the Surface Headphones 2, and I wish it was here, too. As it is, you have to go into Razer Synapse (or Windows' Bluetooth settings, if you're using Bluetooth) to find that helpful percentage.
BlackShark V2 Pro (2023): Extra features
Extra features, what are those? The Razer BlackShark V2 Pro certainly doesn't know. This is a very focused headset, so it doesn't include niceties like Razer Chroma, HyperSense haptics, active noise cancelling, or anything else like that. The only "extra feature" it has is the Smart Switch button, and that, at least, is pretty awesome.
I've already mentioned the Smart Switch before, so I'll keep this brief. Single-press to switch between different sound profiles, long-press to switch between standard and pro-tune sound profile categories, and double-press to switch between HyperSpeed and Bluetooth wireless connections. An onboard voice narrates your actions, so you always know where you're at. There's no real way to customize this, like making THX Spatial Audio one half of the long-press options and making the other half a combination of standard and pro-tune sound profiles, but it's still great to have this feature. It also uses onboard storage to store the profiles, so Bluetooth devices get those same features.
Through Razer Synapse 3, you also get the usual array of handy, additional features. This includes full, customizable EQs spread across multiple sound profiles, Sound Normalization, Bass Boost, and Voice Clarity enhancements for the headset, and Volume Normalization, Vocal Clarity, and Mic Noise Cancellation enhancements for the microphone. There's also a demo to test your settings, and you can turn on Do Not Disturb for Bluetooth calls, disable the microphone, change the headset's standby time when not in use, and more.
BlackShark V2 Pro (2023): Competition
There are lots of fantastic gaming headsets, but if what you're looking for is a long-lasting wireless headset focused entirely on gaming performance, there are few that can compete with the Razer BlackShark V2 Pro (2023). The SteelSeries Arctis 9X is an aging option with great sound quality, comfort, and added Xbox Wireless support, but the BlackShark V2 Pro has a better mic, far longer battery life, and a greater overall feature set. You can often find the SteelSeries on sale, though.
The Turtle Beach Stealth 700 Gen 2 is $50 cheaper at retail and works even better cross-platform with multi-source audio mixing (and Xbox Wireless support), but is bested by the BlackShark V2 in comfort, battery life, sound quality, mic quality, and ease of use. If you're in the market for a more expensive headset, both the SteelSeries Arctis Nova Pro and brand-new Turtle Beach Stealth Pro retail for over $300, but have greater build quality, feature sets, and sound quality. The Stealth Pro, especially, is currently our top pick for a premium wireless gaming headset that supports both Xbox and PC.
All these aforementioned headsets at least cover one area the BlackShark V2 Pro simply cannot — Xbox support. Bluetooth connectivity lets this headset work with PlayStation, Switch, and mobile devices, but it's still primarily a PC headset and lacks any ability to work with Xbox consoles. If that's something you need, look at the above headsets or our list of best Xbox headsets. You can also peruse our list of best PC gaming headsets for more options, but you'll be hard pressed to find something that goes toe-to-toe with the BlackShark V2 Pro on every front at this price level.
You may be wondering how the last-gen BlackShark V2 Pro compares and... It's complicated. The 2023 edition is undeniably better; you'd be sacrificing the superior mic, most of the battery life, the improvements to comfort and durability, and the Bluetooth support. Still, the BlackShark V2 Pro (2020) was an incredible headset at launch, and it's still great today — A very sizeable discount would make it a steal if you don't need the improvements made in the 2023 model.
BlackShark V2 Pro (2023): Should you buy it?
You should buy the Razer BlackShark V2 Pro (2023) if ...
You need the ultimate headset for competitive gaming
You need a wireless headset with a long-lasting battery and great comfort
You don't need fancy features like RGB lighting or active noise cancelling
You should not buy the Razer BlackShark V2 Pro (2023) if ...
You want a headset that also works with Xbox consoles
You need multi-source audio mixing between Bluetooth and 2.4GHz wireless
I'm almost a little mad at how good the Razer BlackShark V2 Pro (2023) is. When I reviewed the Razer Kraken Kitty V2 Pro, I was certain it would be my primary headset for a long time to come. After all, how could I say no to the customizable RGB lighting and adorable ears? The BlackShark V2 Pro is so good as a wireless gaming headset, though, that it'll be very difficult to choose between the two of them. It's the epitome of "form over function," and the function-half of the argument is particularly compelling.
The BlackShark V2 Pro is one of the most comfortable headsets I've ever worn, it lasts a stupendously long time, it sounds awesome, the mic is actually good (wow!), and the convenience of wireless cannot be understated. Razer made all the right improvements in all the right places, cementing the BlackShark V2 Pro as the eSports gaming headset. I wish I could have this exact headset with kitty ears and a little bit of lighting, because that would truly be the best of both worlds for me.
Razer opted not to call this the BlackShark V3 Pro because it didn't update the design, but the improvements here are dramatic enough that this is more than a simple mid-gen refresh. If you need a pro-grade wireless headset for PC gaming without breaking $200, put the Razer BlackShark V2 Pro (2023) at the very top of your list. In fact, don't make a list — Just buy this headset.
Razer BlackShark V2 Pro (2023)
The original BlackShark V2 Pro is still one of the best wireless gaming headsets, but the new 2023 model is a huge improvement with a better mic, nearly three times the battery life, superior comfort and build quality, and much more. If you need the best headset for competitive gaming, look no further than the Razer BlackShark V2 Pro (2023).
Zachary Boddy (They / Them) is a Staff Writer for Windows Central, primarily focused on covering the latest news in tech and gaming, the best Xbox and PC games, and the most interesting Windows and Xbox hardware. They have been gaming and writing for most of their life starting with the original Xbox, and started out as a freelancer for Windows Central and its sister sites in 2019. Now a full-fledged Staff Writer, Zachary has expanded from only writing about all things Minecraft to covering practically everything on which Windows Central is an expert, especially when it comes to Microsoft. You can find Zachary on Twitter @BoddyZachary.
I didn't think anything would make me give up the Razer Kraken Kitty V2 Pro, but here we are. This headset is just plain awesome.

Reply