The best Halo Infinite Forge maps we've seen so far
Forge is an incredible tool, and talented players have been putting it to good use ever since it released.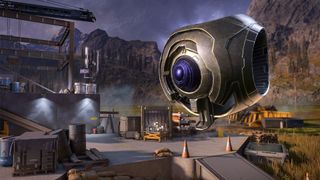 (Image credit: Xbox Game Studios)
Halo Infinite's Forge mode has finally arrived thanks to the recent launch of the game's large Winter Update, and ever since the map-making tool has been available, players have been using its advanced functions to make incredible creations. Images and videos of maps with everything from beautiful-looking environments to powerful scripted events made using Forge's node-based programming language have sprung up all over social media as talented Forgers continue to show what the tool is capable of.
While many of these maps are still in a work-in-progress state since their architects are still working out concepts, layouts, aesthetics, and more, there are also a wide variety of excellent maps that are largely finished and currently available to bookmark. Here's a collection of some of our favorites, as well as details about how you can play them and links to where you can find them on the Halo Waypoint Content Browser.
How to play Halo Infinite Forge maps
In order to save and play a Halo Infinite Forge map, you'll have to bookmark it using the Halo Infinite Content Browser. This tool allows you to search for maps that other players have uploaded based on everything from total bookmarks and publication date to title keywords and the number of people that have played on it. Note that the Content Browser can be accessed within the Halo Infinite game client and from the Content Browser section of Halo Waypoint, though you'll need to make sure you're logged into your Xbox account while using the latter.
Once you find a map you're interested in, simply click the button that says "Bookmark." The map will then appear in the list of your bookmarks next time you're selecting something to play in Custom Games. Something to keep in mind is that some custom maps require an accompanying custom mode in order to work properly, so read map descriptions and make sure to bookmark modes that the author says are required or recommended.
Best Halo Infinite Forge maps: Arena
These new and original Forge maps are designed to be played with Halo Infinite's 2v2 and 4v4 Arena modes.
Curfew
This beautiful map by FORGERA creator and XboxEra co-founder Jon Clarke (Sikamikanico) promotes close and medium-range engagements within a dark and mysterious sci-fi dystopia. The grungy cyberpunk theming looks incredible, and Curfew plays very well across Slayer, Strongholds, and King of the Hill modes as well.
Solution
I Crush All and NightAvenger01 have collaborated to create Solution, a grimy dieselpunk map with gorgeous visuals and a focus on tight, close-quarters gameplay with lots of trick jumps and nifty hiding spots. Without a doubt, it's one of the best-looking Forge maps ever made, and it showcases just how limitless the potential of Halo Infinite's Forge mode is.
CrestFallen
CrestFallen by Echo7Project brings the sci-fi action of Halo to a medieval combat arena. Set in a small worn-down castle at dusk, the map encourages lots of close-range fighting and vertical movement throughout its baileys and battlements. Overall, the map looks fantastic, and highlights the usefulness of Forge mode's object texture and material swapping.
Goodneighbor
Goodneighbor by Cairnst takes the iconic Fallout 4 location and turns it into a well-designed Arena map, emphasizing mid and long-ranged firefights in its light-bathed streets. It's not an exact 1:1 recreation for gameplay reasons, but nevertheless, it's instantly recognizable as the settlement that Fallout fans know and love.
Hoodlum
Hoodlum by CertifiedChamp is an urban-style map inspired by Half-Life 2's City 17 that was designed with long-range 4v4 gameplay in mind. Players can use the map's various inclines and ramps to manipulate sightlines and mitigate incoming damage, though the Warthog and Gungoose present give teams options for offensive vehicular play as well.
Eternity
If you're looking for a 1v1 or 2v2 map, we recommend Eternity by Paimon. It promotes lots of vertical movement with its twisting pathways and teleporter, although there's plenty of horizontal open space for more traditional duels as well. The white marble aesthetic is both striking and attractive, and since it's not a commonly-used style for Forge maps, it stands out quite a bit.
Best Halo Infinite Forge maps: Big Team Battle (BTB)
These maps are best played in 8v8 or 12v12 formats, similar to Halo's official Big Team Battle (BTB) modes.
Tiny Woods
What if Grounded was a Halo map? That's essentially the experience that Tiny Woods by MineMoods offers, as it's designed to make players feel like ants in a backyard. In terms of gameplay, expect lots of mid and long-range encounters broken up with Warthog charges and a good amount of cover.
Glacial
Glacial by AbyssalSoda is a Halo: Combat Evolved-style BTB map that looks heavily inspired by both Halo: CE's Sidewinder and Halo 3's Avalanche. Expect lots of chaotic vehicle gameplay, some nifty flank routes, and lots of open space perfect for sharpshooting.
Quiescent
Quiescent by BeiBok reimagines Halo 3's Narrows map as a larger BTB stage. Though a few light and medium vehicles are present, the map is largely infantry-focused, challenging teams to duke it out across the map's long sightlines. Sneaky players may find success attempting to flank through a large temple-like structure off to the side.
Bespin Platforms
Longtime shooter fans may sense something familiar about Bespin Platforms, a map created by Star Wars HQ that recreates the iconic arena from the original Star Wars: Battlefront from 2004. Just like the original version, this map features a heavy emphasis on intense infantry combat, though players can also opt to provide helpful air support using the Banshees scattered around the various platforms.
Argonaut B
Argonaut B by DarkMaiming is arguably the most impressive Forge creation we've ever seen. The map itself is a gorgeous icy BTB battleground that's rife with opportunities for infantry and vehicle engagements across various ranges, but it gets even better. The map's accompanying mode, Warbound, functionally recreates Halo 5's Warzone PvPvE mode with scripting, and is complete with a currency system, purchasable weapons and vehicles, and AI-controlled bosses. To say that Argonaut B is phenomenal is an understatement.
Best Halo Infinite Forge maps: Remakes
Looking for remakes of classic Halo maps? These fan-made Forge remakes will be right up your alley.
Coagulation
Coagulation by AIPHAEPSILON is a fantastic remake of the map of the same name from Halo 2, which itself is a remake of Blood Gulch from Halo: CE. Featuring a blend of both games' artistic styles, the map looks as great as it plays. Prepare for plenty of chaotic vehicular action broken up by mid-range infantry combat in the hilly terrain.
Lockout
One of Halo 2's best maps returns in Halo Infinite thanks to this Lockout remake by UneeQ. Both the verticality-focused layout and wintry aesthetic of the map is perfectly faithful to the original, with lots of close and mid-range fights taking place throughout its frosty metal corridors and walkways.
Danger Canyon
Danger Canyon by FRIKENDOPE 616 is perfect for when you want a casual BTB experience with constant non-stop action. The walkways and catwalks above the canyon's center naturally promote lots of mobile infantry play, while players on the ground can use vehicles like Wraiths and Warthogs to defend their bases or push towards their opponents.
Containment
Containment by II SHABUTIE II beautifully recreates one of Halo 2's darkest and most atmospheric BTB maps. Set in Delta Halo's Quarantine Zone in the middle of a nighttime blizzard, the map's center lane is dominated by Scorpion tanks while flank routes give infantry players opportunities to move through the level undetected and ambush their opponents from afar with precision weapons.
Best Halo Infinite Forge maps: Party custom games
While Forge is often used to make refined and balanced maps, it's also incredibly useful for making silly custom experiences that are fun to play with large parties. These are the best ones we've seen so far.
Oriole District (Husky Raid)
Oriole District by Paimon is a foreboding urban-themed map that's actually a custom stage for the classic Husky Raid gametype, in which each team tries to carry the other's flag across a long and narrow hallway with both sides getting randomized weapon spawns. Though the map's alley-like layout is simple, the visuals are gorgeous, making it one of our favorites.
Repul Soccer
Repul Soccer and its accompanying mode by BOB_IS_HERE pit two teams against each other in a creative version of soccer in which players use the Repulsor equipment to try and blast a ball into the other team's net. Hilariously, the ball can also kill players it impacts after it gets repulsored, which can lead to plenty of comical deaths.
Digletts
Digletts by Its Designated and Taggrin is an incredibly creative map where players spawn in burrows with sniper rifles and have to peek out of them by standing up, giving them a chance to headshot other players but also exposing them to enemy sniper fire. The result is essentially the first-person shooter equivalent of Whack-a-Mole, and it's absolutely hilarious.

Beer Pong
One of the most popular party games in the world is now playable in Halo thanks to the Beer Pong map and mode by Isle of Rein and KILLERZER0XX. In it, you can protect your cups by placing Drop Walls near them, while you have to destroy the enemy's cups by accurately throwing grenades into them.
Final Destination
What if Super Smash Bros., but in Halo? This recreation of the beloved Smash map Final Destination (along with a custom mode) by MadManEpic answers that question by giving players high health, Plasma Pistols, and infinite charges for both the Grapple Hook and Repulsor. Challenge your friends to a pummeling match and see who can survive the longest!
---
All of the above creations are superb, and if there's one thing that's clear after seeing all of them, it's that Halo Infinite's Forge is one of the most powerful tools that players have ever had to create their own content. We can't wait to see what people make in Forge next, and as players create more excellent custom maps and modes, we'll spotlight them by expanding this roundup.
Halo Infinite is available now for Xbox and PC, and it's one of the best Xbox games if you're a fan of arena-style FPS combat. The ambitious open world-style campaign is awesome, too, and with Forge here, players now have plenty of community-created content to enjoy with their friends in Custom Games multiplayer.
Get the Windows Central Newsletter
All the latest news, reviews, and guides for Windows and Xbox diehards.
Brendan Lowry is a Windows Central writer and Oakland University graduate with a burning passion for video games, of which he's been an avid fan since childhood. You'll find him doing reviews, editorials, and general coverage on everything Xbox and PC. Follow him on Twitter.