Turtle Beach launches its first carbon-neutral product with new Stealth 600 colorways
Pink and teal for the eco-conscious gamers.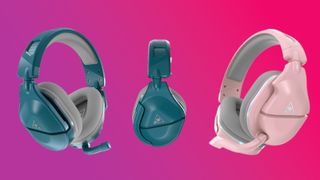 (Image credit: Future)
What you need to know
Turtle Beach has launched the Stealth 600 Gen 2 MAX in Pink and Teal.
The two new headsets are Turtle Beach's first certified CarbonNeutral products.
The MAX headsets have increased battery life and the new colors will retail at $129.99.
---
Turtle Beach, in a show of commitment to its ongoing sustainability efforts, has today added two new colorways to the Stealth 600 Gen 2 MAX range. The Pink and Teal versions of its popular budget headset for Xbox and Windows PC gaming are available now for $129.99 and are Turtle Beach's first-ever certified CarbonNeutral products.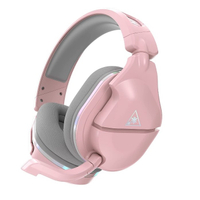 (opens in new tab)
Turtle Beach Stealth 600 Gen 2 Max $129.99 at Amazon (opens in new tab)
With an impressive 48+ hour battery life, this may be one of the best budget wireless offerings you can get for Xbox and Windows PC Gaming. In Black, White, and now Pink and Teal it's easy to find a color to match your gaming rig.
The Stealth 600 Gen 2 MAX not only claims to have a tremendous 48+ hour battery life but is at the forefront of the brand's new eco-conscious messaging. The Pink and Teal headsets are being touted as wholly CarbonNeutral, which Turtle Beach say they have achieved by reducing emissions and implementing offsets in line with The CarbonNeutral Protocol.

Turtle Beach has achieved this goal by drastically reducing the plastics used in its packaging, using sustainably sourced paper trays and boxing materials, and substantially reducing the size of its packaging for accessories. These adjustments are said to lower carbon output when transporting their goods, and they have committed to being a member of the Million Mangroves program. An ecological restoration project to restore mangroves in areas of wildlife around the world. Microsoft is already leading the way in big tech's commitment to positive climate goals, and it's great to see companies like Turtle Beach joining in the movement.
We've not put this particular model to the test yet, but its predecessor, the Turtle Beach Stealth 600 Gen 2, scored an impressive 4.5 out of 5 in our full review. We've recently updated our Best Xbox Headsets for 2023 and still rate the original Gen 2 as a fantastic budget wireless headset.
While the Turtle Beach Stealth 600 Gen 2 MAX is compatible with both Xbox Series X|S and Windows PC, it is specifically marketed as 'Designed for Xbox' with the familiar seal of approval on the headset packaging. The battery life marks a huge upgrade from the previous headset, and the included 2.4GHz wireless USB transmitter means you can switch between console and PC with the flick of a switch.

The microphone is a familiar flip-to-mute system, and the soft ear cushions look just as comfy as we found the Gen 2 is particularly suited to glasses-wearing gamers.

We can't wait to get our hands on this new and so-called improved version of the reliable Stealth 600 Gen 2, and it's commendable that more gaming companies are making a public commitment to climate change. A win in-game can also be a win for the planet.
Windows Central Newsletter
Get the best of Windows Central in your inbox, every day!
Jen is a News Writer for Windows Central, focused on all things gaming and Microsoft. Anything slaying monsters with magical weapons will get a thumbs up such as Dark Souls, Dragon Age, Diablo, and Monster Hunter. When not playing games, she'll be watching a horror or trash reality TV show, she hasn't decided which of those categories the Kardashians fit into. You can follow Jen on Twitter @Jenbox360 for more Diablo fangirling and general moaning about British weather.