Xbox Games Showcase 2023: Our 'Best in Show' picks
Contributions from
published
Our picks for the best moments at the Xbox Games Showcase 2023.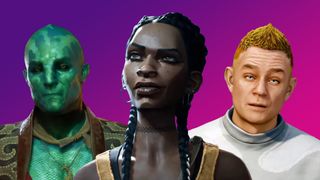 (Image credit: Windows Central)
The fate of E3 remains uncertain, but that hasn't stopped the entire video games industry from coming together in June to celebrate the medium so many of us love. From Summer Game Fest to the Xbox Games Showcase Extended, audiences were treated to dozens of worthwhile updates and captivating new reveals. The energy shared by enthusiasts and professionals is impossible to ignore, and the associated media blitz shines an amplifying light on video game creation.
Now that we're on the other side of this exhilarating and exhausting gaming gauntlet, we've spent time reflecting on our favorite moments. As a PC and Xbox-centric outlet, starting with the Xbox Games Showcase 2023 seemed only fitting. Championing one game in an event packed with heaps of outstanding games is immensely difficult, but that's precisely what we've done. After some grueling deliberation and hard-fought decisions, here are our team's picks for the 'Best in Show' at the Xbox Games Showcase 2023.
Best Space Game - Starfield
Starfield is in a category of its own 🚀
Honestly, my game of the show was Starfield, but I feel like Starfield is in its own category. The culmination of decades of dreams from Todd Howard and his team over the aptly-nicknamed "space game," Starfield looks set to take the Creation Engine sandbox RPG to an entirely new level. Absolutely unprecedented scope and scale, with a truly absurd number of interweaving systems, gives Starfield some dizzying potential if Bethesda can stick the landing.
I mentioned Starfield as being in a category of its own because it's almost unfair to compare it to other titles, at least for me, given how enormous and experienced Bethesda has become over the years. Beyond Starfield, my biggest surprise was Clockwork Revolution. I've been a huge InXile fan since Wasteland 2, specifically. The studio's uniquely dark humor and meticulous world-building skills make for immersive experiences unlike any other for me. Still, they've always skirted that "AA" line, whatever that means.
Clockwork Revolution looks like a, well, revolution for InXile. Significant budget production values, and hyperviolent combat, while still retaining the RPG traditions the studio is known for makes this steampunk shooter one of my most anticipated games. - Jez Corden, Managing Editor
Best Presentation - South of Midnight
South of Midnight was the best reveal
My first introduction to Compulsion Games was at IndieCade 2013, where I played a brief demo of the puzzle platformer Contrast. The team's commitments to unconventional art direction and intriguing gameplay mechanics were immediately apparent. I distinctly remember walking away from their booth, fascinated by the ideas in Contrast and impressed by the potential of the Montreal-based developer.
Fast-forward 10 years later, and this once budding independent studio is now an invaluable asset to Xbox Game Studios that managed to deliver my favorite reveal at the Xbox Games Showcase 2023 with South of Midnight. This gorgeous third-person action title exudes style and an enigmatic personality. The debut trailer painted a haunting picture of a video game world, unlike anything we've seen before.
The stunning stop-motion animation inspired by iconic films like Coraline and The Nightmare Before Christmas adds a mesmerizing allure to South of Midnight. We've only gotten a small taste of what's in store for the upcoming project from Compulsion Games, but I can't wait to get my hands on it. - Miles Dompier, Contributor
While practically everything first-party in the show is interesting, the standout from the Xbox Games Showcase that I can't stop thinking about was Compulsion Games' South of Midnight.
The art style and animation are instantly gripping, looking more like something from Guillermo Del Toro than a game. As a Southerner, I grew up with stories of the Deep South, the unique take on American Gothic and eerie urban legends born in the swamps and forests teeming with alligators and ill-fated love.
If Compulsion Games can tell a unique story that does this rich heritage justice, they'll have something extraordinary on their hands. Plus, the design for protagonist Hazel is just awesome. - Samuel Tolbert, Contributor
Best Licensed Debut - Star Wars Outlaws
Star Wars Outlaws is a return to form 🤲
As excited as I was to see more trailers for some of the biggest Xbox exclusives at the Xbox Games Showcase, including Avowed, Starfield, Fable, and Hellblade 2, the reveal that got me most interested was Star Wars Outlaws. In many ways, this game looks like a return to form to the LucasArts (now Lucasfilm Games) Star Wars adventures of the 90s and early 2000s starring Kyle Katarn.
Summers in my teenage years were spent exploring the galaxy as the now non-canon scoundrel-turned-Jedi who rubbed shoulders with the likes of Luke Skywalker and Lando Calrissian while wielding both a blaster and a lightsaber to fight imperialist forces. Outlaws' protagonist, Kay Vess, seems to have the same roguish attitude that I crave while playing in a galaxy far, far away. The combat scenes we've witnessed so far look polished with the perfect amount of gritty atmosphere. I can't wait to play it. - Rebecca Spear, Gaming Editor
Best RPG - Avowed
Avowed: An excellent open-world fantasy RPG
While I could gush about Starfield like everyone else on the internet is doing right now (there's no way it's not going to be incredible, right?), I'd like to call attention to Avowed instead. I was definitely interested in the game when it was announced in 2020. Still, after seeing its official gameplay trailer this year, it's shot to the top of my most-anticipated games list.
Avowed's dynamic combat looks absolutely fantastic, with its varied magic spells and enchanted weapons giving me hope for the stellar build variety that's kept Skyrim fun to play for over a decade. Obsidian's RPGs are known for their rich narrative depth and immaculate worldbuilding. I'm always down for a new setting to get lost in.
Part of my hype also stems from the fact that we haven't had an excellent open-world fantasy RPG in a long time, and yours truly is down bad for one. I can't keep relying on modded Skyrim to scratch that itch forever, so Obsidian better deliver! - Brendan Lowry, Contributor
The show was stacked from beginning to end with the most exciting upcoming games lineup I've seen in years, including Starfield, South of Midnight, Jusant, Dungeons of Hinterburg, Senua's Saga: Hellblade 2, Clockwork Revolution, Kunitsu-Gami: Path of the Goddess, and Fable. This isn't even counting all the incredible, beautiful indie games shown off throughout the rest of Not-E3 and the extended Xbox Games Showcase (I'll write more about those on my own).
Alas, I must highlight one game in particular, so I've selected Avowed. Obsidian Entertainment is one of my all-time favorite developers, solely based on The Outer Worlds, Grounded, and the masterpiece that is Pentiment (one of my 2022 games of the year). Avowed looks like the open-world fantasy RPG I've wanted for years, and it couldn't be coming from a better team.
Avowed needs to arrive as soon as possible, as I'm eager to explore the Lost Lands, experiment with the vast array of weaponry and magic, and inevitably roleplay a generally wonderful hero that never does wrong (with a secret save file in which I unceremoniously murder everything on the map). I'm also indelibly curious about Avowed's narrative. Obsidian always does a remarkable job crafting a believable, surprisingly deep world and cast of characters. - Zachary Boddy, Staff Writer
Best Third-Party Reveal – Metaphor: ReFantazio
Metaphor: ReFantazio, Atlus' first JRPG, looks WILD
My favorite moment of the show was the lineup of Atlus JRPGs, especially the world premiere of Metaphor ReFantazio, Atlus' first-ever JRPG set in a pure fantasy land. Metaphor: ReFantazio looks absolutely wild. The fantastical art direction looks so over-the-top that it makes Persona 5 appear grounded in realism by comparison. From the small pieces of gameplay we've seen, it seems like it will incorporate the best aspects of Atlus' Shin Megami Tensei and Persona series to create one heck of a JRPG.
Atlus also treated fans to Persona 3 Reload and Persona 5 Tactica during the showcase. It felt nostalgic seeing the Persona 3 universe reimagined with Persona 3 Reload. Persona 3: FES on the PlayStation 2 was the first Persona game I ever played, so seeing Persona 3 remade with the graphical fidelity, stylish presentation, and gameplay improvements of modern Atlus titles like Persona 5 while remaining faithful to the original game's art style was a delight to see. - Alexander Cope, Contributor
Best in Show - Starfield
Starfield is the BEST of the best 👑
Starfield is positioned to be the biggest Xbox game of 2023, and the reaction from the community following Sunday's Starfield Direct only furthered its juggernaut status. Todd Howard and the team at Bethesda spent over 45 minutes detailing the scope, ambition, and unparalleled possibilities of their upcoming RPG. Fans already sold on Todd's "Skyrim in Space" pitch were feasting on every morsel of new information, and even skeptics walked away in awe of what Bethesda has seemingly achieved.
For many members of our Windows Central team, Starfield was a confident highlight of Xbox's presentation. It's increasingly rare for AAA developers to spend so much time breaking down mechanics, story elements, and gameplay features ahead of launch. And the most outrageous thing about the 45-minute Starfield Direct is that it only scratches the surface, according to Todd Howard and the team.
The greatest compliment I can give Starfield's showing at the Xbox Games Showcase 2023 is it actually sold me on the game. As someone who isn't historically a massive fan of hard sci-fi RPGs (pause for boos), I was worried I wouldn't adore Starfield the same way I loved Fallout 3 and The Elder Scrolls V: Skyrim. However, after that staggering deep dive, I went from lukewarm to day one on Bethesda's space epic. - Miles Dompier, Contributor
---
The Xbox Games Showcase 2023 and Xbox Games Showcase Extended were two of the strongest in the brand's history. Compelling first-party titles, including Fable, combined with a healthy showing from partners like SEGA and Capcom, passionately demonstrated Microsoft's commitment to the video games industry. And for fans uncertain about Xbox's future, the team carefully presented both near-term and longer-term titles worth getting excited about.
With the Summer gaming extravaganza behind us, we now eagerly look towards Gamescom, Tokyo Game Show, and The Game Awards 2023 for additional information on Xbox Game Studios titles in development. If you're looking for something to play while you wait for Fable or Starfield, check out our list of the best games on Xbox Game Pass.
Get the Windows Central Newsletter
All the latest news, reviews, and guides for Windows and Xbox diehards.
Miles Dompier is a Freelance Video Producer for Windows Central, focusing on video content for Windows Central Gaming. In addition to writing or producing news, reviews, and gaming guides, Miles delivers fun, community-focused videos for the Windows Central Gaming YouTube channel. Miles also hosts Xbox Chaturdays every Saturday, which serves as the Windows Central Gaming weekly podcast.
How is ReFantazio "Atlus' first JRPG"? Everything they've done before is a JRPG, Persona games are JRPGs. What's an JRPG if not a turn based RPG coming from Japan?

Reply