Here's why Avowed co-op was canceled by Obsidian
Obsidian explained that it canceled co-op to improve the focus on Avowed.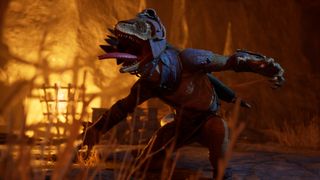 (Image credit: Xbox Game Studios)
What you need to know
A recent documentary video uploaded by Obsidian unveils some interesting background details on the development of Avowed.
Obsidian mentions that Avowed was originally going to have co-op, but they canceled it to focus on what they do best and make Avowed into a solid, single-player RPG.
Avowed is an upcoming RPG that is scheduled to be released in 2024 for Xbox Series X|S, PC, and Xbox Game Pass.
---
On Aug. 9, 2023, Obsidian released the finale of its 20th Anniversary documentary series on YouTube. The video goes into great detail about how the company was acquired by Microsoft, the development process of Obsidian's modern titles like Grounded, Pentiment, The Outer Worlds, and the upcoming Avowed. It also outlines Obsidian's plans for the future.
Obsidian talks about Avowed:• Avowed had a co-op focus early in development, now changed to a traditional Obsidian singleplayer RPG• Avowed is Obsidian's version of what a fantasy first-person RPG is• Finding the right balance between taking things from Pillars of Eternity… pic.twitter.com/SAbWQiUOVeAugust 8, 2023
During a section of the video where the developers of Obsidian talk about Avowed (highlighted by @Klobrille), they mention that Avowed was originally going to have a multiplayer co-op feature. Obsidian originally pushed for co-op as a means to entice publishers to Avowed.
However, the developers realized during development that co-op was going to harm the game in the long run as it took Obsidian's focus away from what it did best — making engaging quests, deep characters, and rich stories. In the end, the developers removed co-op from Avowed so they could focus on making it into a traditional, single-player RPG that they felt was a natural extension of what they cared about and what makes Obsidian games great.
Analysis: Why it's okay to cancel co-op in Avowed
The decision to make Avowed a purely single-player game is, I believe, a wise one to make. Trying to incorporate multiplayer systems into a large RPG is, while possible, extremely risky as it could force you to make compromises that will make the game unfocused and weaker overall.
Sticking to what made your games beloved in the first place instead of chasing trends can lead to success, as seen with Baldur's Gate 3 becoming the most popular game on Steam. Will Obsidian's Avowed receive an equally positive reception for its single-player focus and end up becoming one of the best Xbox games?
Only time will tell when this upcoming Xbox title releases in 2024 on Xbox Series X, Xbox Series S, and PC via Windows and Xbox Game Pass.
Get the Windows Central Newsletter
All the latest news, reviews, and guides for Windows and Xbox diehards.
Alexander Cope is a gaming veteran of 30-plus years, primarily covering PC and Xbox games here on Windows Central. Gaming since the 8-bit era, Alexander's expertise revolves around gaming guides and news, with a particular focus on Japanese titles from the likes of Elden Ring to Final Fantasy. Alexander is always on deck to help our readers conquer the industry's most difficult games — when he can pry himself away from Monster Hunter that is!