Konami had Metal Gear Solid 4 running on Xbox, but it was held back for one reason
The fourth entry in the Metal Gear Solid series almost came to Xbox 360 but one problem held it back.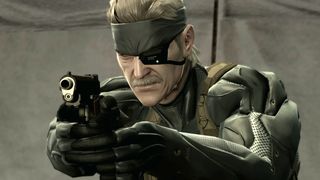 (Image credit: Konami)
What you need to know
The assistant producer for Metal Gear Solid 4, Ryan Payton, has recently revealed through an excerpt in "The Ultimate History of Video Games Vol 2" that the PlayStation 3 title was also being developed for the Xbox 360.
Konami, however, canceled the Xbox 360 of Metal Gear Solid 4 as it reasoned it was physically unviable to produce and ship a game that would've required multiple Xbox 360 DVD discs as opposed to the PlayStation 3 version which each copy only had a single Blu-ray disc.
Metal Gear Solid 4 is the fourth major in the Metal Gear Solid series and was the grand finale of Solid Snake's adventures in the franchise.
---
On June 19, 2023, the videogame journalist websites, Videogameschronicle (a.k.a. VGC) and Time Extention, recently unearthed some intriguing information regarding Metal Gear Solid 4, the fourth mainline entry in Konami's legendary Metal Gear Solid franchise.
They have discovered an interview the game's assistant producer, Ryan Payton, did for Steven L. Kent's book "The Ultimate History of Video Games Vol 2", in which he states that the PlayStation 3 exclusive title was also being developed for the Xbox 360.
PS3 exclusive Metal Gear Solid 4 was once 'running beautifully' on Xbox 360, its assistant producer says.https://t.co/UlQxCZWQ3h pic.twitter.com/MJ5kfYbSOlJune 19, 2023
According to Ryan Payton, he claims that Metal Gear Solid 4 had no exclusivity deal which prevented it from being developed on consoles other than the PlayStation 3. He even claims that Konami set up a development team dedicated to creating an Xbox 360 port and at one point said that Metal Gear Solid 4 was "running beautifully and smoothly on an Xbox 360."
However, the main reason why an Xbox version of Metal Gear Solid 4 never saw the light was due to Konami not agreeing to work with the disc format of the Xbox 360. PlayStation 3 games were produced on Blu-ray discs, each of which could hold up to 54GB of storage as opposed to Xbox 360 games which could only store up to 8.3GB due to being produced on DVD discs.
This meant that an Xbox 360 port of Metal Gear Solid 4 would have required splitting the game into multiple discs. Konami was unwilling to dedicate time and resources to this task since the PlayStation 3 Blu-ray discs made it much simpler to produce and ship the game on, so they canceled the Xbox 360 port. This is backed up by Jack Tretton, the former CEO of Sony Computer Entertainment America who once said, "Metal Gear Solid [4] is not only exclusive on PS3, it's only possible on PS3 thanks in part to Blu-ray."
The METAL GEAR SOLID: MASTER COLLECTION Vol. 1@PlayStation store page is live!Take a look, and add it to your wishlist, at the link below! 👀https://t.co/1rRZfYQWj0 pic.twitter.com/Gi9RbnuJHvMay 25, 2023
For those not in the know: Metal Gear Solid 4 was the fourth major installment of the Metal Gear Solid series. It was one of the biggest titles in the series at the time for its high-detailed graphics, advanced stealth gameplay, and epic narrative that concluded the adventures of Solid Snake as well as several storylines decades in the making.
It is interesting to hear news about how Metal Gear Solid 4 almost made it to Xbox 360 considering the announcement of Metal Gear Solid Master Collection Vol. 1 during Sony's digital showcase in May 2023.
To this day, Metal Gear Solid 4 has always remained exclusive to the PlayStation 3 while its predecessors and successors have been re-released and ported to multiple systems over the years. That includes the upcoming Xbox title Metal Gear Solid Master Collection Vol. 1, which will feature the original versions of Metal Gear Solid 1, 2, and 3 for Xbox Series X, Xbox Series S, and PlayStation 5. And that's without mentioning the upcoming remake of Metal Gear Solid 3, Metal Gear Solid Delta: Snake Eater coming soon for PC, Xbox Series X|S, and PlayStation 5.
As this is only the first volume of what looks to be a series of Metal Gear Solid re-releases, the next Master Collection volume could provide the perfect opportunity to finish what Konami started all those years ago and finally port Metal Gear Solid 4 onto Xbox consoles.
Get the Windows Central Newsletter
All the latest news, reviews, and guides for Windows and Xbox diehards.
Alexander Cope is a gaming veteran of 30-plus years, primarily covering PC and Xbox games here on Windows Central. Gaming since the 8-bit era, Alexander's expertise revolves around gaming guides and news, with a particular focus on Japanese titles from the likes of Elden Ring to Final Fantasy. Alexander is always on deck to help our readers conquer the industry's most difficult games — when he can pry himself away from Monster Hunter that is!