Garmin Connect Mobile brings its fitness tracking to Windows 10 PC and Mobile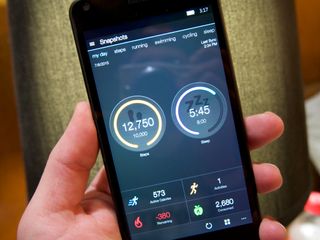 Garmin has announced that its Connect Mobile app is headed to Windows 10 and Windows 10 Mobile. The app features an all new design and allows users to view and share data taken from their Garmin fitness watches and more. Here's how Garmin describes the new app:
The app also includes Cortana and Live Tile support, enabling users to both ask Cortana for information on their activity that day and view bits of information like calories burned on the Start screen. Finally, the new app has some social sharing features on board, allowing users to share achievements to their newsfeed, check out leader boards, and compete with other Garmin Connect users with challenges.
You can check the new app out in the Windows Store at the link below, but it doesn't appear to be showing as available for download just yet. Chances are, the app simply hasn't fully propagated yet, and it should become available for download fairly soon.
Check out Garmin Connect Mobile for Windows 10 (opens in new tab)
Source: Garmin
Dan Thorp-Lancaster is the former Editor-in-Chief of Windows Central. He began working with Windows Central, Android Central, and iMore as a news writer in 2014 and is obsessed with tech of all sorts. You can follow Dan on Twitter @DthorpL and Instagram @heyitsdtl.
Yes! Finally! A native app for windows 10 mobile.

I can finally completely put my Band to rest.

So we've gained 1-800-FLOWERS, Accuweather, and now Garmin, but lost.... Path. Yeah, Windows 10 is doomed all right /s

Yeap lol, what was path anyhow?

I don't know any news about Path on Windows 10 but if it's like the Path I know, it's a social network designed for people to stay connected with those close to them. They set a limit on the amount of 'connections' so it doesn't become like Facebook with heaps of 'friends' someone isn't close to along with other features linked to the concept behind it :)

All of these companies are dumb except for Path, because everyone knows that market share is the only thing important to developers and businesses. /s

It is. Market share is there with Windows 10. They wouldn't do these apps for Windows Phone only. Posted via the Windows Central App for Android

Not even close or we'd have a total app count of zero. I just deposited a check with USAA and checked scores with ESPN...those must be run by some idiots who dint know the end all, be all market-share exclusive rule of running a business.

We have Ancient Origins, I'm good.

It says not currently available when you tey and download it....

Right, we mention that there at the end.

Come on Daniel you know half the people here don't read the last bit. Idk why though.

Probably just overly excited to download the app? :P.

Seems to be availabile now - installing on my 640

Skype and proshot, new update. Posted via the Windows Central App for Android

Their Fitness wearable are kind of ... ugly. But nice to see a Win10 app :)

Btw the app looks great and well finished.

Garmin still refuses to update it's Nav GPS app to work properly with Windows Phone (cant set as default nav app). I wouldn't pay for another app from them again. $39 and they won't keep it up to date.

Well the point of this is it complements their hardware like hub did

The fact that there was no way to click an address and have it work.with the Garmin GPS app made it a pointless waste of $39. Even worse, was their acknowledge that issue, but saying they had no intention of fixing it.

Wow, you got a technical response from them? All I got was "I'm not sure if the developers of the WP8 app are still with us". Grrreat.. I have a dedicated thread about Garmin Streetpilot. It's largely a monologue though. :)

Daniel my bad got excited I didnt read past the last set of screenshots

It's always nice to get another company on board with Windows 10, phone or otherwise!!! :p

Will this do notifications with the vivosmart?

Wow. This is awesome! One step closer to possibly switching back to Windows Mobile. FYI for the Strava users - you can link Garmin Connect to your Strava account.

It's raining Apps!!!!!!!!

How about a new UWP navigation app while youre at it, Garmin?

Bad timing Garmin! I just bought a Band 2 to replace my Vivosmart which replaced my Vivofit. I bought a cheap Android just to sync my Garmin devices and now I have a Windows Mobile capable device you go and do this. I also just bought my daughter a FitBit for Christmas for this reason even though I preferred the Vivosmart. :/

Am I dreaming, so many apps getting updated or released for windows 10

Finally!!! Maybe there is a hope to stay with WP

Good news! Have been waiting for this since 2012.

On-line but not yet available on the french store... Waiting for it....

I hope it will be released soon, running time in the afternoon! :-)

I don't usually have the need for many apps so don't suffer from the app gap mentality to much, however this may convince me to pull the trigger on 950XL and the Garmin 730... hopefully more developers open their FKN eyes. They can only ignore Windows 10 for so long...

An early Christmas present! Have been waiting for this (and asking for updates in the Garmin forums) for years! Can't wait for this to be live in the store. Own and use Fenix 3, Edge 800, Approach G6, (prevoiusly a Forerunner 410) and soon a Vivosmart HR - very cool to soon have an app for Windows Mobile. Thank you Garmin!!

Very pleased with this news. I'm getting a new Garmin Forerunner for Christmas which has Bluetooth connectivity to be able to upload runs. I was a bit disappointed that Windows didn't have an app, but it wasn't a major issue. This will make uploading to Garmin Connect so much easier. Now I just need Windows 10 to start rolling out on the 640XL!

Can a Garmin watch + dock be connected to the 950 via USB-C so I can download and sync running data without a separate PC? I might have to try this...

You wont need a dock over USB-C, it will sync over Bluetooth direct with your phone - that's one of the key benefits of the app vs. the mobile Garmin connect site.

Still waiting for the app to show up in the store...

This made me rethink about leaving Garmin for fitbit. Hmmmm maybe a Vivoactive for christmas. :-)

Finally!!! I've been waiting for this since I bought my Fenix 3. I wear it 24/7 (in my opinion the best sports/smartwacht you can buy => 6 weeks battery life!) and I was about to buy a cheap android phone for sports. Now I can buy another cheap/small windows 10 phone for that matter. And a vivosmart for my girlfriend. What a great Christmas gift. Windows 10 is picking up!

So glad to see this type of platform support. I stopped using my forerunner 220 in favor of the MS band partially due to a lack of support. Now the app is live and I cannot connect my forerunner 220 via Bluetooth on either my SP3 or Lumia 950

Took me appx 100 attempts to pair my fenix 3 to my Lumia 930, but I managed in the end (patience is golden). It works like a dream....email notifications, texts, incoming calls. Everything works and the app is very smooth as well. Have been waiting for this since I bought my first Garmin watch in 2012 and this is the app I have been missing the most. Fitbit needs to gear up, seems that they just have been out-maneuvered.

I've tried a few times and cannot get my Vivoactive to pair, needs work I think

One feature available on other platforms is Live Track. It is not available on the mobile Windows 10 version yet. They confirmed to me they are working with Microsoft on it. It is good that they are working with Microsoft.

Hello all, I have just bought a Garmin Vivosmart to try the nex WM10 app.
SMS, mails and incoming calls notifications are pushed to the band but all other apps notifications don't reach the band.
Windows Central Newsletter
Thank you for signing up to Windows Central. You will receive a verification email shortly.
There was a problem. Please refresh the page and try again.