Garmin Connect Mobile gets social in latest update for Windows 10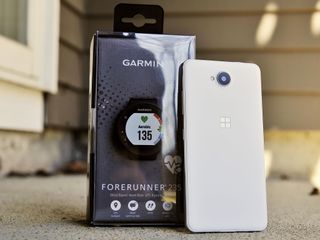 Earlier this morning, Garmin announced (opens in new tab) some new features headed to the Store for their companion Connect Mobile app to be used for their immense assortment of fitness trackers. That update is now live in the Store for iOS, Android, and Windows 10.
Here is what is new in 1.6.2 for Windows 10 and Mobile.
Improved Charts: After you're done running or biking, click any of your activity detail charts (including pace, elevation, heart rate and cadence) from the activity detail screen. You can now double tap or pinch to zoom in or out. And, if you use 2 fingers and touch 2 places on the chart, you can see the difference in the 2 points you selected…We also added new graphs to see your time in zones, the number of minutes and percentage of time spent in each of your heart rate zones and power zones.
Connect with more friends: With Garmin Connect Mobile, you can now search for connections from Facebook, Google or your phone contacts. From the "More" menu, go to the Connections option. You will now see "Find Friends" at the top of the page. Connect your account to Facebook or Google and start finding your friends.
Group challenges: Now that you've found your friends, you can create private groups to compete against or challenge each other. Choose from 6 different challenge types: steps, walking, running, cycling, swimming or calories. You pick the duration: a week, a month, or customize it to your liking. Use Garmin Connect Mobile to track your ranking on the leaderboard or challenge.
I just checked out our update, and sure enough, we found those new features all here. Indeed, I didn't even notice the Office 365 integration for Calendar support (select accounts.)
Garmin has been on the ball ever since they released their Windows 10 and Mobile apps six months ago. If you're looking for one of the most well-regarded fitness trackers and heart rate monitors on the market, you may want to give them consideration.
I reviewed Garmin Connect Mobile back in March and used my Forerunner 235 on occasion for extended runs, but Garmin has many other low-cost fitness solutions as well.
Anyone else using Garmin and Windows 10? Share your experience in comments.
Download Garmin Connect Mobile from the Wndows Store (opens in new tab)
Windows Central Newsletter
Get the best of Windows Central in in your inbox, every day!
Daniel Rubino is the Editor-in-chief of Windows Central, head reviewer, podcast co-host, and analyst. He has been covering Microsoft since 2007 when this site was called WMExperts (and later Windows Phone Central). His interests include Windows, laptops, next-gen computing, and for some reason, watches. Before all this tech stuff, he worked on a Ph.D. in linguistics, watched people sleep (for medical purposes!), and ran the projectors at movie theaters because it was fun.
Garmin took our $39 for the navigation app and then pulled it. I'll be damned if I give them another dime.

Sorry. Just how I feel. They pulled that app when issues were pointed out, instead of fixing them. Hard to trust a company again after stuff like that.

If you contact Microsoft Support you will get your money back if you are unable to download it again. Have you searched your "My Library" in Store?

I did call. Apparently not when the app is that expensive.

Really, that's bad. You got your license at least, you are only missing the apx and either Garmin or Microsoft should at least send it to you.

How did you redownload it? It isn't showing in the store.

Which one, streetpilot? That one still works quite nicely, with occasional dumb routing.

I went all out and purchased the Fenix 3HR. I love the watch. I have had fitbit MS Band and garmin vivofit. this is the best. If only microsoft would extend the battery it would be better than the Fenix in features, but it also needs to hold up better and be more strudy.

I have the Fenix 3 HR as well. I loved my Band 2 but the short battery life and the fact that it couldn't be used for swimming are what sent me to the Garmin. I was using it with my 950 XL up until I switched to Android two months ago. There were a lot of issues with alerts not appearing but those problems existed with the Band 2 as well and it's clear that the underlying cause was Microsoft's ineptitude in developing Windows 10 Mobile. No idea if those bugs have been addressed in the last couple of months of insider builds.

My Band 2 is starting to exhibit the, what I've come to find out is, common problem of shutting down multiple times a day. It can only be powered back on by plugging it into its charger. It tells me on power up that the battery died, yet it shows a nearly full percentage. Last time it happened it was 86% charged. It seems lots of people are having this same problem and the going speculation seems to be that it's a matter of the battery cables getting pulled when the band itself stretches. Long story longer, I'm considering other options. I looked into the Fenix after you mentioned it as I hadn't heard of it before. You're pretty happy with it? It seems to have good reviews. My one concern is that it's been out for over a year now and that they'll release a new version right after I make the purchase. Any insights are most welcome!

I had a similar problem where normal usage (when I took my jacket on and off it stressed the clapse) where the connection point between the strap and HR sensor got more and more seperated until it shut down now and then. Now it won't start up either and I can see some wires inside the gap. MS support said it was abuse, right.... normal usage where I took my clothes on and off, very absual :P Now I have a brick laying around, an expensive brick though.

Not sure if this is the same issue but my band wouldn't charge anymore so I took it to the store and they gave me a brand new one and said it was a known issue with the early batches.

The HR version of the fenix 3 only came out a few months ago, so I don't expect them to release a new version again too soon. I also switched from Band 2 to fenix 3 HR and prefer it. The only problems I have had are with Bluetooth causing random huge battery drains on both the fenix 3 HR and my 950 XL, so I've had to disable Bluetooth connection to the phone.

Do you suspect that's more an issue with the 950XL or the Fenix? I noticed somebody else said issues with alerts not showing up when they had the 950XL, so it could be related I suppose. Regardless, I just ordered a Fenix 3 HR to replace my Band 2 that shuts down several times a day for no good reason. It's sitting on the charger next to me right now because that's the only way to start it back up even though the battery was over 90%. The Fenix can't get here fast enough!

Garmin is doing a great job on their Windows 10 apps. This update came only a few days after the Android update. My 235 thanks Garmin! Posted via the Windows Central App for Android

I had very bad experience using their Vivosmart and was so happy when I finally sold it on eBay. Defective display, phone's battery was drained by their Connect app... It reduced my phone battery life to 1/3 of it's normal performance, I needed to go with a charger everywhere. One I removed the app everything went back to normal.

Lets see what the battery life will be like now, will the notifications work now with this update, my garmin 235 is so much better than the ms band i had, the bands lack of waterproofing was its downfall

This app has been fantastic since I have been using it with my new Vivoactive fitness tracker/smart watch. Hopefully they will continue to support Windows eco system.

I am super happy with my Garmin Fenix 3 and have to say, Garmin does a great job with the Windows 10 (Mobile) app, works surprisingly smooth and is very useful.

After my Band 1 broke I switched to Band 2 in hope it was of better design / build quality. after the strap on that also fell to pieces I tried Fitbit but I found it has gone downhill ion terms of ease of use / connectivity since I had my Flex some years ago. I tried Garmin Vivoactive HR as a long shot and now I love it, It feels better on the wrist (more watch like) It has most of the features of Band - I miss my warnings about UV and I never used Cortana on my band. So for me it is really good to see Garmin continue to support and update their Windows apps. I find that sometimes notifications miss but I found that to be the case with all devices I tried so while not ideal I accept it.
Sometimes I need to press manual sync a couple of times for it to work but in general I am very happy with the switch to Garmin. I found that Garmin calculate calories burned in exercise different to any other device I used, even using the HR strap it deliveries lower calorie burn vs Band, Fitbit & old skool Polar HR STrap Watch combo.

I've been told that I'm terms of calories burned and heart rate the band is the most accurate due to the types of sensors it uses.

I've also been using this with the Garmin 235 which is an excellent sports watch for both running and cycling and also seems to be really accurate with god battery life. The fact that I can sync with my Lumia 830 was an unexpected bonus because Garmin, in parallel with almost every other company, had previously ignored the Windows platform. However, I can testify that the Windows Phone experience is equal to the iPhone. There are a few niggles, it doesn't always sync on the first attempt, or even the second, but eventually everything gets there including all activities, heart-rate, sleep and steps. I don't know how much drain this puts on the Lumia 830 battery but ever since I upgraded to W10 the battery has been shocking and also my data usage has gone through the roof.

Hopefully this update will fix some of my problems with my Vivofit 3.
Had to use my old iPhone to get past the initial setup with date/time and download the latest firmware. I also had to change the language on my Lumia 950 to English (US) to pair and sync it.
It then works fine for a day or three, before it stops working. Change language to English (US) again, reboot phone, pair & sync, and change language back again. Been in contact with Garmin Support but they told me that Lumia 950 is not on the compability list. Not to impressed... Hopefully things will work better with 1.6.2

As a keen runner I sadly found out that the Band 2 battery just cannot last on long runs. So, I now use a TomTom running watch instead. I wish they had a Windows 10 and mobile app.

Same issue. My band 2's battery didn't last long enough for my long runs so I got a garmin 630. Battery for literally days, even get phone notifications on my watch. Loving the win10m app

I have earlier bought myself in to the Garmin ecosystem , owning a forerunner and a index scale. Its sad that the Microsoft health app isn't able to synd with garmin connect and share data in between. As my daily activity companion i use my Band 2 but it just isn't good enough reading heartbeat when I work out , play floorball or go for a run. Hopfully Microsoft have this issue sorted out by Band 3 :) Anyways I would just love more integration between different ecosystems so you can pick freely the device that fits your need.
Windows Central Newsletter
Thank you for signing up to Windows Central. You will receive a verification email shortly.
There was a problem. Please refresh the page and try again.