Garmin Connect Mobile now available for download on Windows 10 PC and mobile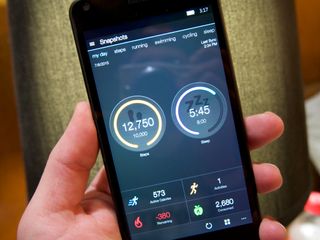 The new Garmin Connect Mobile app that was recently announced for Windows 10 and Windows 10 Mobile is now available to download. The app, which allows users to view their fitness stats from a connected Garmin fitness tracker, was announced a day ago, but wasn't quite yet available in the store. However, download now appear to be working.
To recap, the new Garmin Connect Mobile app is a universal app for Windows 10 and Windows 10 Mobile that allows you to track everything you'd expect, from calories burned to steps taken, on a customizable dashboard. The app also boasts Cortana integration and Live Tile support, enabling users to see some of their stats on the Start screen.
Additionally, there are a number of social feature on board, enabling easy sharing to social media, as well as the ability to initiate challenges with other users.
If you're interested in checking out Garmin Connect Mobile, you can grab it now for PC and mobile at the Windows Store link below.
Thanks to @AJ619 on Twitter for the tip!
Check out Garmin Connect Mobile for Windows 10 (opens in new tab)
Dan Thorp-Lancaster is the former Editor-in-Chief of Windows Central. He began working with Windows Central, Android Central, and iMore as a news writer in 2014 and is obsessed with tech of all sorts. You can follow Dan on Twitter @DthorpL and Instagram @heyitsdtl.
Awesome! Great news for those who use these particular products.

I need the smartphone link app to connect to my Garmin 2589LMT car GPS.

Hopefully given the current momentum that's not too far off.

I sent them an email. We'll see what they say. ;-)

Thank you for contacting Garmin International.
I am sorry but I am not sure if or when the Garmin Smartphone Link application will be available for Windows phones. With Best Regards,
Xxxxxxxxxxx
Customer Care - Mobile Team
Garmin International

now we need to know how well it works on Windows phone :)

After a difficult summer as a windows phone fan, it's starting shows signs for hope.

Will it track motion data from my phone?

Tried it and uploaded my run tonight. I like Astro Fitness better. Astro has better stats and you can add your shoes used. The live tile of Astro Fitness has more info. I hope Garmin will continue to update and improve the app.

Well I'm glad to see the app here. But too late for me as Fitbit already got my money for being there before. I can live without the notifications.

Yessss! I am using the fenix 3. Hopefully this will work great! Downloading now

I try to connect my forerunner 220 to L820... Without success :(

I tried my Forerunner 620 to L830. No success here either

Initial setup with my Fenix 3 worked perfectly. All my stats have synced with the phone directly and even Music control, Calendar, Weather and Messages were displayed on my watch. But after a few hours I recognized that the connection doesn't seem to be very reliable. It shows "connected", but when switching to one of the above features on the watch it tells me "Follow instuctions in Garmin Connect Mobile to pair" (free translation from german), and i don't see a way to solve this. Hopefully they will fix this soon. But over all, the app looks pretty good for an initial version.

I tried connecting a Fenix 2. No success either. Keeps saying that Bluetooth is of on Lumia 950 XL although it is on!

I managed to connect my watch. It works really fast. After the workout is finished it syncs in a few seconds.

Took me a long time to be able to pair my fenix 3 to my L930, but I finally managed. Patience seems to be the key to success. Works great with email, text and phone notifications. Weather is also working nicely ☺

What do you mean with patience? How long did it take to pair? Because my L820 and Forerunner 220 did not find each other... I try to pair watch with Android device... they find each other imediately, after this pairing took +- 10 minutes (copying files)

Was working on it for 30 minutes or so. My watch stopped searching frim time to time, so keep an eye on the equipment to make sure that it is still pairing. Almost gave up, but managed in the end ☺

It is pretty odd but I can't find my Forerunner 225 in the list of compatible devices.

so can someone verify that it works with all App notification? (chat, news apps, LINE, facebook MSN news ... etc and cortana?)

Why won't the article mention at least text and call notifications? they are so rare in WM and Garmin seems to have a lot of choices for that.

Text, email and call notifications work very well.

still no love from Suunto :(

Which is sad indeed! I really don't want to migrate across to Garmin from Suunto but am now considering it because of their Windows support.

whihc watch/band should i get the vivosmart or the vivosmart hr, i hate reading reviews. some ppl have horror stories and some ppl think it was sent from heaven. i wanna get it for my wife or if anyone can recommend another brand that can provide notifications without the price of the MS (wish it was in the budget) with a windows app.

I have the Vivofit that I got for free at a business outing. I have never owned another smart band/watch before so I don't have anything to compare it to, but I like it quite a bit. I like how it has a screen that shows you things like steps, calories, time, etc. whereas some of the fitbit's I know people have don't show that stuff. The step counter can easily be thrown off, though. For example, if I'm wearing it on my right wrist, brushing my teeth will increase the amount of steps. But I kind of feel like it mostly evens itself out during the day. But overall it's comfortable to wear, it's light, and doesn't typically get in the way. Also, I really like the Garmin Connect interface and the info it provides. It's really interesting to be able to see sleep patterns and a history of steps taken. It's kind of eye opening to see how little I walk during the day since I have a desk job! Hope this helps a little.

Recently got a D2 Bravo, this is a the best news.
Notifications are working on my Lumia 830. No issues with Bluetooth connecting or disconnecting.
Very impressed at their first attempt, hopefully the updates continue to roll.

Galera já ta na hora de a Microsoft libera o Windows 10

My Lumia 920 (Windows 10 Mobile OS) is not able to pair with Garmin Forerunner 620 (v3.30) under new Garmin Connect Mobile App. :( Looks like the supported Forerunner devices are 230, 235, 25, 630 & 920XT ?!

Now I need to get myself a Bluetooth-capable GOS watch. My old 405 ain't cutting it anymore.

Good work garmin!! It works better than on my iPad:) it syncs instantly. I keep my Bluetooth off just syncing it daily in the evening:) happy:)

Why this application dosn't appear on windows store ? I've Nokia Lumia 925. Many thanks for who will help me ! Bye from Italy :)

Are u using windows 10 on your phone!? Just just for w10m

Bought Vivofit 3 today. Just spent three hours trying to set it up with my Lumia 950.. the devices are paired and all seems fine but fails when trying to finalize the setup process in the Garmin Mobile Connect app (v1.5) Contacted Garmin support, fingers crossed that they have a solution for me!
Windows Central Newsletter
Thank you for signing up to Windows Central. You will receive a verification email shortly.
There was a problem. Please refresh the page and try again.