Garmin drops support for Vivoactive 3 on Windows phone
By Dan Thorp-Lancaster published
Your options for fitness bands that work with Windows phones just got a little smaller.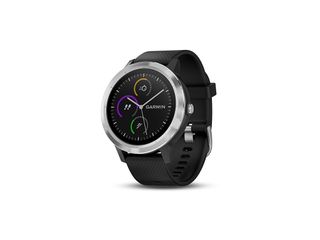 Garmin has confirmed that it doesn't support using its Vivoactive 3 (opens in new tab) fitness watch with Windows phones. Responding to a query from German blog WindowsUnited.de, a Garmin customer support representative Windows phone will no longer be supported with new Garmin devices.
Given the current state of Microsoft's mobile efforts, the move likely won't come as a surprise to many. Curiously, a member of our forums named bellyer reported success with setting up the Vivoactive 3 with a Lumia 950 in September, but connection and notification issues have since cropped up. But a quick check of Garmin's Vivoactive 3 listing (opens in new tab) shows that Windows phone isn't included in its official smartphone compatibility.
If you're using a Windows phone and looking for a more recent fitness band to pair with it, this limits your options quite a bit. Fitbit has consistently continued to support the Windows ecosystem, and its new Ionic smartwatch appears to be your best bet. Older Garmin devices should theoretically continue to work with the Garmin Connect app (opens in new tab) as well.
Oh, what could have been, Microsoft Band 2.
Dan Thorp-Lancaster is the Editor in Chief for Windows Central. He began working with Windows Central as a news writer in 2014 and is obsessed with tech of all sorts. You can follow Dan on Twitter @DthorpL and Instagram @heyitsdtl. Got a hot tip? Send it to daniel.thorp-lancaster@futurenet.com.
I've had a Vivoactive 3 for 3 weeks and it works just "fine" on W10 mobile (950xl). App, notifications and syncing aren't great, but they're not great on my Android either.

Yeah, well not for long. That's the point 👆🏽

huh, i wasn't able to pair mine. Weird. Maybe they changed something in Garmin Connect.

But we get bug fixes and security updates, yay!

Damn, oh my owning a ms phone is so depressing these days.

Move on. Once you lose the fanboy goggles, the other side is MUCH better. take it from someone who loved windows mobile. BTW, the garmin vivo series work awesome on iphone. I have my vivoactive on right now!

Yup, just move to something else. Windows isn't going to get better anytime soon. I picked up a Samsung Gear Fit 2 Pro and don't miss my Band 2 at all. You can always come back if WOA ever takes off (not likely).

Oh....Look.....Whiny fangirl downvotes. WINDOWS MOBILE IS DEAD. MOVE ON instead of complaining how thingd don't work. I love that mentality....Instead of using something that works, and works great, you would rather be here ******** about how other companies products don't work on your defunct hardware.

With a heavy heart, our family of seven Windows phones are now planning to jump ship. If that's the case...which is the best fitness smartwatch working with notifications on Android? (I ask, as I stare at my broken down Band 2...)

The Samsung Gear Fit lines are actually really good and accurate. Fitbit is also great if you're on a budget

And if you want a truer smartwatch experience while still being a good fitness wearable the Samsung Gear s2, s3, or Sport are all fantastic options.

The only thing though is Samsung still can't figure out heart ratr while active. That and they need to take some cues from Fitbit about displaying the health information in a simpler, more concise manner. Using S Health on my S3 makes me miss the health aspects of my Blaze.

I bought this watch hoping to get it working with my Lumia 950 and it just never managed to start syncing notifications properly. I then bought a Samsung Galaxy S8 and the watch has worked great, but I am not getting the 7-ish days of battery life that was promised; I am getting 24 hours or less. It is extremely annoying. I was starting to wonder if the experience was going to be any better with the Fall Creators Update on the Lumia 950, since there were a couple of fixes targeted at fitness bands/smartwatches/bluetooth, including one noted for Garmin. I guess I'll check with Garmin to see what they can do about fixing my 1-day battery life on the Vivoactive 3. It looks like there are quite a few reports of it online and on Twitter...

My vivoactive ht never synced will with my 640 or elitex3. Their software is a mess. But i appreciate the dark theme and fitbit doesn't support my sport. So....nothings changed for me really. :/

same for me, have a vivoactive HR and simply gave up on the app, syncing of activities didn't work, notifications didn't work, just a complete disaster. Currently use the thrusted windows32 desktop app to sync my activities and that works most of the time....

Do you sync with you desktop app with a cable or thru bluetooth? I have a vivoactive hr and i haven't managed to make it sync with my phone app (950xl) even after the Fall update with its improvements for Garmin?!?!? I'll do a clean install on the phone with WDRT and report back

Moostveen, I have the Vivosmart HR+ and it was a warrenty exchange about two weeks ago, using it with my 950XL and everything is working properly now. Even the notifacations are working now Hurray !! . not shure if its the new creators update Phone 1709 or just the new HR+ but very pleased. Have you tried reloading the Garmin connect App, it might help. Good luck and hang in there there is hope for us WP users still hanging on. :-)

I have a vivoactive hr and it works perfectly on a 950 running fast ring.

Ugh... I just bought the Fenix 5x solely because it supported my Lumia 950xl ffs!! At least it's still working.. For how long though. I seriously dont understand why companies dont just make a uwp app that's spans across windows, instead of just concentrating on the mobile platform...

Yeah especially since Garmin has a PC connect app, but I don't think it does syncing.

Actually i think the PC garmin connect app does sync, i was using it for a couple of weeks while waiting for my RMA replacement from Garmin. But of course i prefer the mobile App.

They concentrate on mobile because few people carry a windows desktop pc with them when they go out for a run. In case you have not noticed, there is no mobile Windows platform.

You seem to have misunderstood my comment. Please read it again to better understand...

I recently had work buy me a new phone to replace my 950XL. I've been using Window mobile devices since 2002. I have a Samsung S7 now(work will only purchase n-1), and the Garmin app has been working flawless for me with the Fenix 5.

I purchased the Vivoactive 3 at BestBuy and stayed in the store while I tested it with my 950XL. It "seemed" to work ok and I was excited about all the great fitness features of the new Garmin watch. My enthusiasm for this partnership was short-lived. Notifications were more miss than hit. The Garmin Connect store didn't "connect" or sync and ended up in a half-sync situation. I tried to jump start the watch by temporarily pairing to an old Galaxy S4. It synced with the S4 fine and updated the firmware. I paired back to my 950XL and it was still flakey at best. That was the beginning of my move to a new ecosystem. I'm now on a Galaxy S8+ and have rediscoved these cool add-ons called apps. I SO miss the brilliant GUI of W10M, but with no support from developers or MS, it's time to move on.

These articles will be daily from now on. Thank you Nutella. Won't trust you ever again. I'll buy nothing anymore that has strings attached to your products. Everything you do and will do is a fail. Your cloud growth is a temporary success Microsoft is within few years completely annihilated.

Everything he touches (well most things mobile) turn into ash. It's just a matter of time for his cloud strategy to also turn into ash, time will prove if that happens.

Everything he touches (well most things mobile) turn into ash. It's just a matter of time for his cloud strategy to also turn into ash, time will prove if that happens.

In all honesty, this app was a complete disaster and the worst battery drain of them all. Notifications worked in 5 minute windows and the same is true for android. If you read apple reviews its more of the same. Love my vivosmart but they simply can't code over there. This will be the last smart watch I dip in for a long time. More gimmick than function stll

I'm glad I live in America where I can take my Windows Phone out back and just shoot it. It would pain me to see it suffer death by a thousand cuts.

Like a horse with a broken leg. Just put it out of its misery.

My horse still rides fine, no need for that yet. :-)

So glad Asurion sent me an S7 Edge when my 950 drowned...
Windows Central Newsletter
Get the best of Windows Central in in your inbox, every day!
Thank you for signing up to Windows Central. You will receive a verification email shortly.
There was a problem. Please refresh the page and try again.