Garmin Forerunner 235 review: A top-notch running watch with Windows support
By George Ponder published
There are plenty of fitness trackers to choose from these days. If you need to track your running workouts, along with your steps, the Garmin Forerunner 235 is a solid entry-level running watch.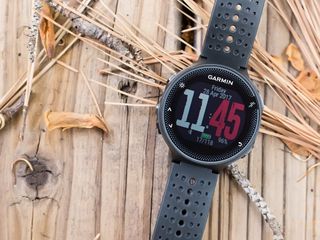 Garmin offers a variety of fitness-oriented wearables that range from the Vivosmart HR+ fitness tracker to the top of the line Fenix 5 (opens in new tab) sports watch. The company's Forerunner 235 delivers daily activity tracking, along with a boatload of running features.
If you are looking for a fitness device that does more than count steps, the Garmin Forerunner 235 is an option well worth consideration.
See at Amazon (opens in new tab)
Forerunner 235 design
The Garmin Vivosmart HR+ and the Fitbit Charge 2 are band-style wearables, but the Forerunner 235 takes on a sports watch appearance. The watch measures 45 mm x 45 mm x 11.7 mm, which translates to approximately 1.75 inches in diameter. The Forerunner 235 weighs only 42 grams, making it easy to forget you have it on your wrist.
The watch casing is made of plastic that has a solid feel to it. Navigation and commands are managed by a series of buttons lined up along the perimeter of the watch case. On the left side, there is a backlight and power button, along with up and down navigation buttons. On the right side, there is a confirmation and activation button, and a back button.
The 1.23-inch diameter color display is non-touch and is very readable in bright sunlight. Indoors, the screen seems to loose contrast, making it a little difficult to see without the backlight turned on.
The backside of the watch houses a wrist heart-rate monitor that periodically checks your heart rate and turns off to conserve power. The Forerunner 235's strap is made of rubber, connected by a traditional watch buckle, and it has plenty of holes to accommodate most wrist sizes. The rubber strap has a good amount of flex and is very comfortable to wear during workouts or just sitting around the office.
The rechargeable Lithium-ion battery life is rated for up to nine days, but only 11 hours with the GPS running. I was able to get eight days of battery life out of the Forerunner 235, using the watch daily and briefly (about an hour) turning on the GPS. The Garmin Forerunner 235 is recharged through a proprietary clip that attaches to the side of the watch and powered via USB.
My only nit with the button design is that Garmin relies too much on the back button and needs a way to return to the main clock face with one touch. You can drill down fairly deep into menus, requiring numerous taps of the back button to get back to the clock. It would be nice to press and hold the back button for a few seconds to make that jump with one button press.
Overall, the design of the Garmin Forerunner looks good, it is comfortable to wear and has a solid feel.
A feature-rich running watch
While the design of the Forerunner 235 is impressive, the feature set is equally appealing. The out of the box feature set covers daily activity tracking, run tracking, training programs, smartwatch features and the ability to install apps that further expand the watch's capabilities. Here's a look at the Forerunner 235 features.
Activity tracking: The Garmin Forerunner 235 tracks your steps, calories burned, distance traveled and intensity minutes. You can have your daily goals automatically set or manually set. The Forerunner 235 lacks a barometric altimeter and does not track stairs.
Running features: The 235 includes preloaded run profiles, GPS-based distance, time and pace, tracks your cadence, physiological measurements, run workouts, race predictor and is foot-pod capable. Along with indoor and outdoor run tracking, the Forerunner 235 also tracks indoor and outdoor cycling and has a catch-all "Other" category for broadly monitoring other activities.
Smartwatch features: Along with the activity and fitness features, the Forerunner 235 also has several smartwatch features, such as smart notifications, calendar, weather information, music controls, a find-my-phone feature and VIRB

(opens in new tab)

remote.
Training: The Forerunner 235 includes customizable data pages, workouts, alerts, audio prompts, V02 max, activity history and other measures to make the most of your fitness efforts. You could think of it as a training app for your Windows 10 Mobile phone, squeezed into the smaller package of the Garmin watch.
Heart-rate features span several areas of the Forerunner 235 with heart-rate zones, alerts, calories and recovery time. The 235 is HR-strap compatible and can broadcast HR data over paired devices.
The Garmin Forerunner 235 is fitted with GPS and GLONASS. Location acquisition is scarily fast. Where the Vivosmart HR+ took a couple of minutes to acquire a GPS fix, the 325 acquired a fix in seconds. The scary part is that you can get an accurate GPS signal as quickly indoors as you can outdoors. The positioning is accurate and places you within an arm's reach of your actual location.
While the Garmin Forerunner 235 supports tracking running and cycling activities, it lacks a walking and treadmill feature. Indoor running will track your time on a treadmill and labels the activity as "Treadmill Running." I'm not sure if this is an issue and could not see much difference between tracking my treadmill time when using the walking feature on the Vivosmart HR+ or the indoor running feature on the Forerunner 235.
Along with the out of the box features, the Forerunner 235 is compatible with Garmin's Connect IQ (opens in new tab), an app store for compatible Garmin watches where you can find customizable watch faces, widgets and apps to expand the Forerunner 235's capabilities.
With respect to features, the Garmin Forerunner 235 covers a lot of ground, and with the Connect IQ support the potential is tremendous. Just keep in mind that this watch is designed for runners. If all you need is a device to track your steps, the Forerunner 235 is likely overkill. For avid runners, it keeps the pace nicely.
Garmin Connect Mobile
While the Forerunner 235 can store up to 200 hours of activity data, that information can be synchronized to the Garmin Connect Mobile app that is available for Windows 10 PC and Mobile. Through the Connect app, you can review your activity and monitor your progress from the larger screen of a mobile phone or PC.
The Garmin Connect Mobile app also allows you to manage your Connect IQ downloads and device settings. The app is very similar to the Fitbit app (opens in new tab) but lacks the ability to track your dietary information. It is compatible with MyFitnessPal (opens in new tab), which lets you monitor your nutritional activity via a third party.
However, after I installed the Creators Update for Windows 10 Mobile, the Connect Mobile app started to experience some connectivity issues. This is likely due to the new Bluetooth configuration, and hopefully Garmin updates the app soon.
Overall performance
The Garmin Forerunner 235 is a solidly-built, feature-rich running watch. For the most part, its performance is outstanding. It tracked everything from daily steps to runs with accuracy.
While I was impressed with the Forerunner 235, it has room for improvement. The screen needs a little boost for indoor viewing, for example, there needs to be a home button, and Garmin needs to add a native walking activity feature. If the watch can support cycling, it should support walking. Luckily, while there is room for improvement none of these issues are deal breakers ... except for maybe one.
As with the other Garmin devices I have used, the push notifications on the Forerunner 235 are not reliable. More times than not these notifications failed or were significantly delayed in reaching the Forerunner 235. Sadly, this seems to be a Windows 10 issue, because my wife receives notifications without delay from her iPhone. I've learned to live without notifications on my Garmin devices, but I can see where it could be a deal breaker for some.
The Forerunner 235 regularly costs around $329.99, but it's not uncommon to see the device on sale. While that is a healthy investment, all in all, if running is your fitness activity, the Forerunner 235 is a wearable device that's worth a look.
George is the Reviews Editor at Windows Central, concentrating on Windows 10 PC and Mobile apps. He's been a supporter of the platform since the days of Windows CE and uses his current Windows 10 Mobile phone daily to keep up with life and enjoy a game during down time.
My wife and I have abandon the Band 2 after our last ones started to tear. We are now invested into Garmin with her wearing a 235 and I have the Fenix 3HR.
I have to agree that there should be a faster way back to the main clock face, I use the alarm almost everyday on the watch, this is another place that you have to advance deep into the settings to turn the alarm off, you can easy enough but to turn it off is another story.
The Garmin Connect app is all but broke after the last mobile update. I have reinstalled the app, and reconnected the watch with it being hit or miss now (mostly miss) when syncing data.
The battery life is absolutely out of control good, I have had mine off the charger for 7 days with mild use of the GPS, and it's at 45%. My wife has had it of the same week with no GPS use and she is at 70%.
The pros out way the cons for this watch and I will continue to use it.

Yep. The Creators Update should eventually open up push notifications but requires Garmin to update their app. In talking to Garmin over on their forums, they are feverishly working on an update to right things. I ended up losing connection with the 235 but my Vivosmart continues to sync without issues. Hopefully, the fix will be pushed out soon.

That is good news, because in Garmin Connect on the Smart Notifications page, at the moment it just says "Error. Smart Notifications are not fully supported on your Windows Device". Bluetooth connectivity to my Fenix 5 is mostly broken since the Creators Update, not that it was perfect before, but now it is much worse. In the Bluetooth settings, it has been moved to "Other Devices", which apparently aren't allowed to have a "Connect" or "Disconnect" button, so basically I have to remove it and pair it again every day. Total PITA. I doubt that Garmin can fix this? It seems like a Microsoft screw-up? For now I often sync via a USB cable to my PC! Smack My Head emoji. If a fix for the Bluetooth isn't on the way, is it possible to uninstall the Creators Update? I only saw negative changes.

Smart Notifications have been re-enabled as of W10M 10.0.15063.297 which I have just received! The next time Garmin Connect is opened, you receive a prompt to grant permissions for the app to access notifications. Hopefully this will work well! Maybe this is worth a news item? Bluetooth connection still flakey as hell though...

YES!!! Here's to hoping! Daughter will be happy to hear when her Vivosmart really starts pushing notifications as well as my B2 (which is being protected from even starting I rip by using Gorilla Tape...I hope...) Thanks for keeping us updated, George!

Nice I've got to decide what I want to replace my Band 2 with, although I cycle more than run so I'm inclined to lean more towards a dedicated cycling device instead.

But for.how long...ms better keep devs engaged this week

I think the smart notification issue is a combined problem between Garmin and MS. There was one build on Fast Ring (1/17) that worked perfectly with my Vivoactive he, then the next build killed it. I've talked to Garmin and their answers are half hearted at Best, they don't even have a single W10 native phone in their "testing protocols".

is this model waterproof?

I also have lost connectivity after the CU update on my 950xl. Now my vivoactive hr won't sync at all with the app. I really like Garmin's hardware but there's probably little incentive for them to fix the app when there's only a few thousand ppl at best using it on Windows Mobile.

Garmin Connect should be launched three or more times in a raw to not crash, and even then it doesn't always sync with my Garmin Forerunner 35. And I am not talking about notifications, I have them disabled anyway; I am talking about the basic syncing of activities, steps, etc. It used to sync with my PC and a USB cable, but lately it fails to sync even there.
Apart from that, Forerunner 35 is a fantastic product (although lacking the apps and watchfaces of the 235).

Y'all need to get with it and update Connect. This week's release fixed the syncing issues that the Creators Update caused. And everything (not just Connect) works better with the OS build released Tuesday. BTW, my vívoactive HR acquires a GPS lock almost instantly every time. You must have a faulty device.

So, if you're interested in development process of Runkeeper app I could recommend you post called How to Build a Runkeeper App and Become the Market Leader
Windows Central Newsletter
Get the best of Windows Central in in your inbox, every day!
Thank you for signing up to Windows Central. You will receive a verification email shortly.
There was a problem. Please refresh the page and try again.