Garmin's Vivosmart HR+ is still a fantastic fitness band
The Garmin Vivosmart HR+ is a feature-rich fitness band that sports GPS tracking, a built-in heart monitor and more. After using the Vivosmart HR+ for the past six months, it has proven to be a solid replacement for the Microsoft Band.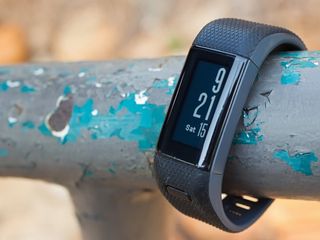 We first decided to check out the Vivosmart HR+ just over six months ago, after Microsoft discontinued its popular Band series of smart bands.
Today, after having used the Vivosmart HR+ for an extended period, we wanted to revisit the fitness band to see how well it held up to daily use and if our initial impressions held true. While the Garmin fell short in some areas, it proved to be a worthy replacement for the Microsoft Band over time.
See at Amazon (opens in new tab)
While many have turned to Fitbit to fill the void caused by the loss of the Microsoft Band, Garmin is another viable option. The Vivosmart HR+ is the closest offering from Garmin to the Microsoft Band and is slightly narrower and thicker than the Band 2. But at 1.1 ounces, Vivosmart HR+ is the lighter of the two.
The Vivosmart HR+ sports a 1-inch by 0.42-inch (160 x 68 pixel) touchscreen that is constantly on. The screen is backlit and extremely readable both indoors and outdoors. Navigation on the Vivosmart HR+ is accomplished by a series of swipes, taps, and a multi-function button that rests just below the screen.
This fitness band tracks steps, calories burned, distance walked, heart rate, floors climbed and intensity minutes. Additionally, screens are available for phone notifications, music controls, weather information and VIRB (opens in new tab) remote controls. Each display option, except for steps and the time and date, can be hidden on the Vivosmart HR+ through the Garmin Connect Mobile app.
The strap for the Vivosmart HR+ has a watch-style clasp and is very comfortable to wear. Combining the flexibility of the rubber strap and its light weight, it is easy to forget you are wearing the Vivosmart HR+.
I wear my watch with the face of the device on the inside of my wrist. Some might call it backward, but it has always been the more comfortable way of wearing a watch for me. I use a screen protector on the Vivosmart HR+ and after six months, the only noticeable wear on the device is on the edges of the strap where it meets the actual device. Otherwise, the build quality of the Vivosmart HR+ has held up nicely over the past few months.
Daily wear
In general, I use the Garmin Vivosmart HR+ to track my steps, monitor my heart rate and track my fitness activities. I don't run much these days, due to my bad knees, and most of my fitness activity is restricted to the treadmill or a kayak. After a few visits with the doctor when I turned 50 a few years ago, I try to be active every day in some way. A fitness band helps me track my activity and visualize successes and failures.
Asides from the cosmetic wear on the strap, the only issue I have experienced with respect to fitness tracking is that occasionally the Vivosmart HR+ takes a considerable amount of time to acquire a GPS signal. This delay does not occur often enough to be a deal breaker and when the GPS signal is locked, the device charts your activities accurately. It is a great feature to have for runs, hikes or any other outdoor activity you want to map.
Otherwise, the Vivosmart HR+ performs admirably. The device is very responsive to taps and swipes, and the multi-function button remains as crisp. Battery life with the Vivosmart HR+ lasts about five days without using the GPS. On occasions when I used the GPS, battery life was cut down to about two days.
Software
Garmin's companion app, Garmin Connect Mobile (opens in new tab), is available for Windows 10 PC and Mobile. The free app compiles all the data the Vivosmart HR+ captures and offers several options to visualize your performance.
From the "snapshots" that display the bare bone stats on your daily activities to charting your heart rate, Garmin Connect Mobile likely has more features that many of us will ever use. You can customize what is displayed, how it is displayed and modify what the device's screen shows as well. If you only want the Vivosmart HR+ to track your distance, calories and heartrate during a run you can do that. There's no need to chart steps taken, you can turn that feature off. I probably use 50 percent to 60 percent of the Vivosmart HR+'s features, and it is nice to be able to filter out the ones I do not use.
Garmin's software supports notifications, and you can customize the types of notifications you want to receive on the Vivosmart HR+ using the Garmin Connect Mobile app. Alert support is present, but do not expect this feature to perform with any consistency or reliability. The notification support is done through Bluetooth, and I am frankly shocked whenever this feature works. I can be sitting right next to my Lumia 950 XL and have incoming call notifications turned on with the Vivosmart HR+, only to have the fitness band remain silent when a call is received. I miss the reliability of the Microsoft Band's notifications and hopefully with all the work that is being done with GATT tech, Garmin and Fitbit will enjoy reliable notifications soon.
While I have learned to live without notifications on my fitness band, I have to give Garmin credit for the Garmin Connect Mobile app for Windows. It has been updated several times during the past six months and while I would like a light-colored theme, it turns out to be a solid, feature rich, companion app for the Vivosmart HR+.
Vivosmart HR+ is still a fantastic fitness band
When Microsoft killed off Band, it boiled down to either the Fitbit Charge 2 (opens in new tab) or the Garmin Vivosmart HR+ to be my replacement. Appearance wise, Fitbit offers a cleaner looking, eye-appealing device. The Garmin is more rugged and no-nonsense in style, much like an old pair of sneakers.
Both the Fitbit and Garmin fitness systems do a great job of tracking your activities. There are a few design differences with the two systems, but neither are duds and the choice often boils down to personal needs. For me, it was the water resistance the Garmin was rated at. The Fitbit Charge 2 is sweat- and splash-proof but not rated for swimming or submersion. I sweat when I work out and spend a good bit of time out on the lake. I also don't like to take off my band when I do the dishes, water the lawn, wash my hands or any other activity that might get the device wet. Had the Fitbit Charge 2 been swim-friendly, I may have gone in that direction.
Even though I think Microsoft shot itself in the foot by discontinuing the Microsoft Band, as far as the Garmin Vivosmart HR+ is concerned, I feel as though I made the right choice. During the past six months, the device has held up nicely to my level of fitness activity and, with a few exceptions, performs admirably.
The Vivosmart HR+ currently costs $169.99 and is available in three colors and two sizes.
See at Amazon (opens in new tab)
George is the Reviews Editor at Windows Central, concentrating on Windows 10 PC and Mobile apps. He's been a supporter of the platform since the days of Windows CE and uses his current Windows 10 Mobile phone daily to keep up with life and enjoy a game during down time.
Does it track HRV (heart-rate variability)? It's an important overall health metric that most (all?) fitness trackers seem to ignore.

I just want a replacement that can talk to cortana.

Surprisingly yes, although your cat may not like it. Garmin is definitely filling all of the voids that they can.

Maybe it serves your needs, but I certainly didnt consider it a replacement for the Band. No GPS. I went with the VivoActive HR.
The Band tracked runs, bike rides, golf, guided workouts and all sorts of activities. The vivosmart is a fancy step counter.
The VivoActive does most of the things the Band2 could do and more. The Connect IQ apps allow for 3rd party apps to track more activities, custom watch faces and a lot of other ways to extend capabilities. I miss Cortana (when it actually worked) and the ability to reply to texts by voice. EDIT: Nevermind. Didnt see the +. The HR+ does have GPS. The Vivosmart HR does not. Still, the HR+ does not have dedicated activity tracking apps like cycling, etc.

I'm at the 5 month mark with my Vivoactive HR (after a couple MS Bands). The GPS is excellent and I've found it to be a great replacement. The 5+ days without a charge is really nice. Loved my MS Band, but I'm very happy with the Vivoactive HR as a replacement. Tracks my running and cycling great and pushes everything over to Strava without issue. Another vote for Vivoactive.

I'm sticking with my Band 1 now that I had to get a refund on my Band 2 due to not replacements being available - Once this dies a death I'll probaby take a break from any sort of wearables until I decide what phone to buy in 2018 (some point in 2018, maybe even late 2018 with how well my 950 is holding up)

That's what I did was go with the Vivoactive HR. I think that most closely matched the Band2. I like the Vivosmart HR+ (which like you said does have GPS), but it by no means most closely matches the Band devices. I think WindowsCentral is high

I got the VivoActive HR as well after my Microsoft Band 1 and 3 Band 2s. The notifications and not being able to text from it are the things i miss the most about the Band 2. Not to mention what i consider the most underappreciated feature of both MS bands; the Golf app and Taylormade myRoundPro integration. The VivoActive golf app is ok, but the stat tracking when connected to myRoundPro was unmatched from anything else out there. Just a shame nobody knew about it :( I will say the VivoActive HR's battery life absolutely CRUSHES the Band 2 as i charge this thing like once a week. The Garmin App is pretty feature filled as well, but i have experienced issues syncing numerous times whereas my Band; aside from the hardware issues it had, worked near flawlessly with MS Health. Garmin Connect is good, i preferred MS healths simplicity a little better. Again, MS Health another victim of MS debacle that was a lack of marketing a very underrated product in the band.

I reviewed the Vivoactive HR last year and found it to be a solid option as well. It has more meat on the bones than the Vivosmart HR+ but just a smidge too wide for my tastes. It does track more activities, but the Vivosmart HR+ does have the catch-all "Other" mode that can be used for cycling, kayaking, etc. You miss out on all the measurables the Vivoactive has but, some may not need that much detail. Bottomline is that both the Vivosmart HR+ and Vivoactive HR are great devices. Just boils down to your individual needs.

Have you used it for biking? Does it work ok?

I had a VivoActive HR after getting a sad refund for my Band 2. My daughter lost it when she grabbed it and started playing with it. I don't really miss it! That screen is BUTT Ugly. :p I genuinley miss my Band 2. It's the second best piece of tech I've ever owned. First being the Surface Pro 3. :p

Got this exact Garmin for my daughter last Xmas and she's still using it, although also wishes that notifications worked as well as my Band 2. I was on the fence when my last B2 ripped but couldn't make the jump yet and got another B2 off eBay and immediately put black Gorilla tape preemptively on the strap. So far so good, but eventually if I ever have to ditch MS...I'll go with this Vivosmart (hopefully GATT will work by then).

Got this exact Garmin for my daughter last Xmas and she's still using it, although also wishes that notifications worked as well as my Band 2. I was on the fence when my last B2 ripped but couldn't make the jump yet and got another B2 off eBay and immediately put black Gorilla tape preemptively on the strap. So far so good, but eventually if I ever have to ditch MS...I'll go with this Vivosmart (hopefully GATT will work by then).

Would be good to do an article about the new VivoSmart 3, since it just came out and is an upgraded version of this one. AND costs less than this one. https://youtu.be/oHFDU1XNPgA https://buy.garmin.com/en-US/US/p/567813 EDIT: It's missing GPS though :/

I think this is what my sister got when her Band 2 broke. She seems really pleased with the results, as far as I can tell. She had a couple of Fitbits prior, but wasn't overly fond of the durability.

Is the HR-monitor on this as bad as it is on their HD model? Because that one sucks.

I have to use mine quite a bit due to tachycardia and while I find the monitor is a little slow to catch up during vigourous exercise, as a 24 hour monitor it is very good, matches within 5% to the monitor my medical professionals use during casual activity.

It seems to be ok when walking, but when I'm sitting on an exercise bike it shows a pulse in the 150s when it's really more in the 110-120 range. It seemed to be better when I bought it, but after I ran a firmware update on the seonsor it became much worse. I can also confirm that I am also experiencing the "communication problems" between my 950XL and the Vivoactive HR that you're describing below.

I went with the Vivoactive HR (next more "advanced" model) and while the device works well and the basic information usually transfers to the app (current Insider/app build are iffy) they cannot get notifications to work well. There was one combination of fast ring and app build in late January that worked perfectly, then the next Insider build killed it (the cost you pay for living in beta). However, I am most concerned with Garmin's support staff, when I contacted them to discuss which setup worked perfectly (so they could see what worked right) they talked about how the 950 wasn't a supported model. I checked their official list of supported handset and not a single W10 native handset is on there, yet they are "supporting" a W10 app?

I had e Fitbit surge as a replacement for my Band 2 and was disappointed. I returned it a few weeks ago and now I'm still on the fence about what to get. The Fitbit Blaze looks too much like an apple watch, and the charger 2 is too basic for me, doesn't even have a gyroscope, only accelerometer. I'm waiting i guess to see how soon the CU will make GATT work so I can get notifications on my 950xl. So far I'm more inclined towards the Garmin vivoactive HR and although some ppl say it's clunky and uncomfortable,I should be ok after being comfortable with the size of the Surge. For those who wear the vivoactive HR, what's your overall opinion?
Also I hear the screen is not so bright as well, any thoughts on that?

I find I have a better chance syncing my vivoactive hr with a fresh hot steaming 💩 in my hand than with this app on my 950xl.

Has anyone used this thing for biking? does it work?

I have seen no biking setting on this. The VivoActive should though, but no promises :) The activies it can record are "Walk" "Run" "Kario" and "Other". That's it. It is very minimum.

I have seen no biking setting on this. The VivoActive should though, but no promises :)
The activies it can record are "Walk" "Run" "Kario" and "Other". That's it. It is very minimum.

My experience with the app is horrible. It never "just" syncs. The bluetooth dies every so often and the app crashes AT LEAST once a day. I am running Windows 10 Mobile with Anniversary Update on a Lumia 950 XL. Hoping Creators Update fixes this.

Have just got the Vivismart HR+ after umpteen replacement Band 2s and then finally couldn't get another one. Still trying to get my head around it but after experiencing some sync issues with my Lumia 950 I seem to have solved the problem - it is a simple as shutting the app down fully. If it is running in the background and you try to use it to sync, the sync fails. So hold down the back key, find the Garmin Connect thumbnail and swipe down off the screen. Then relaunch it and it syncs perfectly everytime.
Windows Central Newsletter
Thank you for signing up to Windows Central. You will receive a verification email shortly.
There was a problem. Please refresh the page and try again.