Microsoft Band 2 no longer being sold at Microsoft Store sites, no Band 3 coming in 2016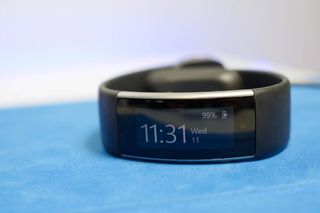 Listings for the Microsoft Band 2 fitness wearable have been removed from Microsoft Store sites worldwide. Microsoft has confirmed that they have sold through their current Band 2 inventory and also state they have no plans to release a Band 3 device in 2016.
The Microsoft Band 2 listing has been removed from the "Devices" top menu on the Microsoft Store sites in the U.S. (opens in new tab) Canada (opens in new tab), the UK (opens in new tab) and Australia (opens in new tab). Searching for the Band 2 on those sites also does not bring up its store listing anymore. The company still has a website for the Band 2 itself (opens in new tab), but clicking on the "Buy Now" link to the Microsoft Store simply takes you to the front page of the site.
ZDNet got a statement from Microsoft about the removal of the Band 2 from its store sites:
ZDNet adds that it has received reports that the Microsoft Band 2 is also being removed from some of Microsoft's brick-and-mortar retail locations. Listings for the Band 2 have also been taken down from Dell and Best Buy's retail sites, but it is important to note that other online retailers, like Amazon (opens in new tab), are still selling the Microsoft Band 2.
Thanks to William and Jim for the tips!
Windows Central Newsletter
Get the best of Windows Central in in your inbox, every day!
I said this over a month ago. Best Buy quit carrying Band 2 and were not gonna order anymore because Band 3 was coming out. There, now you know.

Thank you for the down votes, kind sir.

Umm so what's with the "Band 3 coming out" part?

Keep scrolling. I answered below.

Another Microsoft consumer product has been "zuned." Xbox... you better watch your back...

Except Xbox is doing very very well. Unlike Zune, which only did decently well

*did decently well in the US (possibly Canada?) and didn't exist in any other countries

man, I really really hope you're right on the band coming out by Spring next year. Paul Thurrott just put this up: No Band 3. We already know this, but it's worth repeating: Microsoft Band 3 is not happening. Not this month. Not ever. I like his website, but late it's odd the way he mocks other reporters on wrong or misinterpreted information. Would love to see how he back tracks of his statement

What is wrong with MS?... With no marketing their products will never succeed... I've said it time after time. The only reason why you would not let people know about your product is because you don't have any intentions for it to be successful. Honestly, the way they manage their mobile products is consistently a slap in the face to real fans (pretty much all they have left for mobile)... It's getting old.

I agree. Why would they spend the time cooking up things like the Band only to deprecate them later due to their own inaction?

That's Microsoft's entire MO: Release, cheer, abandon.

This. So many abandonments.

I fixed that for you: Coming Soon™, Coming Soon™, Coming Soon™, Coming Soon™, Release, Fix Coming Soon™, No really we mean it soon, Fix, muffled cheer, Abandon. Issue press release about how deeply committed they still are to some other product or vertical that will also be dropped within a year.

Square Enix does that too! "Please look forward to it."™

I just can't tell if it's incompetent mismanagement or on purpose for some reason. With the CEO's head literally in the clouds, who knows what they are doing eslewhere.

Head in the clouds. Hilarious! Since he took the position he's just been like, "CUT IT, CUT IT!" Yet they are bleeding all this R&D money by not giving their products a chance and as someone said advertising it properly.

Microsoft as a consumer brand is dying fast. It will soon be IBM--a profitable company that no one cares about.

That's one reason I'm seriously considering ditching my 950 and going to iphone. At least until they decide if there is going to actually be a Surface Phone,AND it's actually released.

I agree a nice middle finger to us developers. F*ck MS. I have 3 band apps in the store. Posted via the Windows Central App for Android

And Band was a success. **** MS!

I really hope microsoft come out soon to tell customers what they are doing in the customer space. I have just moved from the lumia 950xl to the lg g5 because of losing apps like paypal and also lack of support for wordpress as i need them both to keep my team up to date and manage payments in and out. I also want a smart watch and wp has little support for it. I love the os but the support is going down hill. I really hope ms turn things around but if not ill be another android user going forward. Posted via the Windows Central App for Android

Seriously people...read between the lines. Microsoft clearly stated they want Windows 10 running on everything. It was reported recently that MS couldn't get W10 running on the band, now you see there will be no more band. It's obvious they are planning another wearable that actually runs W10 that won't have a band name. Band team disbanded because the wearable will most likely be made by the Surface team where all MS hardware is being made.

I think what irks this community the most is that we buy into the vision Microsoft seems to be selling but then Microsoft backtracks or changes direction or retrenches and we're the poor suckers who just bought what could quite possibly become abandonware. It might also have to do with the fact that we (as MSFT fans) see the potential in that vision than what we think Microsoft is promoting, sometimes (now more often than not) it seems that we see more potential in it than Microsoft, which is a huge bummer.

In this case, A-Band-onware. Don't say they didn't warn you. :-(

Absolute bummer... I've been on Windows mobile and phone for 12years, but my 1020 is useless now with Windows 10 and my 640 is just backup (sold my cracked 6s plus and waiting for my 7s plus). My Band2 broke and MS isn't making it easy so now I've migrated to Garmin. Sadly won't be back, so good luck to all of you! Hopefully ill be back, but MS needs to step it up, so they don't become IBM....

Riding off of first comment, but What if the end of Band.... means the start of Watch?

Is Microsoft Band 3 is due for 2017?

What if we need a replacement?

The are either prepared for that or give you your money back / store credit. MS always has a good solution for those matters. Guess it depends where you purchased it from.
Personally I wouldn't worry much about that.

Read again. Microsoft no longer sells Band 2. It didn't vanish from the market...

I think manufacturing has stopped though. So what's out there now is what's left. Buy up a spare now would be my advice if you definitely need a fitness wearable through to this time in 2017.

A better recommondation is to look for a Fitbit or Garmin. Unless you think the Band 2 is a collector's item, why pay good money for a discontinued device?

A collector's item? The thing still has more features and sensors than Fitbit/Garmin.

Features mean nothing if they don't work half the time.

Who said no? Band 2 has some of the most accurate sensors out there. You can try taking it to a lab and testing out for yourself. Fitbit is way behind that.

I'm not talking about the sensors, I'm talking about other features, it is a well known fact that since Windows 10 the Band 2 connectivity to phones has been down right terrible when trying to use the keyboard or Cortana. Anyone who actually owns one would know this.

IN MS FANBOY FANTASY LAND!

Nah, in the "Not a Google fanboy harassing windows users on a Windows community"-way.

My Band 1 features work most of the time. It's just starting to fall apart.

Mine as well. I got a lightly used one from eBay for $30. Solid replacement.

Manufacturing has stopped - just popping out some spare parts right now until material is utilized.

Mr catfish, is it possible Microsoft are integrating tech with a uk company that Peter Griffith has been seconded to If so the next wearable will smash the competition out the water Looking forward to your reply

That, I don't exactly know. If I had to answer, it would be a no because of the relationship with Fitbit.

Fitbit they aren't in the same league and surely after being dropped from ms healthvault that would be the biggest backward step I've ever seen I know a lot through research and haven't seen anything regarding a relationship with fitbit

There is a relationship with fitbit. Like I had said though, Ms is making another wearable, so they don't really need a partner right now.

But with the need for accurate data being paramount Fitbit wouldn't make any sense at all if the next one is to be a game changer instead of a gimmick ?

Why would ms tie up with a company being sued for inaccurate data ms aren't stupid there world leaders

a hardware company buying a failing wearable company with nothing to offer ms your not making sense I think you know where this is going and Fitbit aren't part of it even I know that

Easy pickings is the answer. Ms does not care about fit bit nor their reputation, Ms wants the user base. Ms will be seen as an improvement, reinvigoration. This all depends if fit bit agrees and legal allows it.

Also, pay no mind to that health vault.

http://techgenix.com/iot-evolution-microsoft-lifesavers/ It's important no..?

It is very possible that cloudtag #ctag could be in talks with microsoft, their technology is out of this world, nothing out there as accurate as this, ECG 98-99% accurate, proven technology and ready to be released to the market, fitbit are in constant battles over their accuracy! Creating a new market sector for weight loss!, Would make sense why peter is has been building a team at cloudtag...

If it breaks out of warranty then we can't do anything about it. Have to live without a fitness wearable, find some remaining stock from a 3rd party, or switch to a different device that has support for a different fitness wearable. Third party stock will sell out at some point so maybe buy a new one before they disappear.

If it breaks out of warranty then we can't do anything about it. Have to live without a fitness wearable, find some remaining stock from a 3rd party, or switch to a different device that has support for a different fitness wearable. Third party stock will sell out at some point so maybe buy a new one before they disappear.

True. The one reason I went with the Band was that it was compatible with my Windows Phone. Are there any other manufacturers that work with WP? Not that I know of. If it dies entirely and we get no updates and support, then we're forced to give up what we have grown to enjoy.

Garmin and fit bit, I use my fénix 3 with 950

Mine broke in warranty and there is just no replacement for it. Im SOL.

replacement? that's funny, this is MS we are talking about here.

Just this weekend, I sent my Band 2 in for repairs (it first stopped tracking heart rate, then powering on proved too difficult for it ). We'll see if they send me anything in return under warranty. They must have some left...

I had a friend return his Band 2 due to not charging. He received a new one. I sent mine in for separation around the bezel; display frame. They didn't replace it due to separation of the battery covers too, in my opinion, also craftsmanship issues. Out of warranty replacement would be $130. Got another from eBay. Better condition than the previous. That's all that matters.

They got stock left for that... They only sold out of "for sale" stock.

I hear google makes wearables.

I stopped at a mall in Knoxville, Tn Saturday and got a replacement, no questions asked.

Yeah, don't count on it. I have been trying to source a small size replacement for weeks and have been told no guarantees they will find one. There are no replacements (well, there are mediums until they run out). No support there.

Oh well I retired my band 2 last month

Getting really sick of these bean counters. This is the last time I take a chance on a first or second generation Microsoft product. Unless it's one of their "successful" products, I won't be buying or recommending.

On this note, Google has always been criticized for killing off things that people like. Microsoft seems to follow suit from time to time...

I always feel the difference between Microsoft and Google is at least with Google, the service was free*, whereas Microsoft products you actually have to buy and they still deprecate it when they wish. *Free being you do not have to pay for it, but they are selling ads to you. Not to say Microsoft doesn't do that, but it has always been said Google does more of it.

Why? You're acting as if your band suddenly stopped working as of today when this report was released. Lol nothings stopping you from continuing to use your band.

Until the band itself stops working. That's really his/her point. The Band 2 is now discontinued.

The Band 2 has serious design issues with the rubber portion - it keeps tearing. In order to continue to be a Band user, the Band 3 MUST come out and it must fix those issues, as well as the connectivity issues with the keyboard and Cortana.

Yea, kb and Cortana didn't work well at all. Was such a hit or miss.

Yeah, for a device that costs a premium nothing about it lives up to that expense. I'm incredibly disappointed in the Band 2 and won't buy another wearable from Microsoft.

Mine is still fine. I honestly have a feeling that people are buying the wrong size, not releasing the catch a little when exercising, or are just damn rough with it. I can see 'why' and 'how' it can break but mine won't as I take care of it. Or they're Google/Apple employees. :)

Well that's an ignorant statement. Mine is the largest, and I've written one tighter and the other looser, both broke. I took care of it, especially the second one. I babied it and it still broke.
I think I know what t the issue was this time, but not sure.. When you take it off and charge it, it sometimes bend back too far on the charger side... And that is eventually where it tears.

If yours is "fine", then you are very lucky, indeed. I'm on my fourth Band 2. None of mine lasted more than 3 months before having problems. I've had a size M and three size S. I'm really in between sizes, so either I get a M and have battery issues, or get a S and have band tearing issues. I'm not rough on it, actually I baby it. The most strenuous exercise I've done so far is walking, so the problems aren't from abuse. When I tried to exchange #4 for #5, the MS store was out of size S, so I figured I'd continue to wear this one until it fails completely and perhaps the store would get more in stock, as they told me that more were on the way. The next Monday, I find out that the entire Band project has been canned. The band tear is now starting to affect performance, so I'll be going to the MS store this weekend and getting a refund instead of a replacement. I don't want a replacement that will only last two more months. Good news, I'm still within the warranty period of the original band purchase, so I should be able to get a refund. Bad news, MS made a product that couldn't hold up and having 4 of them couldn't make it through a full year. I will agree that the sensors and tracking are the best out there, so I was holding out high hope for a Band 3. I haven't found anything yet that I like better, so I guess I'll go without for a while and see what the market does. I'm guessing it won't do anyting compatible with my Windows phone. MS has lofty ideas and products for the high end, but not for little ol' low-end me.

If there's no future in it, developers will stop developing for it and there's no upgrade path. I have a Band 1 that is falling apart and THAT is stopping me from continuing to use my Band. I have nothing to replace it with, and I was going to consider a new Band purchase this coming holiday season, but now I have to pick up an inferior wearable.

I felt the Band was on the market long enough to prove itself. Apparently I misjudged, or misunderstood, rather, what Microsoft was planning. Sure, if they cancel the Band altogether, I'll be pretty bummed. Not much I can do about that. So long as the one I have continues to work.

Well, fudge. I was really hoping for a Band 3. :(

I said before when they axed the app, that the band itself is next...guess what.....ding ding ding.....right again! There will be a new band in 2017, however it will only track whether your at your cubical or not and recieve internal memos....

They didn't axe the app. They changed the name. So, don't hurt yourself patting yourself on the back, for nothing.

yeah....and that new app does NOTHING....they also axed the other health app that was also used with the band...come on...

Steve, Steve, Steve. Stop with the wool pulling. Microsft Health/Band was the only Microsoft app the Band communicated with. If you are thinking Microsoft Valut, that served a completely different purpose.

Microsoft Vault app has been discontinued as well. They still have access through the website.

And Microsoft Health and Fitness was just a source of information. Health and fitness advice. wpguy is correct.

Apparently you haven't used the new app...it does the exact same thing as the old app. I'm not sure what you are talking about, but it's clear that you're more interested in bragging about being some sort of predictor of the future than actual facts. You've tried that they axed the app...false.
You've tried that the app does NOTHING...false
You've tried making the Health Vault app seem like it was Band-based...false.
You've even tried using the pinnacle of logic: The "come on" argument. Let this one go, you didn't predict it...and you're wrong about all that you've posted.

All they said was that there will not be a new band coming out this year. Who knows, they could release it next year along with their other devices that were delayed.

Possibly, a Band 3 could be released alongside the Surface refresh in 2017 - but I highly doubt it. You have to be skeptical of Microsoft hardware that isn't Surface or Xbox because they have a poor track record of maintaining fledgling.

Maybe rather than a Band 3 they'll announce a "Surface Watch". Might be a tough idea with that little kickstand digging into my wrist. ;-)

If they have sold out of their inventory, that's usually a good sign ..so surely there will be another band especially since they made it clear to say we wont be releasing a band in 2016. The fact that they changed the app name to Microsoft Band is also a sign that it's here to stay, otherwise they could have left it as Microsoft Health. Seems like they want to do a full portfolio announcement/launch. Surface/Surface Phone/Surface AiO/Surface Band

The fact they rename the app to band is perhaps also because they need the Microsoft health brand for the cloud, which they are committed to, hence now they can kill the Band without damaging the Microsoft Health branding...

It's also a very possible scenario but MS could have easily just said they are ditching the phone app as opposed to going through the effort of renaming it. Considering they sold all their stock, one of the very few reasons I can see MS pulling out of the Band, is that they might work closer with one of the more popular brands, while using the MS Health Vault ...this could help boost their Vault stats/data. That said, I dont see MS pulling out of the Band. They might have pulled the SDK but it could be they have an entirely new one coming up. Either way, if MS isn't planning on pushing thr new product and ensure better service for them internationally, then they might as well close the doors because I still find it crazy that in several big European countries the Band has still not been brought over.

According to ZDNet, Microsoft also removed the Band 2 SDK. If that isn't a strong enough hint, what is?

Or maybe they will be releasing a smartwatch with Windows 10 when the other devices launch. It could be it.

This is my hope. I mostly use the notifications and love seeing incoming calls on mine.

Remove the SDK though? I'm not sure you know what hint that suggests.

W10 IoT? If so, no wonder there won't be a new Band this year.

Probably going to follow traditional Microsoft strategy then. The Band will just be renamed to something else.

This happened long ago. Mary doesn't know jack about this - trust me, read below.

But they changed the name to Band. What kind of bright Marketing is that if they intend to support other devices, OEM?

The enteprise only Band, aka The Shackle!

Instead of reminders to move, it provides reminders to get back to work.

Lol this comment thread is gold

Haha this made me lol. Thank you :-D

With new m-shock technology. Not shockproof but shock-ing.

Will it also track if your stapler has been stolen

Its on the way, in 2017 - that's like two months away. You can hang in there.

How do you know this? I haven't seen it confirmed.

My team has had meetings with the manufacturer. We provide something they need. That's all I can say.

Half-life 3 confirmed? I mean Band 3 confirmed? :P

Is it a catfish sensor for anglers?

Why give people hope here? Why was it delayed to 2017? How can it be coming out if the entire team working on it has been disbanded? Doesn't really add up...

you know... it could have been delayed because they really are working on a Windows 10 OS for the device?... Maybe the disbandment was to form a new group around the new wearable? In a way, it actually does kind of add up... but I am just throwing out ideas, I just have a hard time believing that they would just up and exit the wearable market especially when they have never said that

How can it be coming out if the entire team working on it has been disbanded?

​Team working on the OS has been disbanded, according to one - but reliable - source (Mary Jo Foley). Surface team though is experimenting with wearable hardware. It doesn't mean they are having a product ready but it is plausible.

I don't know...all I know is what is reported: From Mary Jo Foley's article (http://www.zdnet.com/article/microsoft-pulls-band-listings-from-its-stor...):

Microsoft is believed to have disbanded the software team that was looking to bring Windows 10 to the Band a couple months ago. I've gotten various tips that at least some of the Band hardware team members have dispersed, too, with some moving to other Microsoft hardware teams inside the company. Even though sources of mine have said Microsoft is planning to phase out its fitness band devices and to have no plans to roll out a Band 3 device any time soon (or likely, ever), company officials still haven't completely conceded that it's the end of the line for Band.

These just don't seem like the moves that a company heaviliy invested in a product line would do. Also, why not just continue to sell Band 2's until at least a new one is announced? Again...not really something that screams "invested!" to me. I'd love to be proven wrong as I loved my Band 1, and was REALLY hoping for a Band 3 replacement this year. I was kind of scared off of the Band 2 as a replacement since there are a ton of QA issues with that...but it might be my only choice if a Band 3 never comes out (or just get some other product...).

Not really true. You are taking that at face value.

if the entire team was disbanded, that's probably why it's taking longer... besides, every time they rush somehting they mess up. I rather have a rumor for 2017 than nothing for 2016

hopefully a metalic band, so it doesn't come apart :)

@MR CATFISH, you clearly have more info on this I do. I live only in the world of speculation on this and hope you are correct. However, I would offer as a possibility that even taking your information at face value and as fact, it is possible that design and development teams within Microsoft are pursuing a Band 3, but that at a corporate level, the decision has been made to stop it, to focus on the areas core to the business (which does seem to be a theme with many of Microsoft's product decisions of late -- axe all of the secondary projects, except for the Garage work, in order to put more people on Office, Xbox, HoloLens, and Windows). Remember how the Surface Mini was apparently axed right before its public announcement. I'm sure many people were "certain" it was about to be launched? Even McLaren made it pretty far along before being canceled. Tactically, the only reason to deny a Band 3, if it were planned, would be to help sell more of the Band 2 (to avoid the sales and revenue postponement effect -- "Don't wait for Band 3, buy the Band 2 now"). But if they are also taking down Band 2 from distribution, that doesn't seem to fit with this, especially with the holiday sales season about to start combined with your statement that Band 3 won't be released until 2017. Unless, it's because they think the Band 2 has such serious quality problems that it's smarter to stop making them to minimize tarnishing the brand... (I suppose that could explain this and still fit with a Band 3 in 2017, but it's such a small niche product at this point, that doesn't seem likely.). Without violating your NDA, does your information give you any reason to be believe that in fact Microsoft is continuing to pursue this even at the top corporate level, and that your knowledge isn't just from the actions and orders of a small research team?

And you are sure this manufacturer got what it needs from you to be used specifically for the Band 3?

Even if that were true (which I'm very skeptical), this is still the death of the Band as a platform. Not selling any more, and not having the new one in time for holiday shopping means that people will look elsewhere. The fitness band market is too big and changing too quickly to miss out on the holiday shopping season.

Take it or leave it. I don't care. I know, and that's all that matters. I was kind enough to share because the Band has been important to us and me, so I thought those folks above and below would like to know that the Band will survive for at least one more iteration.

fwiw, I appreciate the info Mr Catfish! Me personally am counting on your post being correct and am holding out for a possible Band 3 in 2017

I must share some of my passion for this device with you. Although the display, the band itself and app integration has had its drawbacks, the sensors within the Band, both models 1 and 2 are fantastic. Wait until you see three - and it is no longer boxy - which 2 was an improvement on, but not enough. So many hurdles had to be cleared to make them work. We thought at first, the Band 1 may never get off the ground, which is why, to some extent, the device was just let loose on the public with little fanfare.

ooooh! I like these tidbits :) I love my Band 2 it was an amazing improvement over Band 1 (and loved that one too!) I always hoped Band 3 would be waterproof, but I guess we shall see. 2017 huh? I think I can wait that long :) See now you are getting me all excited for a Band 3 lol

Your excited? This is my livelihood!

Good to know. But ms needs better product planning. Stopping the sale of a device before a new one is available (especially with no official notice of a new version) sends a bad message, especially with what is going on with Lumia.

Something came up. In this case, it is like switching gears in a manual transmission - one moment you are moving by the power of the engine until you push the clutch in - you have a pause, then things start to pick up when the next gear is engaged. Materials had to be reassigned, you see? This is the clutch being pushed in if you will - the next gear is about to engage.

I have hope, but it's possible we are being "catfished" here.

No. This is my livelihood. So many things I would like to share, but alas, I cannot. Some things are still being completed too, so I don't want to say something I shouldn't. Then, they have these pesky NDA's...

What is it you do for a job?

Perhaps. Plus, it would not be the first time MS cancels something that was just about to go production . Posted via the Windows Central App for Android

Meanwhile the rest of the tech world (apple, google, LG, Samsung etc) are using dual clutch transmissions where you dont have "pauses" you just get the next gear in miliseconds and pull away from the arcaiac manual transmission!

1. 2017 is 3 months away. 2. It's not like they'd be doing a 1/1/2017 launch, if anything. More likely, they would roll it out with the rest of the hardware they are planning, which is slated for a Spring 2017 launch. 3. Spring 2017 is 3-ish months into the year. 4. Now you're at 6 months. 5. Even that assumes a start-of-spring announcement, meaning we could be talking up to nearly 9 months, and still be in that "Spring 2017" window.

I'm sorry but that just made me think of the old Microsoon jokes.

I definitely would not be expecting an announcement before Spring. Better bet later than earlier. But my Band 2 is fine and I have the extended warranty, I think I'll make it

Well, on the flip side of that, MS seems to have fallen off in build materials/quality with the Band 2 (a common theme I've noticed with their hardware of late). It drove my sister to a Garmin, as they made no strong effort to fix the Band 2's woes, and did even less to suggest a Band 3 would come. The did well with the first Band, but didn't do well to build upon that. Their hardware releases just haven't been good, outside of the Surface line.

Here's to hoping faster and wider availability after announcement

I was waiting for an iteration of Band that could be used while swimming. As soon as that became available, I was a sure sale.

It says another band device this year. Which would make sense since all the rumors are the new surface device launches are supposed to be early next year. So I would suspect that they would announce a new band at those events like they have done in the past.

This announcement is similar to thier Zune retirement announcement.

Nobody remembers that announcement, but you are right it feels like it did before

This is the end... they would transition to a new product if they were going to keep selling. Fitbit owns this market and hopefully we'll get notification support on those devices soon. Let's face it, low margins and not really core to systems or software. The bean counters must have decided it didn't take off, so why bother.

Offering no product while the next product is in development is a fantastic way to kill any interest in the platform. I'm afraid that terrible QA killed a good idea from MS. Sadly, Band is dead.

THIS! Take a long look at mobile. Maybe they have a very long plan (job security at MS -- COMING SOON) at making another run at it with their Surface line, but obviously it will be a smaller run towards business and true fans with top of the line (expensive) hardware.

There is a reason as to why there is a gap between announcements.

My guess is because it is not exactly a product from the Band line, but more or less a new line?

I don't think MS is going that route, but they have a couple teams on these things, so you never know.

lol, i would doubt they are going to use Surface brand on a watch/fitness band. I meant something more like a shift in design so that it no longer looks like the bands do today, but really it's just all speculation, i have no idea what it is

I said that 3 is an improved design.

Oh I see so it is still a Band, but improved.... hmmmmm interesting, thanks!

Yes! As has been the trend.

While I appreciate the positive outlook, this is the end of the line for the Band. They've hinted on multiple fronts that its done, this is just a more clear communication. Next year they'll say that they have 'no plans at this time'...its just corporate speak for 'we're done'.

It's been a fun ride being all Microsoft for the last couple of years. I learned a lot. But, it's time to move on.

Same here. It's been a roller coaster ride. Clearly Microsoft is putting a lot of pieces in place to compete for the future, but for now, I rather move on to Apple while still using other Microsoft services available for that platform. Tough but that's the way to go now. Moving on!

I can assure you that if you like MS, don't do Apple.

I think we should learn to start looking beyond whether we "like" a company but focus on the products it offers, at least in this arena.

That is precisely what I am speaking to - the product.

I can't really move to iOS because I need Cortana integration between my PC and phone....Android doesn't have Cortana officially in the UK. I'm still running my L950 until Jan 2018 and my Band 2 until it breaks, hopefully there's a fitness wearable and nice replacement phone by then but if not I NEED them to have proper, full fat Cortana running on Android in UK in production state

Why cortana. I moved to android last month and the Android to pc integration is way better. Unified messaging is sorted perfectly. All the Ms apps are available on android and much better than the windows counterparts. Honestly don't worry about it. Ms have pulled out of mobile and all the extras like bands are following suit. What is it about cortana you need to keep

So, if you dismiss an notification on your pc while using Android, does it dismiss the notifications on the phone too? And the other way around? Notifications are driving me nuts using my (soon to be returned) 950 XL.

Talking as an IT Manager for my firm, I can relate. However, consumers want to see some consistency in strategy or chosen path from Microsoft. All the sudden death of products and services push people to a more consistent and widely used platforms - iOS and Android. Sometimes its tough selling all these wonderful ideas to staff let alone executive management.

You're exactly right. The lack of faithfulness and consistency with Microsoft has me looking towards ios for the first time ever. It's strange

I can't really move to iOS because I need Cortana integration between my PC and phone....Android doesn't have Cortana officially in the UK. I'm still running my L950 until Jan 2018 and my Band 2 until it breaks, hopefully there's a fitness wearable and nice replacement phone by then but if not I NEED them to have proper, full fat Cortana running on Android in UK in production state.

MS knows this which is why they've done a good job at porting and offering their products services on other platforms.
Let's hope its improved immensely when you're back.

Yep, I've got the all MS t-shirt as well. Seems to not fit so well these days. My investment in Kinect games and use of the band. My family members all have Windows Phones. I still have a Windows Home Server backing up our machines. These all work pretty well and all they needed was another revision or 2. It was getting there, but nope. Cancelled. Orphaned. It's so frustrating and I've grown tired of it.

Shirts don't fit because you gained or lost weight..? O.o

This guy is asking the right questions!

I still pine for the days I could run Windows Media Center with 4 Xbox 360's without issue.

Same. I'm using Plex now and it's okay. MCE was so good and just needed a little more work.

Don't get me started. My Windows Media Center server is still in the garage. I was ready to replace my 5 XBox 360s with XBox Ones....but Media Center Extender never came to One.

yeah i know the feeling, i tried it too, got burnt, got the hell out of dodge.

Couldn't agree more. I've had every single thing MS for at least 5 years but I think I'm done. Started to change over last September with an HTC One M9. Such a shame. Posted via the Windows Central App for Symbian

Seriously what the hell is going on at Microsoft the way they're killing w10m and now really killing the band

And that, as they say, is that.

I get my L950 and Microsoft "retrenches" from the mobile consumer arena, I get my Band 2 and judging by this article that are bailing out of this type of hardware too, how can Microsoft expect me to be loyal and support them with my business when it cares so little about the consumer???

You should be loyal to getting yourself the best services and devices, not to some faceless corporation that makes billlions every quarter and spends it supporting their competitors mobile platforms.

they've basically been shoving you to other platforms. learn to take a hint and move on. It'll be a lot more peaceful.

Just because they are not doing any consumer devices till next year does that magically stop your L950 from working?
​Nope it doesn't, plus there are multiple OEMs releasing devices. I've had loads of updates to my L950XL since April, and according to this very site the next update to W10 is going to be mobile focused, which is no surprise given the Surface Phone is suppose to come out in the same time frame.

Well I'm keeping my L950 until Jan 2018 as planned. I will just have to hope my Band 2 lasts as long as possible. In 2018 (as always) I will look at all the options. So far nothing has tempted me away from Windows. One thing I'd 110% need is full Cortana on Android in the UK. I rely on Cortana for a lot on both PC ans Mobile. I'll see what's going on in early 2018 but when my Band 2 eventually breaks out of warranty I'll be disappointed

Well I'm keeping my L950 until Jan 2018 as planned. I will just have to hope my Band 2 lasts as long as possible. In 2018 (as always) I will look at all the options. So far nothing has tempted me away from Windows. One thing I'd 110% need is full Cortana on Android in the UK. I rely on Cortana for a lot on both PC ans Mobile. I'll see what's going on in early 2018 but when my Band 2 eventually breaks out of warranty I'll be disappointed

Couldnt of said it better my self. I replaced my Lumia 950 and my Band 2 with a Galaxy S7 and the Samsung FIT 2.. Its awesome and notifications work all the time , every time. Highly recomended

notifications or google ads?

john, what do you mean google adds?

Does the Android update the wearable when a call comes in? That's one of the things my Band 2 does so well.

yes, it displays perfectly...text messages, replies to text messages, even my Ring.com alerts..something that the band 2.only alerted to about 1 in 3 times!!!

Samsung Fit2? Sync on any android or only the Galaxy series?

Samsung Gear Fit 2 ..sorry. i tested on galaxy S7 only , so far.. but wirks very well in everything the Band 2 did..and much more, and 100% of the time

actually the samsung wearables also work on apple devices for most of the features through android wear app....

Seems like you really don't 'get' anything... %p

Honestly, it's frustrating and it has become tiring to deal with.

It's good thing that I replaced mine (under warranty) last month. Hopefully it lasts longer than five months this time.

It will last decades in the landfill where it will end up. 2 months until the strap rips.

Lumia and this? Then what, Surface too? They need to have better plans next year or adios

For a device that pioneered 2in1's and is making them money, I don't think the Surface line will be going anywhere.

same here, if Surface phone does not hit the market, i will have to jump to iOS :(

​Don't commit suicide! Get X3 Elite!

All hail this idiot CEO!!!!

I think you should run for zee hills now Nizam.

So Windows Central may delete Menu item Band? Well, it was always An US only thing.... We are back at Microsoft mice, keyboards and Xbox.

Don't forget HOLOLENSE which is failing, dying in the cradle.

Considering you can't really buy one, how do you know it is failing?

Look at all of the other vendors way out in the lead: PS, HTC, OCULUS...to little, too late. Notice you have not heard much about it lately? There is a reason for that.

Those aren't AR devices, they're VR devices for gaming.

All the same...its not, can not work in a consumer space.

How do you know? Tried on? Seen sales figures?

Did you forget the "/s" ?

sad trombone time again...wah wah wahahahahaha!

Focusing and retrenchment. Nothing new or reason to worry. Business as usual.

This retrenchment crap is just that...crap. It is their way of suckering the last few dollars out of idiots like me without saying "its over, we are out, but please give me your last dollar".

Phones and bands for fans. Tested by fans for the fans.

Next thing we'll be required to build them ourselves too!

Hahaha. The irony. He is going to outsource to us now!

So I gues the Surface Phone due spring next year along with the mobile focused Redstone 2 Windows 10 update is just sucking the last few dollars? Get a grip.

Until Microsoft themselves officially announce such plans basing decisions on what a 3rd party site reports is foolish. Remember McLaren? Surface Mini? Well rumoured then cancelled, so dont count your surface phones before they've made their first call.

THIS! Surface Phone is vaporware until I can go to my local Microsoft Store and buy one off the shelf. After McLaren, XBOX one DVR, Windows Media Center, Zune Music Pass, and now Band, with many others, I don't believe anything Microsoft says when it comes to consumer products until its actually out and functioning in the real world.

EXACTLY. Even if they announce it...until I can walk in a store and get it, I dont believe or trust Nutella with anything. Lemon.

Where does it say its due? Oh...more rumors. And if rumors are correct, that device isn't for you or me; its for corporate Mongols.

Show me one OFFICIAL report of it being due EVER. And that still doesn't do any good for the suckers buying the end of the 950 stock.

Except that the prices of the 950/950XL are decent right now. Windows 10 Mobile is getting updates every month right now and the next update to Windows - redstone 2 is suppose to be the one that focus's on mobile - the 950/950XL will continue to get updates just like any other Windows 10 supported device so just because MS end of lifes a module that's been out for nearly a year means nothing when you are still getting software updates.

.....As the app market place goes smaller and smaller with real apps because Nutella shows no support and only hinders the phone divisions progress.

Exactly how are they suckering the last few dollars out of customers by no longer selling a product? Is there any logic in that little brain of yours???

My brain must be bigger than yours...because any moron could see that they aren't calling it quits so they can sell the last few of the 950 line and then dump support.

Im not even commenting on this one missionsparta, because I feel your pain...but i jumped ship and its MUCH better on the outside instead of looking through windows!

Nutella is pushing for one on all. Next he will **** can the Surface line, sell the Xbox division, and then you will only have PC's.... i.e. Windows 10 on ALL devices!!!!

I don't know why you got down-voted, everything you said is true. MS is going to eliminate the entire hardware division and ****-can XBox. They will become a pure Azure + Commercial Cloud company.

Because they downvote any truth that is in a negative light. I'm a Microsoft fan, but it is obvious what this lemon of a CEO is doing.

I will keep downvoting you every time you write his name wrong. And it's a pity, because I may have been upvoting some of your comments if you were not so rude.

Nutella, Nutella, Nutella. The only thing rude here is his disregard for his customers. And down vote me all you want. I value down votes more than I do up votes. I wear them like a badge of honor here, as the most honest comments usually get down voted.

Hey, did I hear somebody calling My name?

I can't resist to give it a try: Nutella! :D

Nutella!!! Don't worry. I upvoted you so it cancelled out him crying about it.

Oh yeah, keep on rockin' baby! Nutella!

Long live Nutella! Nutella forever!

Dear lord...i hope not. We need Nutella to croak.

Holy cow, did I actually say that?! I must have got carried away by the chanting. Anyway, Nutella!

HOLY CRAP.......YOU NAILED IT M.S. thats exactly whats happening...they realised they could not give the same os on all devices so they will give the same os on one device!

No more windows phones to support it since the Lumia line is cancelled and who's going to use a MS band with the HP elite? Not many. Not enough support so that's why everything is going down.

Well, the Band is one of the few multi-platform devices out there. So people can use it with iOS and Android too.

I hope you realize that the Band is compatible with iOS, Android and Windows Mobile.

So once my Band 1 dies it's game over, awesome. Keep the bad new coming. Was waiting on a Band 3 announcement. If it was pretty much Band 2 but without the flaws and improved battery life or better, I was going to buy it. Definitely had my money waiting but apparently since my money isn't enterprise money, it doesn't matter
-_-

At least for this year. There may be an announcement next year when they introduce their other delayed devices. Who knows what's going to happen.

So Band 3 will run W10M... right? :D

Wouldnt be so bad if they would actually bring their mobile OS into the 21st century and add a GATT server so we could fully use other solutions from Fitbit and possibly others but as usual, they dont give a toss. Gits. But I'm sure there'll be an article up shortly declaring how this is good and Microsoft will return in a blaze of glory to rule the world of wearables with WINDOWS 10, the Savior!!! /s

you mean an article from Jason? :P

Nope, a 12 part SAGA beginning with the history of tech right from the stone age when man discovered tools! :)

So I guess you're done bashing Microsoft and are now turning your attention to the authors on this site.

Shouldn't laugh, but this is too funny I've got tears running down my face. Thanks for cheering me up bro.

Adding the GATT servers was supposed to have come some time ago. I tould have been great as then we could have notifications on Fitbits and Garmins and after all the Band was supposed to be a testbed and advertiding for all the possible sendors that would be in the band/watch. But MS never really put any advertising campaign forversion version of the Band. It was a really good product in my opinion. And now that my band two broke (quit charging just like my three band 1's, when my 950 is paid for or breaks I'll move on to Android. I dont need a Surace Phone or HP X3 as a consumber, and my business days are numbered. So I'll get an android phone that I can pair my fitbi charge 2 to and be relatively happy.

That sucks.... Loved my band 2

Wow I literally just bought a Band 2 yesterday! It was still listed on the website yesterday but I had to go in store to buy it. Apparently they only had 1 left in stock at the time. That's incredible timing on my part lol.

Bring it back to the store and get your money back

Nah I actually did want it. I just meant that if I had waited one more day I wouldn't have been able to buy it anymore at a good price since Amazon sells it at full original retail price. Posted via the Windows Central App for Android

Enjoy it! I've had mine since they first released it. There are some quirkyness to it at times but I'm very happy with it.

Unless you know he likes the product he bought? Just because it has stopped selling does not mean that it no longer functions... maybe try trolling harder next time

O, shut up with your trolling argument.

oooh! Struck a nerve did I? :)

The Apple Watch went 18 months before a successor was released and people weren't saying "The end of the Apple Watch!!!" People simply waited to see when the next one would be announced. Sure, the Band and Band 2 had set the expectation for a 12 month, October to October release cycle but that doesn't mean Microsoft has to keep that going. Microsoft could be simply waiting on Redstone 2 or even 3 (fall 2017 could mean October 2017 Band 3) to unveil a vastly superior Band 3 or an actual Microsoft Watch. Microsoft stated that they aren't releasing a new Band in 2016. What would a new Band accomplish right now beyond a different hardware shape if the software isn't ready? What if Microsoft truly wants to get a Windows 10 IOT Band or Watch going? A release this month or even this year depending on projected scope may not be possible. OR, Microsoft could have scrapped everything. Who knows? Either way, we don't.
With that, I'm going to keep calm and continue using my Band 2.

They didnt pull the stock of apple watch...no where near the same thing. They also have a CEO that backs its own company...

I believe they said they sold through their stock. The Microsoft CEO backs Microsoft it's just a lot of us pocket CEOs only see Microsoft from the viewpoint that we are invested in and that is usually from a phone based vantage point. We, as consumers don't have the inside knowledge, roadmap or even the same vision as the CEO or Microsoft as a whole and we generally want what's best for ourselves as far as the eye can see, not knowing what is just behind that hill, that hump of consumer disappointment. I don't know what Microsoft is planning for the Band lineup, just like we really don't know what they are planning for their phone lineup, we just know that something is in the works. Microsoft specifically mentioned no new Band in 2016 for a reason. They didn't mention the Band product line was cancelled, just that there will not be a new Band in the last 3 months of this year. Fun fact, at work, we are removing peoples desktop icons, some of their programs...some people don't like it...some don't understand...some may be angry at the change, at the delay BUT, working in IT, I know that what we are about to replace those programs, products and icons with is vastly superior and much better that what we had before! They don't know it yet and sadly, in Microsoft fashion, it is coming soon. My career, having insight to certain things has helped me to keep calm and see things through and you never know when, where, why and what is just around the corner. We all go to work each day and work and projects that are not public until...well...they are made public and sometimes we have to sit back and take the consumer or even Team Member backlash in the transition. I don't work for Microsoft so I cannot speak for them but I have worked and do work on many IT, hardware and software projects and have seen most sides of the story, sitting in meetings with CIOs (Chief Information Officer) and help make decisions that may have been unpopular with our userbase but we did so in hopes to achieve a better outcome. I worked on a Lumia project for 2 years, my coworker passed away within the last month of testing before the rollout and she was the only other person with ANY direct knowledge of the project. Losing her not only impacted me personally but it set the project back by a full year. Things happen, plans change, impossible become possible, scope becomes creep and leadership changes and vision modifications can change a product lifestyle and consumers usually never know the details. Maybe Microsoft is cancelling the Band product line, maybe they aren't. What they have said is that there isn't a new Band for 2016. Our Lumia project was pushed from 2014 to 2015, a series of extremely unfortunate events but in the end, the project concluded with double the devices, better software and moved from Windows Phone 8.1 to Windows 10 Mobile. I really do keep calm and see what the end is going to be. Microsoft has not announced the end yet, if they do, then I'll respond accordingly. Until then, business as usual for me and I can use 2016 Band money for something else. Maybe I'll buy Forza Horizon 3: Ultimate Edition...

I seriously don't know why you even bothered talking sense with him? The only thing he ever does on these articles is bash Microsoft. But being an IT guy myself, I know exactly what you're talking about.

I'm a Microsoft fan, but since this clown room over, it has been a train wreck for the loyal consumer. How you think I should paint any of this in a positive manner is beyond any of us.

not a spin, its the truth!

Exactly what I was thinking. These wearables don't need an annual revision. 18-24 months is plenty. There's just not enough that can actually be improved on the tech side. Maybe a little superficial or aesthetic improvement. I had my first watch for 15 years before I replaced it.

There are a couple of big features they could add to the Band (water resistance, longer battery life) but even if you don't think that's important, there are a lot of serious hardware issues they could fix with a new revision. Maybe these hardware issues can't be fixed without a complete redesign but it's not like the Band2 is some perfect product that doesn't need an update, if it was they wouldn't stop making and selling them.

"People simply waited to see when the next one would be announced" because Apple has a track record of reliability and innovation. Microsoft has uncertainty and stagnation. The sky, indeed, is falling at Microsoft.

Apple does not have a track record of innovation. They certainly have a track record of reinvention, to be sure, but nothing innovative has come from them in a bit. I just bought an iPhone 7 and nothing about it is "new" save omission of the standard head phone jack and water proofing. "Oooooh," haptic feedback. I had that on my Cadillac and its designed for input-feedback for old people. Microsoft has uncertainty, for sure, but not stagnation.

Apple's track record of reliability? they've had their issues too, with iPhones and other hardware. Innovation? haven't seen that from Apple in a long time (removing an audio jack, making larger iPhones like their competitors or badly copying the form factor of the Surface isn't innovation). The sky isn't falling at Microsoft because hardware isn't where future growth will be. Smartphones sales are already slowing down (I'm talking iPhones, not WP). Microsoft is well positioned in the next growth market, the cloud, a market Apple doens't exist in at all and will have a hard time getting into (yes, they could hire a lot of people and spend billions on it but they'd be so far behind and they don't have the experience and name that would get anyone to use their cloud).

I like you, you're sensible ;p

http://www.windowscentral.com/microsoft-bands-future-doubt-efforts-get-i...

I agree with Deaconclgi.. Plus the app has a changed name to state that the Band will stay not only the health platform.

Or it got renamed to Microsoft Band so that when Band gets retired, the app naturally goes with it. A dead Band app sounds better than a dead Health ecosystem (which might already be dead).

@Deaconclgi however the Band 2 won't be sold anymore when all the stocks run out... your only option will be ebay. Which is why people are saying the Microsoft Band is dead...

What !!! A Surface Band !! Wahoo !! Gonna need to start saving now for all those Surface products.

I was waiting for the band 3 but now I think I'll opt for the Garmin 235

There's nothing wrong with doing that and if they release a new Band in 2017, you can always look into it to see if it is a viable option.

Yeah, I'll definitely be on the lookout for the band 3 (surface band) in the future. Just ordered the Garmin 235 to hold me over.

I just took my Band 2 back to Best Buy yesterday for warranty exchange. They had none in stock and none to order. They had to issue me a refund.

I bought mine from BB too with the extended warranty. I was wondering how they would handle that. Thanks for the information.

awwwwww, Though the experience as been interesting for me. I never wore anything on my wrist until band1. Never felt the need for one. I still look back wondering what a band gives me and whether it actually helped improved myself in anyway. I still record workouts and sleep but I never look back at it. My biggest take away from the band is a phone companion for notifications really.... I'm kinda back to, do I really want to wear a watch all the time again? It's interesting, a few times lately I've forgotten to put the band on.

That's a real shame. The band 2 was the best fitness device I've used. Typical Microsoft, kill off anything that's of any use and pour resources on stuff few want or need.

Microsoft gives the mddle finger to the cosumer market under Satiya Nadela. They're offering business services and they're letting google beat them at it. no phones, no bands, crappy outlook.com client on the web, none of the major businesses want to offer a business app for their mobile platform. They're going to turn out to be just like IBM. IBM only has watson to talk for them. Microsft will only have cortana with bots integration to talk for them. Good luck M$

Just wait until they start closing the brick & mortar stores.

I hope that they ultimately do make another "band" category device or work out something with Google and get android wear on Windows phone.

Well, too bad. Microsoft would be well advised to stay in the Band product line. Guess I will be eying the Fitbit Charge 2 then.


Can we use these with W10M, just not for notifications?

I just bought one last week after my band 2 quit working. It's great but would be even better if MS would open the GATT servers to let us get smart notifications like Android and Ios get. ARGH!

dont know why u guys are complaining. band 2 is ahead of its time, and can easily aquire one on ebay through 3rd party for like 50 bucks. if you are still on band 1, this is a great time to own this. as WP owner, all features still work from music, to texting, and microsofts health app is superb. There's really no need for this to be upgraded just yet. All I see are whiners brainwashed into a yearly upgrade that apple started.

Its not just about not releasing a new band, its the withdrawal of stock from shelves so no one can purchase one. Are your rose tinted glasses so thick you cant see the issue? How much good is being ahead of your time when you cant purchase one of these future devices?

you can easily buy them on ebay.
http://rover.ebay.com/rover/1/711-53200-19255-0/1?ff3=4&pub=5575095911&t... Why areyou even ********? Do you even use one or pretend you give a **** about other peoples issues?

They have a history of quitting to charge after 4 months or so. Unlesss you're really close to a MS brick and mortar store, it's a pain.

Rumor has it that Microsoft is in late stage negotiations to acquire fitbit.

It will buy fitbit and then will go into retrenchment mode and abandon it.

If MS cant figure out how to run W10 on the Band, im not sure they'll have more success running it on fitbit...

Great, if the first thing they do is open the GATT servers so we can get get smart notifications on the Windows fitbiot app for Mobile and PC.

My Band 2 is the last bit of MS hardware I own and use regularly. At current pace, it will be my last. As I move away from MS on more devices, the less I need their apps and services. I already gave up on OneDrive after they pulled back the storage. If I'm going to pay for the storage I need, I'm buying something that is more reliable. I never saw myself as a Apple customer, but with my dislike of Google and MS slashing and burning, that's slowly what I am becoming. How scary is that?

"I already gave up on OneDrive after they pulled back the storage. If I'm going to pay for the storage I need, I'm buying something that is more reliable.​" - that makes no sense what so ever. OneDrive is completely reliable - you're crying because they reduced the FREE space and then saying you are going to go and BUY somebody elses cloud storage? Eh? That's just cutting off your nose to spit your face.

No, OneDrive is a terrible experience for me. On Apple devices, you must allow "always on" location to enable background uploads. Why is that necessary? And even then, accessing your gallery on the OneDrive app is slow compared to others. I have fast broadband, yet scrolling through pictures results in blurry images until a higher quality version appears. Again, competing services are seemless. I Use OneDrive at work with office 365, and I get sync errors all the time. I have to login at least once a week to save files to it. I'm not an idiot when it comes to using these things, and a call to IT suggests I'm not alone. And yes, I need more space than the free account provides--both before the storage downgrade and after. Yes, I am willing to pay for extra storage versus selling my soul to Google (Photos). A dollar a month is livable, but it's not going to OneDrive. And my point about reducing the free storage was just an example of another consumer kick in the face from MS. Again, if I'm willing to pay, it's going where I get better service. That isn't OneDrive.

Yeah, I agree. Amazon still sells the latest pieces at least!

best place to buy from if you are going to buy a MS product, amazon are fantastic, MS wouldnt replace faulty band under warranty, so told amazon and they sorted me out instead, and this was after 4 months (not 30 days)

I don't know if I can keep trusting in Microsoft's products...

If you don't know, I'll tell you: you can't. Nobody can because the future is too uncertain. Apart from a few "retrenchment" statements, Micro$oft keeps shtum, plus has a proven record of abandoning several projects and leaving their customers standing in the middle of nowhere. In my eyes, they have "retrenched" from a trusted technology provider to a completely unreliable company. All that within no more than two years since Nutella took over.


Other than the four countries mentioned it's almost impossible to purchase a Band anywhere else and being constantly in and out of stock what did they believe would happen. Microsoft are far too big not to have a clear roadmap for devices divisions.

Im glad I replaced my non-functioning (i.e., wouldn't charge) Band 2 over the weekend. I wonder how MS will handle these issues once stock runs out?

Mine is having issues and I would like a replacement. Is this still possible? Posted via the Windows Central App for Android

You are still covered under warranty so they can still exchange it for a refurb (this is what they always do anyway). I need to get mine replaced too. My replacement has crappy battery life. Just got the replacement a couple weeks ago

Band 2 was severely flawed. My first Band 2 split completely across where the metal ends and rubs against the rubber. Microsoft sent me a replacment that was clearly used and already had a small split in the same place. They've now sent me a 3rd that I expect will last for 6 months or so before I'll have to replace it with something else. I hope the continue with wearables, but they really need to fix the design.

Yeah, mine lasted all of two months before it tore. My replacement has the thicker rubber, and it's so far so good. I don't expect it to last much longer, which is quite sad for a wearable.

My life has not changed at all as a result of this.

Band 2 is the only electronics in recent years that excits me, and the only one in my life I pre-ordered. Its functions fit my lifestyle and needs very well, I really enjoy using it. It seems Microsoft is slowly leaving the consumer business in chase of quick profits. I don't like that. I agree with the current CEO on his vision of cloud first and mobile first. But I cannot agree with him on his business practice.

Booo. Was hoping for another sale to replace my wife's band 1. That sucks...

We'll probably see apps developed for Apple Watch and Android Wear. The new Microsoft is about providing the service for all devices- if they're having trouble selling their own hardware, they'll likely make an app for the devices that do sell in the hope that people continue to use those services.

What a slap in the face!!! .... well there been many slaps on our faces so now we have to get used to it. anyways it sounds like if not this year then something next year!!!!

Nothing new to see here please move along... Thanks Nutella!

Mine broke for the second time this year, so I took it back to Argos and got the money back in Xbox vouchers.... Lots of games goodness for me this holiday :)

Can't wait to see statement this from MS: "We have sold through our existing Lumia 950/XL inventory and have no plans to release another Windows Mobile device!" Coming Soon!

thats really coming soon....not trademark'ed coming soon!

I wonder what the Microsoft presenters will wear during a Microsoft Event?

Probably Rolexes bought with money made on great business decisions such as this one. /s

Nadella has ruined too many aspects of Microsoft.

Too bad I was looking forward to the band 3. Well msft better get that GATT server running ASAP on Windows 10 mobile so we can make the Fitbit devices more useful then just a HR monitor and step counter.

Well I got this from the Dev team a couple of weeks back. "The Bluetooth team is hard at work adding GATT Server APIs to Windows and we expect GATT Server should be in the Windows Insider Preview builds and SDK later this year. When APIs get added in to the OS and SDK, any developer can start updating their app. Once the next release of Windows is available, any app that want to use these new features will be able submit an update to the Store.
Clint Rutkas [MSFT]
Admin, Windows Developer
"

Well the Band was always a flop. It launched almost nowhere and it never presented ANYTHING extraordinary or that other health bands don't offer better and cheaper. I think if Microsoft is wise they won't ever produce a Band 3 and focus on their Microsoft Health platform which, as they saynin the statement, is cross platform. Again, leave the hardware to those who know how to do it and focus on the software. Which is what MicroSOFT was always supposed to be about. Posted via the Windows Central App for Android

Does anybody put data INTO Ms health except band users? I send mine OUT to Strava since they don't have a W10 app. I don't see the incentive for third parties to put their data into MS health by default when there are more popular options already....stava,endomondo, android health platform, apple health platform

That's why Microsoft must improve their software offering. As long as they don't present consumers with a reason to use their service, people won't do it.

I want a Band 3 soon, everyone in the family does. I will preorder at least 2 the day they are announced, surface phone too...

I love my Band 2, but i'm so frustrated with Windows devices right now I will probably switch to an iPhone and fitbit pretty soon

Im frustrated with their inability to stay active in the mobile space for sure. The Band line was a solid attempt, but in an overly saturated market. I've been thinking about switching away from Windows Phone to an S7 Edge. I've adored the platform since getting my HTC trophy in 2010.

I had switched to android and just switched back to wp... Bern using Windows phone since wp7 and just love it too much

Also, the good news is that the HP Elite X3 is now on display in all the Microsoft stores I checked on, and they have stock! Bought one today!

Thanks for staying the course.

Well in addition to all of that they never updated their servers so that Fitbit notifications would come to wphones. So when the 950 us paid for our breaks its an android or iPhone for me should've bought one instead of the 950.

Now now, they've announced the required GATT server will be part of RS2. I'm so glad they're implementing this cutting edge feature so quickly /s

Classic MS. another failed product. another wasted fortune.

Why buy anything from Microsoft when, in the back of your mind, you're thinking "Wonder when they'll throw in the towel on this line?"

Who needs a band when it will be replaced by bots anyway.

I don't need a Band. I've got my web browser :-p

Good I wouldn't have bought it anyway. Maybe next time they'll release a finished product that works all the time instead of half the time, doesn't require a restart every day of the week, and doesn't start crapping out after a month.
And maybe next time they won't purposely withhold features from the new gen product that could easily be brought to the 1st gen device which shares the same specs.

Now I don't agree with all of that but the witholding features thing was annoying for sure!!

I hope they end up developing a new one. The Band is a great fitness tracker.

Poor Microsoft... they just can't seem to come up with mobility or wearable devices that consumers want to buy :-(

Because their designers are idiots. Look at the clasp on the band. It's horrific

But wait. Nadella introduced a new piece of hardware today. Its a book called A cloud for global good. Any Insiders to hunt down bugs in this book?

Yeah that tells you all you need to know about Nutella. Cloud this, cloud that. Cool hardware to access the cloud services, f-that!

Why bother have stores anymore. Phones are disappearing. Bands are dead. Store displays will have i-phones with minecraft and office apps

Might as well close the stores.

Maybe this is the reason Nadella canceled the Band so he could close the stores?

Great timing, just as the strap on my first replacement looks as if though it's about to split open... again. Twelve more weeks and we'll be set into a new year, 2016 has been lacklustre (hardware wise) from virtually all the big tech giants.

******* hell, only 12 weeks to go. **** me that went quick

Just to add, i bought a zune, ms band 1, my wife has a band 2, bought 3 windows RTs for my kids. Typing this on a lumia 830 and my wife has a 640xl. so the question is : What has msft done to instill an confidence in any new product. I was planning on upgrading to a band 3. Not now i guess.

Stop buying the products I like, every one you buy gets cancelled ;-)

Looks like microsoft are done with anything consumer expect the Xbox one

And you look at the PS4 Pro specs and you wonder... "Is now the time to jump ship on this also?" It's no wonder there are some great deals on xbox S right now!

Definitely not the right time, in 12 months you'll be in the same situation looking at Scorpio that's more powerful still. For the sake of the consumers MS and Sony need to re-sync on release schedules for further upgraded consoles IMO - For our sake rather than their own lol

Nadella wants to shut down anything that doesn't bring money to Microsoft.

I know this is too optimistic in thinking but the "no Band 3 coming in 2016" doesn't mean they can't announce the Band 3 this year for release in 2017.

If they've disbanded the entire Band team it kinda sorta sounds like it will be hard to develop a new Band, don't you think?

I can't remember her name but I think it was Laura somebody who did the Band 2 reveal presentation; anyway she put on Twitter a little while back she was leaving and moving elsewhere to work for another company. Wonder if it had anything to do with this. AFAIK she worked within that team on the marketing side of things

My Band 2 has been awesome, people dissing it or calling it unfinished - well that's not my experience. Its sensors are exceptional, it's served me well and in fact based on the sleep monitoring it did I became aware of a sleep disorder I didn't know I had, and my doctor confirmed the results after further diagnosis and testing. The announcement is that they have "no plans to release another Band device THIS YEAR" so why is everyone saying band is dead. This year does not mean forever. Quit jumping to conclusions based on Fox News style "facts" and lets see what happens in 2017.

I'll echo your Band 2 comments. We'll see what the future brings.

Yes, I love my Band 2. It does worry me the MS does not advertise its products and then wonders why they fail. I hope there is a Band 3, and a Surface Phone for that matter.

Unless there is nothing to see.

Unfortunately a good number of people on this site are excited any time something bad happens to Microsoft. They can't wait to see Microsoft go down and any time there is any kind of news that does not look good they start clamoring for Microsoft to go bankrupt and just stop trying and sell the company. Why these people like to spend their time hating a company and wanting less competition in the market is beyond me. It has been well proven that it is never good to have few competitors or worse just one company. I do not like Apple nor Google (Alphabet, whatever their name is now) but I certainly do not wish them to go away. I like the innovation all companies provide and the exiting of a company is not to heralded as good news. I would be sad if Apple was in this position rather than Microsoft. Even though I cannot stand Apple, I would never wish them harm.

I assume you don't use Cortana on your Band then, which is cool, I imagine a lot of people don't, buy that is where the majority of my problems lie. That and it only measures heart rate when you are exercising. It's for these reasons that i wish I had gotten a Fitbit instead, as they are cheaper, have longer battery life, 24/7 sensor and, while they don't have Cortana integration, it didn't work anyway.

Great.... so when my Band 2 band inevitably tears again, I guess I can't just swap it out for a new one in store anymore.

I hope that Microsoft replaces the Band with an actual smartwatch. I want a real smartwatch, not just a fitness tracker. I also want something that looks good enough to wear to the office, not just to the gym. Posted via my Moto X Pure Edition using the Windows Central App for Android

They won't. They make software.

I get a sense that the 1st one was a 'prototype', There was a secret release. I got an email a few days early, that the were going to sell it, I call the store and no one knows what I was talking about. Go there the day of release, and snag one before it sold out. I was told that most of the empolyees did not even know it was being reased that day. My understanding was that it was a piece of hardware that was designed to test many things. Thus limited 1st run, sold out for months, but popularity demanded that they make more. The overall problem was that there were design issues (with the band itself pealing, cracking etc), so they quickly re-designed it and released the Band 2. I think that they over engineered the Band 2. There are some of us that actually use it for heart rate monitoring, and it does not work when exercising (I compare it to my polar chest belt). The Band 1 worked almost flawlessly. Then there is the sudden 0% charge issue that is very common. I recently had my Band 2 replaced a 3rd time (my work partner has gone through 6 in the last 10 months). The last time the girl at the store told me the problem is using a power brick to charge the band will spoil the battery, and that is the cause of the problem. Thus use a slow lower mA charger like on a USB port on a computer and that will prevent the battery from getting spoiled and preven the sudden dead band that is prevalent. My suspicion is that there are many quality control issues, and software issues that still need to be ironed out. If they can fix them (and maybe they have all the data from Band 1 and Band 2) then a Band 3 could be possible. Personnaly I think there will be a Band 3 at some point, but probably after some of the other hardware that is proposed (Xbox Scorpio, Surface Book 2, Surface Phone etc).

I'll bet a dollar that MS announces it is buying Fitbit before the end of the year

is fitbit up for sale? i thought that was one company that was actually doing well in the market?

LinkedIn was doing well and Microsoft bought them (in process). Fitbit are on a growth seeking phase now, so if Microsoft are gonna make an offer they need to do it now, before Fitbit gets too big. Also with Apple recently remarketing the Series 2 Apple Watch as a fitness device (rather than a designer watch), perhaps Microsoft also want to control that market going forward.

Wouldn't be a stupid idea if they got it at the right price. AFAIK Fitbit are the leader in the fitness wearable space right now, and also are cross-platform already; like the Band.

In capitalism EVERY company is for sale. Every company can be sold if someone with the money to buy it appears.

I can't wait to get an Android phone and smartwatch!

Wow. Look at all the dislikes. You know it's true. The only smartphones I've EVER had were running Windows but I know it's time to jump ship now. I am probably one of Microsoft's biggest fans but I want the best Microsoft experience (which is on Android) and I also want a usable and customizable phone (also Android).

I hope they can swap mine out again when the strap fails again, love the Band2, all it needs is a stronger strap!

Getting rid of music pass will be my last straw. I should keep quiet before I give them any ideas -_-

Maybe they will finally give me money back for the piece of crap one I have. It does not work, strap is torn almost in two, and they voided my warranty. Wow.

Phone I use is Lumia 950 xl. What should my replacement fitness wearable be for Band 2?

Depends if you need a heart rate monitor or not. The Fitbit Alta is a nice sleek alternative, though you won't be able to get phone notifications because of how W10M works as a phone/wearable server. If notifications are important, then perhaps buy a Band 2 via Amazon before the last few sell out.

I think Fitbit Charge 2 is a better fit. Alta is too basic, without even a heartrate monitor.

You can get compatible fitness trackers, and even more if you just need PC support. FitBit will do the health tracking stuff; just not notifications right now.

It also will not show a live feed of your current heart rate on the phone. I find that quite useful for interval training at the gym.

What's this witchcraft in the articles main image? The band is charging yet doesn''t appear to be connected to any charger

Well, I don't personally know someone using a wearable device, so does this mean wearables are dead? No, they're not dead, but they're part of a niche market that will never grow as smartphone market grew 5 years ago.

You must not know any healthy people then. Fitbit's company has been growing year on year and sports wearables are now a multi-billion dollar business. Sure, general wearables have not been as big a success as smartphones, but they are growing unlike the saturated smartphone market which is now reduced to single digit growth.

Two attempts to get band right, and both were not of merchantable quality. Had 4 band 1 and now returned my wife's 3rd band 2. One with the battery covers that fall apart, and the band 2 with the comedy of issues! Split bands, damage to the clasp mechanism when taking it off for charging, 'paint' peeling off around the HR sensor, no coating on the contacts to stop irritation....and so on. I ended up with serious skin issues due to the nickel reacting was salt in sweat. Granted MS did their bit, after I reminded them of the Fitbit law suit, and allowed me to try another one with a display dock thrown in for my 950xl. Alas, the band 2 caused the same issues. They refunded me and I bought a Fitbit blaze. Due to Cortana and Keyboard issues, I dont miss the band. I dont miss the notifications either. They need to make sure any future device is PROPERLY tested!!

Good point about FitBits, even though they don't support notifications this might not be a big deal to a lot of people

Dang it! I loved my Band and Band 2. Sure I had the battery fail issue, but the second one works great! It looks good and is more functional than the other fitness trackers. My issue is MS MARKETING! So they even have a marketing department? I see better marketing at lemonade stands.

I had the battery fail issue on my Band 2 (dead) and the replacement has very poor battery life. Up to 35% loss in a 7 hour sleep tracking session :-/ I need a replacement for my replacement damnit

:( As a famous newcomer to politics might say, "NOT GOOD."

Advertising direction for all there products lack that awe inspiring moment, that I definitely need that moment, that only on this product moment. What sets the surface apart from every other win 10 2-in-1 on the market other than design, or the band from every other smartwatch-fitness wearable. The only innovative device they have currently is the Hololens and they are killing all interest in that device by the time it comes out. While being very expensive. It's meager specs might not be able to run any thing smoothly enough by the time its release. Like the Surface hub they presently have, that other companies are already 1 uping them.

Most Band2 owners I know are on their 3rd Band at least, this product is just badly designed Having to replace them for so many customers multiple times deletes any chance of making money on a product so I was surprised they were still selling these at stores. The Band1 was never supposed to e a real product, Microsoft was just showing off the capabilities of their health platform so combined with the build quality issues it makes no sense to keep going with Band. They'll have to figure out a better solution for the band itself so it doesn't tear and make it one size fits all if they ever do a Band 3

Having owned Band 1 and Band 2 and having to replace both for different reasons - Along with all the other stories you hear about them being replaced, I'm inclined to agree. I don't think replacing pretty much 100% of the devices sold was going to hold up forever. It needed a replaceable strap which isn't possible with the current setup due to how the components and sensors are distributed. Dan Rubino said on Twitter something about them having found a hardware partner for the product that would be able to replace the MS Band line - Not sure if that's just a guess or from sources he has

At last a sensible comment. They were losing money on Band 2, why should they keep selling it?

Because it's about the bigger picture, band supported the W10m platform better than anything, and provided some level of parity with the completing platforms.
All I see here is another reason to leave this sinking/sunk ship as this move further undermines W10m.
Indeed my wife has just switched to Android and is not taking the MS services with her.

How? The Band 2 doesn't work with Windows 10.

So lets figure this out.... Microsoft says they are giving up the consumer market for mobile and focusing on the enterprise/corporate. Now they are dropping the Band (at least for this year, but probalby gone for good). The Surface (not the pro) which was a consumer tablet with ARM processor is dead. I am thinking that unless MS is hugely successful in a a particular consumer market, they seem to be leaving this market and going corporate. I know Office and XBox are around. I also realise that anyone can buy a SurfaceBook and a Surface Pro and a Windows 10 Mobile. I am thinking it is time to accept this new world and new Microsoft. Too bad I like Windows 10 Mobile, I was thinking of getting the Band, but wanted to get the one running a Windows 10 core. So I guess I better decide on Android or IOS....

"The Surface (not the pro) which was a consumer tablet with ARM processor..." The non-pro Surface 3 is not a tablet with ARM processor.

You are right. My bad forgot the Surface 3 had the intel processor. Thank you!

It's not a "new" Microsoft. They were always focused in the business market but also sold their products to consumers and the synergy between them is what made MS what it is. Xbox and Band were branches that are consumer-focused but are not part of the whole company strategy. And both of them weren't hugely successful - Playstation always sold more and the Band, well, I've never seen anyone using it. In my expectations, I don't know if a new Xbox is coming but a new wearable which might not be exactly a "band" will certainly come but with more productivity and less fitness focus.

stupid MSFT. Honestly Nadella is scks, all he cares about is "productivity" "cloud" "business". Never once has be mentioned he places MSFT customer first and foremost..

True I feel like I'm second class

Hoping wearables and the IoT just goes away. They're part of Petreaus' surveillance honeypot.

Long as the software/updates are maintained I be wearing my one of a kind band2 !!

Good becuse that's what all People would do

... Or the strap breaks...

no band 3 but maybe watch 1 ? I can hardly believe all these efforts in implementing this marvelous product going to oblivion...

Seems to me this is the end of the line for the ​Band. I can't imagine some genious at Microsoft came up with a plan to kill a current product without annoucing it's replacement, only to wait until everyone jumped ship to annouce a v3 of this product. Unless the folks at Microsoft are all out to lunch, this signals the end of the line for the Band. It's too damn bad, I don't know if there is another wearable out there that works as well as the Band and works with Windows Phone. Microsoft is getting an A+ for killing all reasons for Windows Mobile users to stick around. I'll be first to say I'm sorry if somehow this Master plan comes to life and blows my mind. Until then, I will continue to use my Band 2 until such time as it no longer works or is supported.

They killed the Lumia line without confirming the Surface phone. They do it all the time

Spot on windows fanboy or fangirl

Fitbit does. They have an app. The only issue is, whether or not Fitbit continues support for the long term. I'm glad I just got mine replaced. Hopefully, it will last for another year or so.

I don't understand MS. I think when ballmer was in charge he was trying to get MS to be like apple. Make their own products, but allow third parties to make stuff too because that's the pc side of computing. Of course the execution was off but the surface line gave them the foundation to work off of. But the shareholders are impatient and they want results and ballmer hasn't shown results so he gets shitcanned for nadella mr cloud. He changes direction, gets the shareholders all happy but pretty much reverses' everything that was being worked towards to be back like old MS where it's just the OS and software that matters. but kept Surface since it was now making money. Plus it seems that if whatever MS creates doesn't explode in popularity within two generations they just pull the plug. But half the time the execution is half assed which didn't help it's cause.

"no plans to release another Band device this year" != "no plans to release another Band device next year"

That's gotta be the dumbest thing I've seen a company do. They hyped the crap out of Band 2 and health and then do a complete 180 and toss it all in the garbage. I hope they at least had a basketball hoop on the garbage can.

I wonder if decomm of HealthVault app, renaming of the Health app and decomm of band 2 @re all related?

Sad thing... I was talking to MS folks at Ignite last week. The security area where they were talking about the companion framework. They had non MS Band wrist bands to demo with. I asked about the band, they said they had the bits and it was already working but they were not part of the band team and did not know why it was not out. Basically, the MS Band already supports the Windows 10 Companion Framework for login.... but won't release it! What the @#$#@$@#

Seems like MS has no major hardware for 2016 other than Xbox One S. Not the end of the world but very disappointing. 2017 better be much stronger. Xbox Scorpio, Surface Book 2, Surface Pro 5, Surface Phone, Band 3?

Dead. Posted via the Windows Central App for Android

Surface phone and surface Band coming? lol :( Posted via the Windows Central App for Android

So now we need an review of viable alternatives. My band1 just broke today.

"Viable" it's a relative term. Fitbit is obviously out in front here but even there you'll find gaps in the capabilities compared to what Band does. It's mainly MS's fault as they don't support the GATT tech required for some of the functionality and we won't see that on W10m production until RS2. I'd question Fitbits continued funding of W10m development at a time when MS seems hell bent on destroying their own presence in mobile. That said I am really happy that they do.

As long as the continue to replace them under warranty, I'm fine with this.

Look on the bright side: The article says that the Band 3 isn't coming in 2016. It doesn't say that it isn't coming at all. ​For all we know, the Band 3 could be coming in 2017 or something. ​Although if the Band 3 never happens, I really hope that a Windows Watch comes out to replace the Band line. That'd finally give Windows 10 Mobile users a Windows-exclusive smartwatch, like how the Apple Watch is iOS-exclusive or how Galaxy Gear is exclusive to Android.

EBay has band 2 sales heating up fast. Kinda funny to watch the prices going up already

Microsoft, is always killing off things that actually work in design and technology. Things that have potential to beat the others. Nowadays, they're pushing updates and releases towards the Xbox seems, like a constant reminder that it COULD be next! The kind of philosophy with these 'letdowns' that Microsoft has built in the minds of the public (fans and non-fans alike) is scary enough. No one's gonna want to invest in it anymore. Even, if the Surface products hit next year, that won't go far. It's not pessimism. It's a realism that the Microsoft philosophy has bestowed on me now.

Ha Ha Ha. More disappointment keeps coming. The last down the ladder is Windows Mobile.

Can we at least have Band 2.5? The Band 2 interface is perfect. We jsut need updated straps. :( I have to go replace mine now due to the splits.

When's Xbox and surface gonna go.

I can see Surface Band from a mile away.

Admittedly, I wouldn't mind seeing them removing the Band 2 SDK and sending out a completely new one for existing Bands. Yeah, I know... keep dreaming. I haven't entirely given up on them. If they see what Samsung and Apple are doing, and they really want to compete, they'll release something. It is true, though, they only stated that there would be nothing in 2016. That gives hope for 2017. Not giving up yet.

Lol. Band 1 a d Band 2 are expensive, Microsoft will not learn to sell product with less price.. Which idiots will pay more for microsoft band same thing they did for Lumia 950... Idiotic Microsoft please reduce your product price to 50%, so that at least people will think of buying your products .. Lol... Windows platform does not have good apps and many official apps support are ending... It's time for officially announce to stop windows 10 mobile. And of course if surface mobile is true then it Will be bogger flop than windows 10 .... Any ways it will be flop because you people will definitely quote higher price with no better hardware and apps... So good luck for your next flop produt
P.S Microsoft fan....

This is getting annoying now. I'm trying to convince my brother to not buy a Windows Mobile device so bad. They just butchering products like its crazy. Imagine when the windows mobile market hits less than 1%. WhatsApp, Facebook and other major companies will stop developing apps for this platform. I better start saving some cash to buy a mid range android phone before I loose my mind. The uncertainty of this company is just getting into me.

You know that you are becoming disenchanted by a platform when you first time consider uninstalling the Windows Central app. That's were I am now. Just cant take any more sad news. Sorry.

its weird to think a few years ago i was all ms. surface,wp,ms services and xbox. slowly ive replaced them all with apple products because they just work and i know apple will be there. come november i might say bye to the xbox for the ps pro. its a shame really.

Band 2 actually was a very good device to which Microsoft (Nadella) failed to promote/launch everywhere. In Nadella's regime Microsoft has been unsuccessful to execute its Mobile & Wearable strategies. I think, Nadella should voluntarily leave his position for people like Joe Belfiore.

Its quite depressing seeing so many people not using their head to think with. Microsoft Band 2 have some issues , and some bad issues at that. The battery in the band was made of poor quality that made it not charge within a period of 6 months. The rubber in the band it self sometimes tore and broke. I have returned 5! Of my band on warranty bases and Microsoft have been awesome replacing them all with brand new units. Sadly I am not alone doing so. To fix this issue they have to redesign and make big changes to the band 2 and that isn't an option when they have worked over a year on the next version of the band. So what they are doing is stop selling the units before the stock have all run out. The remaining units in stock will be used as warranty devices for as long as the stock last to still meet the warranty requirements for the consumer. But don't worry folks , there will be a "band 3" or "Surface band" or whatever they are going to call it but we do have to wait a couple of months. :)

Should I sell now or later when the value has dropped to rock bottom? THAT'S the question! Might actually keep it and buy another one when the price does fall for my partner. She'll probably never use it though.

This one I'm pissed about... If I knew my band would last a few years, I wouldn't care. But since its got such bad build quality, I know it will only last a few months. They should offer refund to current owners... They screwed this one up.

This one I'm pissed about... If I knew my band would last a few years, I wouldn't care. But since its got such bad build quality, I know it will only last a few months. They should offer refund to current owners... They screwed this one up.

I am down to my last Windows Phone and will soon part ways with it. My wife does love her Band 2 and I am disappointed in MSFT decision on this, but these are the kind of moves that gave me reason to quit on MSFT. Sadly, soon my gaming PC will be all that's left for their products in my world. But I still have my Samsung Blackjack to remember what could have been.

MCSFT is a quitter. Can we name all the products they dropped because they could not get it right. Manly because they were late to Market. When are they going to give up on mobile?

First Mobile and now Band..way to go..

Another great achievement by the almighty Satya ******* Nadella. I hate this man.

It had the potential just not the quality. I went through 3 band 1 an 2 band 2 replacements.

Today is a sad day... the Band is dead... I chatted with a Microsoft UK Store representative this morning who, after putting me on hold for a couple of minutes (seeking internal advice), was honest to tell me that "sadly the band product line has been discontinued" (her words)... I asked her if I should wait for the band 3 and asked if it will be released in 2017, to which she replied "very unlikely" ! In El Reg today, someone commented that he only got to know the MS Band "thanks" to all the current discontinued/ killing rumours online. He looked at it and described it as a very good wearable, if only he knew it existed before ! (Bloody useless Microsoft Marketing!) Anyway, I have been the happy owner of band 1 and 2 since day one. this was the perfect wearable for me, the right form factor, all the sensors and tracking (hiking) I wanted, perfect. I guess it will now be time to give a closer look at the Garmin. A pitty really as the Band 2 was great and I was ready to upgrade to Band 3 whenever released! A sad day indeed...

I think MS is clearing the mess in its divisions and joining them into one major one - the successful Surface team - for hardware and one - Windows team - for software as part of their strategy of having it all connected. Software was the first step and now they moved to hardware. There might or might not be a "Band" or a "Surface phone" but if either a wearable or a phone comes, it will come from the Surface team. I hope it does.

My heart is broken... like the strap of every Band 2 every manufactured. Junk product. 3 of them tore on me when they came in contact with sweat. Utter garbage.

Band 3.1 for Workgroups will be huge!

Do you recommend buying it now ??

I certainly hope that some of Catfish's comments we're genuine. I have used WP devices for quite some time now but not for the love of Microsoft as much as a dislike for Android and iOS (e.g. Transition from WM to WP.) Like others I was actually excited for band 2. I use it daily and am 100% convinced that it contributed to my weight loss. Being a realist I know it will eventually fail (on 3rd one,) I skipped the warranty on this one so without an improved band I will be forced to switch to a FitBit or Garmin, unhappily, unmotivated...perhaps I will be surprised, but this isn't good news no matter how one spins it IMHO.

Im glad I didn't buy into this one. Another failure

This is the way things are. Time to move on and leave Micro$oft behind. Pity I have to stay on Windows on my laptop.

don't commit suicide! get HP x3 Elite!

I dunno, all of this disappoints me. I really dug the Band2. I wish Mr. Catfish's statements come to fruition but I'm not holding my breath. Besides what would this replacement device be called? Surface Band, Surface Health, Sky Band, Sky Health Band, the Band formerly known as Band 3... As much as I think the next iteration would have been a stellar product it just sadly doesn't seem to be a feasible conclusion that there will be another Health based MS wearable. :-(

A lot of media are reacting to Microsoft Band end of life. (probably the best advertising MS Marketing ever achieved !)
It is very interesting to read articles from "non Microsoft fanboy" sites (such as Apple fanboy sites), their comments on the band being discontinued are interesting... you will read things like:
"I had no idea this existed.....and now it doesn't."
"I didn't know about this product. Nice Marketing, Microsoft."
"Wait... this was a thing?..."
"I'm not sad since I didn't even know MS had a Band. As someone else said, great marketing..."
"wasn't even aware this existed..."
"...Yes, the Apple Watch has Apps, but for my purposes, the Band does what the Watch does not. I am sad to see it go."
"Pity if Microsoft gets rid of it, cause it was one of the better activity trackers." "This had impressive technology at that pricepoint. GPS+ Heart rate tracking alone is great at $250. But its gone now." Once again, Microsoft Marketing is barely noticeable vs Apple etc. The reason is probably because Microsoft has little to no interest in consumer markets and pull all their resources to the entreprise markets (complete opposite to Apple positioning who is well positioned in the consumer market and tries to go to the entreprise side)! Microsoft is a "Cloud" company, a la IBM, whereas Apple is an hardware company and then and OS company. A real shame as the Microsoft Hardware are usually innovative and quite good, but nobody buys them as they barely know it even exist or it is a "US only" thing in a worldwide market! Anyway, the consumer confidence is certainly badly damaged now and a lot of long term loyal fans are also abandoning ship since the Microsoft's captain decided to sink it!

does anyone know what other wearable besides band2 supports phone / message / app notification? if fitbit just track health then it's not not so good.

Should have bought it while it was still in stock. Now i gotta wait till 2017 or 2018 to get a smartwatch.

Microsoft have declined to repair my band because of the common issue with the strap fault. They are saying this is because it has a tiny scratch on the display and they are classing this as major physical damage, When they wont admit they have not stock left and can't issue me with a replacement and don't want to give me the refund. I am so angry right now.

What a shame. I bought a Band 2 to train for the 2016 NYC marathon and am loving it so far. I definitely would've purchased he new version.

Last update, Cortana no longer works with windows 10 mobile in band 2.

I think Microsoft had no choice but to end Band 2 sales and remove stock from stores. For each Band 2 sold per customer needs to be replaced 2-3 times, and in some cases more. At this point they are giving away/ replacing a lot of stock. So a big break between band 2 and 3 is needed, if Band 3 was available now they might have to exchange faulty band 2's with 3's giving away/ replacing stock, not a good position to be in. There will be a band 3 in some guise when we least expect it and it maybe a partnered product like the hp elite.

Pretty much, the Band line was probably bleeding money because of it.

So is there away we can transfer our data to Fitbit?

Late reply (better than never), but I think I've found a way to xfer MS Band data--at least the past year's worth--to Fitbit. There's a website called FitnessSyncer dot com that I used to import data from Microsoft Health into it, and it then allows you to export the data to Fitbit. I was forced to switch to Fitbit today after I took my MS Band 2 back to the Microsoft Store for another replacement due to torn band, and was notified that MS is no longer offering the Band 2, and they offered me any Fitbit I wanted in exchange (I chose the Charge 2). The FitnessSyncer website appears to work, but my data export/import (into Fitbit) in stuck in a long queue. Currently, I think that's our only option...

I just tried registering my band which I bought 3 months ago and the band has not been shown as one of my devices on the microsoft account. It looks as if all references to the band are being removed.

Can they at least open source the software and hardware design so we can rule the world without Microsoft? -m

Just got a Microsoft Band for Christmas 🎄 and love ❤ it so far. Unfortunately it came with the S sized band and it is just enough on largest position. The Pimp My Band app comes handy for some more personalization options if the factory 🏭 ones shipped with Microsoft Band app weren't enough. A bit disappointed 😞 though that internationalization is very limited even with the Pimp My Band app. So now I need to use a Band in English with possible Cortana support, while my location does not support it.

My MSBand2 has stop working since Nov 2016. Waiting for the MSBand3.

Why can't they bring Zune back, at least it worked. You could sync your music to your phone flawlessly over the wifi by just plugging your phone in.
Windows Central Newsletter
Thank you for signing up to Windows Central. You will receive a verification email shortly.
There was a problem. Please refresh the page and try again.