Garmin's Vivoactive HR is a beast of a fitness band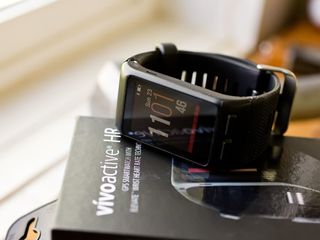 The Garmin Vivoactive HR, in many respects, is the big brother to the Garmin Vivosmart HR+. The Vivoactive sport built-in GPS and heart rate monitors, a larger color touchscreen and a ton of fitness/activity tracking features.
The Vivoactive HR does have a few smartwatch features such as installable Connected Apps and support for notifications, but the heart of this band is fitness. It is a beast of a band, not only in all the features but also with the Vivoactive's physical size.
The Vivoactive HR may not win any beauty contests, but it is a solid fitness band to monitor your daily, gym and outdoor activities. It also is an attractive alternative to the Microsoft Band 2.
Design
The Vivoactive HR's body measures 1.19 x 2.24 x 0.45 inches and weighs in at 1.67 ounces (47.6 grams). Compared to the Vivosmart HR+, the Vivoactive HR is about twice the width. Compared to the Microsoft Band 2, the Vivoactive is about a quarter of an inch wider. Even though this is a large band, due to the lightweight build it fits comfortably on your wrist. You almost can forget that the Vivoactive HR is on your wrist.
The Vivoactive HR reminds me slightly of the original Microsoft Band with its flat design. I would have liked to have seen a slight curvature of the body of the Vivoactive HR (like with the Band 2 or the Samsung Gear S) to make the fit a tad more comfortable. However, the straps on the Vivoactive HR are hinged and helps compensate for the flatness of the body.
The touch-enabled screen is 0.80 x 1.13 inches in size and sports a resolution of 205 x 148 pixels. While the screen has a good bit of real estate, it struggles with viewability (as you can tell in the Hands-on Video) at times. In bright daylight, the screen works the best and as the light grows dim, you begin to rely more and more on the backlight feature. By no means is the screen a disaster, but it is in desperate need for more resolution and contrast.
There are plenty of clock faces (more on this in a second) available that can be customized with brighter colors or a white background. These definitely help the screen's viewability but may stand out too much at night.
While the screen's resolution could use a little fine-tuning, the touch sensitivity flowed nicely and the control buttons easy to manipulate. You do get the occasional accidental swipe, but on the treadmill or lounging on the couch, I had no trouble manipulating the Vivoactive's screen.
Two control buttons are positioned next to the Vivoactive HR's screen. The left button serves as a Back Button and if you press/hold this button options to launch the do not disturb feature, lock the device or power it down appears. The right button launches the activity menu and pressing/holding this button launches the Vivoactive HR's extensive settings menu.
The Vivoactive is waterproof up to 5ATM and has a battery life rated up to 8 days without GPS and up to 13 hours with GPS. In testing the Vivoactive HR, Garmin's battery projections are spot on.
Speaking of GPS, the Vivoactive includes GLONASS GPS, a barometric altimeter and electronic compass. If you have a Garmin VIRB camera, the Vivoactive HR includes remote controls for the camera.
The fit and feel of the Vivoactive HR is surprisingly comfortable. I imagined that the Vivoactive HR would stick out like a sore thumb, but at just under 2 ounces the band was very comfortable to wear all day long. Personally, I like the slimmer footprint of the Vivosmart HR+, but if the Vivoactive were the only game in town, it would not take long for the larger band to begin to grow on you.
All in all, while a large fitness band, the Garmin Vivoactive HR sports a comfortable design. It may not win any beauty contests, but it's not a pain to wear.
Performance
The Vivoactive HR utilizes the same Garmin Connect Mobile (opens in new tab) and Garmin Express (opens in new tab) software that all the Garmin wearable tie into. The Garmin Connect Mobile app displays your daily performance measures and fitness activities, as well as tweaking the Vivoactive's settings. The Garmin Express desktop app is used to upgrade the OS on your Vivoactive HR.
There's not much difference in the software aspects than what we saw with the Vivosmart HR+, except with the addition of menu items to reflect the feature set unique to the Vivoactive HR.
The Vivoactive HR's performance in recording activity was on par with what we saw with the Vivosmart HR+. Steps, stairs, distance and other measures were recorded on par with other fitness bands on the market. The heart rate measurements did seem a few beats higher than what the Microsoft Band 2 records, but only by a few beats. By no means anything to be concerned with.
The Vivoactive HR does come closer to the Microsoft Band 2 with respect to smartwatch features. There is a growing collection of Connect Apps that can be installed on the Vivoactive HR and include the likes of additional watch faces, display options and widgets for weather information and performance data. You can add a watch face that not only displays the time but your heart rate, steps, distance and calories burned. Many of these apps can be customized from the Connect Mobile app to better meet your needs.
While the Vivoactive HR comes close to what the Microsoft Band 2 has, the interface is not as smooth as what you find with the Band 2. The interface is a little cumbersome, but with a few days of use it does grow on you. Many of the settings and options can be modified from the mobile app, desktop app or the Vivoactive HR. This flexibility offers you two larger screens to operate from that can make adjusting your Vivoactive HR a little easier.
And there are a ton of features to tweak. From watch faces to activities, the options available on the Vivoactive can be overwhelming. The activities the Vivoactive HR tracks range from running to swimming to rowing to golfing. Each activity can be customized by setting goal alerts, disabling GPS, background colors and more. If you are a golfer, you can add golf courses to your Vivoactive and if you need to thin out the activity list, you can always remove those you do not need from the Vivoactive.
As we saw with the Vivosmart HR+, the Vivoactive HR is listed as supporting smart notifications from a Windows Phone. It also has a weather widget that displays your current and forecast conditions and music controls. I found the notifications to work better with the Vivoactive HR than they did with the Vivosmart HR+, but they still lack reliability. Weather uploaded fine, music controls were basic, but worked, and notifications were passed on to the Vivoactive HR about once every four times.
Garmin seems to be at a loss as to why notifications from Windows 10 Mobile are not reliable from either the Vivoactive or Vivosmart devices. To give the company credit, their support has been responsive. They are looking into this problem and hopefully a solution can be found soon.
Overall Impression
The Vivoactive HR may be the closest thing on the market to the Microsoft Band 2. The color screen looks nice, even though it could use a boost in resolution, and the Vivoactive HR has plenty of fitness and smartwatch features.
The strength of the Vivoactive HR lies with its fitness features and the smartwatch features are more convenience oriented. While the smartwatch features are in desperate need of fine-tuning to improve their reliability, the fitness features are very solid.
I do like the simplicity of the Vivosmart HR+ ( $199.99 at Amazon.com (opens in new tab) and the thinner form factor, but the Vivoactive HR covers a lot more ground with regards to fitness activities and the Connect Apps have a tremendous potential. Look at it this way, if your fitness activities are, for the most part, limited to walking or running the Vivosmart HR+ should meet your needs. If you are a fitness buff and find yourself swimming, rowing, running, skiing, golfing and never stopping then the Vivoactive HR should meet your needs.
For those whose Band 2 is on its last leg, the Vivoactive HR is another option worth considering. It isn't the most eye appealing device, but if you are looking for fitness features the Vivoactive HR is hard to beat. If your need for smartwatch features overshadows your need for fitness features, the Vector Watch might be a better choice.
Garmin has the Vivoactive HR priced at $249.99 and the device is available in two sizes (regular and x-large). You can pick-up the Vivoactive HR through Garmin direct or various third party retailers such as Amazon.com and Best Buy.
See at Amazon (opens in new tab)
Windows Central Newsletter
Get the best of Windows Central in in your inbox, every day!
George is the Reviews Editor at Windows Central, concentrating on Windows 10 PC and Mobile apps. He's been a supporter of the platform since the days of Windows CE and uses his current Windows 10 Mobile phone daily to keep up with life and enjoy a game during down time.
Several weeks without garmin connect running well on my lumia 950...

same for me been weeks since the app has worked on mobile or PC. Say good bye to a long term supporter of you products Garmin. I have even tried using the Android app and it has all sort of issues as well.

I would say several weeks without Garmin Connect running at all on my 950XL, apart from run once only. I put it down to running under an Insider Preview fast track install.

Sounds good but simply too ugly...

Ugly is not really the issue facing sports trackers, only smart watches. It really depends which catagory you want to fill with this device. It's a great device to wear and use.

I agree. Many wear fitness trackers all day long to track overall activity plus their workouts. I do that currently with the Band 2. If the device doesn't go well with a suit, I'm out.

Will hold out and keep fingers crossed that a MS Band 3 is coming. (I know not this year but hopefully early next)

Same here. These alternatives from Garmin & Fibit don't appeal to me at all. Hopefully, my Band 2 will hold out that long.

I was also looking for an alternative to the Band, but because I use guided workouts extensively, I simply couldn't find one (yet). So Im going to wait and hope too for another MS Band!

You may want to checkout the Fitbit Charge 2 with Fitstar guided workouts.

The team / department for that product was dis-banded ! Clearly, like so many other results of good work, it's gone.

Some of us are still hoping that the project will get picked up again at some point in the (probably distant) future. It's not like they threw away all the research and work already done.

I would be happy ... but I don't see it. Microsoft has a history of developing solid products ( especially software ) and then abandoning them. For example, Lumia was really a good phone. Windows 10 on it works. Why they didn't tweak the body in "Surface" style and release it 6 months ago confuses me. The fact they didn't tells me the phone is essentially a very back burner project of no real interest to management. Instead they moved to support iOS and Android. In their stores they have sold other fitness devices along side the Band. That's pretty much a non-committment right there. Time will tell ... Band is a great product, but the store reps were clear that they came back because the manufacturing QA was terrible. BTW, did you ever see them advertised on commercials ?

No Band 3 is going to be made mate - you may as well uncross your fingers

No Band, BUT if you read the comments in some of the previous articles then you'll see insider knowledge that a wrist-worn wearable is in the pipeline, just not named "Band".

"The Vivoactive is waterproof up to 5ATM and has a battery life rated up to 8 hours without GPS and up to 13 hours with GPS. In testing the Vivoactive HR, Garmin's battery projections are spot on." 8-13 hour battery life is a deal breaker for me. I was ready to ditch my Band 2 when the battery life bug creeped up that made battery life of the Band 2 average 5-12 hours. I was extremely happy when that was fixed. I'm back to wearing my 2 year old Microsoft Band 1 as my Band 2 strap broke for the 2nd time. I got a refund for the Band 2 and used the money to buy Forza Horizon 3 Ultimate Edition, a year of Xbox Live and the remainder in Windows Store gift cards. I went back to wearing a regular designer watch but I could only stomach that for a day and a half before I was going crazy, having to pull out my phone to easily see the date, notifications and more. I quickly pulled out the OG Microsoft Band and I am sooooooo glad I didn't get rid of it, even in all of it's scratched, marred and clunky design ways about it. I'll probably get back into modern wearables in late 2017/early 2018.

battery life rated up to 8 hours without GPS and up to 13 hours with GPS.

I just looked this up on Garmin's website because it doesn't make sense that it would last longer with GPS than without. The article was typed incorrectly. It should read 8 days without GPS, not 8 hours.

Thank you for pointing that out. I knew something didn't seem right. I was like "OMG 8 hours???...spot on!!?????" P-P-P-PURCHASE BREAKER!!!

I guess they expect you to put it on with your sneakers, wear it while working out then put it back on the charger until its needed again. Sounds like a product that went to production ahead of testing.

8 days is what the headline leader says:

Garmin offers a host of fitness and outdoor wearables to track your activities. The Vivoactive HR is a GPS enabled, waterproof band that has a huge feature set and up to eight days of battery life. It may very well be a Microsoft Band 2 alternative

Been out of pocket due to work stuff... will correct. Thanks for pointing it out.

My wife changed her band for one of these and thinks its worlds better than the any band. I have the basic Vivoactive. Both are fantastic devices.

I purchased this several weeks ago when word got out about MS abandoning the Band line. The device is very good. The Connect app works great, at least when connecting it to my Surface Pro 4 or Android phone from work. It just doesn't pair with my Lumia Icon, which is a pain. Hopefully Garmin fixes their app soon.

...and has a battery life rated up to 8 hours without GPS and up to 13 hours with GPS.

I think the with/without needs to be reversed here. Still, that's some terrible battery life. I guess it's for some very specific usage, but since going to a Charge 2, I've grown to like charging every 4-5 days.

The author needs to update their page. The length stated by Garmin is 8 days without GPS 13 hours with GPS.

I think the writer just got ahead of himself, and accidentally typed the wrong word. With his claim that the "battery projections were spot on," I doubt he actually found that the battery lasted 13 hours with GPS, but died after only 8 hours without the GPS enabled.

I'm running a Vivosmart HR on a Lumia Icon Insider Program and I must say it works almost perfectly. Every now and then there are hiccups with syncing but usually runs well. I've been successful at having notification's, music controls and weather displayed when synched.

I'm kinda jealous. I'm running the Icon on the fast ring with the Vivoactive HR. The Connect app only opens one time after installing and, if closed, will not open anymore unless I uninstall and reinstall. Even when I can get into the app, it won't pair with my device. I also tried with the forerunner 235 with the same results.

When I use the connect app. With insider build, the app usually recognises that and warns me that I am using unsupported OS. So probs are to be expected unfortunately.

Why a Fitness-device again!!?? Just give us beautyfull watches to connect with WindowsPhone / Windows10 Mobile. I have a MS Band 1 and 2, I never use the fitness abilities. I just use it as a clock and notifications.

You're probably like what... 280... 300lbs?

No, I have no problems with my weight and healthy. I never sport, can eat all I can and what I want for 132lbs... ;-)

It's rather interesting that Microsoft cut and ran on the Band 2, and yet it was clearly the standard against which other bands and smart watches fall short. Since Microsofts new target market is the 12-24 year old crowd, I suppose fitness bands didn't score well in that survey.

I was hopeing to see a waterproof band 3 thats the only thing that has stopped me from getting a Microsoft band.

I had my Band 2 for nearly a year, and never had a water issue. Of course I didn't take it in the pool or shower. Since I had 14 months left on my support agreement, the store was happy to take it back in exchange for a FItbit Blaze. It's not as powerful as the Band ( notifications ) but it works well and there was no cost to do the swap. Though my Band was still working, I know the straps give out and they would not be able to repair or replace it ... so I made the switch. Had they released the Band 3, I would have bought it ... but it was clear there was no future now. So sad. I also picked up a Charge 2. I got a 3rd party strap ( the milanese metal ... very flexible and fastens with a magnet that doesn't slip ... so comfortable ). I interchange them and it's seamless in the app.

Nothing looks as good as the Band 2, nor matches its functionality (for windows mobile). Alas, now when people comment on how nice the screen looks, I have to tell them it's been discontinued.

Isn't this such a damn shame?

They give us nice things then they take them away. And yet I still hold out hope for new nice things ;)

Idk how Microsoft does it. Because through all the heart break, I stick around. Stockholm syndrome. Or maybe I'm just a sucker for love lol. My friends don't get it!

It worked well on iOS although it did not auto sync. I always had to press the buttons on the app to get it to update.

Sticking with my band 2 until it falls apart. At that point, will probably just abandon the fitness wearable game entirely as nothing else out there (including this) appeals.

I bought one of these about three weeks ago to replace a Band 2 whose band was starting to degrade again. Other than connectivity issues, I love it. I hope that Garmin continues to work onthe Windows 10 mobile app to address those issues. Fix the connectivity issues and the thing is nearly perfect.

The app has never warned me about using an unsupported OS and I have installed the app no fewer than 20 times. I even did a complete reset of my device using the windows recovery tool and updated to the fast ring again. The app still never worked out gave me that warning. Resetting the phone like that did break the phone's ability to send MMS messages and there is still no fix for that.

I prefer the original vivoactive. Better battery life.

Well, you can simply turn off the 24/7 heart rate measuring to achieve this! ;-)

I find the real benefit of the Vivoactive HR is that while yes, it does have a wrist-based HR monitor, it can also pair with a chest strap. Wrist-based monitors generally do poorly with accelerated HR (some studies put them wildly off once the HR goes significantly above 100 or something like that), but a chest strap does fairly well across the board. So, for simple everyday stuff, the wrist based monitor does it's thing. But when you go to do a workout, it helps that you can use the chest strap.

Yes that is generally correct. But Garmin did a very good job here. They use the same HR sensor across all their devices, so the cheap vivosmart has the same sensor as the forerunners or fenixs. I compared my vivoactive HR with my Polar RCX5 and the HR variance was only by about +/- 1, which is really impressive, even at HR 170+. But yes, an optical wrist-based HR monitor is not working for interval training or weight lifting. However, as you said, thanks to ANT+ you can just connect a chest strap.

Subpar to the leaked band 3. Even to the band 1. No keyboard, Cortana integration, no notifications, it's a joke to make us think this is a worthy substitute to the band. MS really messed up buy thinking that just releasing a product would make them Market leaders on the segment. It takes more than two tries, publicity and marketing. Most people don't know of the band and when I show them they want to get one. I was waiting for them to do a waterproof version to get a new one. Well, they just killed all the investment and knowledge gained in the band 1 and 2. Who ever is in charge of making those decisions has to be an idiot.

Bought the garmin fenix 3 HR to use with my Lumia 950xl and guess what, yup doesn't stay connected update to garmin connect is a hit or miss. Basically have an gps watch that's all fml

Love my Band 2, but just had my second battery failure so sending it back to get a third .... haven't seen anything yet that attracts me as a replacement, this one isn't it.
Windows Central Newsletter
Thank you for signing up to Windows Central. You will receive a verification email shortly.
There was a problem. Please refresh the page and try again.