Here are our latest Windows Gems sweepstakes winners!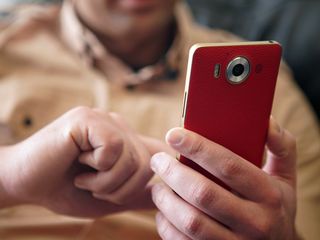 Over the last couple of months we hosted the fourth in our 'Gems' series, and we had a blast covering what's new and notable with Windows 10 and Mobile. It's time to announce the winners of the accompanying sweepstakes, so let's get to it! If your name is listed below, congratulations! I'll be in touch with you in the coming week to get your prize sorted.
Day 1 - $250 AMEX gift card
dmiller1969
JaySeeDoubleYou
Day 2 - Coolest Cooler
Day 3 - Lumia 950 XL
Day 4 - Ring Video Doorbell
Day 5 - BB-8
Diane Warstler
Pbear74
Silken61
Day 6 - Surface 3 tablet
Day 7 -Microsoft Band 2
Day 8 - Xbox One 1TB Elite Console Bundle
Day 9 - Nexia starter kit
Day 10 - Garmin vivosmart HR
Andreas Lagos
cheba63
Laurbolduc
Day 11 - $250 Hilton HHonors Gift Card
Christine Burd
DeadendBill
Day 12 - Beastgrip accessory bundle
What's next? We're already in the early planning stages of our fifth Gems campaign with more awesome apps, more exciting games, and yes, more prizes. Stay tuned!
Congrats for the winners :) now waiting a global contest to join Posted on Windows Central App for Windows 10 Mobile

There's one open right now: http://www.windowscentral.com/enter-now-win-lumia-650-windows-central

Cool, but i've thinking about another, because in this contest, i'm just waiting you announce me as the winner haha ;) Posted on Windows Central App for Windows 10 Mobile

Congrats you lucky bunch ­­- When you're in a dark hallway, and you hear a whispering voice saying, "....Burritos.......For......Life...." I AM that whispering voice.

Next one please be a global contest!

congrats to the lucky winners!

Thanks to you guys for the articles, featured highlighted apps, contests, prizes, editorials, and tutorials. I was amazed to see my name here and can reassure those here, that, I indeed am a real person. Thanks to the sponsors and the rest of the readers that come here and leave their ad blockers off and participate with the enlighted ones. :)

Congratulations to you all :)

Sweet, i won a BB-8. My boys are going to freak out!

Congratulations to all the winners!

Congrats even though I envy each of you! Posted via Windows Central app for Windows 10!
Proudly rocking my Lumia 1520!

Neo Nuke got the best prize!

You guys misspelled my username

*sigh* Just once I would Ike to win a cool prize. Congrats to those that did. Posted with Windows Central for Windows 10

Dear Neo Nuke, would you be so kind as to donate your prize to me? Posted from Windows Central App
Lumia 830/Win10Mobile

I'd love to but I think I may keep this one ;)

Haha, that's a very wise decision. Congratulations! Really glad you get to own one of these beasts :D

Congrats to all the winners!

Congrats, Congrats......... What other phone would you be using beside the L640? I'm just sayin.... *One Windows*

Congrats people....u deserve it...i think bionicsix got the best prize....

Gratz, I so wanted that Nexia starter kit.

Congrats to all the Winners!!!! And big Thanks to Windows Central for doing amazing contests like these!!!! I don't know any other site which has these kinds of competitions plus this array of amazing prizes!!!! So Thanks for giving us a chance to win these amazing things!!!!

congrats all, have fun with your winnings:)

Holy crap! I wasnt expecting to see my name here at all. So stoked to win a Coolest Cooler, been wanting one of those ever since I first heard about them. I'm gonna use the hell out of it. Congrats to everyone else who won! Thank you so much, Windows Central!!!

I'm so stoked!!! :-) Thank you Windows Central​, you guys rock!

Yay! I won! I hardly ever win anything!!! So, how do I get in touch with those who can get me in touch with my prize? :-)

It said Michelle will be in contact with us over this week

Yeah, I saw that after I posted. :-) Congrats on the Lumia! I'm decidedly stoked and very grateful to all the wonderful people at WC and MN to be receiving the gift card....but if there's such a thing among us winners as "the biggest winner", it's you! Woohoo! :-) Cheers!

You're a great contributer to this community. Glad to see fate smily upon you :D

you should get an email. check your spam folder too! :)

Yep! I got the email this morning around 6am my time. :-) Yay gift card!

That's awesome, thank you! That totally made my day. I look forward to hearing from you soon. :-)

Thanks for the WIN and Congrats to all the other Lucky Winners! Sorry we can't all win prizes guys, better luck next time, as they say.

Thanks for the chance to win. Congrats to all the winners :)
Windows Central Newsletter
Get the best of Windows Central in in your inbox, every day!
Thank you for signing up to Windows Central. You will receive a verification email shortly.
There was a problem. Please refresh the page and try again.