Looking back at the Gems of #Windows10DoesMore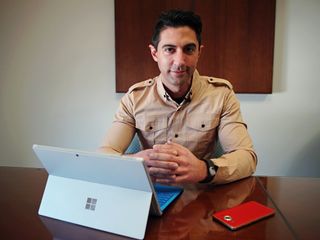 #Windows10DoesMore
With these Windows 10 Gem apps
With support from Microsoft (opens in new tab)
Do more with Windows 10
Over the last few weeks we had an opportunity to take a closer look at 12 new and impressive apps for Windows 10 and Mobile. This was the fourth in our 'Gems' series, and we had a blast covering what's new and notable with Windows 10 and Mobile.
In case you missed all our coverage here is a recap!
The 12 Gems
On day one we took a look at Duolingo, which is a free app and service for your phone or PC that helps you learn a new language. The app was clean, fast, easy to use, and hey, who doesn't like trying to bridge the language gap?
Next up was Yummly. If you are like us trying to figure out dinner every night can be a chore. Yummly suggests meals for you based on your preferences and likes. It's like Amazon, but you can use it for dessert!
PicPlayPost is a great photography app that helps you create the ultimate collage including animated GIFs and music. You may not use it all the time, but when you do you will grab people's attention.
We're now in the future as even your doorbell can have its very own camera. With Ring you can always know who is at your door and even strike up a conversation with them. Whether you are upstairs, in the bathroom, or across the planet, you can now always answer your doorbell!
Star Wars is back in style again with the release of the hit movie The Force Awakens. Now you can control the adorable hero droid from this film with your Windows 10 phone or tablet with the Sphero BB-8 Droid app.
Two Dots is the perfect casual puzzler game to play while on the couch or whenever you have a few minutes to kill. With modern, minimalist graphics and a groovy soundtrack, this game is a lot of fun.
Need to get in shape or relax? Give Yoga Studio a shot. It is the perfect app for those who have never done Yoga or even for pros who just want some guidance and a little structure. The easy-to-follow instructional videos are top notch.
Keep up to date on your favorite AMC shows with the official AMC app for Windows 10. Not only does it have a gorgeous, image-driven design, but the app lets you see sneak peeks and behind the scenes specials of AMC's biggest hit shows.
There are lots of choices for home automation making it an overwhelming decision. Nexia Home Intelligence relies on the open Z-Wave standard and makes setting up and using home cameras, lighting, and thermostats a breeze.
Garmin surprised us with their full-featured and well-designed connected fitness app. Garmin Connect lets you sync with the dozens of Garmin wearables out there, with options for everybody from the pro athlete to the beginner.
Never miss out on making that holiday special by using the official 1-800-Flowers app for Windows 10 and Mobile! Not only can you order anytime, anywhere, but Windows users exclusively get free shipping too. Double win.
Finally, with Flipagram you can take a collection of photos from a night out or a vacation, set them to music, and create mini-slideshow that feels like you're telling a story. The free app then lets you post your creation to Facebook, Instagram, and more. What's not to like?
Wrap up
So, what was our goal with this series? We wanted to take a deeper dive into some apps and services that we may have only glossed over in an announcement post, yet deserved more attention. Whether because it is a service that could make people's lives better, like Yoga Studio, or fun apps like Two Dots and Sphero BB-8, these were all apps that we hadn't had a chance to appreciate really. And because of our coverage I'm now a Nexia Home Intelligence user.
The thinking behind this edition of Gems was that if we missed these apps, then there was a good chance you did too. By spending our time using and getting to know these apps we hope we were able to spread the word that not only do these apps and games exist, but they are stellar examples of the Windows 10 and the Universal Windows Platform.
One of the things I learned was that once you start using apps built for Windows 10 you don't want to use anything else. Whether it is the better scaling on 4K monitors, the ability to use the same app on your phone with a familiar UI, or the new abilities that UWP apps bring, Windows 10 apps are a vast improvement over ones for Windows Phone 8.1. In that sense, these apps are as much a lesson for developers as they are for consumers.
I learned that once you start using apps built for Windows 10 you don't want to use anything else.
And what about the prizes? Besides letting us give apps their due attention, Microsoft's generous sponsorship lets us thank you, the reader, with community prizes for each of the 12 days, with nearly $6,000 in winnings to be given away. We owe a big thanks for Microsoft for that and to continue to support developers and our community here by showcasing the best of the platform. And if you haven't entered yet, don't waste your time — each sweepstakes is open through March 31st — just hit the links for each app above to enter!
What's next? We're already in the early planning stages of our fifth Gems campaign with more awesome apps, more exciting games, and yes, more prizes. That should also give you a hint that there are some more popular apps for Windows 10 and Mobile on the way, which is just as exciting.
Finally, I would like to thank our team here at Mobile Nations who diligently worked to coordinate everything and you folks for not only participating but taking it to the next level. Remember, you are the grassroots of the Windows and Microsoft world, and without your contribution none of this would be as exciting or fun!
Follow Daniel for even more #Windows10DoesMore
Twitter: @Daniel_Rubino
Instagram: daniel_rubino
Daniel Rubino is the Executive Editor of Windows Central, head reviewer, podcast co-host, and analyst. He has been covering Microsoft here since 2007, back when this site was called WMExperts (and later Windows Phone Central). His interests include Windows, Microsoft Surface, laptops, next-gen computing, and arguing with people on the internet.
I always love when you do these. This was a great Gems and I am currently using a few of those apps. The Windows Central Universal Application for Windows 10 Mobile on a Microsoft Lumia 640

Lol figured out how to use the website efficiently turn on desktop mode everything loads faster for it

The ​Windows Central Universal Application for Windows 10 Mobile on a Microsoft Lumia 640

This portrays Windows/Microsoft so so well. Lol I can't even. This is why we can't have nice things...

Imagine the marketing for the "Snapchat Universal Application for Windows 10 On Nokia/Microsoft Lumia [Devices]." I'll take one of each, fore sure.

I learned that once you start using apps built for Windows 10 you don't want to use anything else.

True. Only when they are have a great UI and do not crash all the times.

I know right! There are some issues, yeah. But overall it has been an amazing experience!

"I learned that once you start using apps built for Windows 10 you don't want to use anything else."

Recommended edit:

"I learned that once I start using apps built for Windows 10 I don't want to use anything else."

Also,

"Your mileage may vary ... wildly."

That Lumia 650 does look sharp with it's metal band.

Man, already multiple Windows 10 haters in the comments. I mean, it's certain, Windows 10 apps are far superior to WP8.x .apps.

Windows 10 apps are the best. They just need polishing here and there.

The Windows Central Universal Application for Windows 10 Mobile on a Microsoft Lumia 640 #sweepstakes

Hey, Daniel! Did anyone ever tell you that you remind them of Jeff Goldblum?
Oh, and yah... Windows 10 is cool. Mobile does have more kinks than PC. However, I'm giving Microsoft the benefit of the doubt for now. Hopefully, they'll get it together err....soon.
Cheers!

Oh my god!!!!! I was about to comment that!
(talking about the Jeff Goldblum thing.)
And windows 10 for phones is just fine. Pretty cool in fact. Just needs polishing.

Hey daniel.Is Nokia Lumia 1520 great for Windows 10?

The best gem of WP is the Iphone of Nadella.

I too love these articles, especially when the apps are useful and different, as was the case here. Oh, and definitely when they showcase Universal Windows Apps! Well done, and keep 'em coming.

The Hidden Gems are a great way to get the word out about Windows Mobile apps that some of us otherwise never would have heard of. Great job with this!

Great article! Love those apps! I posted this comment as a Sweepstakes entry.

Just checking back on when we would find out who won the great prizes!

There are some great Apps here! Thanks for the #sweepstakes! I love my windows phone! all it's missing is snapchat...grrr... ;)

Thank you for the chances :) So glad you had this contest :)
Windows Central Newsletter
Get the best of Windows Central in in your inbox, every day!
Thank you for signing up to Windows Central. You will receive a verification email shortly.
There was a problem. Please refresh the page and try again.