Windows 10 Gems: Nexia makes your home the smartest home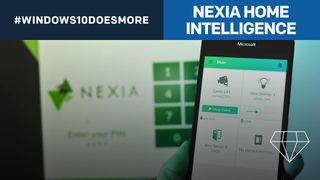 #Windows10DoesMore
With these Windows 10 Gem apps
With support from Microsoft
Nexia Home Intelligence
One of the most exciting post-smartphone technologies to come along has to be home automation. And like in the early days of smartphones home automation is a little chaotic with many competing companies, standards, technologies, and even ideas of what home automation should be.
Nexia Home Intelligence is one of the more well-known home automation systems. What makes Nexia interesting is its support for the open Z-Wave specification. Well, that and Nexia's awesome Windows 10 and Windows 10 Mobile apps to control and monitor your home from anywhere in the world. That's why today I'll take Nexia for a spin and tell you why you should consider it.
What is Nexia?
Nexia Home Intelligence comprises of a few parts. The first and foremost part you need is the bridge, and this piece of the puzzle costs around $71 on http://Amazon.com?tag=hawk-future-20&ascsubtag=UUwpUdUnU38499.
Technically that and the Windows 10 or Windows 10 Mobile apps are all you need to get started.
However, your bridge (or hub) cannot do much without any smart appliances. This part is where you need to allocate some funds to start hooking up your home. There are some broad but common categories that apartment and home owners typically "wire up" to their Nexia system. I put wire up in the quotes because technically there is little to no actual wiring as everything works over WiFi on your home network.
Here are some of the things that Nexia Home Intelligence can control:
Thermostats by Trane/American Standard
AC outlets to turn on and off appliances (and control light dimming)
Light bulbs
Motion detectors
Door and window open/close sensors
Water sensors
Security cameras
Sprinkler control
Automated window blinds
You can see all the sensors and gear right on their website to get an idea of the wide range of Nexia-compatible products.
What is fun about home automation is you can build it out over time based on your finances and needs. You could just pick up the Nexia bridge, a door sensor and an power outlet appliance module to get a feel for it and not break the bank. Later, you can pick up a door lock, security camera, and more and just add them to your Nexia network piece by piece.
The Nexia Home Intelligence system can be setup and managed through three different ways:
The Nexia website
Windows 10 app for PC
Windows 10 Mobile app for smartphones (also iOS and Android)
Using the apps, you can remotely control, monitor and use all the connections on your Nexia system. More on this below.
Monthly subscription
Nexia Home Intelligence requires a $9.99 a month fee. There is no contract, and there are no cancelation costs, but you do need to pay the $9.99 a month fee to utilize Nexia.
This added cost is a bit different from some other systems. However, there is a reason for it. The added monthly fee lets you add up to 231 Z-Wave appliances, an unlimited number of Schlage Home Cameras and you get 250MB of video recording (for an extra $1.99 a month you can bump that to 1GB).
Nexia also adds a programming layer to their setup, which is why you can use the web to set up, configure, and monitor your system. This addition makes creating and using Nexia much more streamlined than competing products.
Nexia is assuming you will want to add a Schlage camera with recording ability. A competing (but proprietary) system like Nest Cam also starts at $9.99 (for the first camera) per month, but you are not getting a full home automation system — just a smart security camera. Nest Cam is also not compatible with Windows 10.
I won't skirt around the issue: paying an extra $10 a month is something to take into account for your long-term costs if you are thinking about Nexia home automation. That said, I found setting up and using the service to be one of the best I have used so far, and that includes my SmartThings (now owned by Samsung) and Insteon systems.
While neither of those other systems requires a monthly fee, I found Nexia and its Windows 10 apps a superior experience. In short, you get what you pay for, and that applies here as well.
Why Z-Wave?
The other aspect that makes Nexia an attractive investment is Z-Wave. Think of Z-Wave like Wi-Fi and USB. It's an agreed-upon standard for home automation and connected technologies. The idea here being that you can buy any Z-Wave appliance, and it will connect up to your Z-Wave Nexia bridge.
By going with only Z-Wave, you are not locked into buying one company's products (looking at you, Nest). You can buy Z-Wave supported devices from GE, Schlage, and hundreds of other businesses.
You can see all the Z-Wave compatible devices on the Z-Wave website or just go to http://Amazon.com?tag=hawk-future-20&ascsubtag=UUwpUdUnU38499 and search for 'z-wave' to see many more. This ability lets you mix and match products for your home automation instead of waiting for one company to release something in particular you want.
As someone who owns and who has used Nest, Dropcam, Philips Hue Lights, SmartThings, Insteon, and more I find the open Z-Wave format easily the best. Competing proprietary technologies are excellent, but they're hard to extend and require separate apps.
In theory, you could have an app for your Hues lights, Nest Cam, and your home automation system e.g. Nexia, SmartThings, totally defeating the drive for simplicity that home automation is supposed to provide.
My advice: invest in just Z-Wave technologies and stick with one system and one (really good) app.
Connect your home
Tweet at us how you're making your home smarter and include the hashtag #Windows10DoesMore!
Tweet your smart home improvements and include #Windows10DoesMore!
Setting up Nexia
For my review of Nexia I picked up the following on http://Amazon.com?tag=hawk-future-20&ascsubtag=UUwpUdUnU38499
The biggest issue with home automation is setting it all up. Luckily, Nexia was a breeze. This is how I did it:
Opened up the Nexia bridge and read the sticker telling me to go to the Nexia website
Signed up for an account and registered my bridge
Plugged in the bridge to power and Ethernet
From this point on it was just adding the other components to the Nexia system. You can also run the setup all through the Windows 10 app where I just hit the 'Connect a new device' button.
Nexia walks you completely through the setup, and I had not one single problem, hiccup or moment of frustration. Within about 30 minutes I had my camera on, door sensor working, and my living room light (AC outlet module) connecting up to Nexia.
The new Nexia One Touch Control is a remote that you can mount on your wall and program up to 15 commands. You can also just keep it on the coffee table as a remote. With it, you can set your lights, close your blinds, change the temperature or do whatever you want.
Since my initial setup and usage, I have also now ordered some Z-Wave light bulbs, a First Alert 2-in-1 Z-Wave Smoke & Carbon Monoxide Alarm, a Trane smart thermostat, and some motion detectors. In short, I'm going all in!
Windows 10 and Mobile apps
In having used both Insteon and SmartThings for home automation and their Windows apps I have to give Nexia a thumbs up for being the best of the bunch. Their app is easier to use and more reliable. In fact, it maintains a 4.1 rating (out of 5) on the store, clobbering the competition (SmartThings doesn't have an app for PC, just mobile).
It's also smart! You can optionally add a PIN to the app (both mobile and desktop) so that you need to unlock it to see and control anything. I appreciate that. Even more neat is how the app requires you to re-enter the PIN after being minimized. I haven't seen other apps do that and thought it was a nice touch.
The Schlage Wireless Indoor HD Camera was also flawless. It does 720P recording, and you can enable HD viewing in the apps (great if you have the bandwidth). The camera can record at night and although they, unfortunately, do not have microphones the camera just works. Each time I fired up the app on my Lumia 950 or Surface Book I could instantly view the feed with a quick frame-rate.
Tying the camera to a door trigger through the app was also super easy. For instance, I have my Nexia set so that when someone opens the front door (triggering the door sensor) the HD camera will record for 15 seconds and then send my phone an alert so that I can view it. Once again, it worked each time. Nexia's app notifications (toast style) that never failed. Heck, as I was removing the door sensor battery (I'm moving and I'm taking the Nexia system with me) I got a notification that someone was tampering with it! Besides Notifications, Alerts also show up on the Nexia app's Live Tile.
Tying the camera to a door trigger was super easy. When the front door opens the HD camera will record for 15 seconds and then send my phone an alert.
The Nexia apps are true Universal Windows Platform (UWP) apps for Windows 10, so you get the same experience and performance across all Windows 10 devices. You can even download the app and run the 'demo' to see what it feels like so don't take my word.
I do think some of the menu animations can be improved upon in the app. But I was concerned with only a few things in my testing: reliability, ease of use and could I do what I wanted to do e.g. dim my lights, view my camera, etc.? To all of those I can answer "yes", and the app did not crash on me once.
I did notice two bugs, however. One is the first time you launch the app there is a dialog screen asking to use your location. That makes sense as all home automation systems require that. However, the dialog was hidden behind the main Nexia screen, which would not respond to input. You need first to unhide the dialog and answer yes before you can log in (or try the demo). The other was in renaming a button in the One Touch Control as it would not complete (you can do this on the web, however). Neither of those is a recurring issue that you will encounter on a daily, weekly or even monthly basis.
For now, I have no problem telling you that the best home automation experience for Windows 10 users is now with Nexia.
The Takeaway
Home automation and security are where all of this internet stuff is heading. Your options today include buying into a proprietary system or going with the open Z-Wave protocol of which Nexia is a part.
While the $9.99 a month fee is not cheap, you do get the video camera and recording thrown into that mix (plus you can add unlimited amount of cameras without extra charges unlike Nest Cam).
But here's the thing: Nexia Home Intelligence works. I had zero issues setting it up and a great experience using the Windows 10 and Mobile apps, which are fast, stable and let me do what I needed to do without frustration. Compared to some other products out there, the Nexia experience was the better one and because of that Nexia earns our nod as a #Windows10DoesMore Gem.
I'm in the process of moving into a new apartment, and I am setting it up with Nexia with no worries — and I'm excited to use it with Windows 10.
Day 9 Sweepstakes:Win an Nexia starter kit and Schlage smart lock!
How to Enter: Log into Windows Central and leave a comment on this post. Tell us how a Nexia kit and Schlage smart lock would work in your home setting. At the end of your comment you must also indicate you are posting as an entry into the sweepstakes, or use #sweepstakes.
Full rules and regulations can be found here, but please note that due to sponsor restrictions, the sweepstakes is only open to Windows Central readers in the US and Canada.
The sweepstakes is open until March 31st, and winners will be announced on the blog shortly after the close date.
The Prize: Two super lucky Windows Central readers will take home a Nexia Home Starter Kit and Schlage lock bundle!
Follow Daniel for even more #Windows10DoesMore
Twitter: @Daniel_Rubino
Instagram: daniel_rubino
Get the Windows Central Newsletter
All the latest news, reviews, and guides for Windows and Xbox diehards.
Daniel Rubino is the Editor-in-chief of Windows Central, head reviewer, podcast co-host, and analyst. He has been covering Microsoft since 2007 when this site was called WMExperts (and later Windows Phone Central). His interests include Windows, laptops, next-gen computing, and for some reason, watches. Before all this tech stuff, he worked on a Ph.D. in linguistics, watched people sleep (for medical purposes!), and ran the projectors at movie theaters because it was fun.