Windows 10 Gems: Two Dots makes casual gaming fun again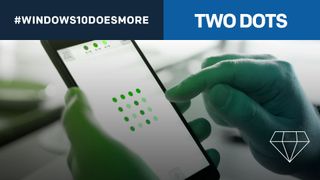 #Windows10DoesMore
With these Windows 10 Gem apps
With support from Microsoft (opens in new tab)
Two Dots
When it comes to mobile devices, casual gaming will always be one of the most popular pastime usages next to texting. Two Dots is one of those games that anyone can pick up on any Windows 10 device and start solving.
Offering an smart design and open gameplay, Two Dots is available on both Windows 10 and Windows 10 Mobile. It might be a casual entry in the gaming arena, but it's done incredibly well and a fun way to kick back and relax — and that's why it's today's Windows 10 Gem.
Download (opens in new tab)
What it is
Two Dots is one of a few connect-type games available. The concept is simple: link two (or more) dots together, which then eliminates them from the board. On each level, you only have a certain amount of moves to meet the goal of reducing the number of dots.
You can connect dots in a straight line with no diagonals. However, if you create a square with the colors, you can eliminate all of that particular color from the board. That latter move is difficult as you need the dots lined up just perfectly, but it is supremely satisfying when it does happen.
After each level, you are awarded a star score (one out of three) with a numerical rating. The fewer moves you used to complete the goal the higher the score and the more stars. You can, of course, replay any level to attempt higher scores and you can use the universal share picker to brag about your game. One of the more inventive aspects is sharing your score also adds a snapshot to the post making it that much more attractive.
Two Dots is free and ad-free with an optional in-app purchase ($2.99) that gives use 10 Shufflers, 8 Booster Boxes, 4 Erasers and 2 hours of infinite lives. That optional in-app purchase can be considered cheat-helpers as they are far from necessary, but do let you slide past a level that is giving you considerable difficulty. There are others too, but they only go up to $4.99 (25 Booster Boxes) and are as low as 99 cents for 5 moves.
Finally, you can link Two Dots up to Facebook to sync your game progress to the popular social network. Doing so will let you keep your Two Dots game synced between your desktop PC, Surface, and Windows 10 Mobile device, which is always a satisfying feature to have available.
Unwind and recharge
Hit us up on Twitter with your favorite way to kick back and relax with your computer or phone, and include the hashtag #Windows10DoesMore!
Tweet your favorite #Windows10DoesMore entertainment app!
Why it's cool
Although Two Dots is part of the connecting-game motif, it does bring a few unique aspects. The design of the game embraces the fun, minimalist and modern design that Windows Phone users will appreciate. The artwork is reminiscent of Dumb Ways to Die and QuizUp with colorful, but muted, designs and creative expressions. It's an excellent departure from the cartoony look of some other games out there and feels more line with a game like Threes!
Two Dots also brings an original soundtrack that can be purchased through Bandcamp for $4.99. It's an old-timey ragtime band kind of music and gives Two Dots some personality. Games coming with an original and unique soundtrack is an increasing phenomenon, and it adds to the game's uniqueness.
Two Dots is both fun to play, accessible to anyone and lets you play on any Windows 10 device with ease.
Final Thoughts
As much as I'd love to get into a serious MMO or arcade level game on my phone or even laptop, I'm one of the millions of people who just do not have that kind of time. Games like Two Dots let me quickly pick up and play a mildly challenging puzzler that only requires a few minutes of dedication. Throw in some fun artwork, a catchy tune and the ability to continue my progress on any Windows 10 device and Two Dots is a game embracing the Microsoft future.
Because of these reasons, Two Dots is a game I recommend to anyone of any age group looking for something simple but fun game to pass the time on the couch, at work, or whenever you have five minutes to spare.
Day 6 Sweepstakes:Win a Surface 3!
How to Enter: Log into Windows Central and leave a comment on this post letting us know what you would do with a Surface 3 tablet. At the end of your comment you must also indicate you are posting as an entry into the sweepstakes, or use #sweepstakes.
Full rules and regulations can be found here, but please note that due to sponsor restrictions, the sweepstakes is only open to Windows Central readers in the US and Canada.
The sweepstakes is open until March 31st, and winners will be announced on the blog shortly after the close date.
The Prize: One super lucky Windows Central reader will take home a Surface 3 tablet !
Follow Daniel for even more #Windows10DoesMore
Twitter: @Daniel_Rubino
Instagram: daniel_rubino
Daniel Rubino is the Executive Editor of Windows Central, head reviewer, podcast co-host, and analyst. He has been covering Microsoft here since 2007, back when this site was called WMExperts (and later Windows Phone Central). His interests include Windows, Microsoft Surface, laptops, next-gen computing, and arguing with people on the internet.
i ould use it to create some cool Windows 10 APPs #sweepstakes

you should get started right away Posted via Universal Windows App on W10

He allready creates amazing apps! http://wifi-tool.com/ and https://www.windowscentral.com/e?link=https2F%2Fclick.linksynergy.co...

I would use it to purchase your apps ;)

I would get so much work done on the road; I could relax and read books on it when I got home! #sweepstakes

The Surface 3 would bring work, life together to benefit the many non-profit organizations I work at. #sweepstakes

I would use it to replace my old tablet, which I could then pass on to another family member. It would work great to do most of my everyday tasks. #sweepstakes

I would love it so that my wife will stop stealing my SP3 !!! #sweepstakes

Of course, being a developer, I would put it to use in testing my UWP software. I use my PC for so much already, such as school, work, dev, play, etc... so it would be nice to have a more mobile device with the specs of a Surface Pro 3 to be exact. Thanks for this opportunity! #sweepstakes Zachary Bowling - ZAD Apps

I'd give it to my lady friend so she could make some digital art. #sweepstakes

I would give it to my mom. Even though this is a relatively lower powered PC, it's much better than her current desktop. #Surface3ForMom

my laptop has a broken hinge and don't close so cant take it out of my house so the surface 3 will replace my laptop #sweepstakes

Looks like a nice game, and I'm not even upset that development is slowing down for WP8.1! With a Surface 3 I'd have the ultimate coffee-table tablet, no more laptop on my lap to see who was in something on imdb! #sweepstakes

I would use it for my mobile business. It would be really nice to have it when meeting with my clients and taking notes. #sweepstakes

I would use it to help manage my online store and website, and create artwork for my products. #sweepstakes

As an I.T admin this is it, lighter than a laptop bigger than a phone, more practical than an ipad, been saving to get one, would be so awesome if i won this. #sweepstakes

Leave the laptop behind! #sweepstakes

WOW! Surface is not just a tablet, its design, power, usage, just great. I want it so much!

You should enter to win! ;)

Two Dots is a great game! Love it on my phone and would totally play more of it on my Surface 3, along with doing everyday tasks and browsing if I got a Surface 3 tablet!
#sweepstakes

I'd like a surface 3 so I can put a sim in and have wireless on the go, other than the phone.

I would love to have a ap3. I still use my surface rt for everything.

My spouse's Surface Pro 1 is limping slowly towards it's end (it was a refurb). So, she'd get a slick new awesome! #sweepstakes

I like this game and surface 3!

#sweepstakes. This game is awesome. I am gonna try this.

I would use this in some of the meetings I attend. It would work wonderfully. #sweepstakes

i would use this to replace my android tablet! #sweepstakes

I would love to play with some artistic apps and the Surface pen on the Surface 3. #sweepstakes

I'd use it as a tablet/laptop while I am on the go. #sweepstakes

I SO want a Surface 3 #sweepstakes

Replace my iPad and load Visual Studio and actualy get some work done while relaxing on the beach with a beer! #sweepstakes

This would be a better work travel mate than my 5yr old laptop. Plau epic note taking abilities.

Would replace my original RT #sweepstakes