Windows 10 Gems: Sphero BB-8 awakens your inner Jedi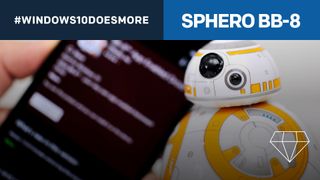 #Windows10DoesMore
With these Windows 10 Gem apps
With support from Microsoft (opens in new tab)
Sphero BB-8
Of all the toys this holiday season the Sphero BB-8 App-Enabled Droid may not have the most concise name, but it certainly stole the show. Never before has a toy so completely captured the magic and imagination of the Star Wars franchise — and captivated its fans.
Fans of Star Wars and Windows 10 are in luck — the Sphero BB-8 app works across PCs, tablets and Windows phones to let you control the little droid anytime, anywhere. That is why Sphero BB-8 is our latest featured Gem.
Download (opens in new tab) Buy at Amazon (opens in new tab)
What is Sphero BB-8?
In case you missed it, the latest Star Wars film — The Force Awakens — arrived in theaters late 2015 and with it a new, adorable droid became the unexpected symbol of the new trilogy. In fact, BB-8 is on the cover of the forthcoming Blu-ray DVD cover.
The Sphero BB-8 droid is a miniature replica of the Star Wars character complete with rolling ability, sounds, and even some rudimentary intelligence. It connects up to various Bluetooth-enabled devices, which then act as a remote control and interface for the droid. There are no speakers within BB-8, so all sounds come from your phone or connected PC and the Droid charges wirelessly through its pedestal base station.
What makes Sphero BB-8 so intriguing is its exact mimicking of how BB-8 in the movie traverses (including keeping its head on the whole time). At around $140 the Sphero BB-8 is not cheap, but it is a remarkable accomplishment in marketing and modern technology.
BB-8, in essence, is the ultimate remote controlled toy for both children and adults who want a piece of the Star Wars universe in their home.
What is the app for?
To make use of the Sphero BB-8 droid, you need to connect it up to a mobile device or PC. You'll need the Sphero BB-8 app to control BB-8, including putting the droid into one of its three modes: drive, message, or patrol.
Drive is just taking BB-8 into manual mode and driving him around your home. The controls are a bit tricky as you need to orientate the blue light on the Sphero to set the proper orientation and vector of the droid. Once completed, you can steer BB-8 around. You can adjust the ramp up speed depending on how good you are controlling the little bot. There are also various commands that let you set BB-8 loose.
Message is a bit limited but still neat as it allows you to "Record and view holographic messages" using your phone or PC. Simply record the message and afterward when you aim BB-8 at your camera it "projects" a hologram with your message. Granted, it's not a real hologram, and you can only see it on your phone or Surface, but it's a skillful use of augmented-reality and enough to delight even the most casual of Star Wars fan. Don't feel like recording a messaging? Use the preset messages to learn about characters and ships from the Star Wars universe.
Patrol is easily the most fun feature. Putting BB-8 into this mode lets him explore the world. He bumps into things, makes beeping noises and maps out your space.
What makes Patrol so fun is the droid takes over and behaves more like an independent entity than a remote controlled car that happens to be a kinetic sphere. Setting BB-8 loose is entertaining to watch and creates the illusion that this is a real droid. And that is where the magic in this "toy" lies.
Finally, one of the latest features worth mention are voice commands. By blurting out 'Hey, BB-8" the droid becomes self-aware and is ready to execute various orders like "look around", "what do you think" or "run away." It's a rather clever use of multiple technologies all at once.
Beep boop weeeee-ooooo
Hit us up on Twitter with your favorite Star Wars memories, and include the hashtag #Windows10DoesMore!
Tweet your favorite Star Wars memories #Windows10DoesMore
So how is it?
The Sphero BB-8 Droid is easily the most interactive and creative uses of technology for Star Wars fans. The apps for Windows 10 and Windows 10 Mobile do a magnificent job of letting you control BB-8 or even letting the little guy loose around your home.
Moreover, the apps have feature parity with those found on iOS and Android, so you won't miss any features. Multiple devices can connect up to BB-8 – just not all at once – so that anyone in your family can take him out for a spin using their Windows 10 or Windows 10 Mobile device.
The Sphero BB-8 App-enabled Droid is a home run hit for fans of Star Wars and cool, connected technologies. Sure, at the end of the day BB-8 is a toy, but it is one that will wow and delight those who see it each and every time. Seeing the extensive support for Windows 10 and Windows 10 Mobile makes Sphero BB-8 worth serious consideration for any Star Wars geek, or even the casual fan.
And with consistent updates from Sphero, who knows what new features the droid will pick up next.
Day 5 Sweepstakes:Win a Sphero BB-8!
How to Enter: Log into Windows Central and leave a comment on this post letting us know why you need a BB-8 in your life. At the end of your comment you must also indicate you are posting as an entry into the sweepstakes, or use #sweepstakes.
Full rules and regulations can be found here, but please note that due to sponsor restrictions, the sweepstakes is only open to Windows Central readers in the US and Canada.
The sweepstakes is open until March 31st, and winners will be announced on the blog shortly after the close date.
The Prize: Three super lucky Windows Central readers will take home a BB-8 droid!
Follow Daniel for even more #Windows10DoesMore
Twitter: @Daniel_Rubino
Instagram: daniel_rubino
Windows Central Newsletter
Get the best of Windows Central in in your inbox, every day!
Daniel Rubino is the Editor-in-chief of Windows Central, head reviewer, podcast co-host, and analyst. He has been covering Microsoft since 2007 when this site was called WMExperts (and later Windows Phone Central). His interests include Windows, laptops, next-gen computing, and for some reason, watches. Before all this tech stuff, he worked on a Ph.D. in linguistics, watched people sleep (for medical purposes!), and ran the projectors at movie theaters because it was fun.
I need this so my new daughter has something to chase around while she crawls :P. #sweepstakes

My daughter (~21 months) loves Elmo. She adores Elmo. She'd sell her daddy to meet Elmo. Then she saw BB-8 while I was watching the trailer for Star Wars VII for the umpteenth time. Well, now there's no more Elmo. At least she's a Star Wars nut... #sweepstakes.

This IS the droid I was looking for! Let the Force be with me and Win the BB-8 #sweepstakes

May the droid be with me! #sweepstakes

I really really need this Sphero BB-8 so I have company to go to Alderaan places! #sweepstakes

This would be great for my kids to play with, if I ever let them. #sweepstakes

I need a BB-8.. cause well, whenever you need to hide something from the dark side it comes in handy.. Say you have a holo message or say a map.. they are great for this (and they're smaller than the R2 units). #sweepstakes

I need this to torment my dog. It's also nice to show people that Windows 10 for Phone is still alive. #sweepstakes

One of the coolest toys ever. Would love to win one! #sweepstakes

I need it because let's be clear....who the hell doesn't? #sweepstakes

I have wanted one of these for the longest time

Weird, but my girlfriend loved this little thing when watching the movie, would be nice to give her one :) #sweepstakes

My two little grandsons would love this! They are big Star War's Fans! "I posted this comment as a Sweepstakes entry" #sweepstakes

Nice mainstream support for W10 #sweepstakes

I would love to play with this. Geeky toys are fun. Of course I'm commenting to enter :-) #sweepstakes

my dog will love to play with it lol, think how crazy he´s gonna be kkk #sweepstakes

I would love a BB8 because I want something good in my life for the first time. Please I have been trying to win something on all sites all my life and nothing. Thanks for the opportunity to get something. Posted via the Windows Central App for Android

droid wants me #sweepstakes

I have both the BB-8 and the "Darkside" Ollie (both made by Sphero). The Ollie is just as much fun! Unfortunately, I can't control it with my Windows phone, as Sphero doesn't have a Windows app for it. :(

Nice to win. Worth a try #sweepstakes

I need BB8 in my day to day life to help me get actual work done at work. The possibilities are endless.

Its really awesome that they designed this and actually built one for the movie. I guarantee George Lucas would have just used CGI.

This would be fun for my son! (or me) #sweepstakes

I need this to keep my feline overlords entertained. #sweepstakes

I need this because I NEED IT!!! #sweepstakes

I need it to follow me arround #sweepstakes

Why do I need one? Because I spent an hour in a Brookstone playing with one. And with their fake sand stuff. Seriously, go check that out. #sweepstakes

I need one to add some excitement to the office #sweepstakes

I gotta have a BB-8 because my two cats have become complacent. #sweepstakes

I would have hours of fun w/ this w/ my 4 year old son! #sweepstakes

What! Really cool! This is a must have... I have two boys and some day they will play with this!

Need it to have lots and lots of fun... wish me luck! #sweepstakes

I would to win this because I have a Star Wars friend in Florida who actually works for Disney. I need to send him holographic messages bragging to him that Windows Mobile has the Droid he is looking for, lol! #Sweepstakes

Need it to give me company #sweepstakes. Posted via the Windows Central App for Android

because it looks really fun... uh.. for the kids, of course. #sweepstakes

My daughter's name is Rey so yes this is for me :) #sweepstakes

My other droid needs a companion! #sweepstakes

This would be fun playing with the puppy #sweepstakes

My brother has one and I hate him for it! This is a great piece of technology! #sweepstakes

You ever see those vids of BB-8 and various animals? WEll I need this in my life because I have two of them and what fun they would have! I am posting as an entry into the sweepstakes, #sweepstakes.

This would be very cool to win - My daughter (15) loves this guy (as we all do) and has been trying to save up for one - Would love to #win and give this to her!! Thanks! #sweepstakes

i need this bb-8 in my life to chase my dog around with it :D #sweepstakes

I need this so I can annoy my cats. And, Awesome! #sweepstakes

I need/have-to-have a BB-8 in my life because I already changed all the default sounds on my Lumia 950 XL to be BB-8 audio clips. PLUS I need a BB-8 to give me a blow-torch thumbs-up! Sweepstakes, sweepstakes, sweepstakes! #sweepstakes

If the app is powered by window 10, this app is going to be as sweet. I never used a Sphero BB-8, want to try....#sweepstakes

I would love one of these. Might be the thing that gets my wife to actually watch star wars with me. #sweepstakes

fun to have plus a big star wars fan #sweepstakes

My children LOVE BB-8 (and so do I)!!!! #sweepstakes

As far as Gadgets go, this is one of the cooler ones, so would love a chance to have a go. Maybe let the kids too. Maybe. #sweepstakes

Its looks amazing when it rolls around. Would love to kids reaction when its running around :D. #sweepstakes

I need it cause it's a fantastic little friend to play with! #sweepstakes

BB-8 would be perfect to chase our house rabbit away when it tries to chew the curtains.

I need this. I have two kids, 2 years and 4 months. It will keep them entertained! #sweepstakes

I really need a BB8 so I have something to occupy my old age with besides worrying about my health, weight, cholesterol level, nutrition, HCL number, BMI, etc - get the point? Help! #sweepstakes

I need a BB-8 to record a message so I can send him on a long and lonely journey out in the empty dark space to a galaxy far far away so he can tell the people over there that I am alive and counting on that they are coming to get me away from here so I can get my own galaxy to rule! #sweepstakes

My son's and I need a BB-8, because everyone needs a companion droid!

Need bb-8 Now!!!! #sweepstakes.

My wife and I are expecting our first child towards the middle of this month. Having a BB-8 that she can interact with would be a great way to get her geek life started. #sweepstakes

Gyu, what was sadder, TFA or ROTS. What was your favorite SW movie? Good luck everyone! #sweepstakes

I need one of these to give to my son, he'd love it. #sweepstakes

I need a BB-8 because they won't let us have a puppy in the lab where I work. #sweepstakes

Because it's Canada and Winter and my four (yes four) cats are going stir crazy and they REALLY need a BB-8 to chase (or be chased) around the house, BB-8 is a cure for cabin fever! #sweepstakes

I need a BB-8 in my life because I am Star Wars CRAZY! Good luck to all! #sweepstakes

I need a BB-8 in my life because BB-8 is objectively the best thing. #sweepstakes

Looks like a great way to mess with my dog and young daughter. #sweepstakes

Nobody "needs" a toy, because a toy is for fun. People want a toy to play. That's why I want. It's so cool. #sweepstakes

My daughter loves BB-8 #sweepstakes

I need a cool way to introduce my kids to Star Wars #sweepstakes

This is the droid I'm looking for....to terrorize my cats with. ☺ #sweepstakes

I need a BB 8, I want a BB 8 ​ ​

I need a BB-8 to help my 2 year old fight the First Order and restore peace to the galaxy. #sweepstakes

This is exactly what I told my wife and kids I wanted for father's day! This is an awesome prize, thanks for posting this!

My wife loves BB-8, a great droid XD #sweepstakes.

I need this because my nephew is 1 year and 3 month old, and is loving chasing things around the house. This would just blow his mind. Also, might as well mindwash him with good starwars propoganda while he's young, right?Z #sweepstakes

My is all about BB-8 if I was lucky enough to win this he'd be so excited. #sweepstakes

I need this, I am a huge fan of all things BB-8!! #sweepstakes

Star Wars The Force Awakens was my daughter's first movie in a theater. She's 2, but before you judge, know that it was a special "diaper days" showing with lights partially on and the audio turned down a bit. Although she lasted less than an hour, she was in awe, and especially liked "Baby 8" and "Chewie" and can't stop talking about it. This toy would blow her mind, especially once I teach her the magic voice commands like "run away". Also, my cat would greatly appreciate the relief. #sweepstakes

This is the droid I am looking for. #sweepstakes

My kat would have a blast chasing this thing around the house! #sweepstakes

I'm in. Show me the droid! #sweepstakes

My nephew would love this! #sweepstakes

I don't need BB-8, but if my five year old got it, he would be. . . well, let's say ecstatic would be a vast understatement. #Sweepstakes

Being 54 years old and having seen the original Star Wars movie in 1977 at the age of 16, I would love to have the Sphero BB-8 and show my children that at 54 i can still get my geek on! Of course i wouild be controlling Sphero BB-8 with my awesome Lumia 950XL (Best Phone EVER). Disclaimer: I am posting this comment as an entry to win the Sphero BB-8.

Ooh, yes please! #sweepstakes

I need a little robotic buddy to keep me company around the house and help terrorize the cat ;) #sweepstakes

My eight year old daughter loves star wars, it is our time together so she would love to have one of these.

I think it will be very relaxing to play with. #sweepstakes

I need BB-8 in my life because Star Wars is such a big part of my life, and my fiancée and I are both deeply in love with BB-8! We would thoroughly enjoy having him roll around chasing our cat. #sweepstakes

To protect me from my pets. I know they want to take me out, but they are afraind of Robots! #sweepstakes

I need to to drive my cats crazy. #sweepstakes

Looks cool, though i haven't even seen the movie but would be something nice to have since being on disability. I can't really sit for long periods of time do to neck issues which I recently had surgery on, hence the disability now. #sweepstakes

As a droid myself, at least according to some friends, I'd love to have BB-8 roll in my universe. #sweepstakes

This would be awesome to win! #sweepstakes Good luck to all!

I need this because my girlfriend loves BB-8 and I'd love to make her very happy when I fly over to see her. #sweepstakes

Who wouldn't want one? #sweepstakes

My son would love this. Even though he hasn't seen Star Wars yet (too young) he still knows who BB-8 is and has picked up a lot of info about Star Wars. #sweepstakes

Oh man I want one of those! And I deserve it after all the sweepstakes I've entered without ever winning a single thing :) #sweepstakes

We need the BB-8 in our life to bring more tech fun to myself & boys. #sweepstakes

I need one, because the BB-8 would be a big surprise for my girlfriend :D #sweepstakes

I need to convert my kids to startwars...hence why I need this.....if they can get it out of my hands! #sweepstakes

BB-8, almost as cool as R2-D2

i need one to chase the dog lol.. #Sweepstakes

I need BB-8 because it is clearly the best robot since R2D2.
#sweepstakes

I can only imagine the amount of fun I could have with my cats with this #sweepstakes

I need the BB-8 in my life because my girlfriend fell inlove with him ever since we saw the movie! Plus they don't allow pets in my building... #sweepstakes

I haven't owned anything Star Wars since a long, long time ago in a galaxy.... Time for that to change #sweepstakes

I literally would fall in love with this Sphero. #sweepstakes

Well, I am surprised of this article coming out today..I have reported, and many others that the windows 10 phone App doesnt stay connected on my Lumia 950...Spero has commented, that they are aware and still working on a fix..

I would love this so much! All the great places we can travel with BB-8 and have a great and fun time. I would take great photos of all the great places we went to. #sweepstakes

To keep my R2 company #sweepstakes

I need a BB-8 in my life but I don't know why. Hmmm, maybe for my cats to make them crazy or to follow them on their secret tracks? Yes, that's an idea.

It would be hillarious to have BB-8 rolling around my house and seeing my dogs running after it. Hopefully the driod is fast anough! Don't worry. I won't let anything happen to BB-8 or the dogs. #sweepstakes

Wow, Would be an awesome present for my fangirl-friend!

I would like to win this #sweepstakes​ because I use only Microsoft products which makes me an non-an-droid

I need him for a cat toy! #sweepstakes.

The BB-8 I already have needs a twin to talk to. This is the only..ahem!... 'android' device I'd consider owning!

My fiancée fell in love in BB8 when we went to see Star Wars. I don't think I have much choice but to get one...
#sweepstakes

I need this to mess with my dog and to satisfy my star wars cravings! #sweepstakes

Who doesn't need one? #sweepstakes Posted via the Windows Central App for Android

I would give up on all other sweepstakes if it means I win this one. #sweepstakes

i need bb-8 because shes so cute!!!! #sweepstakes

I need this droid to complete the map to Master Skywalker to complete my training. #sweepstakes

for me and my kids :).....but actually for me #sweepstakes

I'd love to chase around my dogs with this! #sweepstakes

I was looking at getting one of these for my son a few months ago. I think he would love it. #sweepstakes

I need a BB-8 in my life so that I have something to do while I'm home alone. By myself. All the time. #sweepstakes

I need BB-8 to map my house!


I'd like a BB-8 so I could roll it into my teammates cube. We have a fun joke about who is going to get one first. ;) #sweepstakes

My 5 year-old and 7-year old would love this, okay.. I would love this too! #sweepstakes

I need this to annoy my non star wars cube mates at work! #sweepstakes

Yep. Need this. Have dogs and small kids that would love to chase this around. :)

My cat and I would love playing with this. #sweepstakes

I want my BB-8 now PLEASE.#sweepstakes

Hello there. This would be a grt activity for me and my son. Thanks #sweepstakes

I need this because the other day two of my daughters were rolling two balls around on top of each other pretending that the balls were BB-8. #sweepstakes

BB-8! I need one of these to prove my Lumia Icon still can do cool tricks. Also, I suppose the kids will like it..... #sweepstakes

I need BB-8 so I can sell him for 60 portions. #sweepstakes

I need to win this so I will forget about firmware updates for my 950. #sweepstakes

I wish it will be me, love BB-8 and Star wars in general.
#sweepstakes

Hell Yeah....Let the force be with me and I get this BB-8 #sweepstakes

We all need a BB8! #sweepstakes

Hmm, having this at work would...Oh it'll just look too cool! #sweepstakes

I want to.learn my kids to interact with AI through coding the BB-8's behaviour like I myself did with great fun with Ollie.
Good luck all.
#sweepstakes

I need a bb8 to entertain my son #sweepstakes

My R2-D2 refuses to wake until he has BB-8 to complete the data he is carrying inside his inners. #sweepstakes

I so need this in my life because with it ,; we will have so much fun at home with this little robotic device. My kids and I would love it #Sweepstakes

Because I'm a huge star wars nerd and i'm glad they've brought the app to windows #sweepstakes.

I need to have this droid in my life so that I may once again rein superior over my children for coolest toy. #sweepstakes

Because my kids would love it

You need the hashtag to enter

I need one because I need my dog to bite something other than me. Just kidding, I want something in my home that actually FOLLOWS directions. #sweepstakes

I've got a Star Wars in general and BB-8 specifically themed Room #sweepstakes

My dogs need a new playmate. BB-8 would be perfect for them!

My wife has been harassing me for this since it was announced! #sweepstakes

i have been looking for one for my birthday that is comming up but is out of my price range as welll as being a game developer i want to get one so i can build a app round it aswell as well as the ones all ready out for it

Was so close to buying this for Christmas. Would love to have the little guy patrolling around, scaring my dog. #sweepstakes

I need to hide the secret map in case stormtroopers try to kill me. #sweepstakes

i need the bb-8 to make my life bbeautiful. #sweepstakes

This would be a perfect BB present for my daughter. #sweepstakes

i have four kids who all are Stars Wars fans who would love to steal this from me. #sweepstakes

Love that you can record a message and when you aim BB-8 at your camera it projects a hologram with your message. I posted this comment as a Sweepstakes entry

I wanna play with it :) #sweepstakes

My two dogs and three cats would have fun chasing the holograms. #sweepstakes

I need this to patrol in front of my home office door so my kids don't disturb me. ;) #sweepstakes

Would be great for any Star Wars fan !! I posted this comment as a Sweepstakes entry.

I played with this at a friend's place, chasing their cat around. It would make a great toy for myself! #sweepstakes

i need this in my life #sweepstakes

I have wanted this since I saw it in the trailer and the saw that someone had actually made one using their own Sphero ball. #sweepstakes

I want this BB-8 so I can place it next to my R2-D2 model on my shelf. It would make a great addition to my collection. #sweepstakes

My 7 year old would flip out if he had this. Pick me him!! This is an entry into the #sweepstakes.

I don't have a dog, so I could use BB-8 for patrol instead. #sweepstakes

i would like one cause my son is a hugh fan of star wars and it would light up the day with him having fun with it #sweepstakes

It would be so much fun to play with #sweepstakes!

Oh how my 3 kids would love to have a real BB-8 tooling around the house! So cool. Not to mention their Star-Wars-geek-dad.... :D #sweepstakes This is an entry for the bb-8 give-away sweepstakes...

I can't explain why I need this, I just do! I posted this comment as a Sweepstakes entry

I need this for my best friend's son. He will love this because he loves Star Wars! #sweepstakes

mmmh yes, it could be the that droid; else i want one now

This app has never worked for me on my AT&T Lumia 950. It gets to the startup splash screen and then crashes immediately. It is extremely frustrating to have a basically useless adorable droid. Also: Sphero recently released their Lightning tool that allows you to custom program your droid and they told me that currently they have no plans to release the app on Windows 10. I like Sphero less...

That is exactly how the RING App behaves. I'm starting to think that there are a lot of companies submitting either "Universal" Apps that are not properly coded for Win10Mob, or just submitting the same App for use on PCs and Phones. I suspect this is either a result of ignorance, or that the rapid evolution of Win10Mob has led to incompatibility with Apps coded for the release build. Its pretty frustrating to pay for these great gadgets and then find they don't work. It must be annoying to the companies that believe they have coded for Win10Mob to find out that their Apps don't work. Microsoft should take not and send a 'Tiger Team' to work with Ring and Sphero to identify the problem and fix it asap before other Companies take note and decide its not worth the effort to support Win10Mob.

I need to win this because i am a huge Star Wars fan and i think this is awesome!

I need one for my son to chase around, he's got too much energy. #sweepstakes

I truly need this BB-8 droid in my life!! It would cheer up my son who was just displaced by a house fire. #sweepstakes

Everyone needs a droid. #sweepstakes

ah come on dude ! "a droid" ? ... you're in the wrong website lol

my little brother aint an X-Wing pilot, but i can lend a help to his imagination with a wokring astromech droid! #sweepstakes

I need a BB-8 in my life to freak out my roommates at random times :D #sweepstakes

Besides the fact that my children would be beyond excited to have one of these, I think patrol mode would scare and confuse my cats to no end.
#sweepstakes

I could use a humorous personality in my life. Thank you

I was only able to afford to get my nephew the Target version of BB-8, this last Christmas. It was tough to hear him ask, "Why is BB-8 so slow? " The Sphero version would improve his experience. #sweepstakes

Why wouldn't anyone want this. I'm so glad the app is in the Window s Store now!!! #sweepstakes

I need one to make all my friends jealous! #sweepstakes

I would love to have one for my niece's amusement. She's two. #sweepstakes

I need a friend #sweepstakes.

I need BB-8 in our lives because we are huge fans of Star Wars and it would be awesome to have BB-8 join our family! #sweepstakes

I need a BB-8 in my life to be COOL!!! "I posted this comment as a Sweepstakes entry" #sweepstakes

Every single time I see this in a store I have to stop and look at it. I need BB-8 in my life. Help me Windows Central, you're my only hope. #sweepstakes

Because it's awfully cool. Who wouldn't want one. #sweepstakes

I would take him EVERYWHERE!!! I posted this comment as a Sweepstakes entry.

I need this for my office! #sweepstakes

It will be fun to spook dogs and cats in my apartment building with one. #sweepstakes

I watched a demo video of the BB-8 and I was like, 'I gotta have one!' My nerdy husband would go nuts if I surprised him with one for his birthday in April. I posted this comment as a #Sweepstakes entry.

I need it because it's super awesome and super cute!!! #sweepstakes

My kids would freak out if I won this. They love this little droid. #sweepstakes

I need it so when I'm developing at work I can have something to get my mind off of it. :)

I think my cat would like it #sweepstakes

I need it so that I can play with my cats and watch as BB8 runs around my house doing whatever it wants! #sweepstakes

My cats would love BB-8! I would enjoy strolling him around our little country town. #sweepstakes

BB-8 to the rescue! I need one for my toddler to chase around while I cook dinner, make important phone calls, and fold laundry. #Sweepstakes

Need this for my son and husband to play with. They would love this! #sweepstakes

My daughter has recently become obsessed with Star Wars. Who two favorite characters? Rey and BB-8. Seriously everytime she sees that orange and ball she goes nuts. I love it :). This would just make her day and make me the coolest dad in the world ;)

I've a good feeling about this! #sweepstakes

I can use it with my phone which already makes BB8 noises as my ringtone haha, and then I will train him to bring me beer from the fridge, this is the future we need #sweepstakes

I need it to conquer the world. #sweepstakes

I would get this and give it to my friend who is a huge Star Wars fan. He even puts up a Star Wars Xmas tree every year! #Sweepstakes

because i am fan of star Wars #sweepstakes

I need this in my life so that I can surprise my sons with it. They are huge fans!! #sweepstakes

I need this so my kids will stop asking me for a dog! #sweepstakes

I would love to win this for my son. He love some BB-8

What a great conversation piece - I need the BB-8 for my children, dogs, cats and for me mostly!!! #sweepstakes

More things to show off to iPhone friends!

AWESOME - AWESOME - AWESOME!!! WOULD LOVE THE BB-8 #SWEEPSTAKES

The cats would love this #sweepstakes

Would be fun to play with, especially with a cat or dog. #sweepstakes

Yep, now i really need this BB-8 !!

My son needs a BB-8 droid in his life because he's a big Star Wars fan and he had this on his Santa wishlist this year after he got to play with one at the mall. However, Santa wasn't able to deliver it this year. But he did bring him a BB-8 stocking! I would love to surprise him for his birthday with this! He saw the Force Awakens with his Dad and loved it. I know he would spend hours a day playing with it and learning and he would proudly display it in his room when he's not. Thank you for the chance to win one. #sweepstakes

Big Fan of Star wars and BB-8 #sweepstakes

Why I need a BB-8 in my life? Because any respectable human in the galaxy needs a droid augment his/her social status. Look at Luke. The moment he became R2-D2's master, he got so much cooler because he's no longer whining about picking up power converters at Tosche Station! Plus, I need a BB-8 because I can hide a segment of a map that indicates where to go look for me should I decide to go into seclusion. #sweepstakes

First: It would go great with my Melinium Falcon quad-copter, Darth Vader mug full of candy and New Hope Clock. Second: My boys would flip out, that would be soooooo cool. #sweepstakes

I need this for fun and entertainment for my grandson and I! #sweepstakes

Its simple: Star Wars is my life. I grew up with it and it stuck with me ever since. This would be so fun to have. #sweepstakes

I need this so my kidos can chase it around! #sweepstakes

Wow this would be a nice gift for my kids!!! (and me) #sweepstakes

this would be so much fun for the grandkiddos and us too. We could really have a ball and spend some good "quality time" together having fun and lots of laughs #sweepstakes

My Son is turning 5 and BB-8 is his FAVORITE Character! We are headed to Disneyland to buy him the new BB-8 Mickey Ears! #sweepstakes

I need it in my life because it is the droid I've been looking for! #sweepstakes

Sphero BB-8 can indeed awaken the FORCE :) <3

I would love to have this patrolling my home and monitoring my cats lol #sweepstakes

I need a friend #sweepstakes

My toddler needs this in her life to continue her star wars indoctrination. she already has a toy lightsaber and R2-D2. #sweepstakes.

I would love to have a little buddy like this that I could keep me company. This is for the #sweepstakes entry.

I need a BB-8 to guard my student dorm because there are some crazy people living here! #sweepstakes

I need BB-8 to impress my kids, make my friends jealous, and to chase my cat. #sweepstakes

Yeah,nice look! I want this :)

I can't have pets where I live now... but I could have a BB-8! I would feed it and play with it and love it. ;) #sweepstakes

I don't need a BB8 droid, but my son would absolutely LOVE one. He and my husband are HUGE Star Wars fans. #sweepstakes

I need this to torment my cats! #sweepstakes

I need BB-8 so I can torment my dog. #sweepstakes

I really need a BB8 since seeing the movie!! He is so cute and so much better than R2D2 or C3PO. And my grandson is dying for one!!

I also need this for my 9-month-old daughter to crawl/chase around the house. #sweepstakes

Whoa! I didn't know that the Sphero had the Message and Patrol modes! Now I really hope that I win one! It will be most useful to finally determine if our cats are members of the First Order, or if they are indeed Resistence members! ​#sweepstakes

I need a BB-8 so badly I can die! #sweepstakes

#sweepstakes to play with

I need a BB-8 because I don't want my R2-D2 to feel lonely anymore ^^ I know, there's this age difference between them but true friendship oversees that. And maybe the cheeky little guy can learn some patience and wiseness by listening to R2s vast amount of wondrous stories. So it's a win-win! I love all those #sweepstakes !! Thank you :)

I need this so I can convert BB-8 into a security droid to chase away all the homeless people who use my building's entrance as a toilet and needle dumping ground. #sweepstakes

US and Canada ONLY!!
​Yeaaaah!! (No, I'm not happy, because I'm not in US or Canada...)

Because Im still a kid trapped in an old body...#sweepstakes

I took my 7 year old to the force awakens and he realize that he wants be a jedi like his father before him. He loves bb-8 and star wars, we play battlefront daily reliving the battle of hoth. My wife would kill memif I bout this for him. please help fulfill a 7 year old's dream #sweepstakes

So incedibly cool! What a great prize and feature.

I need to a BB-8 to help entertain the cat, they get tired of toys so quick! #sweepstakes

I need a BB-8 in my life because I'm a big Star Wars fan and loved the BB-8 in it. I want my own BB-8! #sweepstakes

My son has been wanting this since before Christmas. He would be thrilled if I won it for him. #sweepstakes

I need this little guy in my life simply because it's so cute! I posted this comment as a Sweepstakes entry. #sweepstakes

I need BB-8 in my life to entertain my cats and boyfriend!

This would be a nice gift for my kids! #sweepstakes.

I need BB-8 to confuse my dogs.

I need one to be my emotional support droid #sweepstakes ​

Are you ready for a change? Looking for a new job? No annual fees! This is very simple anyone can do it! You don't need any experience! Go Here:--->>> http://www.pay-buzz.com

Pick me please. Please! Because beep-bap-beep... baaaap. Thank you! #sweepstakes

Would love to win... so adorable. Thank you for the chance to win! #Sweepstakes

this would be great to tease my 2 playful dogs and have them chase it #sweepstakes

for my nephew to play with #sweepstakes

So glad there is a Windows Phone app for this! Oh, and it's for my daughter, of course, like everyone said. I mean, I'm a grownup, no way I would feel the urge to drive this lovely BB8 around and oh look how cute it is I WANT IT! #sweepstakes

Need this so bad. #sweepstakes

My daughter's favorite Star Wars character! #sweepstakes

I need a BB8 because Rey is my bae and I want to fulfill my dream of having a robot son. #reyisbae #sweepstakes

I lost my BB8 when JJ Abrams borrowed recently, thus i need this as a replacement. Iposted this comment as a Sweepstakes entry #Sweepstakes

#sweepstakes cause new toy.

I need a fun awesome toy, who doesn't?! #sweepstakes

I need BB-8 in my life to fight the evil galactic empire, though if I fail, all hope is not lost as my daughter and son both have high midi-chlorian counts as well. #sweepstakes

I love have one of these to play with my two boys (7yrs and 18mos) I'm sure it would amount to hours of fun. #sweepstakes

Its BB-8. My puppy will enjoy this even though I will have to watch around it lol. #sweepstakes

I need one to keep me company, my kids are grown.....LOL

My son, who wants to become a computer engineer someday is obsessed with this little guy. I'd love to give it to him <3 I posted this comment as a #Sweepstakes entry.

#sweepstakes I need this because, just because. (parent terminology)

I could use something that is fun for the entire family, This could be it. #sweepstakes

I need it a bb-8 #sweepstakes

Yes! My son (7) has been asking for one of these for months! #sweepstakes

Oh I would love to have this for my Grandkids when they come up to my house, it would be so much fun for them inside or out to have this fun Sphero BB-8, I would be the envy of my family I posted this comment as a Sweepstakes entry.

What Star Wars nerd DOESN"T want this cool BB-8 droid. What an awesome tech to explore and play with. This is a must have for my Windows Phone Mobile collection of apps. #sweepstakes

I need to entertain my cat from the comfort of my bed #sweepstakes

Just to make life more fun! Something new and exciting and I just wanna check one out! #sweepstakes

Such a cool toy - would be a great gift! I posted this comment as a Sweepstakes entry. #sweepstakes

I really need for my children such a unique and interesting toy. #sweepstakes

This would be awesome to give as a present to one of my daughters, who has recently been hooked on starwars:) #sweepstakes

this would be awesome for the Hubs and me. I Posted this comment as a sweepstakes entry.

I need the BB to entertain my dog #sweepstakes

Want 1 to play with grandkids! #sweepstakes

My oldest and dearest friend passed away in 2013. She was a huge Star Wars fan and would have absolutely fell in love with BB-8. I cannot see a review for this ingenious toy without thinking of how incredibly happy this would have made her had she lived long enough to see her favorite movie franchise find new life. I would like to win this BB-8 for bitter-sweet reasons, playing with it will keep her memory close to my heart and bring a little joy into my life. Thank you for this opportunity to win. #sweepstakes ❤❤❤

I need it because yuda has rise and coming to Windows Central!

I need a BB-8 because I want to spy out other people and scare the **** outta my cat, I also loved the force awakens and BB-8 as a character.. so if I win this BB-8 I will love you even more and send you a video of my cat losing his ****, but you have to live with that my cat will hate you! #sweepstakes

I need BB8 in my life because my 11 year old son is obsessed with Star Wars! #sweepstakes

I need a BB-8 in my life because it looks so cool and I am a fan of Star Wars. #sweepstakes

I posted this comment as a sweepstakes entry. #sweepstakes

I need this for our family! My husband and I have 5 children,13 grandchildren and 2 great grandchildren! This would make an excellent addition to our family! ☺ #sweepstakes

I'll be taking a trip to deep space and i need BB-8 and his stellar maps to guide me there, since a) deep space internet service for google maps is prohibetly expensive (and counts against my data cap) and b) i keep calling the Force but continue to get a 404 error message go fig.. :P #sweepstakes

I need BB-8 in my life because my son is obscessed with him!! I posted this comment as a Sweepstakes entry. #sweepstakes

i need a bb-8 to annoy my cat #sweepstakes

This is sweet!!! My whole family would have fun with this! Thanks for the chance! I posted this comment as a Sweepstakes entry #sweepstakes

I need a BB-8 because it would drive my kids wild! #sweepstakes

I need and would love to win this for me & my 7 yr old grandson Dalton to play with. He loves Star Wars and he would definitely love to have his very own Sphero. Thanks for the chance and good luck everyone!

I need a BB-8 in my life to entertain me!

#sweepstakes I had the previous version of Sphero but it never held a charge. We tried to contact CS but it ended up taking way too long to deal with so the poor little ball just sits lifeless and dusty on a shelf. Hopefully, the new model works better since it seemed like a pretty fun idea.

So,do you need some pictures from set of star wars in dubrovnik? Since i live there, do i get a bb8 and make some sort of advertising for windows central with the set background?

I NEED this to show my kids I'm cool! #sweepstakes

I need this to see the look on my brother's face when I give it to him. He's a huge fan of BB-8 in the movie, his birthday cake was shaped like it. #sweepstakes

I love droid balls! #sweepstakes

Amazing, you make it sound as a must have or you're missing out! #SWEEPSTAKES

I need one so I can play with my dog. #sweepstakes

I need a BB-8, because just once, I want to be the cool mom with the cool toys! #sweepstakes

Really cool #sweepstakes.

This BB-8 is awesome. I would love to have it! #Sweepstakes

My both girls really wants it

I need BB-8 in my life because it would be nice to show off how cool it is to friends and family. #sweepstakes

I need this to demonstrate how much better BB-8 is on Windows Phone than on an Iphone by going head to head with a friends #sweepstakes.

I need a BB-8 because I am still a kid at heart. =D #sweepstakes

I really need the BB-8 in my life to keep me entertained! And just think about my little Elle Mae chasing it around too! (she's a Mini Pin) so you see I would definitely be entertained! #sweepstakes

I want to turn this into a beer bottle transport system! #sweepstakes

Entertain the dog #sweepstakes

This is cool. #sweepstakes

I want to win a BB 8 droid to play with my dog and just to have fun! #sweepstakes

I need this to irritate the other people in the office! #sweepstakes

This will a great playmate for my dog to play with inside the house.
#sweepstakes

So my two cats can chase it around! #sweepstakes

Sometimes you just need a little BB-8 in your life
#sweepstakes Posted via the Windows Central App for Android

Very cool. I already have a name for the one I plan on winning! #sweepstakes

I need a BB-8 in my life because my wife left me and my fish don't like to play with me. #sweepstakes

need one to entertain pet (contest entry)

I love my star wars robots must have #sweepstakes

We need a BB-8 in our lives, simply because it would be awesome to watch and interact with. We just saw the movie and this little robot is a heart stealer. I posted this comment as a Sweepstakes entry. #sweepstakes

Love to have a Sphero BB-8! #sweepstakes

BB-8 droid will be an awesome sentry around my home - would love to have BB-8 herding my herding BC/Aussie. That would be very entertaining. #sweepstakes

I need a BB-8 in my life because I need someone who will listen to my thoughts and feelings. #sweepstakes

I need one in my life because it is fun! Myself and the kids would love it! #sweepstakes

I need BB-8 in my life. I need protection from the evil in the universe. I need a buddy to go on trips with me and to help comminicate to the little ones in my life. and Chase my cats around. I am entering the sweepstakes for the BB-8. Thank you

There has been an awakening. You probably felt it. I need this BB-8 unit because he holds the map that can take me to Luke. I need to find him to bring balance to the force. #sweepstakes #skywalker #jedi #thedroidimlookingfor #droidnotandroid #wheresluke #maybeicanfindreytoo

I need this to help me be cool for my friends. This is why I have entered the #sweepstakes.

I need a BB-8 in my life because BB-8 was one of my favorites in Star Wars Ep 7 and to have one in real life would be dope! #sweepstakes

Would love a little BB-8 because I love new gadgets and cool things #sweepstakes

He is so cute, doesn't really matter to me what he does! #sweepstakes

my son is a huge star wars fan i need this for him. ah well me too okay? #sweepstakes

My kids were begging for one of these for Christmas...I just couldn't justify the price. But if I were to win one... #sweepstakes

I would love a BB8 to go along with my Ollie and Sphero. #sweepstakes

#sweepstakes I am a huge Star Wars fan and I would love to have a BB-8 droid.

I need BB-8 because Star Wars! #sweepstakes

A BB-8 is desired so I can destroy it with my fart. #sweepstakes

This would be awesome to have. #sweepstakes

Not a Star Wars geek, but that's a very cool toy! #sweepstakes

This would be sweet to chase around my kids, cats & dog with. I'm glad to see the love on Win Phone with this too! Everyone needs more toys in their life :) #sweepstakes

Always wanted a little BB-8 for my desk at home :) #sweepstakes

Would be a lot of fun. #sweepstakes

This could be a great replacement for my husband, I would give it commands and it would LISTEN! #sweepstakes

My girlfriend and i need one to bring sweet sweet star wars joy to our lives. #sweepstakes

I need BB-8 To chase around my sisters Cats #sweepstakes

I NEED a BB-8 in my life because my life is boring and I want to be the talk of the block #SWEEPSTAKES

My nephew would LOVE the BB-8. I posted this comment as a #sweepstakes entry

I'd love to chase around my dog Daisy.....She could use a friend #sweepstakes

I would love to play with this droid at work. #sweepstakes

I'd love to win the tiny Little BB-8, because not only do I Love the little thing, and couldn't actually believe they had made a real one which moves independently, but I was even more impressed when Sphero released one which was a minature replica!!!!
My own selfish excitement aside, I would love to win it because my little Niece who is going to be 1 on March 26th, and she is just starting to walk, so I would love to put this in front of her, and have her follow it, I know she will be too slow by crawling so it just might make her get up and walk in order to chase the moving little ball!!!! :P #sweepstakes Thanks for these little Gems!!!!! They are literally Little Gems!!!! :P


My family are huge Star Wars fans. My 2 daughters have been Star Wars characters for halloween every year for the past 4 years. They both love BB8 and would go great with out remote control inflatable r2-D2. #sweepstakes

We need BB-8 in our family,because we are big fans of Star Wars and my kids would very much enjoy having one. #sweepstakes

I need BB-8 so I can chase my dog around the house with it! :P #sweepstakes

This is so cool - Record and view holographic messages. #sweepstakes

There has been a black abyss with a pulling force to fill in my life. The Sphero BB-8 whispers to me, "I'm yours, stong lady, I'm yours". Complete my force. You have the power. #sweepstakes tvollowitz at aol dot com

I am a huge Star Wars fan #sweepstakes

I need a Sphero BB-8 in my life because its smart and I could learn a new thing or 2 from it! #sweepstakes

Beep Boop Bleep #Sweepstakes

I need this to help me with the chores around the house. #sweepstakes

I would use hime for my own personal star wars #sweepstakes

For Companion of course! well and some play time. maybe my cat and dog would love to play too. another family member would be lovely! #sweepstakes

I cant wait to show this to my brother. #sweepstakes

As much as I would love to have a BB-8 in my life, my sister would love it even more. #sweepstakes

I need BB-8 because it is my small child and I will love and care for it forever. #sweepstakes

Windows phone is alive and kicking! #sweepstakes

I want it because... well, I'm not sure. But it looks cool! #sweepstakes

How can you love Star Wars and not love this little guy ?? #sweepstakes

I need a bb-8 so I can chase my cat around the house because I am too lazy to do it myself! #sweepstakes

We need BB-8 because we are all huge Star Wars fans and my huband is a techie and would go crazy with this. I posted this comment as a sweepstakes entry.

My inner geek is easily amused. A Sphero BB would provide endless hours of enjoyment. #sweepstakes

This would be the coolest thing to go with my new Fierce XL #sweepstakes

Well I can't really say I "need" this so to speak but I would LOVE to have it in my life cause I just love it!! I posted this comment as a Sweepstakes entry.

I need it to satisfy my inner child. May the luck be with me #sweepstakes

I need BB-8 Sphero becuse it's awesome #sweepstakes

This is the best toy to sing they see me rollin' they hatin' #sweepstakes

I need this because it is awesome. #sweepstakes

man i am such a star wars lover! i need this bb-8! #sweepstakes

I need BB-8 to help entertain my 2 dogs! #sweepstakes

I need BB-8 so bad!!!!! I'm the biggest Star Wars nerd everrrrrrr #sweepstakes

I need this in my life so my nephew thinks I'm the coolest uncle ever #sweepstakes

I contest to the contests requiring going to the browser. I hope I win. Still worth the extra steps.

I need to watch over my home! #sweepstakes

OMG! I love it and want one! #sweepstakes

We just saw the new Star Wars movie last week! It was fabulous! Long time Star Wars fan! I remember seeing the first one in the Theatres when it first came out. I would love to have a droid in my life! I am making this comment as an entry into the #Sweepstakes! #Windows10DoesMore

This would be awsome. Not sure if i would be able to keep it away from my wife.

I need this it would be fun to chase the wife and dogs with!
#sweepstakes Posted via the Windows Central App for Android Because my HTC One m8 for windows is broke !

My lease requires me to pay a $200.00 non-refundable Pet Fee. Droid doesn't require a non-refundable fee and would most definitely fill my "empty nest" hours. Come to MaMa, Baby. #Sweepstakes

I need the BB-8 in my life for a dose of cool adorablness! #sweepstakes

My daughter, who is a Star Wars nerd, would LOVE to have a BB-8 Droid! #sweepstakes

BB-8 would light of my life and be the hero of my office! #sweepstakes

I need this to entertain my child #sweepstakes

I need a robot in my life for my brother to play with. He would love this! #sweepstakes. I am commenting on the post for a sweepstakes entry.

I NEED a BB-8 because I've been fascinated by robots since I was a kid and I've always wanted an andoid of my own!! #Sweepstakes

I need a BB8 because he is the favorite of both my kids from when we saw the movie! I posted this comment as a Sweepstakes entry.

I would love a Sphero BB-8 in my life to take it to a higher level of enjoying life. Posting as an entry into the sweepstakes, or use #sweepstakes.

Always been a Star Wars fan... :) Having a Sphero BB-8 would be much fun and a great memento. #sweepstakes

Holy hell. That BB-8 droid would be amazing and i know my son would love to have one in the house! #sweepstakes

My son has been asking for a robot toy so this would be perfect! #sweepstakes

Need this for my son and I, endless hours of fun! #Sweepstakes

BB-8 would be great entertainment for my dog and cat! :) #Sweepstakes

I need this to keep my boys occupied! #sweepstakes

I need a BB-8 to play with my 5-year daughter. She is fascinated with it. #sweepstakes

I have been a fan of Star Wars since the first movie was released in 1977. I would love to have my own BB-8 but if I won this I would give it to my 5 year old grandson Wyatt. He is also a big Star Wars fan.#sweepstakes

BB-8 becomes self aware? How cool!!

Cool! I know some Star Wars fans who would love this! In face, I know some non-Star Wars fans who would love this. Please enter me in the Sweepstakes so I can give it to them.

It looks cute and is definitely fun to play with it.....:P #sweepstakes Posted via the Windows Central App for Android

how much fun is this.. still miss R2D2.. but happy to meet a new friend to play with #sweepstake

I need one in my life because I need a compelling reason to switch from iPhone to windows phone. Let's make it happen Microsoft and windows central. #sweepstakes

I think my nieces and nephews would go wild for a BB-8. Not to mention how fun it would be to drive my cat crazy. I posted this comment as a Sweepstakes entry. #sweepstakes

I'd like to win this for my son so he can gain knowledge and have some fun with it. #sweepstakes

I cannot express how much we need BB-8 around here. My Daughter has becoem completely immersed in the new Star Wars, and this would make her Year! Plus, it would be so much fun to see what it made of our Roomba :-) #sweepstakes

I don't need a BB-8; I just want it. #sweepstakes

Oh please let me win this. I'm not in a position to buy it right now but would love to win it. Thank you #sweepstakes and Windows central Posted via the Windows Central App for Android

My daughter would flip out if I won. She is begging for one. Thanks for chance. #sweepstakes

Because its Sphero. nuff said! #sweepstakes

I want it for myself. I will let others look but not sure if I'll let them play with it #sweepstakes

This is so cool. My daughter would love this. I posted this comment as a sweepstakes entry. Thank you! #sweepstakes

I want one to chase the grandkids around with. #sweepstakes

This is a really interesting and creative toy :) I would love to have one!! #sweepstakes

Make a great gift for me! It's my birthday this month! Wink wink ;-)
#sweepstakes

My family needs a BB-8 so I can finally get the remote from underneath our bed by having BB-8 go in there and push it out. #sweepstakes.

Absoutly love Star Wars, so awesome to see it come to life & not just in by in the movies anymore...This would be a lot of fun for the family! I posted this comment as a Sweepstakes entry.

It would add some excitement! #sweepstakes

My dog is a rescue and has crippling separation anxiety. She could definitely use a friend and who better than BB-8? :D #sweepstakes

I simply want this in my life. Good luck to y'all

I need a BB-8 so I can gift it to my nephew!! #sweepstakes

Ohh so cute. I love BB-8. #sweepstakes

My son would love this! #sweepstakes

BB8 would be a gift for my friend who LOVES all things Star Wars. He would love this awesomely fun toy! #sweepstakes

I would love to have one of these little guys because we are huge star wars fan and would really have alot of fun with this little guy #sweepstakes

A new friend for my Icon. #sweepstakes

Well since my cat goes insane over anything. Sure this would freak him out. #sweepstakes

I need this to... well lets be honest. It's awesome and looks super fun, not to mention BB8 is adorable. #sweepstakes

I need one to make me tea in the morning. #sweepstakes

must see the movie! #sweepstakes

I would love to gift it to my son who has been in love with this little robot since he first saw it on tv. #sweepstakes

I posted this comment as a Sweepstakes entry #sweepstakes

This would be great for my nephews! #sweepstakes

My daughter would love one of these droids #sweepstakes

I need this piece of plastic that has no use other than for my (and others of my choosing) amusement. The excitement will peak on the receipt of said sweepstakes prize and will quickly dissipate, until it ends up in a box for Goodwill... #sweepstakes

#sweepstakes I love to try it

My dog would go crazy for this! #sweepstakes

I need it to capture every sweet moment between me and my wife in this life #sweepstakes

May the force be with me! #sweepstakes.

May the force be with you all☺ #sweepstake

It can de a lot of fun for the kids #sweepstakes

I need BB-8 because...well doesn't EVERYONE need it? #sweepstakes

My son is 8, he is a huge Star Wars fan. The original motion picture was the first movie I saw in a theater...WE would both love a BB-8 to play with. Consider this my entry in the sweepstakes. #sweepstakes

I need this in my life for my family they are crazy fans , hubby from way back! #sweepstakes

i really need this gadgets. i can only see on movies

My granddaughter would love this! Thanks for offering it. #sweepstakes

My whole family loves Star Wars! This would be fun for all of us. #sweepstakes

I'd like to play with this with my niece! #sweepstakes

I need this!! lol #sweepstakes

Need the BB-8 to patrol​ my home lol #sweepstakes

#sweepstakes ​I've failed to build one DIY style. It required more skills than I thought. I wish I could get my hands on BB8 for inspiration

I need a BB-8 in my life because it IS the droid I am looking for. #sweepstakes

I think he is just so cute and I know my great dane would love to chase him! #sweepstakes

I need this in my life to re-create Star Wars: The Force Awakens. #sweepstakes

I think this would be an awesome prop for Halloween. #sweepstakes

Who doesn't need this in their life, this little bot is amazing, any true star wars fan needs one. #sweepstakes

Just need it for fun! #sweepstakes

Because BB-8 is precious!! what a great pal to have! #sweepstakes

I FREAKING LOVE STAR WARS. I would use bb8 to wake me up in the morning! :D #sweepstakes

I want this as a gift for my father who is a great star wars fan.

umm to play with it :3 #sweepstakes

I just want to have a fun toy to play with. I don't have one #sweepstakes. I posted this comment as a Sweepstakes entry.

I need the BB-8 in my life because I want a robot to do my bidding. #sweepstakes

Man I've wanted this ever since it came out but it is quite pricey. I would be showing off to my geeky friends and having fun with their pets with it if I win this. #sweepstakes

I can't afford to give my son much, but this would really make him happy! He's in his mid 40's and has been into Star Wars since he was a kid! #Sweepstakes

I need a bb-8 to help the rebellion overthrow the first order. :D #sweepstakes.

Looks like a very cool toy-my grandson, a Star Wars nut, would absolutely love it. However, it is just to expensive!!!!

I have 2 birds, a cockatiel and a parakeet that would love this!

My 8 month old baby loves to watch and interact with stuff that I roll around him on the floor. By the time this contest is closed, he will be crawling like a champ. When that happens, I'm going to need a good method to get my inquisitive guy's attention and steer him around the room. What better way to introduce him to star wars and later show him pic and video evidence (from my Lumia 950) of his first encounter with "the force"? Serious games of BB-8 cat and mouse will be rolling in the house. #sweepstakes

Not sure who would enjoy this more, me or the kitens :D #sweepstakes

I need him in my life to give to my nephew for his birthday this month! Little dude is turing 11 and has discovered the world of Star Wars thanks to the new film! #sweepstakes Posted via the Windows Central App for Android

After spending the day battling the Dark Side of internet disconnects and Blue Screens of Death Stars for customers, it would be nice to come home to a little droid. #sweepstakes

I have a cat, which I want to entertain with this droid #sweepstakes

I need BB-8 in my life, because I am in need of slave labor. #sweepstakes

Why i need BB-8 in my life? Who dosn't wanna BB-8 in his life? #sweepstakes

I need the BB-8 because I still am and intend to always be a big kid #sweepstakes

I don't need one, but I do want one, and it's compatible with my Windows Phone, so yea. I guess those reasons equal a need hahahahahahah.

i want this to keep my dog busy :) #sweepstakes

I need a BB-8 because it's awesome. #sweepstakes

Damn, pardon my French. Let me be the coolest dad and win a BB8 even if I live in Holland #sweepstakes #prettyplease #lovelumia

Why North America only? Why?!?

I need it...for reasons. And because our dog has nothing to bark on. #sweepstakes

Looks very interesting, like toy for adults :D #sweepstakes

I don't want it, I NEED IT #sweepstakes

I need a BB-8 because I've never had a pet and BB-8 seems to be low-maintenance enough... #sweepstakes

my kids love it! #sweepstakes

I have removed all the carpets in the house to make sure this little droid finds his way around lol #sweepstakes

Please i would so enjoy one #sweepstakes.

Let the cat chase this thing around the the house! #sweepstakes

Need for my classroom #Sweepstakes I am entering the contest

I need it! My cats will adore it playin togheter around home!!! #sweepstakes

my pets would love ths toy .fun fun. .#sweepstakes

I need a Sphero BB-8 in my life, because it reminds me so much of when my son was a little boy. He's 45 now but, back in the day, he owned every possible Star Wars figure, vehicle, piece of clothing, & play house available on the market. Years have passed, and now he has four children of his own, all of whom love the "newest" version of Star Wars: The Force Awakens. When my son was young, no toy moved with batteries, or through apps. They moved through a child's imagination. Having a Sphero BB-8 in my life in 2016, would not only bring back those wonderful memories for my son, but would also allow him to share a piece of his childhood with all four of his children, using 21st century technology. #sweepstakes

I need the coolest Star Wars BB-8 toy for geeks. Can't wait to try it. Please help me get over my broken heart with something that will take my mind off the betrayal. Thanks you very much Windows Central for the #sweepstakes.

I would love to get this one it will awaken my true kid Jedi powers :) and of course my kids will love this

Wonder what it does, but here goes! #sweepstakes

this is a nice toy Posted via the Windows Central App for Android

I need this to keep the kids busy! I posted this comment as a Sweepstakes entry. #sweepstakes

my son's birthday is coming up rapidly and he really wants one of these... epic fail dad for NOT getting one for Christmas :( #sweepstakes

Oh My, you just don't know how much I need one of these!!! It could keep me company everyday and be my friend! The Sphero BB-8 is one of the neatest, coolest item on the market and I need it!!! Plus my doggie Ozzie would be jealous if I had a new friend! #sweepstakes #WINDOWS10DOESMORE

I think this would help motivate my kids towards a STEM focus. #sweepstakes

Love to get this epic toy not for myself but for our new baby boy that will be jooining us in July...what a great way to keep him entertained #sweepstakes

I would love to have this! Star Wars was the 1st movie I ever watched as a kid and is still my favorite. I would love to have this BB8. Windows Central rocks also! Great work guys!

i need a bb-8 to help with decluttering our home. I posted this comment as a Sweepstakes entry.

not only will my girlfriend would love this. I never win anything! #sweepstakes

I need this BB-8 because quadcopters are so yesterday. Sphero is where it's at! #sweepstakes

I need a BB-8 not only to save the galaxy but to play with my dog :) #sweepstakes

I do indeed love my toys.... #sweepstakes

I need this in my life to entertain both me and my daughter. #sweepstakes

My son wants his own BB-8 because he has no brother to play with :-)

Finally! A buddy for my roomba. #sweepstakes

I love robots. Since I was a kid, over 65 years ago I have been playing with them as a favorite toy, with the hope that some day they could play more vital role in my life. I hope I live to see that day come true. In the mean time I will be happy with their wonderful entertainment value.

I would love to win one of these to bring life to my drab office! It would be so fun to set this guy to "patrol mode" and forget about him for a little while. Thanks for the contest, W|C! #sweepstakes

I need this droid.
1. I need it to use the BB-8 app on my Windows phone that I sadly play with that has no droid to talk to...
2. My boys need BB-8 to scare mom/my wife and harrass the dogs. I could go on but really do I need to.
#sweepstakes


I work in an analytics group and this could be our new mascot! #sweepstakes

I would love to have the BB-8 becuase my fiancee is a huge Star Wars fan and this to roll around would put a smile on her face :) #sweepstakes

Star Wars and fun. What else?! :D #sweepstakes

I would love to win a Sphero BB-8 Droid so I could surprise two young boys who wanted one for Christmas but the cost was too much #sweepstakes

Because it is so cute!!! #sweepstakes

I need this to win some bonus points with my husband! He'd FREAK! #sweepstakes

I need this Sphero to complete my Star Wars Collection #Sweepstakes

We love Star Wars! #sweepstakes

I dont have a dog. #sweepstakes

Some good ol' droid goodness to spice up our day! Now if we could only get a showdown between BB-8 and Johnny Five. #sweepstakes

#sweepstakes Because I'm his father! beeep boop weeeeeooooo booop wooooeeeeee! (come back home my son!)

SPHERO BB-8! #Sweepstakes

My kids would love this! I posted this comment as a Sweepstakes entry. #sweepstakes

I am a huge Star Wars fan, I've seen every movie at least 5 times, the original trilogy and the new movie are exceptional. Having the Sphero BB-8 will be a great addition to my collection! #sweepstakes

The Sphero BB-8 would allow me to play with my cat in a unique 21st Century way. #sweepstakes

BB8 will be my dogs new best friend! Instead of getting another dog for my pup to play; with BB8 will be it!
#sweepstakes

I just need it #sweepstakes

Fun with BB8! #sweepstakes

Oh man!! This is awesome!! Wanted to get one for my son last Christmas but couldn't. He would love this. We need Sphero BB-8 in our lives. The pets would love this as well :-) #sweepstakes

I need one for my newborn daughter. #sweepstakes

I need this droid because I can only imagine how much fun me and my dog (Yorkshire Terrier) are gonna have with it! #Sweepstakes

I am a huge SW fan from Greece,i would like to give it to someone who needs it #sweepstakes !

Adorable! I'd like to play with my cat with this one. Looks like fun for all posting as an entry into the sweepstakes #sweepstakes.

I no longer have a pet, it's time for a replacement. #sweepstakes

My husband would LOVE this. He is such a star wars geek! #sweepstakes

OMG I have wanted this since the first time they were mentioned! I LOVE this little guy! My kids, hubby and I LOVE Star Wars! I would be the happiest lady if I won this! :) #sweepstakes

I need this because I have a void in my life that I like to fill with toys. #sweepstakes

I need a BB8 droid to chase my cat while he's wearing his Boba Fett hoody. #sweepstakes

my 4 year old loves star wars this would be a great addition #Sweepstakes

I need this because it looks like so much fun to play with! #sweepstakes

I need on to fetch me my light saber and hack computer of our adversaries! #sweepstakes.

My son would love this! #sweepstakes

This would be great for my kids to play with. #sweepstakes

I so need this for my Girlfriend. When we saw the movie she fell inlove wit BB8. She has gotten everything BB8 except this. It's like the one thing that she wants but also feels it's too expensive. I'm glad they have the app on windows phone now. I'll just have to save up and lie that I won this lol. #sweepstakes

My grandson would love the BB-8. #sweepstakes​.

I need a BB-8 because this is seriously awesome! Who wouldn't want one!? #sweepstakes

I have a new child and it needs to know the joy of starwars, through toys obviously. #sweepstakes

These look fun! #sweepstakes

Yes, please! #sweepstakes

I need him because I work in a busy office, and he would be perfect for delivering messages and getting people attention when they ignore calls! #sweepstakes

I need BB8 to help me fix the breaks on my car. And if that doesn't work, then at least I'll have a great conversation starter to expound on what a great web site Windows Central is while I'm waiting at the mechanic's shop

my kids so wanted this for xmas #sweepstakes

I work in an ocean of techie cubicles. I need the BB-8 to drive around the cubes with my Windows Phone to prove that I am the Alpha Geek. I posted this comment as a Sweepstakes entry. #sweepstakes

I need a BB-8 because it will allow me to use my Lumia 640 even more. #sweepstakes

I've always wondered what the love child of C-3PO and R2-D2 would look like. If it was mine I would care for it as if it was my very own and not lock it in the attic. #sweepstakes.

would like to have one just to drive my gf crazy #sweepstakes

I need it because I dont have it. Gimme Gimme Gimme my name is Jimmy. #sweepstakes

This would be an amazing toy for my Boys and i could show them how to use it :)


The BB-8 droid is so adorable. I need one whizzing around my house! #sweepstakes

It is a simple reason, for WC to award me one of the BB-8, the safety of the Universe!! I gave my nephew one for Christmas, beceasue it was the "Must Have Toy" for this year. Well, that is true. This little guy really is cool. SO unles Windows Central wants to aid in my path to the Dark Side, by forcing me to steal a toy from my very Nephew, they will award one to me. It really would be in the best interest of the Universe!! #sweepstakes

I just need it #sweepstakes

I just need it, I have no real reason just that i want one #sweepstakes

We think Star Wars is obviously pretty great- this would be phenomenal. #sweepstakes

My kids, 4 and 5, love Star Wars. My daughter's favorite droid is BB-8 #sweepstakes

All my life I've wanted a BB-8 toy--well, at least for the last three months or so. I was intrigued from the beginning about the actual mechanics of this thing, and scoured YouTube for answers. Now I need one for my very own. #sweepstakes

I have 3 kids my wife wants a Fourth and BB8 would be a welcome new additon and meet my wifes requirments of a new member to the family ;) #sweepstakes

I want this so much. Would be awesome to program with it too! #sweepstakes

I need this to play with because who doesn't need a BB-8? #sweepstakes

I need this in my life because my family is all HUGE HUGE HUGE star wars fans! #sweepstakes

I need a BB-8 because it is such a cool droid. My gilfriend, children and I would have so much fun with it. #sweepstakes

I need this in my son's life. He's a BB* fanatic. I've never seen a kid so excited about something even as small as a pencil eraser topper shapped like BB8. Please help me make his dream come true! #sweepstakes

Totally adorable, I need one #sweepstakes

This would drive my pugs crazy!.I must have one. #sweepstakes

How could someone not need BB-8 in their lives? #sweepstakes

Must have a toy for my kid (and me too). I love it!! I posted this comment as a Sweepstakes entry

I've never won anything but I would like to have one #sweepstakes

eager to test the patrol mode and voice control, going to be awesome! #sweepstakes

My kids would go crazy if we had one of these! #sweepstakes

I´m a big fan of the star wars saga, and love the last movie. Have a bb-8 miniature replica would be nice, as bb-8 is a very funny droid and the droid you want to have #sweepstakes

Not sure who would love this more, me or my daughter #sweepstakes

My grandchildren are Star Wars fanatics so they would love this. Thanks for the chance. #sweepstakes

I need to have more fun and BB-8 would be so cool. #sweepstakes

I need this to chase my wookies! #sweepstakes

Might be a cute gift for my son. Not sure how long the fun/novely will last. I posted this comment as a Sweepstakes entry. #sweepstakes

A Sphero BB-8 would be a wonderful thing to entertain the pets with - #sweepstakes

Hopefully this isn't too late. I need BB-8 because BB-8 is an awesome little droid.

I need a BB-8 in my life cuz I'm a big nerd and I love this droid! #sweepstakes

I'm retired, it's the rainy season, this droid is just shouting out to me that it can keep me happy. :) #sweepstakes

I want a BB-8 to show off! #sweepstakes

OK! So you know those two under 5 granddaughters I have? Well first, BB-8 would be a wonderful distraction for them. Second, I LOVE "Star Wars" & third, the Patrol mode. Can I sit back in the lounger & sip my Mai Tai & BB-8 does the rest? Oh how I love modern technology. #sweepstakes

My boys are obsessed with Star Wars and would LOVE to have BB-8! #Sweepstakes

My daughter would love it if she could control her own BB-8 through my phone.#sweepstakes

I need this in my life for the fun factor. #sweepstakes

This is so cute! My grandkids would love it. #sweepstakes

Cause I have no money #sweepstakes

Need a new friend #sweepstakes

I need to win this #sweepstakes because they won't let me take my dogs to work but there aren't any rules about not taking a droid!

My kids (and me) are crazy in love with the new bb-8 droid / rc-bot. It would be awesome having an extra 'hand' empowering us to conquer the dark force (my wife? ;-) )! Bring it on... We are ready for it! #sweepstakes

I need one to confuse my pets #sweepstakes

I need this for my lovely brother

Would love one! I posted this comment as a Sweepstakes entry. #Sweepstakes

This would be a great desktop companion at work. #sweepstakes

What a great idea.bb8 was a hit this Star Wars movies. Now I want to be part of the fun. #sweepstakes

I'm a huge fan of BB-8 #sweepstakes

My elder brother is fan of Star Wars and he has two sons. So this toy will be the best present for brother's family - SPHERO BB-8 will get a lot of fun to boys and some time to relax for brother's wife))

My kids would love this #sweepstakes

I need one to take to the skatepark with me #sweepstakes

BB8 stole the heart of my one year old daughter and my wife. Right now I chase my daughter with a plush BB8 that we takes everywhere! I know that she would love to see a real life one moving after her as she is now walking! #sweepstakes #pickme #ineverwinanything

annoy the dog #sweepstakes

My girls love this cute little ball droid. I must have it :) #sweepstakes

These look really cool. My youngest daughter wants one for her birthday. #sweepstakes

I need a BB-8 to have him explore all over my college campus. #sweepstakes

the cat would love this! haha it would be fun. I posted this comment as a #Sweepstakes entry.

I need a BB-8 droid in my life because someone has to help find Luke Skywalker, the galxy needs him! Plus my dog has always wanted a litte droid companion! #sweepstakes

I need a BB8 because my R2 unit has been sitting unresponsive since a Long Long Time Ago. #sweepstakes

I would love to have to to give to my son who is a Star Wars fan. #sweepstakes

My cats could chase it as doggedly as the First Order. #sweepstakes

I need this because it is the cutest thing ever #sweepstakes

So my son gets a direction in life #sweepstakes

#sweepstakes I'd keep this at my desk, just for the sheer delight of it all!

This is an awesome gift for a Star Wars fan or any techie who loves bots. #Sweepstakes

I need this to play with my energetic puppy! #sweepstakes

I need a BB8 to add a little entertainment and levity to my day! #Sweepstakes

I would love to have this for my neices! They would have fun with it and probably know how to use it within 5 minutes! #sweepstakes

The kids would love this and I would be a hero! #sweepstakes

I would gift this to my Star Wars fans here at home b/c they would be head over heels about this prize!! #sweepstakes

I haven't been able to justify the cost, but want one for my boys (and I) SO BADLY. I could justify "free!" #sweepstakes

it wouldn't be so boring at my dorm :P. #sweepstakes

Something to terrorize my cats with :p #sweepstakes

My daughter would love this little guy. #sweepstakes

My 9 and 11 year old boys are huge fans of the latest Star Wars movie. We would have a lot of fun playing with this together. #sweepstakes

This woudl be fun for my grandchildren .#sweepstakes

I need this so I can have fun with it. #sweepstakes

to add to my Star Wars collection of course! #sweepstakes

I would love to have this in the office. #sweepstakes

I need this to fascinate the kids AND pets - if they are watching this they aren't needing my full attention. #sweepstakes

I need one to make all my friends envious! #sweepstakes

To scare the pets! #sweepstakes

I need this so he can become friends with my cat Stinky. I posted this comment as a Sweepstakes entry. #Sweepstakes

Love to play with this #sweepstakes

Why don't I need this? No clue. Why do I want it? No clue. Just want it. #sweepstakes Posted via the Windows Central App for Android

Why do I need one? Because it is so cool! Thanks, WC! #sweepstakes

This Droid could be the one thing that helps my cat stop worrying about the red dot she can never seem to catch. (Don't worry, I wouldn't let her damage BB-8 - she could just chase it around). #Sweepstakes Posted via the Windows Central App for Android

So, hey guys, I need this lil BB so I can show off my Lumia by saying "This IS the Windows Phone you're looking for".. Heck yeah!! Oh, entering the contest.
#sweepstakes

cuz it is soooo much fun! #sweepstakes

And why wouldn't one need this in their life? #sweepstakes

This is so cute! #sweepstakes

The BB8 could be the friend i never had. it is awesome! #sweepstakes

I need one of these to keep my pets, my son, and my me entertained :) #sweepstakes

I will use it to mess with my dogs lol. #sweepstakes

Perfect thing to use to distract the minions :) #sweepstakes

It'd add some joy to my life :) Work can be boring :) #sweepstakes

I need BB-8 to for droid office races!

I love Star Wars and this would be so much fun to have around the house! #SWEEPSTAKES

Ineed this to add some excitement fun into my world.I posted this comment as a Sweepstakes entry

this is very good droid. the app is on par w iOS. i want a second one to share with my nephew. #sweepstakes

Perfect gift for my nephew's birthday.
#sweepstakes

Would love a BB-8 because all robots needs friends and this would be the best robot friend a robot can have #sweepstakes

To terrorise the cats, obviously! #sweepstakes

My grand niece would love this. #sweepstakes

if i win this BB 8 i will make poor street children in Uganda the Pearl of Africa happy and they will be happy to know that microsoft company care about them #sweeptakes.

Very cool stuff! #sweepstakes

It would perfect company for my Roomba. They'd get on great! #Sweepstakes

Give it to my kid #sweepstakes

My husband is a BIG Star Wars fan & loves all the new technology gadgets that come out. he would love this! #sweepstakes

I need one of these to add to all my Star Wars collectibles. It's also amazing how the technology makes it mimick like the character in the movie. Love new technology! #sweepstakes

i need this in my life b/c we loved the movie! I posted this comment as a Sweepstakes entry #sweepstakes.

My 5yo son and I would love to drive my wife nuts driving this little guy all over the place! Father-son bonding at its finest! #sweepstakes

i need one in my life so i can have a robot also to look around when im not home #sweepstakes

i need it to watch and safe my pets #sweepstakes

i think this is an amazing toy that could have some pretty cool iot uses. if allfails its still an amazing toy #sweepstakes

I need to start somewhere with a Star Wars memorabilia collection. And it'll be fun to get my cat invested in Star Wars as well.

#sweepstakes The Sphero BB-8 would certainly be fun and interesting to have, win is even better. Love checking out new gadgets, this Star Wars themed toy has come a long way from the ones that came out with the original movie!

I need a new toy. :D. #sweepstakes

I think I'd use it to chase my toddler around (or be chased by toddler). #sweepstakes


The kids and dogs would love it and I would have fun with it too. Goodbye barney and hello BB-8.
#sweepstakes

I need a BB-8 in my life b/c it is so cute and would be loads of fun to play with #sweepstakes

I work at a public school and with the new coding app they released for this little guy, it would be a great way to introduce kids to the programming world! #sweepstakes

Why WOULDN'T I need a Sphero BB-8 in my life? It's the coolest thing ever! #sweepstakes

It would be fun seeing the family pet go crazy! #sweepstakes

I need this for my husbands birthday present.

I need this for my husband and my daughter, they would love this #sweepstakes

I need it because I think it would be awesome to see the world at 6 inches... #sweepstakes

need it so when I'm developing at work I can have something to get my mind off of it. :) #sweepstakes

This will be great to entertain our cats and me... #sweepstakes

I have the regular Sphero, and my dog loves chasing it. This would be a great addition to add to the collection #sweepstakes

i need this because i dont want a dog in the house. my kids will love it! #sweepstakes #sweepstakes

I need a Sphero BB-8 because he's so darn cute! And I'd love to watch my kids & cats reacting to him! #sweepstakes

Man my son would pee a little in his pants if he got this. He wanted one from Santa and didn't get it. #sweepstakes

BB-8 FOR THERAPY I would like BB-8 to use in my therapy session with kids, as I am a Therapist. I feel that it would allow them to be more comfortable in the sessions, and in turn open up more in the sessions. #SWEEPSTAKES


BB8's favorite class is DEB8. #sweepstakes #Windows10DoesMore

it would be great to play with ahahahaahaha i want one ! #sweepstakes

My 5 year old daughter has been getting into Star Wars, This would be a great droid for both of us to enjoy. #sweepstakes

I would love to have the Sphero BB-8 to impress my friends and my dogs would have a new friend lol. #sweepstakes


Would be great for the cat
#sweepstakes

This little guy looks really cool. Would make the office extra interesting. #sweepstakes

I need the BB-8 in my life to confuse my cats. They love to chase small remote control cars and helicopters. Plus, my nephews would think I was the coolest uncle ever for at least 15 minutes. #sweepstakes

To make my dorm look super cool #sweepstakes

Being a star wars fan (someone who watched "The Force Awakens" - twice in IMAX), this would be a nice star wars toy to have and play around. #sweepstakes

This IS the droid I am looking for... My girls loved Star Wars and this droid was one of their favorites. Getting this and then using the app will provide hours of fun, plus learning about how robots work which is one thing my oldest is looking into now. BTW they are 5 and 7... #sweepstakes Denny

i need bb-8 to be able to execise the dogs :) the vacuum doesn't do it anymore. #sweepstakes

i don't need it but B-88 need me.. :$ #sweepstakes

Would bmake a great gift! #sweepstakes

I would like to win this for my son, His mother got him the bigger one and they have no idea how to use it. I am preparing my son for windows and I got him a 640, but all the robots out there can only be controled by androids. I want him to use windows. I only get him every other weekend. #sweepstakes

Let the force be with me! Nuff said. #sweepstakes.

This would be fun for my son! #sweepstakes

So I can be the coolest dad on the block. #sweepstakes

i need this to show my friend my cool new robot #Sweepstakes

My kids will love bb8 #sweepstakes

I'm more for family fun. This would be a great application to introduce for fun in the family. BB-8 is one of my daughter's favorite Star Wars characters. She has hounded me ever since this came out. #Sweepstakes

i need a friend that won't talk back. #sweepstakes

#sweepstakes I need a bb-8 to show off at parties and at the office

I need BB-8 in my life to keep my son busy so I can play on the Surface Pro 3 that I won in the other sweepstake! #sweepstakes

It would be so cool to play with around the house. I posted this comment as a Sweepstakes entry.

Well, as a 40 year old man, I need a Sphero BB-8 to rekindle some street cred with all the kids in the neighborhood and my nieces and nephews. :-( #sweepstakes

It's pretty much a must-have item for any star wars fan. I want it!!!! #Sweepstakes

nice addition to the family. #sweepstakes

I've got to have one of these to chase my dog around the house! :) #sweepstakes

Droids, robots, gadgets - I love them all. Hope I win the #Sweepstakes

This is the best way to keep a smile plastered on everyones faces for hours! #sweepstakes

Who doesn't need a little more Star Wars in their life? #sweepstakes

Seems fun. I want one.... Comment is for the sweepstakes.

So I wont be alone anymore :) #sweepstakes

A BB-8 would be very amusing to use with my cat! #sweepstakes

The reason I think I would need one is to be able to teach my 5 year old niece a little bit about robotics. #sweepstakes

My son would be head over heels! #sweepstakes

i woud need it in my life, well lets be onest, who doesn't want something like this.#sweepstakes

its the perfect toy to play around with #sweepstakes

BB-8 woudl be so fun around the office too! Terrorizing my cats would be hilarious. #sweepstakes

I would love this to chase my ca little bit. #sweepstakes

I'd love to see how my dog reacts to it! #sweepstakes

Why do I need a BB-8 in my life..... beacuse the smile on my 14year old, Star Wars obsessed, Autistic son, would make it so worth while!!!
I posted this comment as a #sweepstakes entry.

BB-8 needs me more. Let it roll over here. #sweepstakes

A few weeks ago, my daughter met Sphero at our science center. It was love at first sight for her, but as Windows phone users, Sphero wasn't compatible. Sphero BB8 would make her day, and help encourage her to continue her robot investigations. #sweepstakes

May the force be with me #sweepstakes

I need it to take my parents into star wars! #sweepstakes

To keep me & my grandkids entertained. #sweepstakes

I don't need it, I just want to have fun :D #sweepstakes

The kids would love this. Additionally, tormenting the the cat with this would be a hoot! #sweepstakes

Let me quote my little friend PhoeB. "Hi. I am a four year old long haired Chihuahua. My friend Ziggy, the Amazon parrot, calls me Fee-BB-ate. I need a real BB-8 to keep an eye on Ziggy. Please send one to my peeps." And that's what she told me to write. Thank you.

Must have a sidekick to follow me around! #sweepstakes

BB8 would be amazing! I would chase my kids around the house. lol #sweepstakes

I need this because this is the droid I have been looking for! My white and blue one gives me way too much attitude. :) #sweepstakes

Cute and cool toy, love it! #sweepstakes

I need this to chase my roomate's cat around #sweepstakes

Because I work with kids and need it to go next to my lightsaber on my desk #sweepstakes

roomba needs a friend #sweepstakes

Being just a big kid at heart this would be the most coolest new gadget and my dog would love it too! #Sweepstakes

My son is a huge Star Wars fan, and he would absolutely go nut if I won this for him.. so ya, I'm entering to watch my son go nuts lol Thanks for the chance to win this #sweepstakes

I need for my sons #sweepstakes

I have never had one, it's about time. #sweepstakes

My grandson would love this #sweepstakes

Would be fun to watch how my dachshound would react to this rolling around the house. #sweepstakes

What house of cats doesn't need BB-8 to show off to all the neighborhood kitties that we have the coolest cat toy EVER! #sweepstakes

OMG I need this BB-8! I played with one in college and loved it, my two boys (and husband) are into gadgets and would have a blast! I could use it in my classroom for STEM too! #sweepstakes

My son and I would have hours of fun playing with BB-8. #sweepstakes

I would let my door chase it around the house while I drive it. #sweepstakes

I have seen all the star wars movies there are to see... multiple times. #sweepstakes

I have a 6 year boy who loves star wars. #sweepstakes.

I need this so I can control it like a Jedi when the force band comes out! #Sweepstakes

I need this so I can control BB-8 like a Jedi with the force band thats coming out. (Also because my childhood dreams will be complete) #Sweepstakes

Well, I'd love to say this would be for me because he's awesome - but I know my son would go nuts for this! :-) #sweepstakes

Sounds like a good place to hide a microphone with which to spy on people. #sweepstakes

It is the droid i am looking for

Who doesn't need a BB-8? #sweepstakes

I need a BB-8 in my life to chase my cats around. Plus he's so cute. #sweepstakes

To chase our new puppy, ha ha #sweepstakes

I need a Sphero BB-8 in my life, because this would be my very first smartphone-controlled device and I know I could entertain my Star Wars fan friends and my cat with Sphero BB-8! This post is as an entry into the sweepstakes. #sweepstakes

why? its the cutest star wars droid ever.....duh! ME WANTS! xD #sweepstakes

Because why not. #sweepstakes

Kids would love to have one. #sweepstakes

To have a friend! #sweepstakes

I dont need one but my 5yr wants one. She feel in love when I took her to see the movie. I would give it to her. Honeslty though, i would play with it too. Thank you #sweepstakes

I love BB-8!!!! He is the cutest. still love r2d2 but BB-8 is the baby. I have 2 young nephews one new born niece. and my 18 yr old son. I want to be the cool aunt with the latest interactive toy we all can enjoy together.#sweepstakes

As a person that i grew up with the start wars classics and keep watching up to the latest films i always dreamt to had my own r2-d2, now the time has come that we can have our own bb8 drone that has a personality also ? what more someone could ask for ? #sweepstakes

Cats always need something else to play with. #sweepstakes

I need the Sphere BB-8 as a present to my step son! #sweepstakes

it's me vs the cats #sweepstakes

I need a BB-8 in my life so I'll finally have someone or something that obeys my commands. #sweepstakes

Happy hour for games! #sweepstakes

Would love to watch my dog's reaction to BB-8! #sweepstakes

This IS the droid I was looking for! Let the Force be with me and Win the BB-8 #sweepstakes

My daughter absolutely loves BB-8 and my bf is a huge Star Wars nerd #sweepstakes

BB8 for me, to give as a present for my husband, who is a huge star wars fan #sweepstakes

I need a BB8 to entertain my 5 year old. He's a huge Star Wars fan. #sweepstakes

Oh wow! My wife is a Star Wars fanatic and whenever she sees BB-8 on TV, she always says she must have one. She actually took me to see The Force Awakens AGAIN last night. She is pregnant with our first kid and this would be perfect for her while she waits for the baby to come and to help make our kid a huge Star Wars fan! All those beeping noises will really soothe the baby. Oh, and I wouldn't mind playing with it either to chase our dog and cat #sweepstakes

Who doesn't need some BB-8 in their lives? it was great in the movie. With constant updates its a toy thats always evolving which is great! #sweepstakes

Work is so stressful. I need this droid to make me smile! #sweepstakes

BB 8 is the best robot I have ever seen...I would love have him!
#sweepstakes Posted via the Windows Central App for Android