Windows 10 Gems: Get flexible with Yoga Studio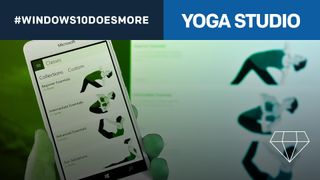 #Windows10DoesMore
With these Windows 10 Gem apps
With support from Microsoft (opens in new tab)
Yoga Studio
Technology, whether in our hands or at our PC, is not always about distractions, entertainment, or gaming. Using computers also to improve our health is always an exciting venue that lends itself to more scrutiny.
Today, we're taking a look at Yoga Studio, which is one of the biggest names in yoga education. Yoga Studio is a top app on iOS, but it is now also available as a universal app for Windows 10 and Windows 10 Mobile. New to the world of yoga? So am! Let's see what Yoga Studio is and why you want to take a look!
Download (opens in new tab)
What it is
Yoga is one of the oldest "physical, mental, and spiritual" disciplines going back a couple of thousand years to India. Today, the practice has exploded in Western culture as people look for various ways to cope with daily stress and fatigue.
Yoga Studio is an app for Windows 10 PCs and Windows 10 Mobile phones that let you jump into this world at a beginner level all the way up through advanced.
The app lets users pick the class, level, and style (e.g. for runners, or for those with back issues) and teaches you through HD video tutorials how to do the poses though a full-featured class.
Users can schedule classes through their synced calendars to keep on track and progress through the various levels. More advanced users can even create custom classes by mixing and matching preferred poses, styles, and levels.
Why it's awesome
Since Yoga has become all the rage in Western countries, it is not very hard to find a local studio to join. However, like all classes you will be required to fork over monthly membership dues, attend classes as prescribed times on their schedule and, of course, travel to the location. Ironically, spending money, making class time and the travel to and from the studio may add to your stress while the class itself attempts to undo the frustrations of your day.
Yoga Studio lets you work at your pace, wherever and whenever. Normally Yoga Studio runs $3.99, but until March 20th you'll be able to download the app for free — no ads, no nickel-and-diming, just all the classes you'll need to get your yoga on.
Through the app, you can download the HD videos to your phone or PC, add a class to your schedule for a reminder and explore the world of yoga at your own pace in the comfort of your home.
Wait, yoga?
Personally speaking, I have wanted to take yoga for a few years now. I regularly lift weights and do cardio but as I have aged my flexibility (which was always poor) is starting to catch up to me.
Case in point, a few years ago I pulled my back doing simple house chores. Once you do a strain like that you are always susceptible to restraining that injury and in fact, I have done so numerous times. And while I use a standing desk I cannot say my posture is all that I want it to be as I often slump my shoulders. Doing simple stretches in the morning and after working out has helped, but these were always at my discretion, unguided and frankly, uninformed.
Taking yoga is supposed to alleviate not only stress but improve flexibility, help runners, people with back issues and, in general, improve your overall fitness. What many have perceived as a 'girl thing' is now much more widely accepted as common practice for those concerned about health and well-being.
Still, I cannot say that going out and taking a full-fledged yoga class was on the top of my to-do list. Going by myself to a class or fitting it in with my crazy, near non-stop work schedule is also not practical.
Yoga Studio lets me learn and explore this new world right in my apartment without any awkward public moments. Hey, we're not all strong people who feel comfortable doing these things! At the very least, I am using Yoga Studio as a stepping ladder. Once I'm comfortable doing this and have the basics down, maybe I'll go and find a true teacher. It's all about moving in the right direction and for four bucks I am not risking a whole lot here.
Unwind and recharge
Hit us up on Twitter with your favorite way to kick back and relax with your computer or phone, and include the hashtag #Windows10DoesMore!
Tweet your favorite #Windows10DoesMore entertainment app!
Yoga Studio on Windows 10
The Yoga Studio apps for Windows 10 and Windows 10 Mobile are true Universal Windows Platforms apps written natively for Microsoft's platform. Running the app on your phone is the same as on your Surface.
The app is very straightforward with a nice introduction tutorial that can be re-visited at any time under settings. From there, you can navigate through the various collections of classes, including essentials for ranging from beginners to advanced, sun salutations, deep relaxation meditations, quick fix yoga, and yoga specifically for runners and back pain.
Within each collection, there are subsets including Ability, Focus, and Duration each with a subgroup of classes.
Users can also skip to just Poses, which is like a visual glossary of the various articulations in yoga along with descriptions, benefits, modifications, advanced variations and things to be careful about when attempting.
All the classes have an associated HD video for the duration of the course. These videos are downloaded to the device and under Settings a user can see how much space Yoga Studio is occupying with these videos and with a touch of a button clear it out as well. Downloaded classes will show up in the Studio section for quick access to subsequent retakes.
Don't like your phone's small display? All videos can also be cast as well so that with your phone you can cast the class to your TV, Xbox One, Roku, or using the Microsoft Display Adapter.
Likewise, all types can be added to your calendar and will appear on the app's built-in calendar for quick reference. Since the app integrates with Outlook Calendar, the information can sync to all your devices and serve as a quick reminder.
Yoga Studio features a rather simple but smart Live Tile that reminds you of your next scheduled class. There is also a detailed search engine to locate specific poses and classes from within the app.
Under settings, there is a very nice allotment of choice to make the app tailored to your desires. For instance, you can change the audio volume. You can also have a narrator (teacher) talk you through the class, just a calling out of the pose (for more advanced users) and for those who have memorized the class you can just hear a chime that lets you know to shift. You can even control the ambient background volume and choose between things like a flute, waves, birds, guitar or none.
For those concerned about cellular data and usage you can optionally turn off downloads when on metered connections (it is off by default).
Both versions of the app run very well on Windows 10 and Mobile with no issues, conflicts, or instability issues. The app maintains a very high 4.9 (out of 5) rating on the Store with very positive feedback as well.
Wrapping it up
Yoga is both a very personal and intriguing hobby and exercise to begin. If you have thought about taking yoga, but simply do not have the time, the money or are just not sure if it is right for you then you need to try Yoga Studio for Windows 10.
Yoga Studio for Windows 10 and Mobile is well designed, easy to follow, well-paced and as a high level of production.
Whether you are new to yoga or have been doing it for years there is something here for everyone and earns a spot on our Windows 10 Gems spotlight!
Day 7 Sweepstakes:Win a Microsoft Band 2!
How to Enter: Log into Windows Central and leave a comment on this post letting us know how you would use a Microsoft Band 2 in your health regimen. At the end of your comment you must also indicate you are posting as an entry into the sweepstakes, or use #sweepstakes.
Full rules and regulations can be found here, but please note that due to sponsor restrictions, the sweepstakes is only open to Windows Central readers in the US and Canada.
The sweepstakes is open until March 31st, and winners will be announced on the blog shortly after the close date.
The Prize: Two super lucky Windows Central readers will take home a Microsoft Band 2!
Follow Daniel for even more #Windows10DoesMore
Twitter: @Daniel_Rubino
Instagram: daniel_rubino
Windows Central Newsletter
Get the best of Windows Central in your inbox, every day!
Daniel Rubino is the Editor-in-chief of Windows Central, head reviewer, podcast co-host, and analyst. He has been covering Microsoft since 2007 when this site was called WMExperts (and later Windows Phone Central). His interests include Windows, laptops, next-gen computing, and for some reason, watches. Before all this tech stuff, he worked on a Ph.D. in linguistics, watched people sleep (for medical purposes!), and ran the projectors at movie theaters because it was fun.
I definitely would want to win an MS Band 2! #sweepstakes

I would use a band 2 for my golfing game and for my nightly runs. And the occasional bike ride with my kids :) #sweepstakes

I wish I could use Zombie Runner with the new Band 2 I'm going to win #sweepstakes

I'd use the band to help me get motivated to lose 20lbs. #sweepstakes

Having a Band 2 might actually encourage me to have a health regimen. #sweepstakes

I have feel this irritating every time when I have to lift up the mobile to check a notification. The band would be such a boon for that. It is small, convinient and flexible so I can wear it all the time even when sleeping. #sweepstakes.

I would definitely use the guided workouts feature of the Band 2. I have a 5 year old and he's showing me that I REALLY need to get into better shape #sweepstakes

I'd use it to lose weight. My wife says I'm fat. #sweepstakes

To help keep my phone in my pocket and start enyoing the world better. #sweepstakes

It would definitely help in the consistency of my workouts. #sweepstakes

I would love to get a Band 2, as it may give me incentive to workout and run again. #sweepstakes

After 15+ years of doing absolutely nothing, my wife and I have started exercising again this year. I already have a band 2 to tracck my workouts, but she would love one as well. The sleep tracking is also a huge bonus. #sweepstakes

Why you write such amazing articles Daniel...? I love them..

would make working out a lot more fun for me. #sweepstakes

I'd use it for guided workouts, step/stair counting, and bike rides. #sweepstakes

I would like to try the band 2 now Posted via the Windows Central App for Android

Oops #sweepstakes Posted via the Windows Central App for Android

Band 2 !!!!! Awesome product. #sweepstakes

I would use it to help monitor my workouts! #sweepstakes

This would allow me to improve my yoga skills and check how hard I am working #sweepstakes

My wife and I just turned 60, so we're defintely going to begin an exercise regimen consisting of daily long walks, progressing into running. I have a Band 1, so it would be awesome of she could have a Band 2! #sweepstakes

I would definitely use it to go running or walking. Tracking all my activities throughout the day would be awesome. Notifications on my wrist would be awesome too. #sweepstakes

i'd love a Band 2 to help manage my life. #sweepstakes

I would love to add a band to my workout routine to really track how my workout is going! #sweepstakes

I would use The MSFT Band 2 for my weekly hockey games, golf league, gym workouts, running outdoors, notifications, and other uses. It would be an awesome product to wear daily. #sweepstakes

A Microsoft Band 2 would help me keep my golf game on point and kickstart my wife and I in our resolutions to lead a healthier life. #sweepstakes

Apps like this would be perfect for uwp on Xbox. An MS band and great apps can get anyone fit. #sweepstakes

My old Nike Fuelband is broken, I need a new tracking device to manage all my activities, and the Band 2 is perfect (beautiful too).

I'm starting to get back in shape and this would help a lot in the journey #sweepstakes

I already use the Microsoft Band 1, and use it to keep track of my workouts and runs. The Band 2 had extra features that I would use everyday.

I would use my Band 2 for my daily workouts, see what results i'm actually doing #sweepstakes

Having a Band would add some extra motivation to work out more. I love stats, seeing trends (ideally for the better). :) #sweepstakes

It would replace my 'hold fingers against neck" to determine my heartrate while atempting to get back into running shape.
#sweepstakes

I'm wondering if a Band 2 would actually get me to start a fitness regimen. #sweepstakes

I know this is irrelevant to this post but if you could please take some time to report a publisher in the store by the name "Justo Apps". This ******* is plaguing the store like crazy with fake apps. I've reported all of them. *Only saying because it matters*. Posted from Windows Central for Windows 10

I would like one to stay fix and write awesome apps for it. #sweepstakes

I would use a Band to help my wife and I track our fitness and help us both lose weight. We both need to get in better shape than round. I am entering the #sweepstakes ;)

I would use the MS Band 2 on my runs. It would be a most welcome update to my MS Band 1. #sweepstakes

I'd love to get a Band. I'm obsessive about data and this would be perfect. :) #sweepstakes

That a good looking band 2 #sweepstakes

So many things to do :-), I would: 0) Check the time with a twist of my wrist 1) Track my sleep and view analytics and recomendations to sleep better 2) Track everyday activities like steps and floors climbed. 3) Follow downloadable workouts 4) Create my own customized workouts 5) Track and share my bike rides 6) Control my music on my lumia. 6) Talk to Cortana to schedule, translate 7) Read my SMS, emails, notifications without looking at my phone 8) Check who is calling and send SMS if I can't answer 9) set my smart alarm to wake up more refreshed in the morning. 10) Let me know when I've been sitting idle for too long. 11) Compare my activities to my peers 12) Track my UV exposure in the summer to keep away from the being too long in the sun 13) Pay for my starbucks coffee in the morning 14) Customize the look of it with my own wallpapers 15) Track my weight 16) Share my stats and workouts through email\social media 17) Compare my workouts over time, to see how I get in better shape... 18) Checkout the maps showing my bicycle rides and runs #sweepstakes

This would be great if I could broadcast it to my large screen TV #sweepstakes

I want the upgrade to the Band. Would be nice to have for running again. Plus i liked having the notifications on my wrist. My current band is down for the count, after it got wet and the battery shrink wrap was scrached off. #sweepstakes

I would us the Microsoft band 2 as I continue to lease weight taking advantages of the application MS health and it's ability to track and motivate me to get healthier. this post is for the Microsoft band 2 contest ​ ​ ​

My husband has this fitness band and I am quite jealous! We love to compete with eachother this would help me tremendously!! #Sweepstakes

I would get in shape for my wedding

I'd love to track my workout with it. #sweepstakes

I am planning to use the MS Band 2 for my phone notification, cortona, sleep tracker and workouts. #sweepstakes

I would use the Band 2 with my windows phone to keep track of my health goals and progress. #sweepstakes

I would love a Band 2 to help me with the back issues I've been having. I need physio pretty regularly and it's hard to keep up with exercise regimens without a good reminder and a way to track them. #sweepstakes

I'm working as a software consultant. Although I really like what I'm doing (because I can work on mey different projects with many different clients), I'm really missing exercises. That's the disavantage of the job: you'll be sitting in offices all day long. A Band 2 would force me to do some exercises (like taking stairs instead of a lift) during workign days and on the weekend. To be honest: I'm curious if wearing a Band 2 would force me to do additional exercises. Would be a very interesting experiment and I would for sure post my experiences ;-) #sweepstakes

Well, it's interesting to see this article. I just started picking up an exercise regiment. The workouts are starting after losing nearly 80lbs (was at 300lbs). Anyway, having a yoga companion to help stretch and strengthen the core and have it be tracked by the Band 2 would be awesome. Not to mention that this is being written on a Lumia Icon (yes from Verizon ( sad the Lumia 950XL isn't joining their service)).

As a 48yr old with severe Osteoporosis (due to Celiac disease) I walk, run and lift weights to keep my bone loss at bay. I would use the Band 2 to monitor my activity and to help keep me motivated to continue my excerise regimen. Thanks!! #sweepstakes

i will use it for my work outs.

Would love to have a Band 2.. would fit in well with my Windows Phone and SurfaceBook.. the three tightly integrated woudl be nice to have. #sweepstakes

I would use it to keep track of what I eat #sweepstakes

I'm a tech enthusiast, and I was planning on getting into cycling. I always seem to lose motivation when I try something new, but I'm hoping that the gadgets will keep me motivated. I'd use the Band 2 to track the changes to my health throughout this journey. #sweepstakes

I'd use the Band 2 to track exercises! Gamifying healthy activity and eating definitely works for me. #sweepstakes

I would use it to track my achievements during my workouts 3 times a week. perhaps it will motivate me to do more #sweepstakes

I am planning to use the MS Band 2 for my phone notification, cortona, sleep tracker and workouts. Thank you #sweepstakes

I'd wear my band all day long and keep record of my dauly activities #sweetstakes

It would be awesome to replace my Fitbit for the Band 2. I really want to try guided workout with it. #sweepstakes PS. I'm so happy that Yoga Studio is finally on Windows.

I'd love to see how high I could make the numbers go! #sweepstakes

This'll definitely help with the misses fitness goals

Definately would want this, especially now that the weather is getting nicer. I would be tracking my walks/runs and my calorie intake with the MS Health app. #sweepstakes

I'd use a MS Band 2 with the TRAINR app that was shown off months ago (I've only gotten up the willpower to use it a few times but I'm sure it's more enjoyable with the Band). I'm also hoping to incorporate Band support in an app I'm developing, and it would be cool to be able to test it on a Band 2. #sweepstakes

I would use band 2 in conjunction with my 950 to track my activity during the day and my sleep at night. I play tennis, lift, run, do pilates and would love a way to track all of that. Also the notifications and Cortana integration looks really cool. Plus it tells time and I like wearing a watch. #sweepstakes

I'd love one to round out my MS stuff #sweepstakes

I had open heart surgery a few years ago and I am diabetic. I need to lose about 75lbs or so. The Microsoft Band 2 would definitely help me with my goals for a healthier life.

This'll definitely help with my ladies fitness goals. #matchingbands #sweepstakes

Motivate me to get up and move #sweepstakes

I wouldn't take if off. Use for working out and work. #Sweepstakes

I would definitely start running or biking in the mornings #sweepstakes

This would be a great upgrade for my wife's Band 1! I love my band 2. #sweepstakes

I'd use it to START my workout regime, I need motivation! #Sweepstakes

I'm really interested in using the sleep tracking feature of the band 2. Also, it'd be nice to know how many calories I burn a day. #sweepstakes

Who doesn't want a Band 2? #sweepstakes

I would track my steps and my sleep with the Microsoft Band 2, and always be on time! #sweepstakes.

I need to track my sleep with the Microsoft Band 2. Bonus for going out biking or running and tracking route and heartrate. #sweepstakes

Definitely need to win this sweepstakes. The band would allow me to keep track of my running distances. Well, walking actually...

Yes I would love a band 2 please #sweepstakes

Yogi Studio. + Band 2 nice

I would use it to watch my calorie count and steps. #sweepstakes

I just bought a Band 2 for my wife. She loves it! We both want to start exercising more and this would give us both the option to workout and compare notes that our Bands take for us. A side note of quietly seeing and/or responding to messages, or app notifications seems like a win win. #SWEEPSTAKES

In the ever persistent battle to finally work out and be fit, a microsoft band 2 would be super beneficial! #sweepstakes

I want to win the band 2 to help me with getting healthy and getting the most from my windows phone. #sweepstakes

I'd use it to monitor my health and time spent on the can. #sweapstakes Posted from my 950xl.........while on the can

I would use it to keep track of my 3 month training regiment.

Time how long it takes to wait for someone to get off the equipment I'm trying to use. #sweepstakes Posted via the Windows Central App for Android

If I were to have the Microsoft Band 2, I would of course add support from my applications as a developer for UWP. I would of course put it to use with it's health tracking functionalities. Also, with all of the other new sensors it has compared to the first Microsoft Band, I am blown away. I especially love the new music controls, which I would use quite often as well as Cortana, texting, calling, notifications, etc... Again, thanks for this opportunity Windows Central! #sweepstakes

Yogi Studio. + Band 2 nice #sweepstakes

I will use it to track my training progress for my half-marathon in Montreal and the boot camp races I have lined up this summer. Also to look fly! #sweepstakes

I will be honest. I am overweight and would love to drop the pounds. My wife has been using a Garmin Vivofit to track her steps and calorie count. This is what I would use the Band 2 for. It would be a very useful tool in my quest to get back into shape! #sweepstakes

Looks handy for tracking time on exercise machine and bike rides! #sweepstakes

I'd love to have the step counting and heart rate tracking. #sweepstakes

I would use the Microsoft Band 2 for guided workouts! #sweepstakes

Hell yeah, mine is broken. Thanks for reminding me to ship it out for repair. #sweepstakes

Track bicycle rides #sweepstakes

I would use the Band to track my new workout regime and check on my sleep patterns. #sweepstakes \\Greg

I want to win the Microsoft Band 2 to help me with my sport training and get the most from my phone #sweepstakes

This app seems like a really interesting ways to expand my body workout, and using a MS Band 2 would bring me a lot of control over my pace and information to empower my workouts and daily life. I'd love to be able to use them both together! #sweepstakes

I have just started biking with my Band 1. Using the Band 2's power saving GPS mode, I can bike further. #sweepstakes

I've tried Yoga off and on during the cooler months. I would be open to giving Yoga Studio a try. Being on XBOne is great as well. I could track workouts with a Band with it all integrated into Health. nice

I'd use it to track my calories during my workouts daily and for tracking my sleep #sweepstakes

I don't do Yoga, but I do know that Yogi is smarter than the average bear, and I'm also a fan of Yoda. With a new MS Band 2, track my marathon training I would. I could also track the calories I eat from that stolen pick-a-nick basket. #sweepstakes

I would use the Band 2 to track my bike rides, and make sure I take enough steps per day! #sweepstakes

The band would force me into doing more by making my inactivity visible to me, would make me do more than just my few gym visits, and the notifications from my phone would be great to! #sweepstakes

I would like to use the band to track my activity and possibly my sleep patterns. #sweepstakes

I could use it. #sweepstakes

How would I use a Microsoft Band 2? Let me count the steps...
I would count steps to the depth and breadth and height
My legs can reach, when feeling out of sight
For the ends of treadmills and ideal fitness. #sweepstakes


I would use a Microsoft Band 2 to help me with my Nerd Fitness (For the Rebellion!) routines and exercises :) #sweepstakes

I would log my rides and upload them to Strava, I would log my sleep, I would use it as a watch, I would see who is calling me before answwering with my bluetooth handset and while my phone is in my pocket, and I would even do some app development for it.
#sweepstakes

Used wife's Fitbit flex but lost interest, since she is a big yoga fan I can both join her and elucidate the greatness of the UWP, and justify a continuum dock in the process. Would also be a great item to take into BWCA this summer. Winning....
#sweepstakes

#sweepstakes I am a computer scientist and i nead a band 2 to make me get off my computer!!

MS Band 2 will replace my Surge. 7 days of battery? yeah right. More like 3 days top, that's with everything off and only about 40 minutes excersise daily (not even with GPS on). With this kind of battery, I'd go with the Band! #sweepstakes

I have band version 1. I like it but the erratic and finicky charging drives me crazy at times. I'd like to get a band 2 which will hopefully be much better. I'm a type 2 diabetic and it would hopefully enable me to get in better shape and tame my stress #sweepstakes.

Planning to lose some weight. Yeah that sounds a bit usual for a tech geek but yeah I need this :D #Sweepstakes

I'd use it to track my sleep as well as my runs. I'd love it. #sweepstakes

I am a runner and would use the band to keep track of my vital health stats. #sweepstakes

I'd use the band to help me get motivated to lose 35lbs. #sweepstakes

i would use it to kepp my body fitt #sweepstakes.

Boy could I use this right now.
The band would be nice too! #sweepstakes.

I would use it to get ripped and then have Cortana remind me to get duct tape. #sweepstakes

Good luck people from USA and Canada! Unfortunately,I can't take part to this :(
#sweepstakes

My fitbit won't hold a charge, need a new fitness tracker! #sweepstakes

Of all the fitness gear, band 2 is the best!!! #sweepstakes

at the age of 60, I have achieved a weight loss of 130lbs... now my goal is to complete a 6.93 walk/run in support of PTSD.... a band would really help motivate me, plan my workouts and keep me connected to the music on on my lumia 950xl.... so you see I am most deserving! #sweepstakes

This would be super useful as I roll out of school and work on getting back into shape (major downside of a desk job). #sweepstakes

As a person who just got into fitness a Band 2 will go well with my fitness needs. #sweepstakes

Just like the picture, I want it to refer to me as a snail and tell me to move more. Or I may let the kids wrap it up and give it to my wife for Mother's Day. #sweepstakes

I would use it to track my golf and excercise. #sweepstakes

I would use the Band for my walks to work, my skating, my bicycle rides...

Mostly to keep track of walks and basic biometrics while walking or doing light exercise. #sweepstakes

would like to keep better stats on my biking routines #sweepstakes

I would use this to enhance my newly found plant based diet. I would utilize all of the great features and keep track and try to obtain optimal fitness. This would be GREAT thank you fot the chance

Walking and i walk everyday. It would keep me going more. #Sweepstakes

I would use the Band 2 to track my sleep and steps, easpecially stairs, since I walk up and down stairs all day long. This would help me to get a better grip on my health. I want to be around for a long time, so I can watch my 2 little girls grow up. #sweepstakes

I would use the band for losing some weight. I'm very fat. The device makes lazy people more active. #sweepstakes

I'd like to train for my upcoming marathon with a new Band 2 - from running, to yoga, sleep paterns and cross-training ... not to mention the odd game of golf on the rest days #sweepstakes

this would definitely help my get organized and on track with my workouts #sweepstakes

Hopefully having Cortana strapped to my wrist, and gently prodding me on, will help me become more active. #sweepstakes

Super app and chance to track the yoga with Band 2 #sweepstakes

Yes for the Microsoft Band #sweepstakes

I'd use the Band to help me gain some weight at the gym - Sent from Mars

Cool app. I would enjoy the new Microsoft band 2 to replace my old band

I would use the Band 2 to track my sleep, and I think the Smart Alarm is a very cool feature! #sweepstakes

I wan't a band 2, because it's awesome and I wan't to track my sleeping patterns. #sweepstakes, #band2, #INEEDIT

A Microsoft Band 2? I'd definitely love to have one of those. Perfect companion for my Lumia 830. #sweepstakes. The Windows Central Universal Application for Windows 10 Mobile on a Nokia Lumia 830

I would use the Band 2 to go running in the mornings.
#sweepstakes

Be nice to have a fitness band that actually worked with my Windows Phone... #sweepstakes

I would use the Microsoft Band 2 to track step and calorie goals. Plus it could track activities like golf, bike rides, walks, etc. Imagine checking the time by looking at something on your wrist instead of pulling a smartphone out of your pocket! #sweepstakes

I could totally use this to track my health in my quest to lose 50 pounds. Love it! #sweepstakes

I want the Band 2 to remind me to get up and move around/stretch on a regular schedule while working at my desk all day long. #sweepstakes

Wow! The Band 2 would be a nice replacement for my Band 1. I like my Band 1. More the one year with it. I like the feature set of the Microsoft band. Text, email and Phone call notification work well with Lumia640 on Windows 8.1. But I can NOT trust the band for my workout anymore, most of the time the Band 1 shot down in middle of a training session. 30 minutes. Even the night time monitoring cannot go through an 8 hour night. The battery life is a little more than 24 hours when not using any monitoring feature. Band 2 would be a nice welcome. #sweepstakes

I could really use a Microsoft Band 2 for my regime. I walk alot and could use this to keep track! #sweepstakes

As I've gotten older I've found that it has become even more important to keep track of my fitness. My doctor would like me to get at least 10,000 steps in per day, this device would be a great way to track it to show him that I am actually doing what he prescribed. A free band would be just what I need. #sweepstakes

I would use the Band 2 at the gym. #sweepstakes

I would use it to facilitate my journey to wellness.#sweepstakes

I would use the Microsoft Band 2 for my golf game. To use the Band 2 and get into better shape is a goal I would like to accomplish. Since I have twin boys now, getting in shape would help me in the long run to keep up with these guys. #sweepstakes

I'd use the Microsoft Band 2 to keep track of my workout routine. #sweepstakes

Yoga Studio is a great app! not just great but superb when it comes to wellness, we all know all the health benefits of YOGA to our body with this great app yoga is enjoying and easy as 1 2 3. Two thumbs up! More power to the developer!

I would use the Microsoft Band 2 to help me lose the 45 pounds I've gained the last couple years.​ #sweepstakes

Wife... Daughter... I want it too! #sweepstakes

I need the Band to track my daily exercise #sweepstakes

Hello I would like to see a variant of the band that can be used for swimming. It would be great, I would buy something like this.

How does the band 2 work with the Yoga Studio. Interesting App. Just hard to watch it on the phone or laptop and do it at the same time. #sweepstakes

I need to cover my cold wrists. Also I think the other features the band has are an added bonus. If i cant afford wrist warns I certanly cant afford a wrist warmer/smart watch. This band would elevate my goals to aggressively bold new highs. I need this to help me In my day to day life as a student to help me work smarter, sleep smarter and be on time for things. The list goes on.

I would use the Band 2 for sleep tracking and guided workouts! Guided workouts are awesome! ... and texting from the band is nice too. #sweepstakes

I would primarily use it for tracking heart rate during workouts. #sweepstakes

It will be a dream come true if I win this band.i am in love with Windows phone and accessories.

I would love to win. This is awesome and would really help me a lot! #sweepstakes

keep tabs on my sleep quality #sweepstakes

Looking to use the band 2 to track my cycling and basketball workouts. #sweepstakes

Yoga Studio is a great app! not just great but superb when it comes to wellness, we all know all the health benefits of YOGA to our body with this great app yoga is enjoying and easy as 1 2 3. Two thumbs up! More power to the developer! #sweepstakes

I would use my Microsoft Band 2 for a sales team step challenge/competition. #sweepstakes

I already have the original Band and love it! I use it every time I work out and love the guided workout function it has! The Band 2 would be even better! #sweepstakes

I would track my runs. #sweepstakes

Got one, it's awesome,my wife wants one to keep up with me. #sweepstakes

I'm as flexible as a flag pole. I should add some yoga to my routine! Hmmm...installing! :) I already use the original Band, but would love the additional features of the Band 2, most notably the ability to control music, which is a big motivator while getting the sweat flowing! #Sweepstakes

I really need to get in better shape and a Band would be a perfect assistance! #sweepstakes

I would use it to start running again #sweepstakes

This would be perfect to monitor my sleep schedule and workout routine! #sweepstakes

I have never been that health conscious or in shape my whole life. Now that I just finished college I am working hard with my wife to get into shape and lose weight. I've always loved technology and I would love a Microsoft band 2 to help track my progress, motivate me and keep me excited about getting into shape. Having all the data from steps to heart rate and even sun exposure would really help as I love those kinds of random statistics and it always helps motivate me! #sweepstakes

It would by my exercise #sweepstakes

trying to lose some weight, i need all the help i can get! #sweepstakes

i'd keep track of whether i'm walking enough each day. 3sweepstakes

Band 2 would be part of my regular running and gym routine, particulary the custom workout feature. #sweepstakes

It's nearly time to hit the bike trails in NW Pennsylvania. The Microsoft Band 2 would come in handy on those trails!

Just another try #sweepstakes

I would connect the band to my Microsoft Lumia 640 XL and use it in conjunction with the Microsoft Health App to keep count of the steps I take, stair I climb, and sleep I get. #sweepstakes

Would love this to help me get less fat! ;) #Sweepstakes

I would mainly improve my health life so that i can enjoy the time with my family and kids. I guess everyone reaches a point where its more important to be with them then do stupid lazy stuff. I would love to find ways to do outside activities with the Band as well. The other thing i would do it show it off at work cause it looks way better than the ones my co workers have etc. #sweepstakes #sweepstakes #ihopeiwin

I have never tried Yoga, but I might give it a try with Yoga Studio. I do dumbell weight lifting for upper body exercise, but could certainly use more flexability. I have a Band 1 but would really like a Band 2 for its added features.#sweepstakes

Well i will use for my daily workout and my morning runs. And i already have the 1 but my friend has the band 2 and she told me is the best workout band ever! And i know it is and i would be really grateful to get one :-) #sweepstakes

I would use the band to keep track of my bike rides and time at the gym - I need the motivation to get back into it regularly! #sweepstakes

I use a fitbit flex now but a band would provide me with more advanced data #sweepstakes

I would use a band 2 for a number of things. First I would use it to track my sleep. I would like to haven an idea of my heartrate during sleep and the know the amount of restful sleep I get in comparison to the timee in jbed. I also take walks every day for one to three hours and I listen to audible books while I walk.I have had a subscription to audible.com for almost 10 years and I have over 700 books and articles to listen to. With the GPS, elevation, and heart rate tracking I should be able to see where I have walked, how much I have pushed myself and the effect of changes in elevation as I go up and down the hills and the effects of variations in the speed that I walk. #sweepstakes

As a college studet I would love to have the Band 2 in order to get back in shape and keep my notifications in check between classes. #sweepstakes

I am currently training for a half marathon. Being able to monitor my heartrate and time more effectively would help me to gauge my progress better! #sweepstakes

I am just beginning to exercise, so I would use the Microsoft Band 2 to track my workout as well as it be my motivator to get up and move. #sweepstakes (I posted this comment as a Sweepstakes entry)

I would use the gorgeous Band 2 to motivate me. I run ...some times ... but i really would like to check and compare my performances. #sweepstakes

I just want a wearable, maybe pulling my phone out less will be healthy, I don't take anything with me to the gym, that's no place for cute stylish devices like the band #sweepstakes

After bypass surgery, I try to remain active, and it would be nice if I had a Microsoft band 2 to track my activity. I walk a lot mostly with the dog, I bike without him, use weights. posting as entry to sweepstakes.

I need a sanity check for my fitbit.

I will use it primarily to keep track of caliories burned and heart rate. #sweepstakes

YOGA! used to do it with 90X. Need to start again #sweepstakes.

I am planning on going on many bike rides, jogs, and hikes with my wife and 2 kids this year. It would be awesome to have the Microsoft Band 2 to track our routes and monitor health stats. Cortana control for my Lumia from my wrist would also be really awesome.
#sweepstakes

I would use the Band 2 every day for a various activities. I am trying to ake my training more compelling and having more stats is always fun to have. I would definately love the amount of things you can do with it and at how many time I would use it every day to monitor my traing, food, sleep, etc. Defintately would love to get one! #sweepstakes

I would use Microsoft Band 2 for motivation! #sweepstakes

I'd love a band, good luck to everyone. Posted via the Windows Central App for Android

I've been wanting to try out the Band 2 to see how good it is for suplementing data gathered while cycling every week. #sweepstakes

So... This is quite a coincidence: I need a new Band2 and I've been needing to start yoga for years. I own and use the Band1, it's been replaced a few times... But the band itself is simply very irritating. I've been super excited seeing the Band2 but always a challenge setting enough aside to make the purchase. I've been meaning to start yoga for years, the meditation and focus of health... And so each physical endeavor I started we're always driven with technology: Walked miles with FitBit, started cycling with Band1... So if I win the Band2 I'll easily be able to start yoga and lead to better health (app downloaded already!!). It'll also help me introduce yoga and continued better health to my two young kids.
The app is great, the fact it's universal is an added bonus which is why I've been such a fan of all things Windows10. #sweepstakes

I Would use it to check how much walking do i do on my work, i really wanna know it and brag to my friends about it.. #sweepstakes

Id love a MS Band to tracking my golf game as well as hart rate monitoring during my high intensity cycling sessions. Been looking at getting one since the Band 1 and have never quite pulled the trigger. #sweepstakes

Let me win that cool gadet to track my whole day performance! #sweepstakes

I posted this comment as a sweepstakes entry. #sweepstakes

I would give the Band 2 to my GF. She plays lots of soccer and is loking to get more fit for soccer, and would work great for training purposes of that. #sweepstakes

Just had big-time knee surgery. Would love to use the band to track progress as I do my physical therapy. #sweepstakes

Trying to get healthy. Would love to use the Microsoft Band 2 to track my activity and progress. #sweepstakes

Same here! Spread the MS love! #sweepstakes

I would use the band for monitoring my sleep, and as a motivator to go on a run more often! #sweepstakes

i'd love one to replace my wife's band1 ! :)

I would keep track of my exercise. #sweepstakes

I'd use the band to track my sleep or lack thereof, and to get motivated to get in shape again. #sweepstakes

I would use the fitness features! #sweepstakes

It would make monitoring runs faster then pulling out my phone. #sweepstakes

Because this happened *Band 1 broke if pic does not appear - snapped!!) :-( plus I need to get back on the wagon and walking/running again, maybe my Band quit out of protest die to lack of exercise!! RIP Band 1 #sweepstakes

ms band 2 needed for healthy living (entry sweepstake)

well, I would definitely use it to help get myself back into better shape. #sweepstakes

Just downloaded this app and it looks pretty cool. I will have to get my partner involved and see if she would like to do some of this stuff together. A Microsoft Band would do wonders to help keep track of progress #sweepstakes

This thing would assist me on my journey to lose 200 pounds. I would love to win this. #sweepstakes

I would use it to track and improve my sleep habits. #sweepstakes

The sleep tracking is a must for me. I have a number of sleep problems, and having this data to share with my doctor (though unofficial) makes life a lot easier in fixing some of the problems. Honestly, the Band 1 has made my nights a heck of a lot better, and it's even more accurate in Band 2! #sweepstakes

I would check my texts while I weightlift like a beast! Obviously doing some Yoga stretching first... #sweepstakes

I would use it for track. #sweepstakes

I would give it to my mom so she can throw away her Apple watch. #sweepstakes

I would use the search engine to locate specific poses and classes from within the app. #sweepstakes

I'm very much a data and visualization kind of person, so being able to track my heart rate, step count, hours of sleep, etc. and actually see it and graph it would give me a big boost in how I care for my body. I have a first gen Band but the rubber is beginning to disintegrate and I don't see it lasting much longer, plus Microsoft seems to have abandoned software updates for it. #sweepstakes

To help myself be more active and set goals. #Sweepstakes

If I won the Band 2, maybe I would get off my couch and move once in a while.

To track my yoga workouts #sweepstakes

I deliver and install PC,Laptop and Surfaces on a hospital campus 90% walking be awesome to track my activity.#sweepstakes

i would use a Microsoft Band 2 everyday for my daily morning 3 mile jog.I would put it to great use!

I would use the band to learn yoga basics at my own pace so that i can eventually go to classes with my wife. #sweepstakes

I do alot of computer work so the band would be great to remind me to move around when I get sucked into my work. #sweepstakes

This will help me stay on my goal to lose a few pounds and keep me very motivated. #sweepstakes

Yoga Studio - work at your own pace - love it! And I would use the Band 2 to track my exercises - fun! I posted this comment as a Sweepstakes entry. #sweepstakes

#sweepstakes this would come in handy with biking/hiking!

I would use it for my bike rides. Everything in one place. It would also become my everyday watch. #sweepstakes


The Microsoft Band 2 will help me to see how many calories I have burnt during a football game #sweepstakes

I would use a Microsoft band to keep track of my vitals and work on getting rid of my flab!!!! #sweepstakes

I would love to use the Microsoft band to keep track of and calculate how much to lift, and I would use it on bike rides and during drumline practice! #sweepstakes

I would love to try out a Microsoft Band 2, would be a cool thing to use. I need to get more active and healthy....

Been trying to get back into working out and having gadgets like this make is more enjoyable for a nerd like me. I really am tempted to try out the heart rate monitor and even the sleep tracking function on it. Looks like another solid Windows product

I wouldtrack my running progress #sweepstakes

I was use it to monitor my running and weightlifting!! #sweepstakes!! I would love to win

The office just moved to the 10th floor and my band 1 doesn't note the number of stairs, or remind me to move. #sweepstakes

Might have to try this one ! #sweepstakes

I would track my sleep patterns since I have severe insomnia #sweepstakes entry

Everything fitness plus all my notifications; it's a perfect duo that I intend to win! #sweepstakes

I am currently using a Fitbit but would love to challage myself even more with the new Microsoft Band 2! I posted this comment as a Sweepstakes entry #sweepstakes

I would use it during exercises and running! The yoga studio sounds great too! #sweepstakes

I would use it to help me lose some weight

Another great contest and prize! #sweepstakes

I would love to have a MS Band. I go for walks every evening, so this would be very nice to help me monitor my steps, distance, calories burnt, etc. Plus that feature that reminds to you move occasionally would be good for me as I work in IT, sitting at a desk every day. #sweepstakes

I would use it to help lose 10 more lbs #sweepstakes

well, with fitbit surge having broken I can use a replacement #sweepstakes seriously though, windows central is horrible on my lumia 950xl . Its so slow and clunky... Fix it!

I would use the band 2 for my walks/runs, for golfing and with all the tracking hopefully motivate myself do excercise more. #sweepstakes

I currently use my band (1st gen) for running, guided workouts, biking, golf, sleep - holy crap, everything. 2nd gen would be awesome to have! #sweepstakes

This app and arm band are just waht I need to get in Wedding Shape! #sweepstakes

Sleep tracking and golfing for the most part. #sweepstakes

A Microsoft Band 2 would pair with my Lumia 950XL perfectly and be a great Birthday gift! #sweepstakes

Already have a Band 2, use it to track my sleep patterns, running logs, exercise routines. Use the music controls, Cortana, remote camera, torch. Entering #sweepstakes to get another one for my daughter and/or son.

Great gem dig, I am in that category as well of wanting to get into a basics class to get more flexibilty and whatever else Yoga has to offer. Plus its free for full access and no Ads, its a no brainer. As for the band 2 I would use it to cycle, play basketball and track my intramural sports with friends and colleagues. I can certainly use it to track my sleep, its horrible and I know I am losing big time in that area. So sign me up #sweepstakes

I would use this band to monitor my intake for calories, sodium, fats and cholestrols.

It's been a while since I've taken to the mat, but with summer slowly approaching, now seems like a good time to get back into it. #sweepstakes

With GPS and a barometric sensor, the Band 2 would make a great replacement for a cycling computer #sweepstakes

I feel like it would be a huge step up from the band I"m currently wearing that just tracks steps. This would really help me stay on track..and make it fun! #sweepstakes

I have a super busy day, almost no time to move around, so I'm in desperate need of a health regime and better tracking device to help me remember and see progress. The Microsoft Band should help me track my sleep and exercise as I'm in desperate need of leaving this sedentary lifestyle behind for better health and longer living! #sweepstakes

Microsoft has bent over backwards for yoga. #sweepstakes

I'll use my new band 2 for my daily runs and workout regime #sweepstakes

The Band 2 would motivate me to run more, keep track of my steps, and my calories burned. #sweepstakes

Need it for motivation to actually work out. #sweepstakes

I'd use the band to help me reach my weightloss goals #sweepstakes

I would use the MS Band 2 daily helping to remind me to get my butt on the move. I gotta' lose this crazy extra weight I've put on since I stopped smoking the first of the year. #sweepstakes

Microsoft has bent over backwards for yoga! #sweepstakes

It would be great for fitness tracking, calorie counting, GPS capabilities and sleep monitoring! #sweepstakes

I need this in my life because It would keep me motivated and reminding that I need to exercise more so I can lose my extra pounds. #Sweepstakes


to check how i sleep and workout. monitor my oxygen level. and look cool. #sweepstakes #sweepstakes

id use it purely to help keep me motovated as my hip is at its all time worst thanks to perthes. Purely keeping track of how much i move would help.

I would use a Microsoft Band 2 to monitor my daily steps to make sure I am hitting my daily goal of 10,000. I would also use it to monitor my heart rate during work outs. #sweepstakes

I want to lose weight and track the fitness activity's when i try to accomplish my goal #sweepstakes

I want to get xbox live on my wrist! why else! #sweepstakes

Seeing that I already have (and love) my Microsoft Band 2 (also had the 1) I would auction it off for the American Cancer Society bicycle ride I do. It's called the Pan Ohio Hope Ride. Sure, it's in Ohio, but it's for the ACS's fight agaist cancer, which is everywhere. Having a way to give something back should hopefully get more involved. So, I would really appreciate the Microsoft Band 2. #sweepstakes

The Band 2 would be a great addition to my workout tools #sweepstakes

I would use a Microsoft Band 2 for just about everything I do all day. Be it walking, sleeping, working. This would be an outstanding replacement to my original Microsoft Band! #sweepstakes

I bought a Band 1 thinking that MS would actually update the thing so that I could add my own exercises to it....here's to still hoping that maybe MS will update the Band 2. Love the design and functionality of both and I'd really like to improve my workouts even more with a Band 2 as well as get the UV monitor. #sweepstakes

Tracking my sleep. I have the first band, but it's way to clunky to sleep with comfortably. Band 2 looks like the ticket! #sweepstakes

I was hoping to enter so I could use the Microsoft Band 2 to motivate me further (Motion Data & Health have already increased my daily steps by 50%), aid with workouts, track my activity and be my assistant on the golf course... but, again US and Canada only. #sweepstakes

I love to go to fitness and workout and I love Microsoft this is the perfect thing for me. I would use it to help me reach my goal of loosing 15 pounds.
#sweepstakes Posted via the Windows Central App for Android

I definitely would want to win an MS Band 2! #sweepstakes

Man, I would love to be able to strap on Microsoft Band 2 for a run and track my progress! #sweepstakes

#sweepstakes I needs ms band 2 to track my golf strokes and distances!!

I would use the Microsoft Band to remind me to move more (and not just my fingers on the computer!) #sweepstakes

I'm on foot all day at a cement plant, and I need to keep track of how many calories I burn so that I could supplement it with chocolate! :D #sweepstakes

I would use it to keep track of my workouts

I like the idea of someone telling me to move because I'm not active. I sometimes forget and just sit at the computer or watch TV. Help Posting as an entry into the sweepstakes #sweepstakes

I would love to use a Microsoft band on my Galaxy S6 edge! #sweepstakes Posted via the Windows Central App for Android

I would use the Band 2 for my workouts with my trainer, to show her how she kills me :). Also to show my Apple friends that Microsoft is open to all ecosystems. #sweepstakes

I would use it to track UV exposure because the sun gets intense where I live.

This would actually be a gift to cousin who loves mountain biking. He would love this and has always wanted this watch. Can't believe we're halfway done! #sweepstakes

The Microsoft band 2 would be great for my jogging #Sweepstakes

I'd use it as a fancy watch probably... #sweepstakes

i will use sleep recorder and for running!! #sweepstakes

I would love to have a Microsoft Band 2. I love to try new thing. At the moment I have Razer Nabu X. Would be very interesting to see this little shiny jewelery with me when I go run with a friend or go play some soccer or biking =). Wish luck to all Fans. This is very nice to have prize.#sweepstakes

I would use my band 2 for cycling and strength training. #sweepstakes.

i would use the band for running. #sweepstakes

I would like to try the Band 2 for running, weighlifiting and golf. I'm currently training for a marathon but never got my VO2 max numbers and I'm curious to see what the Band says about that. #sweepstakes

I'd use it to meet my active goals! #sweepstakes

I would use it to track my exercise calories #sweepstakes

I have a Band 1. I wish that more of these apps used guided workouts. I am hoping that DDP Yoga does it. I keep asking. :-D
#sweepstakes

Band 2 FTW! Going to give it as a gift if I am lucky enough to get it. #sweepstakes

I need a Band2! I could use it to help me as I lose a few pounds as well as monitor my overall health (plus I would love to write an app for it!) #sweepstakes

The Microsoft Band 2 would be perfect for me. And, I know Yoga Studio would be a program I would embrace. Rendered partially disabled after back surgery, Yoga was recommended as a really healthy thing I can do. The "band" has many features I would love, as it would help me track progress, as well as keep me on track to a more healthy lifestyle. Thanks for the opportunity to win this wonderful prize. #sweepstakes

Other than the fitness tracking which is obvious I really like the idea of tracking sleep and an alarm that wakes you up at the right time (in the sleep cycle, so you're not tired). It's also nice to know who an email or text is from without taking the phone out of your pocket. Eventually I think all of my family members will be wearing one... #sweepstakes

Use it for running and my workouts at the gym. #SWEEPSTAKES

I would use it for tracking my walks #sweepstakes

I have a desk job, and tend to get so wrapped up in my work, that I don't even notice that I haven't gotten up in several hours. This would be nice for reminding me to get up and do something physical (stand and stretch, walk down the hall, etc). Comment posted as a #sweepstakes entry

The new Band II looks like a great way to stay true to your fitness cause; would be awesome to win this sweet looking device!!!! #sweepstakes

I love the story about the Yoga Studio apps. I've wanted to try Yoga, but I don't drive and all the classes are not convenient to ge to, using the bus system in our town would take me all day to get to a class and home so being able to try it at home would be perfect. And having a Microsoft Band 2 wouldn't hurt either. I posted this comment as a sweepstakes entry. Thank you

I'd use it's guided workouts #sweepstakes.

that looks very nice app...will try #sweepstakes

Could really use one. Need to get back into shape and this would definitely help me keep track of my progress #sweepstakes

Namaste...help me replace my Band. Then the downward dog can resume.

I would use a Band 2 to enhance my daily Elliptical, Bike Ride and jogging exercise routine to lose weight and stay in shape #sweepstakes


After having twins trying to get back to myself again. WOuld love to keep track of my progress

Yes!!! I need this #sweepstakes

Would love to get this to replace my almost 2 yr old band 1. #sweepsteaks

Would use the Band for climbing and being on the exercise bike #sweepstakes

I will check out the Yoga app, but I'd love to have the band to track my cycling! #sweepstakes

i'm working on running some 5k's this year so the band 2 will help me keep track of my progress.i'm far away from the naia all-american i used to be #sweepstakes

I will use this as a reminder to exercise daily. #sweepstakes.

Great motiviation to keep track of fitness to lose some weight! #sweepstakes

With a sedentary job and just getting back into exercise the Microsoft Band 2 would really help stay on track. I need reminders to get up and move. #sweepstakes

I would use Band 2 for firstly to get back my form, from 70 to 80 kg again. My target is also to tracking and improving my sleep (I'm sleeping very bad sometimes), check my pulse because in exercieses the intensity is for every body is different. #sweepstakes

I have an arthritic relative who's been advised to do yoga. I'd use Microsoft Band to health and fitness goals I've set, monitor my heartrate and calorie burn. Not that I have trouble sleeping "when asleep" but I'd be curious as to what my sleep quality is. #sweepstakes

I live in Yellowstone National Park so this will come in handy for hiking. #sweepstakes

I would use it to monitor my daily activity syncing it with my lumia 640 #sweepstakes

I have just started to exercise more and cut back on portion sizes. Trying to drop to a more healthy weight after my dad was diagnosed with diabetes. Having the MS Band 2 would be a useful (and fun) way to track that better. Heck, maybe it would motivate me to try harder too. #sweepstakes

I would use it to track exercise/workouts and hopefully keep me on track better than previous esercise attempts. #sweepstakes

I would use it to count my steps and check my notifications.

The Band will be great to have. I recently started a new workout regime, and it will be great to have a device that accurately measures heart rate. Rather than relying on machines that are so inaccurate. #sweepstakes​. This will be the perfect companion.

I will use the band to get back in the shape that I was 2 years ago. With a little bit of a health concern, I discovered that using technology to track my efforts made me want to do more. I used a Fitbit, but it just broke and didn't have enough information (with the exception of the social aspect). In any case, the band will really help reach my health goal :) #sweepstakes

Having long suffered from poor sleep, I would most like to get detailed reports from the Microsoft Band 2 about how much I move at night, how many times I awaken, and my heart's pulse during the night. I also like the alarm "flexibility," which allows for a window of time to be set before and after the alarm, and depending on when the best time to awaken you is, the alarm will ring. #sweepstakes

I need a Band to evaluate the effectiveness of my regular morning workout - b-ball with the guys at the YMCA. #sweepstakes

I AM A BLOB!!! I despise working out, but needed to do something about my health because I am in my mid 30's and suffered from high blood pressure. Last summer, I started eating better, and working out doing the Insanity program. The pounds melted off, but after 8 weeks, I stopped, and gained some pounds back. The biggest thing for me is motivation and interest. Working out is boring, and I often lack motivation. Having this band will help keep me active for myself, and my future kids. #SWEEPSTAKES

Definitely a Band 2 win. sweepstakes#

its going to be a reeeeeally good escuse to put me in shape if i win the band :D #sweepstakes

Band 2 with lifestyle is enhanced by thousand, besides having centralized my notifications, take control of my health and exercise times, have the opportunity to always keep up with my emails or calendar. #sweepstakes

It would be a great opportunity to win a MS Band 2. At work, I don't always have the opportunities ty to have my phone with me. A Band 2 would allow me to continue tracking my steps taken, as well as other factors.

I want to track my everything. Also, I'd like to be able to quickly change my music tracks, if the band can do that. #sweepstakes

It would help me get motivating to loss weight #sweepstakes

I would use it to help me get healthier! #sweepstakes#sweepstakes #Windows10DoesMore

Wow, a Microsoft Band, always wanted to see one in real, hope the competition includes sending to Switzerland :) I'd love one to see how much I move and track my health and other things I do. So here is my #sweepstakes entry

I would use it to measure the distance and heart while I run on weekends and I would also use it as a notification gadget when I cannot reach my phone while I am busy at work.

Use it for Nightly sleep cycles and golf. #sweepstakes

Help me to lose some of this post wedding fat #sweepstakes.

Recently started to hit he gym. This band will definately be 1 more motivational factor. #sweepstakes

I would use it to try to improve my overall health. Thanx for the chance! I posted this comment as a Sweepstakes entry

I currently monitor my physical activity manually, using multiple different phone apps to help the process. Having a Band 2 would help me better keep track of my health. #sweepstakes

Get a good night's rest
#sweepstakes

I would use a Microsoft Band 2 in my health regiment to track my pulse rate and the time I spend working out! #sweepstakes

it will help me everytime i work out #sweepstakes

I would use the Microsoft Band 2 to track my physical therapy and work outs. #sweepstakes

I'd use it to replace my aging Fitbit. #sweepstakes

MS Band 2!!! #sweepstakes

Hoping to upgrade my Band 1 and get all the nifty Band 2 only features. #sweepstakes

Great. I need this for Cycling. #sweepstakes

A Band2 would definitely keep my motivated to get back in shape after many years "off." You make good points about why yoga is a good idea as well... my back has not aged well. Worth considering! Thanks. #sweepstakes

Would like to see how much excercise I'm getting by walking and playing soccer with my best friend, Buddy the border terrier. #sweepstakes

I would use the MS Band to make sure I keep moving enough! #sweepstakes

It would make working out a lot more fun. #sweepstakes

Well to be frank, me and the wife let ourselves go, and I believe the Band will motivate us to push ourselves. We are retro gamers, and trying to beat our scores is in our blood.
#sweepstakes Posted via the Windows Central App for Android

I would use the band 2 to track all my Crossfit workouts. I would be able to upload custom workouts and benefit from all the data provided by the Microsoft health app such as time it took to complete each exercise. I would also use it to begin a Yoga routine of course. I hope lady luck is on my side to win this give away. #sweepstatkes.

I would use it as a watch, while staying fat and out of shape. #sweepstakes

I would use the Microsoft Band 2 to help me get moving more. #sweepstakes

It would help me keep my workouts on track. #sweepstakes

I love how the Microsoft Band 2 gives you a gentle reminder that you've been sitting on your bum for too long ;) I'd strap one on to my teenager along with my own wrist on a lazy day of reading! #Sweepstakes

I would like to track my runs in order to prepare myself for a marathon. Also since I'm a college student I would like to track at how little sleep I am getting. #sweepstakes

I would love to win an MS Band 2! for my hubby #sweepstakes

I'd use it to track my steps and calories. #sweepstakes

I would use the Microsoft Band 2 to keep my fitness goal on track and would be easier to keep track of everything!

I will use it to get back on my boss; he's an apple fan #sweepstakes

I've started a new fitness plan and this would help a lot. Actually I was checking it out online recently. I love it. Thanks! I posted this comment as a #Sweepstakes entry.

The last Microsoft device i would have to complete my device list :). Band 2 appears to be a great device to track my activies all day long ... and not only: it works also during my sleep. Cool! #sweepstakes

I don't have a Band and believe it would make me accountable. Too many times I lack in my accountability when it comes to physical activity.I posted this comment as a Sweepstakes entry.

I'd give the band to my wife and then take a picture of us both wearing our bands while using the "Shutter Band" app to help take the picture:) #sweepstakes

The Microsoft Band would be awesome to help me keep up with my training and heart rate!! Awesome! #sweepstakes!!!

I would definitely use this for my exercise and runs!!! AWESOME!!!! #sweepstakes

I am quite attached to my Band 2 - glad I switched from my series of Fitbits to this. Since getting it, my wife has been interested in getting one. Winning one would be perfect, as I have no other means of getting one for my wife anytime soon. #sweepstakes

I regularly work out 3 times a week, including a run as well as strength training. I would use the Band 2 to track distance/time on the run and heart rate/time on the strength training. #sweepstakes

I own a FitBit One but wanted heart rate monitor and cool features that integrate nicely with my Windows Phone. I heard good comments from people who owns a Microsoft Band 2. With the Band 2, I can treat it like a watch / info center instead of occationally checking my FitBit One. #sweepstakes

Fantastic watch!! Beneficial in helping to have a healthier lifestyle!! #sweepstakes

I want an MS Band 2 :) #sweepstakes

It would be awesome to use the Microsoft Band 2 to help remind/motivate me to get in shape and stay in shape. #sweepstakes

I would use it too keep track of my steps! #sweepstakes

​I would use the Band 2 to track my run and bike trading for triathlon using pace and altitude taking and I would track my sleep effectiveness. #sweepstakes

I gotta say, I love the Hidden Gems for the prizes, but you guys always come through with the apps! I been looking for something like this! #sweepstakes

I'd rally like to take The band 2 out for a run, hike or bike ride and keep track with how I'm doing over time :)

I would use it to help keep track of my bike riding stats. #sweepstakes

I play lots of basketball... it would be awesome to track this. You can never have too much data. #sweepstakes

Would love to use the band 2 for daily fitness tracking as well as training for my upcoming half marathon #sweepstakes

I would use it to motivate myself & made sure I was constantly being active!
#sweepstakes

My Nike Fuel Band just crapped out on me. I've been wanting a band for a long while. It'd be my everyday wearable, & it would be very useful at the gym on the treadmill! #Sweepstakes

I would use the Microsoft Band 2 to track and improve my golf game. It would allow me to focus on my game by allowing me to keep my phone in my golf bag. With automatic shot tracking, it will be able to highlight the areas of my game that I need to work on. Also, I would use it to track my workouts and my sleep activity. #sweepstakes

Running everyday and doing with Microsoft Band 2 would be awesome and more interesting #sweepstakes

A Microsoft Band 2 would definitely be a "step" up from my Omron pedometer. :-) #sweepstakes

I would love to win the MS Band 2, I would use it all the time to track my deferent workouts, get my WP notifications and track my sleep. #sweepstakes

I would use it on my walks! #sweepstakes

I'd us it to track my every move! #sweepstakes

Band 2 would be used for sleep tracking and steps. #sweepstakes

I would use it to count my steps, monitor my heart rate, monitor my sleep for starters, and it would help me to be more accountable to myself in my goal to get healthier. #sweepstakes

I would use the band to track my cycling. The built in GPS means I can leave my phone at home and upload my rides to Strava when I am done. It's the perfect solution! Can your Apple Watch do that? #sweepstakes

I really want the Band2 so i can track my sleep and improve my golf swing #sweepstakes

I've recently start moving my self to improve my body :P I wasn't moving enough... By now i'm mostly running, biking and doing workout during my bike session :) I would like to use the band two to track all these things and put some data on it ^^ (sorry fot my english... i'm a french teenager :P) I was forgetting this: #sweepstakes

i would use the Microsoft band 2 during my day to day activities like when I am on my feet at work or out shopping or even outside exercising #sweepstakes

want to get healthier and chase all those women in yoga pants. Where's my band? #sweepstakes

Definitely for tracking calories weight lifting & tracking sleep.
#sweepstakes.

I'd use the band to help me get motivated to lose 6kg. #sweepstakes

My main uses are running, golf, and weight lifting workouts. I also love data, so it'd be awesome for collecting all of that stuff :) #sweepstakes

Awesome, I'd give this to my mom as she is older to keep her on track!

Motivation and a record to know where I am inmy goals #sweepstakes

would be cool for my outdoor activities, i wonder how it would do extreme cold weather? if i win i will let you know. #sweepstakes

I would use it to track my workouts and racquetball games. I'd love to be able to see how far I run in a typical game of hardcore racquetball! #sweepstakes

I could use the Microsoft Band 2 to keep track of my workout schedule. #sweepstakes

speed walking #sweepstakes

Cycling and hiking. #sweepstakes

I work out a lot and would love to track my heartbeat. #sweepstakes

I would love this! I just started walking again and this would be the help I need! I would use this in so many ways! Just let me at it! #sweepstakes

i need the heart rate and sleep monitor functions the most #sweepstakes

I would use the Microsoft Band 2 to track my sleep quality and workout. #sweepstakes

I would love to be able to track my heart rate and steps using the Band 2! #sweepstakes

It would be really nice to track my calories burned throughout the day using the Band 2 :) #sweepstakes

I would use this to keep me going. I get distracted a lot and this would keep me on track #sweepstakes

The device is great. Obviously I would use all the sensor data to track my activity. Plus you have sleep monitoring. UV monitoring while on vacation is also great. Teh ability to see noticfications and even act on them is just a bonus. #sweepstakes

I would use it to keep track of my steps and start up a competition with my friends! I posted this comment as a Sweepstakes entry. #sweepstakes

I would be thrilled to win one of these. The golf stuff sounds awesome, and I'd love to try it out. I wouldn't mind seeing it work with Xbox Fitness as well, and I like any chance I get to test technology I haven't before. This post is my entry into the sweepstakes.

Would love to track my sleep patterns, golf game, hiking stats to help hit my weight goal. Does anyone know if it's water restistent (e.g. can you wear it swimming)? #sweepstakes

Would love a MS Band 2 to help push me through my runs! I could use seeing my progress to keep me motivated when working out alone! And sleep... I could use a sleep coach! #sweepstakes #MSBand2 #Windows10 #SWEEPSTAKES

Hello. I have a very labor intensive job at a shipping department of a hotel so I always wondered how many steps I take. The Microsoft band will assist me with that. I'm sure I can figure out more uses with the Microsoft band and combine that with my job too. #sweepstakes

I would use it to help track daily runs and circuit workouts. #sweepstakes

I would use it to keep track of my sleep and exercise to stay healthy! #sweepstakes

I just recently joined the gym so I would use it to track my workouts #sweepstakes

I would use it to help me with my runs and maybe I'll start developing apps for it! :D #sweepstakes

The band will provide awesome data for my workouts and will help me reach my fitness goals for years to come! #sweepstakes

Would love to be able to track my run without taking my phone with me. #sweepstakes

I would use a Microsoft Band 2 to monitor and track my health. #sweepstakes.

This would be perfect for my training for my Philmont trek! #sweepstakes

I'm an "older" athlete (almost 50) running Tough Mudders and now entered in the Hotter 'n Hell 100 bike ride. I need to GPS my training! #sweepstakes

After working full time, going to college full time, and just having my first kid, I would use the Band 2 to help me get rid of my dadbod. #sweepstakes

I could reallly use this for my daily walks and keeping track of my new diet plans. #sweepstakes

I'd use the Band 2 for sleep, steps, golf. Please enter me in the #sweepstakes

as someone who has been overweight in his early 20s and now have a slimmer physique i am always looking at ways to improve my shape and stay fit. After what i read i believe the Microsoft Band 2 can help

Would most likely use as a daily wear watch #sweepstakes

I would use it for walking & hiking. #sweepstakes

This would get me motivated to keep moving. I posted this comment as a Sweepstakes entry. Thanks for the chance to win.

It would be great to win a Microsoft Band 2. I exercise a lot, especially for a senior, and the band would help be focus even more. Thanks for the opportunity. Hey, I'm also a homegirl - I live in Redmond! #sweepstakes

#sweepstakes Well I'm trying to lose weight so I could really use the Microsoft Band. Thank you.

#sweepstakes I'd use it when I work out.........I need all the help I can get.

On my nightly walks, that's when I'd use it. Thank you!! #sweepstakes

My fiancee and I have been trying to get into shape. This would be an excellent gift for her to track her work out with. #sweepstakes

#sweepstakes I'd like to use it when I go to the gym.

i want to loose weight and need MS Band 2! #sweepstakes

I would love a Band 2 to help keep track of all of my fitness statistics during the day and be able to see my notifications while coaching. #sweepstakes

I currently use a Fitbit, so I would imagine it would complete replace it to track my movement. Love to hike and walk around town so I like seeing my activity level. Forces me to move when I don't want to. This band really seems a lot cooler to wear. #Sweepstakes

I currently own the original band and wear it everyday. I like the app but love the detailed website. The gps is great but I keep eyeing the band 2 and its sleeker build and added sensors. I'll probably get it in the fall when Microsoft announces the newest band.

#sweepstakes I and focused on my job, the Microsoft Band 2 will get me moving.

I would use the microsoft band 2 on my hiking as well as my yoga practice. I'm sure I will find allot more to do with it.

I've been wanting to get my hands on the band 2​. I would spend some time at first playing with the sleep tracking, but my main use would be to track my daily activity, as a watch, and as an accessory to my phone. Over time, I would like to use it as an aid in maintaining my health. I posted this comment as a Sweepstakes entry. #sweepstakes

Who wouldn't want a Band? The device that tracks your sleep. The one that hugs your arm. The one that provides instant emails. Even exercise details. I'd be more than happy to take the Band in this #sweepstakes! :)

I would use the Band 2 especially for exercise and to get back into shape after knee surgery this month, and I would love to try yoga! #sweepstakes

I would use it to kickstart my long-overdue fitness plan. #sweepstakes

I love the more interactive aspect of this band compared to just having the steps being counted. Although, trying to get a new high score of daily steps is always fun. Hopefully I win this #sweepstakes

the band 2 will help in my training for my first marathon this end of the year ! wish me luck ! #sweepstakes

fitbits are suposed to be the best

Winning this would be sweet. #sweepstakes

I would use it while playing basketball. #sweepstakes

I will use Band 2 for the step and stair countes along with the workout feature. I need more variety! Thanks! #sweepstakes

As a yogi and a long time user if this app on iOS I was excited when I discovered this had been brought to Windows 10 a few weeks ago. I've been using it since on my phone and pc and can vouch for it as a great yoga app in general and by far the best on the windows store and most mobile app stores. Would be a great compliment to the Microsoft band. ​

Heh, I could formulate some kind of complex ritual in which the Band factors in... but let's be honest. I'll slap it on my wrist, use it like a watch / text reader for most of the day, and then check out my workout stats once I'm done working out. The best User Experience is one where the device does not dramatically alter the experience... unless it's supossed to... and a band should not. ;P #sweepstakes

Give it to my daughter so she can keep a history of her walks. I posted this comment as a Sweepstakes entry

I too want to lose my weight and to be fit! But I didn't used this app for tha last. Just now I installed this and working super smooth. Wow it's awesome! Thank you! Loved it!! #sweepstakes

I want to exercise more and a microsoft band would really help #sweepstakes

I would use the band 2 multiple ways in my fitness regime. First I would track my steps in a day and compare my down days to my more active days to really motivate me to get moving even on down days (I'm also really curious how much steps I take in a basketball game). Second I'd make use of the sleep tracking, because ive had issues sleeping for years, so the information it provides would be very valuable. Finally I would cancel a membership I have to a bootcamp fitness class and instead use the band curated workouts, specifically the HIIT type workouts #sweepstakes

Going to use it to see how well it links to my phone #sweepstakes

I'd use the Microsoft Band 2 for my sleeping, biking, and overall functionality it offers. #sweepstakes

I'd use this when I go on my daily runs. I posted this comment as a Sweepstakes entry.

Want to WIN!!! Posted via the Windows Central App for Android

Those MS band 2's look very cool #sweepstakes

I would use it to track everything I do. #sweepstakes

One of thebig draw cards for me is that the band is the most accurate fitness around. There is nothing worse than incorrect data for long runs or bike rides. But as an everyday device, it'll change how I use my phone. Basically, my phone will stay on silent while the band is on my wrist. No more loud obnoxious ring tones at work. No more rude social situations where I need to reach into my pocket for my phone when I get some sort of notification. This would be an absolute dream come true for me. #sweepstakes

The Microsoft Band 2 is the foundation of me deciding to get my health back. I've been putting off working out and running until I can afford a Band 2. I know that sounds stupid, but it's honest. I would most definitely use it to count my steps while running and to view reminders I've created to use Yoga Studio. I've downloaded the app and will begin to use it. I've been wanting to start leaning Yoga and Pilates. So this is why I enter this #sweepstakes.

I'm starting to do some running after losing 20 pounds last year. I've got some health goals for this year and I believe the band can help me out! #sweepstakes

I would love to use an MS Band to help me remember my workout routines and track my steps. Too many ways to mention! I am posting this an entry into the sweepstakes.

I would definitely try to catch up to my wife's lap times #seemsfaster #sweepstakes

I would use it to lower my A1C by combining the power of Windows 10 Yoga Studio and the Microsoft Band 2!! #sweepstakes

I'd use it on walks. #sweepstakes

I'd use it to stay motivated to stay active #sweepstakes

I would love a Microsoft Band so I can track my improvements in my fitness and health. #sweepstakes

A microsoft band would be awesome for me to keep up with my steps and it looks fantastic!! #Sweepstakes

I would use it personally to balance my life as a programmer, keep track on my health and peacefulness, Thank you. #sweepstakes

would love to keep track of my current regimine #sweepstakes

While I already track my fitness, a Band 2 would allow me to soin sync with my Windows phone !! #sweepstakes

i would use it while running #sweepstakes

Would love to win a band 2, so I can save my workouts and view my calorie losses.

I would totally use the Microsoft Band 2 with my work outs and bike rides #sweepstakes

I would use it for my daily routine. Walking...etc...I too have wantd to start doing yoga as my flexibility is not all that great now that I have aged. Not to mention I too have hurt my back. I posted this comment as a Sweepstakes entry.

Because it would let me know if not beng active, I would use it to keep me accountable. #sweepstakes

I would love to have a Band 2 for notifications, general cool factor, and it will be interesting to see what my health metrics are.
#sweepstakes #hashtag

this band would be a big movitator #sweepstakes

Wow I would love to have a MS Band 2, I would use it all the time to track my workouts, get my WP notifications and track my sleep. #sweepstakes

I want to get into doing yoga and the Microsoft Band 2 would certainly get me on my way! I posted this comment as a Sweepstakes entry

i would usew it to count my calries burned #sweepstakes

i'd use it to track evertyhinggggg #sweepstakes

i would use it on my morning run #sweepstakes

I have been wanting to have a Microsoft Band. I would use the Band 2 for things like tracking my sleep, the UV rays outside to protect my skin properly, and most importantly to help me motivate myself to exercise more in the gym and outside of the gym. #sweeptakes

I would love to get healthy tracking my steps and eating habits #sweestakes

Not in the US or Canada :(

I would love to use it for sleep tracking! #sweepstakes

I would use the Microsoft Band to keep track of steps taken, miles walked, and sleep activity #sweepstakes

I will use MS Band 2 to monitor my health everyday #sweepstakes.

I would definitely use during my morning run. #sweepstakes

With the ability to track your own exercises by name (Xbox Fitness, walking, yoga) you can set up and keep up with the road map that works best. Even though running may burn the most calories - by tracking the other workouts by name you can better see the effect of sleep, total daily calorie count, weight, max VO2. The probability to keep you motivated and going increase with the reminder on the wrist. #sweepstakes

My wife would love to have one of the MS bands. She enjoys running & yoga. #sweepstakes

I really want to win #sweepstakes because I'd use my Band 2 to more accurately help me train for my first marathon. Please choose me!

The Band 2 looks great, though I doubt that I will be testing it with yoga anytime soon. Please enter me in the sweepstakes.

I would use it to keep me on track and my goal in sight. #sweepstakes

would love to update my fitbit charge to the band and get all the extra functionality! #sweepstakes

another sweet treat! but im gonna win this time! #sweepstakes #beMine #MicrosoftBand2

I would use it to primarily to lose weight and the others will be to be followed after I get the Microsoft Band 2 :-) #sweepstakes

It would help with my health for motivation, health, organization and routine #sweepstakes

I would use it to help keep me motivated and lose some weight. If I had two, I'd give the other one to my girlfriend who wants to do the same thing!
#sweepstakes

I go to the gym at least 3 times a week and I wear a Moto 360 daily, but it's metal and not something I want to wear at the gym. It'd be really nice to have all the tracking the Band 2 could do, considering I like to enhance my life using tech where I can. #sweepstakes

I would use the Band to help me to keep the habit alive. With the ability to track my workouts, I wkould be able to see my progress and the days of consistancy! I'm trying to keep the "chain" unbroken! 1) #sweepstakes 2) #sweepstakes 3) #sweepstakes 4) #sweepstakes .... Like that!

Keeping those reminders and logging stats would do wonders! #sweepstakes

I love my guided workouts. 30 minutes walk to run is my favorite

I would use a Microsoft Band 2 to compete with my husband in steps and activity levels #sweepstakes

I do a lot of physical activity in my work, and I would use it mostly to track that. #sweepstakes

I'd use it to keep track of my phisical activity. #sweepstakes

I would use it daily on workouts to keep track #sweepstakes

I just started a weight loss program with excercise so this would really assist me making sure I am compliant. #sweepstakes

I would be using the new cycling features on the new Band. #sweepstakes

I would use a Microsoft band 2 to record all my track workouts #sweepstakes Posted via the Windows Central App for Android

I would use the Microsoft Band 2 to track my rides to and from work, as well as track my sleep. I have a first-gen Band, but would love to upgrade! #sweepstakes

A Microsoft Band 2 would really help me focus and streamline my workouts so I get the most out of them. I posted this comment as a Sweepstakes entry. #sweepstakes

I would use the Microsoft Band 2 to get a better idea of where my current fitness level is and use it to monitor and improve from there. #sweepstakes

My wife and I are going to start Weight Watchers next week. This will help to keep up with the activity points. #sweepstakes

I want Microsoft Band 2 for my wife to control her daily motion. #sweepstakes

Honestly, I'd give the Band 2, if I win, to my Girlfriend who is getting her masters. She runs marathons and uses the Band 1 to train and track her runs. We both got a band one when they came out so to say the least, its a bit beat up. Only reason we have not got her a band 2 yet is because as anyone who has done it, doing a masters with plans to go get a phd is a costly thing. Would be a good gift to say the least! #sweepstakes

I want to use it to track my soccer playing! and.. yoga... :) #sweepstakes

I've never done yoga before and I think I'd benefit greatly from practicing yoga. This would be the perfect incentive! #Sweepstakes

Studying my sleep patterns along with my runs, hikes and bike rides #sweepstakes

I would have a help in reminding me to get up off my butt.

I have been using band 1 since a year and would love to have band 2 to upgrade.. it forms a part of my windows ecosystem.. windows 10 pc-desktop 32 bit, windows 10 pro Lenovo YOGA 500 laptop 64 bit, windows 8.1 RT on lumia 2520, windows 10 mobile on lumia 730 and band 2 to replace band 1! #sweepstakes

My wife totally needs the Microsoft Band 2. The quick notifications and Cortana integration will ease the madness a bit when she's wrangling with a cranky baby and her phone is taunting her from across the room. Since the baby was born 8 months and some change ago, she's been wanting to get into an exercise routine again as well. Swiping into some Band workouts and tracking her activity should help to propel her along that journey. #sweepstakes

I never own a fitness band yet. So i would like to own a MS Band 2. so that I can understand what difference it can bring to my life. Excited!! #sweepstakes

With MS BAND 2 i would be sleep much better and can monitor my lonely heart :O #sweepstakes

I'd use it to monitor how much more or less active I am since going on full-time paternity leave. The little tyke is wearing me out!

I would use it to keep me on track and get me moving throughout the day :) #sweepstakes

I will use it to stay motivated and to track my run and walk #sweepstakes. I posted this comment as a Sweepstakes entry.

I definitely would want to win an MS Band 2! #sweepstakes #sweepstakes #sweepstakes

The MS Band 2 could do several things for me. It could give me that last push to start exercising, and being able to see tangible results layed out for me every time could make working out seem less daunting. This could track my sleep and allow me to get better rest nightly. And getting notifications without using my phone would be ideal. MS Band 2, come to me! #sweepstakes

microsoft helps me my life to be better and easy with band so that i can live happily .i'll be greatful if i got this band from the officials of windows central #sweepstakes.

I plan on using Band 2 to track my physical activities & hope to use it to motivate me. #sweepstakes

I would use MS Band 2 to track my gym progress, compare heart rates and calories, but it would also be very helpful in my job. As a driver, I need a device like that on my wrist so i can always see notifications without having to pick up my phone. #sweepstakes

I would totally use band2 for running, hiking and rock climbing. Posting as an entry into the sweepstakes. #sweepstakes.

Awesome product and article! I left this comment as a sweepstakes entry.

As a type 1 diabetic with Dexcom G5 I need to keep my blood sugars in check to stave off complications; neuropathy including limb amputations, blindness, liver and kidney failure etc. - all unfortunately extremely common in diabetics. I have to pay £65/ week on dexcom sensors and £350 for the transmitter every 3 months. The Microsoft band would continue the technology revolution in stabilising my health and blood sugars - helping catch those deadly low and high sugars at all times, whether in meetings, in bed, or at sport (which can finally increase without fear of low sugars). The band would be life changing to me - blood glucose results on my wrist at all times! Every diabetic should have one, shame I am too tied up paying for sensors and transmitters. Congratulations on Microsoft for joining the move forward on actual heath data tracking. posting as an entry into the sweepstakes, or use #sweepstakes.

I definately want to measure my sleep cycle and sports activities. MS Band would really help with that #sweepstakes

I'd use it to log my exercises #sweepstakes

After i lost my Job, i need some inner Relax and the most important i need to loss some weight (35 pounds). So the Band2 could be a great help on that way. #sweepstakes

I want to win the Band 2 to prove to my colleagues that it's better than their android-based smartwatches! #sweepstakes

As a yogi I have been using this app on iOS for a long time. Just a few weeks ago I was so excited when I discovered it on the Windows 10 store, so installed it on my pc and phone. It's just as good on Windows 10 as on iOS. I can't recommend the app more for anyone looking at doing some yoga at home. Hands down one of the best yoga apps out there and definitely the best available on Windows 10. The app has a large easy to understand and well illustrated database of yoga asanas. Would nicely compliment a Microsoft Band 2. #sweepstakes

Summer is coming up pretty soon and for me, that usually means tennis season. I would be nice to have the Microsoft band 2 to track my fitness. As for now, it would be very useful to monitor my hectic college activities #sweepstakes

I'd use the Microsoft Band as a way to hold myself accountable for my inactivity #sweepstakes

I would wear it everyday; to collage, to work, in my bicycle, and while running. This will certainly make my life better ;) #sweepstakes

A Band 2 would help with keeping tabs on my work day as well as showing what good I am doing for my body. Getting one of these puppies would be a win win win....
#sweepstakes.

I'd use the band 2 to get my lazy butt off the couch #sweepstakes Posted via the Windows Central App for Android

I'd use it to keep me motivated and on track in losing weight. #sweepstakes

Let me try my luck to win a Microsoft Band 2 :) #sweepstakes

I would an MS Band 2 to monitor my health and, most importantly, to get notifications from the phone easier and faster. #sweepstakes

I could definitely use it to help me as I train for my first 5K! #sweepstakes

I would love to be reminded of my medication. These are to be taken in a complex algorithms. #sweepstakes

I would use it for checking mails, messages, hearing music and fitness #sweepstakes

Would use it to remind me how much I sit around and need to get up and move! #sweepstakes

Just started working out with the wife. She has a Microsoft Band, so I would love to get a Microsoft Band 2 for myself. #sweepstakes

I would use a Microsoft Band 2 to replace my current Band 1 that is falling apart. :D I would also use it to track how many steps I take and stairs I climb while walking at work everyday and to track my bike rides in the evening with my wife and daughter. #sweepstakes

I would use it to keep up with the world

Love the Microsoft band 2, looks great and so useful! I would use it to keep track of my runs and see my heart rate through the day and during workouts. #healthnut #sweepstakes

I would use a Microsoft Band 2 for my gym workouts and my nightly walking. I posted this comment as a Sweepstakes entry. #sweepstakes

After having had the pleasure of travelling quite a bit for various reasons lately, it's been incredibly difficult to find a regular regiment for exercies. MS Band 2 would be amazing to not only keep me motivated but also to get inspiration for exercises #sweepstakes

Yoga I do all the time. What an interesting app Posted via the Windows Central App for Android

Missed it. #sweepstakes Posted via the Windows Central App for Android

I would use it for my weightlifting regime and for my runs #sweepstakes

I could use the Microsoft band 2 to mnitor my activites, walking, bike riding, and other cardio workouts. Entry for Sweepstakes.

I would use the Microsoft Band 2 to keep track of my walking fitness. #sweepstakes

I would proudly present that precious in my fitness studio next time I go there. And I would henceforth strictly work out according to the plan I will create - all logged by the Band. It would enhance my life expectancy and would everyone in my vicinity make happy. #sweepstakes

I would use the Microsoft Band 2 to keep track of my workouts. #sweepstakes

Perfect gym companion. #sweepstakes

****** I'd love to get this to complete my Windows 10 Tech. ******​ I was looking to get a smart watch but can't decide if I need one. What a good way of tracking it on a Microsoft Band 2! #sweepstakes

I would use it to help me keep track of my time exercizing.

Let's move together with MICROSOFT BAND 2! Life is moving!

Let's move together with MICROSOFT BAND 2! Life is moving!#sweepstakes

I would use the Band 2 to improve my sleep and track my workouts. #sweepstakes

I just bout a new 24" Redline BMX bike at 36 years of age. I want a Band 2 to track my fitness while doing bunny hops and impressing my children! Does it track scabbed elbows too?

Tracking all of my workouts. #sweepstakes

I would use a band to track the number of steps from my daily walks to make sure I am hitting 10,000 steps and also to track my sleep. #sweepstakes

A Microsoft Band 2 would be a big help in my efforts to get fit and lose some weight. #sweepstakes

I could use the band to help motivate me to lose weight. #sweepstakes

I'd use the band to get me up from my desk on a more regular basis. Sleep tracking and other healh data would be a bonus.I'd also use it to track my bike rides. #sweepstakes

to try to keep active and hopefully relieve some stress. I posted this comment as a Sweepstakes entry.

I would use it to keep me motivated to be active every day! #sweepstakes

I would use the band for trail running and hiking to chart my distance and elevation. I also love the text notifications when I am in meetings or with clients I can see if calls or texts are important.

My wife and I are avid cyclists and I'd use the band 2's bike app is fantastic for keeping track of my rides. Its GPS functions for route mapping are excellent and I'd also be able to track my heart rate during intervals of sprinting versus cruising. Accessing my phone for these functions while on my bike is difficult and many times requires me to stop. The band 2 would eliminate this. Sleep tracking would also be of great benefit. #sweepstakes

#Sweepstakes my band 1 is breaking into pieces, if I could win a band 2, that'd be great!

I would use the band 2 for my own Motivation. It will remind my goals, whenever I see it. I will achieve my goals. My goals are in my hands and I will see it every time... #sweepstakes

The MS Band 2 will help me get back into my exercise routine. Using the sleep tracker, I can track my sleeping habits so I can get a better nights rest and have more energy to exercise. I like to ride my bike so it will help me better track how far I have gone and to track my calories burned for the duration. With my kids wanting to ride on longer trips now, I can use the GPS to find fun and exciting trips for them before just going out on our own. The band 2 will also help me in the gym so I can track the exercises I am working on. Of course, it will come in handy during the occasional golf trip I do by having the the course information for me. Finally, by syncing to my Lumia 1520 running Windows 10 Mobile, I will have all collected data from walking to cycling and golf as well as sleep at my finger tips. I would love to win this and add it to my exercise routine. #sweepstakes.

I would love to keep track of what I'm burning! thanks! #sweepstakes

I want to win an MS Band 2! #sweepstakes I posted this comment as a Sweepstakes entry :)

Having a number of health issues, it is imperative that I exercise efficiently. This would help me to maintain my exercise and help to monitor me. I would also be able to keep in touch with others should something happen. This would be good to monitor my sleep for my doctor. I do try to challenge myself but have to be cautious. It could also help me with meditation while walking or at home.#sweepstakes

A Microsoft Band 2 would pair up nicely with the new Lumia phone I'm hoping to win as well! As an analyst, this could help jump start my new health routine as well. #sweepstakes

I would love to have this and would use it to keep track of my fitness activities! #sweepstakes

I would love to use a Microsoft band to track my daily activity! It does so much more than I ever imagined. #sweepstakes

My major goal for 2016 is to become more healty by eating better foods and exercising more often. The Yoga studio is a big help for me obtaining my personal goals

I would use it to keep track of my steps during the day. #sweepstakes

I would use the Microsoft Band 2 to help me keeping my lifestyle more healthy, compared to how I am doing now. #sweepstakes

I would use it to keep track of my activity #sweepstakes

#sweepstakes Having this band would hemp me improve my life nad my health. It would just be a great tool to help me get in control

I would like to get my entire family using the Band 2, not only for the sleep tracking, and the step counting, but just the overall 'get up and move' reminders, and stuff. These fitness bands all have the ability to help you do things - like take a walk when your body is telling you 'nah'. But having more actionable data is definitely better! #sweepstakes

I would track my workout. #sweepstakes

Would love to win! #Sweepstakes

It would help keep me motivatied. #sweepstakes

I would use to monitor my health during excercise #sweepstakes

I currently use a Garmin VivoFit to track my daily steps for our fitness program at work. Since I have a desk job, I like that the band will remind you to move if you have been stationary for a while, that is one of the reasons I went with the VivoFit. I would love have a band to sync up with my Windows phone and the guided workout feature looks really intreguing. #sweepstakes

Band 2 for everyday life. #sweepstakes


i would use band2 to track steps when walking. i also officiate so i can wear it during games to see how much i'm actually moving. #sweepstakes

I HATE TO EXERCISE! But maybe if I win this Microsoft Band 2, it'll help push me to exercise. Only one way to find out....and that's buy winning one! #sweepstakes

I would use to track my sleep and exercise. I have 60lbs to loose. #sweepstakes

I have a job where I sit all day. I would love to use the Band to remind me to get up every once in a while! #sweepstakes

I'd use the Microsoft band 2 to work off the Freshman 15 I've gained this year in college #sweepstakes

After 3 1/2 months of tax season, being hunkered down in the office maintaining systems for a building full of accountants, I'll need the Band 2 for help regaining some semblance of fitness...and the UV alerts for stepping back out into sunlight... #sweepstakes​.

Keeping track of my walks to and from work. #sweepstakes

I would like to use the band to loose few pounds,stay healthy and stay connected with my world without having to take my phone from my pocket all the times. #sweepstakes

I would use the band for various things, such as every day notifications, but also for the various monitors that is has installed. #sweepstakes

I would love this for my sister-in-law to track her health. #sweepstakes.

I posted this comment as a sweepstakes entry. #sweepstakes

I'm interested in using the Band to increase my performance on triathlons this season #sweepstakes

It would help me with my cal intake and burn! #sweepstakes

This would be a great way to track my fitness. #sweepstakes

I wouldn't be getting it for myself. I would give it to my wife for mother's day. She has given me a wonderful son and is a great mother. The other day she told me she wanted to get the Microsoft Band to track her steps and start some work out routines to lose the baby weight. So I think that would be the perfect way to say "Thank you" on mother's day. #sweepstakes

I used to do yoga on the Wii FIT and it was pretty good and felt good to. I think a new app on my Lumia 950XL would help out to get me feeling better again like my time on the Wii FIT. With the band 2 it would help me to keep better track of my runs, bike rides into work, where my "slow" points are so i can work on bettering myself at that particular part in the ride. #sweepstakes

I would love the MS Band 2 #sweepstakes

i'll use it for my training and to motivate me more :3 #sweepstakes

I recently lost my fitbit and was considering to get band to as a replacement. This will surely be my fitbit replacement #sweepstakes

The Band would be nice for morning workouts, hard to get motivated in the mornings. #sweepstakes

As a recently diagnosed patient with type 2 diabetes would love to have a single simple solution like this to monitor my exercise levels and goals to make this chronic disease easier to handle

I'd use the Microsoft Band 2 to help me keep track of steps and calories, so I'll know if I've done enough exercise for the day. #sweepstakes

Microsoft Band is a genius way to gently prod one into moving more, as well as tracking daily activity. #sweepstakes

I've been wanting a band for months! It would definitely help keep track of my fitness activities since I do so many of them. Having a chance to see my progress with hiking, jiu jitsu, boxing, bicycling, acroyoga, yoga and dance will motivate me and build confidence in my progress. #sweepstakes

I would use it to track my runs and workout effort #sweepstakes

I don't have a band but would certainly love one. #sweepstakes

I would use it to track my steps and calories #sweepstakes

I would use a Microsoft Band 2 in my health regimen to keep track of progress. I am posting as an entry into the sweepstakes. #sweepstakes

Need to get ready for the summer, help me Band 2! #sweepstakes

The band 2 would definitely help my re-started weight loss program #sweepstakes

This is very useful. #sweepstakes

It tells me what to do #sweepstakes

I would use it as tool to keep my mving I posted this comment as a Sweepstakes entry. #sweepstakes

I would love to win one Microsoft Band 2 to start my exercise regime.. I have been following it since it's launch and think that it will be awesome to help me get off my ass and get moving.. Perhaps give me motivation.. So far I have not purchased it because its not readily available in my country, unfortunately!! :( #sweepstakes
I would definitely use the heart rate function, guided work outs lose it app and the reminder function to move. #sweepstakes

I've been lazy with my exercise routine. Could use a boost. #sweepstakes

Really impressed with this yoga studio app. It's great for discovering new stretches and poses, adding lots of variety into my usual routine. And of course the Band 2 is an amazing piece of tech and I'd love to win one. Just recently committed myself to serious cardio and weight training to keep myself in good health, and the Band 2 would be super helpful with keeping track of my exercises! Thanks Windows Central for the opportunity! :) #sweepstakes

I would get this to my wife, since she is jealous of my Band 2. It's great for tracking my runs and golf rounds. #sweepstakes

I'd use this to track all my daily exercise and sleep #sweepstakes Posted via the Windows Central App for Android

I would use the Microsoft Band 2 for my runs in the morning. #sweepstakes Twitter: @looveeepink

Band 2 will shame me into being healthy! #sweepstakes

I.m here for the swag #sweepstakes

I would prioritize sleep tracking to improve on a chronic health issue and then exercise activity tracking.

Help keep me on my feet. Sometimes I forget to walk around as a programmer. #sweepstakes

The Microsoft Band 2 would be great to monitor my progress while walking and running. #sweepstakes

I'd be interested in measuring sleep quality, and also having my heart rate during and after biking or a run because I sometimes forget to take it by hand.
#sweepstakes

I'd use the Microsoft Band 2 to keep me accountable to specific goals. #sweepstakes

#sweepstakes. I would love have another band 2

This would make working out a lot more fun for me. #sweepstakes

Pedomiter so I can see how much I actually move around and how much more I have to do. #sweepstakes

i would use it to try out different workouts #sweepstakes

Want to use the band for my run. #sweepstakes

Would use to track heart rate when cycling and running. I have the apps that track my GPS position but need the ability to track heart rate. #sweepstakes

Keep track of Activity #sweepstakes

Track runs/hikes and use the guided workouts on Microsoft Band 2. I posted this comment as a Sweepstakes entry. #sweepstakes

In need of getting in to betters have an the MS Band is a great helper #sweepstakes

I work out or try to daily and this would be the best companion to track my progress! #sweepstakes

That app looks like crazy fun. Need to do yoga and increase my flexibility. A microsoft band would help out a ton in the effort as well. #sweepstakes

I could use the discipline of the MS Band2!#Sweepstakes

I would love to win a MS Band 2....it would help me out a lot with my workouts and monitoring my sleep since I rarely get any. #sweepstakes

this would def be useful to see how many time i run up and down the stairs in my house daily..this is my #sweepstakes entry

I've always been intrigued by the Band and I love its ease of use after trying it out at a Microsoft Store. I'm a Track & Field athlete and I think this would bring a lot of benefits to me in terms of keeping myself informed on my progress and health stats. #sweepstakes

Need this to prepare for beach season!

I seem to have lost my previous post... If I won this #sweepstakes I would use the myriad features to track my progress in keeping healthy after a diagnosis of type2 diabetes. Otherwise I'll have to na my husband to buy me one for my birthday!

Now that I know this is available I will definitely check it out, especially since it's free! I would use the band 2 to keep track of my progress along with my heart rate during my daily exercise #Sweepstakes

Have to keep myself in shape. I walk my daughter to and from school daily (weather permitting) and it would be great to track my progress through the MS Band and associates applications #Sweepstakes

I would replace my fitbit charge HR with the band #sweepstakes

I would love one to help monitor and encourage my activity! #sweepstakes

I think the snapshot of my health will help me make changes and live longer. #sweepstakes

I want to track my workout exercises!! #sweepstakes

i would win for my kid so he can use it for track

I would like to use it in gym to record my activity. #sweepstakes

My wife says I cant reach my back because I don't do this. I think it's the muscle, but I should still do this... #sweepstakes

I would use it to track my lunchtime walks and motivate me to get up and move #sweepstakes

I will use the Band 2 to track my bike rides! #sweepstakes

It would motivate me to exercise more. I posted this comment as a Sweepstakes entry.

WOW I would use it to montier my fat belly!


I would use the Band 2 to track my activity and keep me moving. #sweepstakes

This year I want to train to manage 10km within 50 minutes. The Microsoft Band 2 will definitely help me with that! #sweepstakes

I'd use it to lose weight and walk more! #sweepstakes

I've never really been an active person, but now I've got a fairly stationary desk job with a lot of sitting down. Gotta get myself more active and take care of me! #sweepstakes

I'd use the Microsoft Band 2 for Walking the Dogs, Sleep Tracking, and hopefully getting back into bike riding. And to help me get up when I'm using the computer too long. #sweepstakes

If the ms band is on my arm, it will be staring at me, taunting at me to go for a run! #sweepstakes

I would use the one I have one one wrist and this one on the other wrist. Might be interesting... Or, I would give it to somebody else. #sweepstakes

I already have a Band 2, so if i won one i'd gift it to my significant other so that we can participate in some friendly competition. #Sweepstakes

I would use the Microsoft band to track my exercise as part of my weight loss regimen. #sweepstakes

I would totally use this to get my fat body in shape for my anniversary trip to Mexico. #sweepstakes

I already use my Band1 for keeping track of my walks/weight. I'd love to upgrade to the Band2 with its advanced features. #sweepstakes.

Sport in group, no problem, but having my exercices tracked might be the motivational item I am missing to run on a regular basis. #sweeptakes

I'd give it to my wife since she's started training for a 5K. #sweepstakes

Hopefully the Band2 has a nag mode to get me off my duff and into the groove .. #sweepstakes

I'd like a Microsoft Band 2 to give heart rate information while reffing soccer. #sweepstakes

MS band 2 to help track and progress on sleep and exercise! #sweepstakes

I real y want a MS Band 2 #sweepstakes

I use it to track my runs

When going running the armband would be perfect #sweepstakes

Band2 would be a nice gadget to tinker with this spring. #sweepstakes

Wow - Could I use a Band. I just started my Spring exercise program which I do daily by myself and with a friend. I need constant feedback to keep the motivation high. It works for me on my bike but without something walking I find I can drop off. Easy to do at my age. #Sweepstakes

It would help me lose weight and keep on track. #sweepstakes

Just started going back to the gym, trying to work off at least mumble-mubmle pounds....would love to pair this with my Icon! #sweepstakes

This could be so helpful to keep me accountable with no excuses #sweepstakes

I'd use it to keep track of my steps throughout the day. #sweepstakes

This will help me get an understanding of how my work affects my activity... Maybe I'll end up switching jobs? #sweepstakes

I would use it to track my activity at work and remind me to get up and walk around after sitting around for long periods of time. #sweepstakes

My name is Jason. I love Microsoft and all of their products and support everything they create. I am looking for a way to become more fit and active but money is in the way of me keeping track easily. Please help me out and help me make my family proud!! Thanks so much! #sweepstakes

I would use the MS Band 2 for the heart rate monitor and assistance in running and other exercises. #sweepstakes

Track my workouts #sweepstakes

I'm not much of a Yoga guy, but would love the Band for my other workouts. Comment is for the Sweepstakes.

#sweepstakes #microsoftband2 I am a health conscious person but would like to have a little more detail on my health. Microsoft Band 2 is the best way to keep track of all my activities.

I would use the Microsoft Band 2 to keep track of when I go biking as well as my daily workouts. The best feature is the color display and the ability to stay connected with emails and my schedule while working out. #sweepstakes

Would love to try this out as I workout a lot at the gym. #sweepstakes

i have to replac my breaked band 1, it is compleatily damaged #sweepstakes

I'd use a Band 2 to definitely find out out (in)active I am all day! #sweepstakes

I would use the Band 2 to track my stationary bike workouts and runs, and to track my sleep so I can get better sleep at night. I have the first band and I love it, and have been wanting the new one ever since it came out! #sweepstakes

I would use the Band 2 to track my sleep and the use the wakeup feature. Sleep is important. Tracking floors claimed would be cool too. I always try to take the stairs vs. elevator when I can. I also do the Insanity workout program and it would be interesting to see the data Band tracks while doing Insanity. #sweepstakes

I would use this to help me keep better track of my daily personal physical therapy regime. #sweepstakes

Would love to know how many steps I take regularly and boost it up! #sweepstakes

I currenty only use the step meter on my current phone. Which is obviously limiting in the information it can collect. I would use Band 2 24/7 when possible. I am posting as an entry into the sweepstakes #sweepstakes.

I would use it for running/cycling and track stats of these activities. I very much like the heart monitor on the wrist, it means that I will no longer need to use a chest strap heart rate monitor, that is a great feature! I would also track my sleep with the aim of finding ways to improve it with the analytics available through the Microsoft Health app, and since I often leave my phone at home use Cortana's handy reminders to ensure that I never miss an appointment! #sweepstakes.

I'd love to win & monitor my fitness activities and walks! #sweepstakes

i always lazy to exercise. i hope if you give me that microsoft band 2, i will always exercise and using that smartest thing ever! #sweepstakes

i woud use it like its supposed to do and maybe for, i dont know, texting somehow? but good luck guys(mostly to me)! #sweepstakes

as a motivator to keep track of how much and how little i have done #sweepstakes

I would give it to my wife becuase she could use it to track her daily health progress. #sweepstakes

I ned a Band 2 to remind me that I'm actually alive :) #sweepstakes

I would use my Band 2 for my daily rides to and from work my new yoga workouts. #sweepstakes

I would use it to track running and sleep! #sweepstakes

Would use it to monitor my hockey and the wife's running! #sweepstakes

My husband and I have both really wanted to get a Microsoft Band 2, to help with our exercise routine and health monitoring.
I posted this comment as a #sweepstakes entry.

I would use it to check the time. It does tell time, right? #sweepstakes

i'm currently a fitbit user(pre-band), and imagine my disappointment when the dang thing didn't sync calls with a windows phone! i'm quite active normally, and the extra data a band provides would help kick me into high gear post baby. #sweepstakes

It would help me get sexy #sweepstakes

Currently I only use the Lumia 950 with Microsoft Health. Unfortunately it is quite limited. With the Microsoft Band 2 I would be able to:
• see how many stairs I've climbed
• Use it to track me while I bike (as in bike speed, calories burned, length and time of bike run, etc.)
• I could also wear it at night to see how effectively I'm sleeping and maybe what time would be best for me to wake up (so that I can stop feeling tired every morning) #sweepstakes

Having a band may be a starter as I hardly excercise or jog. #sweepstakes

This is a pretty useful app for those trying to get into the swing of being fit. Yoga classes can be expensive and embarrassing, so it's good to have a guide for doing yoga in private. #sweepstakes

How would I use the Microsoft Band 2 in my health regimine? Easy. I would begin tracking my activities more, with HR monoriting for each activity. #sweepstakes

I would use my Band 2 as an everyday motivator to get up and then track my progress. #sweepstakes

Yo. I am on diet, and training very hard to loose my weight. I've losed 10 pound since February. I am always looking to buy a 24/7 activity and fitness tracker. Microsoft Band 2 is definitely the first choice, but it's not available in my country. If I could have the Band 2, I will wear it almost 24/7 to track my activity, and also during my gym and running to track my performance. #sweepstakes

I'd like to have an ms band 2 #sweepstakes

I would track walking and running!!!! #sweepstakes

i owuld use the band 2 to track my steps daily, but would love to get back into running, this could help me track my progress #sweepstakes.

To track my running progress #sweepstakes

I will replace my wifes inaccurate Fitbit Charge HR with a sweet, sweet Band 2, and she will use it for cardio, yoga, piliates, and general keeping in shape around the house! This way, she won't have to drag her phone everywhere! #sweepstakes

I need the Band 2 to help me stay more active. #sweepstakes

I love to go out for a run and tracking with a Lumia 950 XL isn't that comfortable, so that's what I would use it for ;) #sweepstakes

The wifey would love this thing!! #sweepstakes

To be honest? Because I want to know how far behind I am compared to my much more fit friend! #sweepstakes

I wonder if the Band would register anything while paddling my kayak, or if it would just think I am sitting on my butt waving at people. What I've seen of the app (even on my Androids) looks good and I've read good reviews of it. If I had one, I'm pretty sure my Flex would find itself in its charger permanently, instead of every other day.

Track, evaluate, improve! #sweepstakes

i will learn, how to use it.

A microsoft band 2 would give me motivation to start biking everyday! #sweepstakes

I would pair it with my Windows Phone, and use it on my bike rides. Days are getting longer, so it is time get back outside! #sweepstakes

Looking to use it to get in shape. #sweepstakes

I would use it for the motivation. Knowing something is being tracked would hopefully inspire me. #sweepstakes

step counter #sweepstakes

I would use the Band to track my exercise and walking since I just joined Weight Watchers (it would be such a help). #Sweepstakes

If I won the Microsoft Band 2 I would use it to try to loose weight. I am about 40lbs overweight and my knees really know it. #Sweepstakes

I currently have a Withings Pulse Ox to track my fitness but it doesn't really motivate me to be more active, mostly because it just stays in my pocket all day. Looking at the features of the Microsoft Band 2, I can tell that's just the kick I need to get moving and want to be more active in my daily life. #sweepstakes I'm also going to check out Yoga Studio, it sounds customizable enough for me to actually get on my yoga mat!

MS Band 2 will easily replace my Fitbit Surge. #sweepstakes

I would use it to start my fitness program # sweepstakes

I would use the microsoft band to remind myself to stay active throughout the day - I posted this comment as a Sweepstakes entry
#sweepstakes

I'd use it to get my "boyish" body back in shape for the summer swimming season. #sweepstakes

Reminding me to keep moving for sure! I could use the reminders after sitting for awhile at work! #sweepstakes

oh hello Microsoft band 2, would you care to go for a run, P90X or yoga with me? Never had one, would love it! #sweepstakes

I use my MS Band everyday to track my sleep. Would love to upgrade to the comfort of the MS Band2. #sweepstakes

I would love to replace my original Jawbone with the Band 2. I would use it to track so much more and help me lead a healthier life! #sweepstakes

This would greatly help me start a health regimen #sweepstakes

I have gained more pounds than I wanted since I got married... I would use the band to guage my calories and distance while cycling! #sweepstakes

I would use the GPS tracking on the Microsoft Band 2 to track my cycle rides, get an elevation indication and possibly a VO2 MAX esitmate. #sweepstakes

They say whaterver you track will improve, and now I don't track my activity, with this I would #sweepstakes

Great, I need more executive stretching in between lounging back looking at 3 screens all day!

Maybe with a Microsoft Band 2, I will get more than 3 hours of sleep sometimes. #sweepstakes

would use it while i do my xbox fitness. #sweepstakes

Having a reminder when you don't move... at office ;-) just perfect :-) #sweepstakes

Controlling my workout playlist #sweepstakes

I would love to use the band to track weights and rest periods while lifting. Also on runs it would be fantastic to have a GPS tracker so I can see my speed and distance improve over time. #sweepstakes

It could be very nice to win this Microsoft Band 2 #sweepstakes !!!

Have my music and gym routine on it so I don't have to carry my cell around. Let's hope my bluetooth headphones can reach! #sweepstakes

I use a basic fitbit, but it definitely not as advanced as the Microsoft Band 2! This device would definitely enable me to keep better and more accurate track of my day-to-day health regimen--running 10km, climbing stairs and keep track of my sleep better!. This post is as an entry into the sweepstakes. #sweepstakes

Id use it to count bacon strips I go through every day....I bet it'd be quite entertaining to hear it scream "STAHP! NO MORE BACON.....go work out - NAO!!!one!". but seriously, I'm heavily invested in w10 ecosystem and Im more interested in windows based wearable for notifications etc than health side of the device. #sweepstakes

It would be great to track my daily bike rides. I'm only able to guess how far I'm going and how hard I'm pushing myself. #sweepstakes

As a Windows Phone, desktop, and tablet user, deeply in need of a consistent health regimen, I would greatly benefit from the support, tracking, and technology of a Microsoft Band 2. #sweepstakes.

Would love the band helping me lose calories #sweepstakes

This would get me on track and motivate me to lose weight #sweepstakes

I recently lost 23lbs since the beginning of the year. This could help me in my quest for the next level. Thank you #sweepstakes

I lift weights and do cardio to lose some added extra pounds from my recent stint in college. I could definitely use the MS Band 2 as my fitness buddy. #sweepstakes

Please please I need this. I need to desperately get in shape. This band is so amazing I already convinced three of my friends to purchase. I wish that I could afford one too.

A microsoft band 2 will be the greatest gift to me, i have really let my self down the last few years due to my studies the band would be an easy pleasant way to keep on track and get myself back in shape #sweepstakes


I'd love to have it to replace the uncomfortable band 1. Especially for sleeping. #sweepstakes

I would use a band two to help me keep track of my runs! #sweepstakes

Love being able to track elevation and location from one device - keep things simple! #sweepstakes

I would love to use the Band 2 to help me track my weekly running miles. #sweepstakes

I would use the Microsoft Band to monitor my rates during and after exertion! # sweepstakes

If not for me, I could give the Band 2 to my girlfriend who is recently becoming more phsyically active. We can finally jog together in style!
Oh yes, and this comment is for the entry in the #sweepstakes of course.

better tracking of health and improvements #sweepstakes

Time to move on! #sweepstakes

I'd use it to pair to my new Lumia 950XL! #sweepstakes

This would be a great motivator on those evenings I get off of work and would rather be lazy than to walk! #sweepstakes

Keep me up to date with daily reminders to stay fit! #sweepstakes

I would use it to find and program workouts that could help me have sexy as biceps *******. and use it to get away with texting at work. #sweepstakes

to check my heart beat #sweepstakes

I would use it so that I could do the couch to 5K routine! I want to get into running and this would be the perfect motivator! #sweepstakes

I always wanted to try yoga and this would be the perfect introduction. #sweepstakes

I'll use my band to make my friends jealous! #sweepstakes

I'd love to track my steps and heart rate during the day while I monitor notifications and email. #sweepstakes

I'd use the Band 2 to motivate me to reach my daily step count, track pace, track sunlight exposure, and track the sleep I'm getting so that I can see what kind of energy I can devote to a workout. #sweepstakes

I currently use a Fitbit Charge, and it is okay. But it doesn't alert to messages or calls. The Band will be a great step up! Posting as an entry into the sweepstakes.

Planning on monitoring my daily steps. #sweepstakes

I need something to keep me motivated to move! #sweepstakes

I will make Microsoft Band 2 a top selling band in my workplace, gym if I win it as I do whenever I buy a new gadget. #sweepstakes

The band would be so much easier to run with than my 1520 or 950xl! If it didn't get posted to Facebook by Endomondo it didn't happen! #sweepstakes

Trim some more pounds off . . Posting as an entry into the sweepstakes #sweepstakes

A Band2 would allow me to better track my steps for my daily fitness goals. #sweepstakes

I would use it to help remind me to keep active especially when I am busy working at my desk and need that body break. And to help me monitor my success. Thanks for the chance to win. #Sweepstakes

i have a dream... so please let it come true #sweepstakes

because of i am developer i have very busy schedule and no time for exercise/walking. I can easily track this info and may find time for this
#sweepstacks

Yoga really helps my muscles recover, i don't make time to go find a place and don't want to pay for it. #sweepstakes

Microsoft Band 2 #sweepstakes.

I think the Band 2 and yoga studio combined would help me to get motivated to get in shape.

I would use it to track my step goals I set everyday and try and maintain my heartrate! #sweepstakes

I think the Band 2 and yoga studio combined would help me to get motivated to get in shape. #sweepstakes

I would use this to make sure I'm keeping up with my fitness goals! #sweepstakes

I would give this to my wife. She has been wanting one. #sweepstakes.

To keep track of my run #sweepstakes

I would use this to keep track of my running #Sweepstakes

i would replace my old fitbit force. i would use it for my running session. #sweepstakes

I looks like it would be a great way to track progress towards fitness goals. It is not clear from the reviews I have looked at if it can track changes to those goals over time, it sure would be great if could. I posted this comment as a Sweepstakes entry

I would use the Microsoft Band when I am at the gym. #sweepstakes

How better to track my progress than with one for each wrist?
#sweepstakes

With a Band 2 I'd get fit! #sweepstakes

I started a mainly plant-based diet a few months ago, but now it's time for me to kick it up a notch with some excercise. This would be a great asset to help me keep track these my health and the changes I need to make going forward. #sweepstakes

encourage me to be healthier :) #sweepstakes

I would use the Microsoft Band 2 to track my progress as I start my new fitness plan. #sweepstakes.

I would ike a Microsoft Band 2 to primarily track my health activiites of 11K steps a day, lose additonal weight to reduce my BMI, to track medications times, manage my uv radiation and associated Vitamin D deficiency, track my heart rate for coronary and vascular concerns, and to ensure i am meeting all my health related goals. I also intend to develop Windows Mobile apps if an when necesary. LarryD

I would use band for fitness prograrms monitoring #sweepstakes.

I would use a Band 2 to go on runs and just monitor my health in general. Just got a new dog so I take her on two long walks/runs a day. A Band 2 would be awesome to keep track of that. Plus other cool stuff like my heart rate and sleep schedule and checking my messages and stuff. Really want one lol. #SWEEPSTAKES

My wife tells me I need to lose the baby weight : ) this will track my progress! #sweepstakes

I would run to see how many steps I can do. #sweepstakes

It would help m gain some weight as it can count calories intake. It would help me get a healthy and sound health as it moniters my sleep. it can also help me burn excess amount of calories. And last but not least when im in middle doing workouts or work it would notify me about calls and messages on my wrist so i dont have to run after the phone often. #sweeptakes

Looks great, just a little bummed I missed the free window, but looks like it's worth the $. #sweepstakes

I want one of these SOOOO very much! I currently have a Asus Zen watch but would like to have the Microsoft Band instead. It's a little more sleak and contoured. Plus, it would go nicely with my Lumia 950 XL! I would use it to track my walking throughout the day. I walk a lot at work and it's nice to know how far I have gone and set some goals. It also would be nice to monitor my heart rate for blood pressure concerns. Please enter me in the Microsoft Band sweepstakes! #sweepstakes.

I had the original Microsoft Band, but recently had to warranty it. I was given the option to upgrade to the Band 2 at that point, which of course I did. So, if I got this Band, I would pass my current one on to my daughter. #sweepstakes

I need to loose weight and what better way to start a new diet than with a new MS Band 2! #sweepstakes

I would definitely like to win the band two to help me control my fitness and share with my partner cause she has a heart disease we can help record her heart rate

Keeping track of my daily fitness could be a great way to stay motivated. #Sweepstakes

I'm currently training for a 10k and the heart rate function would be awesome to have! #sweepstakes

I would use the band to track my sleep patterns and review my text messages quickly #sweepstakes

I am using Lumia 630 which does not support Yoga app. But I would like to go with windows band which can help me to track my fitness from my windows phone#sweepstakes

I would use this to know how little I am sleeping #sweepstakes

I would use a Band 2 to help keep tabs on my activity levels and also avoid too much time in the sun with the UV sensor. #sweepstakes

If I'm ever going to use a wrist device connected to my phone it will be because I won it in a sweepstakes. :p #sweepstakes

I'd use it to remember my diet and get fit on a regular basis... and many other things, especially for work #sweepstakes

I already log my runs, workout sessions, and sleep with my 1st-gen Band. Since I navigate lots of stairs on some days the altimeter add-on would be nice to have. #sweepstakes

While I use the three main OS's for school I mainly use OS X for pc and iphone use but love my SP3 and windows 10 for notes and group work, I've been meaning to upgrade my Lumia 640 to Win10 but haven't had time. I have the lumia for testing and for fun windows 10 xbox games! I also have an old galaxy phone for testing too! Which means I use my iphone for all my smartphone heavy lifting (I'm eager to test the the 950 XL since I'm eligable to upgrade soon!), so one of the best things I like about the Microsoft Band 2 is that no matter what phone I'm using I know that the MB2 will work with it, which is just ONE of the many reasons I've steered clear of the Apple watch. The Yoga Studio app (super bummed that I missed the free download) looks awesome, I get stiff while working and studing and need stretch often and have considered yoga before but never have the time or desire to go to a studio. Adding this App to Windows 10 and making it compatible (obviously) with MB2 is great, I plan on trying this out when I get my MB2 I'm going to splurge so I can get some compressed and quick stretches in my office or studyroom. #sweepstakes

keep track if i have done enough #sweepstakes

I would use the band to help keep better track of my health (and lack of sleep!). #sweepstakes

Track my lifting regimen. #sweepstakes

I have the first Microsoft Band and I love it. I am amazed at how many features are available. I bought it to track my sleep because I have insomnia. It has notifications for calls, texts and emails. I had no idea how many miles I was walking in one day just inside the house. I added Cleveland Browns, Stock Market, and several beginner exercises that also include Yoga. It pairs very easily to phones, tablets and computers with bluetooth. The App displays by day, week, month, etc. The new one is supposed to be more comfortable and has Cortana. Even if you don't win it, it is well worth buying. Good luck to everyone. #Sweepstakes

I would use it for my walks and my daily exercise regimen. #sweepstakes

Since I don't really have a heath regimen, I would use my Microsoft Band 2 to inspire me to create one! #sweepstakes

I would use it to monitor sleep cycle, and heart rate during workouts. #sweepstakes

I'd use the MS Band 2 t track my nightly runs! #sweepstakes

I've been looking at a Microsoft Band as an extension for my phone, nothing more. The latest updates have improved the app, adding some great incentives to start up a new workout routine. #sweepstakes

I would track my walking to encourage me to walk more each day. #sweepstakes

Actually I would use this during weight lifting #sweepstakes

WOW, I would use it to help me with my art work. Thanks for the contest, geneorsity & awesomeness.

awesome #WINDOWS10DOESMORE

I would use it to track my fitness activity. #sweepstakes

I wuild use Band 2 when my phone is in the pocket and to keep track of my moving activities! #sweepstakes

Adding MS band to your life will make you aware of your activities and your health status plus keeps you connected your phone remotely, Family, work and friends keep you busy it would be great to track your sleep quality as it has a great impact on your body and brain health, as well, tracking my movement around when I'm at work or in the city moving from one place to another, If I do eat more than I do activities, do I need to do light training or I should dedicate some time to train. What's more, I don't like to keep my phone with me when I'm at home or office, I do leave it in one place and come to check back to check if I have received a call, SMS, or an email, using band will make me get notified right away if I have received any without wasting my time or distract me of what I'm doing. Finally, you can check all activities Online using a browser or with MS Health App, and guess what, Cortana is supported with your band. #sweepstakes

As being Diabetic, I will use the band to keep track of my exercise specially Yoga, to keep my blood sugar within range. #sweepstakes

Wow! I think this product is what have been looking for in my new yoga class. Now I can tell others about this. It is innovative, and it is something that would help the beginners out a lot during class. #sweepstakes

I will use it to replace my Apple Watch #sweepstakes

Sooooo tired of smart watches and fitness bands that don't work or can't even get through a day without charging! What's the point?? Hook me up!
#sweepstakes

I would use the band to track my exercise routine. #sweepstakes

I would use the MS Band 2 to remeind me to stay active even when I am super busy with grad school. #sweepstakes

kickstart a new me #sweepstakes

This is so great i want to try yoga app on MS Band 2. #sweepstakes

#sweepstakes Summer is coming, and my wife need to step it up. I recon this device would do the trick ;) And, perhaps I need to borow it myself as well.

Windows Band 2 would help keep me motivated to continue striving for bigger fitness goals in my life! #sweepstakes

Having a Band would help keep me on schedule. #sweepstakes