Windows 10 Gems: Build moving collages with PicPlayPost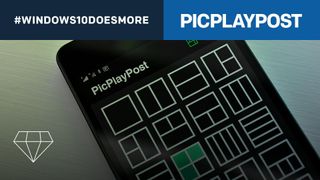 #Windows10DoesMore
With these Windows 10 Gem apps
With support from Microsoft (opens in new tab)
PicPlayPost
Photography on mobile devices and even photo editing on PCs might seem like it should be a rather banal and uninteresting task in 2016. Sure, there are still those ubiquitous filters everyone is using, but for the most part not much has changed in recent years. There's Photoshop, there's Instagram, and there hasn't been much in between. PicPlayPost, however, is a way to get a little extra creative with your photos and their new app for Windows 10 and Mobile is a fantastic upgrade from last year's version.
PicPlayPost is a powerful photo collage builder for Windows 10 and Windows 10 Mobile. It includes a number of stand-out features for the modern social photographer, like GIF support and quick sharing to your favorite networks.
Download (opens in new tab)
What is PicPlayPost?
PicPlayPost lets you do a bunch with your grand photo editing and sharing plans:
Collage – The app lets you mix and match many types of media together with different collage layouts, perfect for sharing mini-collections.
GIFS – Love them or hate them, but animated GIFs are still all the rage, and often really are perfect for capturing your current emotion. Feel free to use GIPHY to find and embed them in your PicPlayPost collage.
Audio – Imagine going to see your favorite band in concert. You snap a few photos, so you put them together in a collage using this app. Why not add a snippet of their music to your college to bring it to life?
Editing – Your final art piece can be either a static JPG, animated GIF, or even a mini-movie with audio.
Share – Once done, just share to your creation to Vine, WhatsApp or Facebook directly.
Discover – Looking or ideas? Just browse the Discover section to see what others are creating using PicPlayPost. Once you see some examples, you will get those creative juices flowing.
All of this can be done with PicPlayPost via a few simple screens. Even better, the app is free with an optional in-app purchase ($1.99 USD) to remove their watermark (you can then even create and add your own too to help protect your creation)
Why it's cool
The app for PicPlayPost works on Windows 10 for PCs and tablets as well as Windows 10 Mobile. The latter usage is rather obvious as you will want to use photos taken with your Lumia or other Windows Phone and put them directly into the app.
The ability to also use the same app on your laptop or PC, however, is a bonus. Figure it this way: if you auto-save your photos to OneDrive, you can then just easily download them using your Photos app. Toss a few of them into PicPlayPost on a large screen in a more relaxing atmosphere.
How to use it
To use, just launch the app and pick the type of collage you want. Options include everything from just double frames up to four, five or six panel designs. Once you chose your collage layout, just start adding photos from your library. Options include zooming in, rotation, and more for optimal placement.
Within each pane instead of just one still photo, you can also choose to make it a moving slideshow for some extra pizzazz.
You can also add in some animated GIFs using GIPHY to search out what is available on the internet. You can also control the timing with each pane playing sequentially or all at one.
If you wish, you can add some music from your phone, PC, or even do a search. The app has a simple music editor that lets you choose the portion you want to include and whether it should loop or not when playing.
After you are happy with the final design, you can then preview how others will view your PicPlayPost. Assuming you added some music or an animated GIF the collage plays like a mini-movie. In fact, when you choose to output the final version you can save it either as a GIF or movie to your device. It is during this stage that PicPlayPost will also let you post directly to Vine, WhatsApp, or Facebook.
The Windows 10 app experience
Last year when we looked at PicPlayPost for Windows 10 it wasn't yet quite up to our standards regarding quality. This new Windows 10 version, however, is much cleaner, easier to use, and everything just works as you would expect.
The interface is minimalist and straightforward to use, and the GIPHY integration worked well with no issues. Even adding music (your own from your device or you can buy through the app) worked with no complications.
There were one or two navigation hiccups e.g. the back arrow tends to exit out of the app instead of return to the previous menu, but this is a rather simple bug that will likely be fixed soon.
Collage it up
Tweet at us your PicPlayPost collage and include the hashtag #Windows10DoesMore!
Tweet your #Windows10DoesMore collage from PicPlayPost!
The final take
So, why do I like PicPlayPost? Well besides their app now using the superior Universal Windows Platform, I just like the idea of creating interesting and creative collages from my photos.
I also like the little things like being able to customize the thickness of the collage bars (too thick just looks corny).
Grouping photos together, however, is not that special or unique anymore. Luckily, PicPlayPost is about much more than grouping. Adding music to play along with your photos or even embedding animated GIFs brings your art to life in a whole new way. It is also unique enough that you will certainly surprise your friends and family when your new form of expression pops up in their timeline.
Overall, PicPlayPost is just something neat to have around. You may not always use it, but for those night outs, day trips, vacations, concerts or maybe just showing off your pet, it can be a new tool on your phone – or your PC – that can let you take expression to a whole new level. I'm sure it'll bring a smile to your face and others when they see what you made!
Day 3 Sweepstakes:Win a Lumia 950 XL!
How to Enter: Log into Windows Central and leave a comment on this post letting us know what photo collage you'll build first with PicPlayPost. At the end of your comment you must also indicate you are posting as an entry into the sweepstakes, or use #sweepstakes.
Full rules and regulations can be found here, but please note that due to sponsor restrictions, the sweepstakes is only open to Windows Central readers in the US and Canada.
The sweepstakes is open until March 31st, and winners will be announced on the blog shortly after the close date.
The Prize: One super lucky Windows Central reader will take home a Lumia 950 XL (service is not included)!
Follow Daniel for even more #Windows10DoesMore
Twitter: @Daniel_Rubino
Instagram: daniel_rubino
Windows Central Newsletter
Get the best of Windows Central in your inbox, every day!
Daniel Rubino is the Editor-in-chief of Windows Central, head reviewer, podcast co-host, and analyst. He has been covering Microsoft since 2007 when this site was called WMExperts (and later Windows Phone Central). His interests include Windows, laptops, next-gen computing, and for some reason, watches. Before all this tech stuff, he worked on a Ph.D. in linguistics, watched people sleep (for medical purposes!), and ran the projectors at movie theaters because it was fun.
I will create a collage of the recent fish I catch... And more of my outdoor adventures. #sweepstakes.

Same here, my fellow fisherman #sweepstakes

I'd build a collage of all our trips to movie conventions with our favorite actors. #sweepstakes

Would love to own this phone for the camera alone. World class!

you can use this app to create collage of sweepstakes for 12 days :D #sweepstakes

I hate WC's US only sweepstakes.
#nosweepstakesforme

I Never take part in such Lumia 638 Windows 10

We can afford the shipping costs if that's the problem lol

I would so use it to build a collage of pictures of my adorable daughter #sweepstakes

Bring on the new Lumia 950 XL, I am ready to win it, please contact me straight away! #sweepstakes

PicPlayPost sounds like a nifty little app to make your memories into collages of memories. Looks like my daughter will have some awesome collages made of her! #sweepstakes

I'll definitely be making a collage of my family. #sweepstakes

Would like to build a collage of my friends. #sweepstakes

I'll use it to create collages of my animal rescue's dogs for adoption! #sweepstakes

I will make a collage my beautiful family! My wife and three kids! #sweepstakes

Can't wait to use this at my next music festival in June! #sweepstakes

Hands down the photos I took in Jamaica on our honeymoon. The landscape and ocean pictures are so beautiful. #sweepstakes

Def make a collage of my birth family which I recently met. #sweepstakes

I building my first table, I have taken some pics of it, going to make a collage using this app

A nice picture collage of our recent beer homebrewing day is in order. #sweepstakes

I am going to create a collage from our trip to Singapore and Malaysia in 2015. #sweepstakes

I'll be creating a collage of my sportscar pics #sweepstakes.

Hard to say what my first collage will be, but more than likely it'll involve my kids #sweepstakes

I would like to create a collage of some of the recent clients of our photography business to market on social media like Instagram and Facebook. #sweepstakes

I love creating collages of various animals #sweepstakes

Build a collage of classic windows wallpapers
#sweepstakes

I would have to make a collage of all out pets including our adorable 1 year old Great Dane. #sweepstakes.

I'm going to make a collage of my adorable baby niece #sweepstakes

I would build a collage of my college campus. Love this app; looks very clean. #sweepstakes

Photo collage of the kids of course! #sweepstakes

Reaching 10th anniversary Milestone. My first collage will be the Happy Family Collage :D #sweepstakes

A collage of my kids. #sweepstakes

A collage of memories for a 50th anniversary par-tay. #sweepstakes

I would use it to make a collage of sunsets in my city #sweepstakes

Family trips. #sweepstakes

Always cool to make a collage on the road! #sweepstakes

I will do many of my family and use them as my background pictures.
#sweepstakes

i would use this to create a collages of all different kinds of wallpapers. #sweepstakes

Great created great collage of the Yorkshire dales .sweepstake

#sweepstakes Hope for best - Windows central ( Mobile Nation ) = As if you select me : send gift to my family in USA, or canada . I'll take from them - when in april ( I'll be in North America ) I am entering to win the monster 20 mp Lumia 950 xl - One of the best to create fascinating stories That's my collage : ( http://imgur.com/VEzZB1A ) - Please : very useful to enjoy Windows 10 latest updates, and Photography with Lumia 950 xl

I'll make a collage of my wife, my self and my upcoming child. Would not post it to Instagram, but have no problem posting something like that as my background or wallpaper. #sweepstakes

The family trip to Boston! Kids first run at the freedom trail ftw! #sweepstakes

I'd enjoy to do a collage of my favorite weekly cigars! #sweepstakes

It's great made a fantastic collage of the Yorkshire dales #sweepstakes

Maybe I should do a collage of me and my wife. She loves that crap. #sweepstakes

I would make a picture collage with PicPlayPost of my family. We are a blended family, and we are all incredibly greatful that it's working for us, and that we are incredibly happy. So my family is what I would create a collage of. #sweepstakes

I will create a collage of my first year living in the NYC area. It's been be best year of my life starting with me getting married on top of the Empire State Building!

you forgot to add #sweepstakes

My kids, obvs. #sweepstakes

First collage will definitely be of my upcoming camping trip with my bro. #sweepstakes

Sounds cool. Maybe I could use that to put together game screenshots for the reviews I do. #sweepstakes

I'll be building a collage of some of the pictures I have won prizes with using Lumia phones. #sweepstakes

Roller coaster collage #sweepstakes

I'd make a collage of the retro video games I've collected over the years. #sweepstakes

I'll make a collage of my husband and kids. After two girls, we finally have a son on the way and I'm looking forward to recording the happy occasions (and sleepless nights) that come with a new birth as well as how the children will ineteract with each other. Super excited and best wishes to whoever wins. #sweepstakes

I will make a collage of my kids growing through the years. #sweepstakes

Why not for European fans? Would love to win that awesome Lumia 950XL #lumialove

​I will build a collage that includes pictures of our (wife and I) first cruise ship trip. Starts at Long Beach, then to Catalina, to Ensenada, and back to Long Beach. Collage will include moving clip of ocean waves breaking under bow of ship, as well as stills of pool, slides, restaurants, and more. #sweepstakes Please consider this as an entry to the PicPlayPost 950 XL sweepstakes

I will be making collages of my trip to Africa. #sweepstakes

I"ll be building a collage of Becoming Father or Dad or Pappa... Very Happy Moment which will in next month...
#sweepstakes

This looks like a really good app to help me get the most out of the pictures I take. I am no photogarapher by any means, but I still try to take a good looking picture. This could help make things easier! #sweepstakes

The weather is getting better, so a collage of my city: Seattle #sweepstakes

I reciently moved to Boston so I would like to showcase the city as I explore around. #sweepstakes

a collage of my youngest son's high school years! #sweepstakes

I would make a collage of my family. #sweepstakes

I think I will make a collage of my family trip up to Chicago #sweepstakes

I would create collages of my Japanese friends' visit here in the US. #sweepstakes

I would love to make a family collage! #sweepstakes

I think mine will be a collage of the Mets rotation, the best in baseball. #unfinishedbusiness #sweepstakes

A collage of my valentines day trip with my segnificant other
#sweepstakes

My phone is already packed with collages of my pups, but I would create YET ANOTHER with PicPlayPost if I had a sweet, sweet Lumia device :D #sweepstakes

I'd post a collage of sports cars for the #sweepstakes

My wife is nuts about the ability to make collages on mobile devices, so I'm sure she will love this. Thanks for a great run down on a great gem of an app! #sweepstakes

I would maybe do vacation collage to post to instagram. Let all the jellys out there see whats going on. #sweepstakes

I will create a collage of the awesome wallpapers I collect. #sweepstakes

Collages of family pics always work. #sweepstakes

I'd make a collage of my wife and kids. #sweepstakes

I will make a collage of my recent trip to Rome with my family to celebrate my parent's 35th wedding anniversary #sweepstakes (Ps my brother lives in Canada so you can send my prize to him)

Love my dog, so I'll build a collage of him!!! #sweepstakes

This is realy a best way for real collagers ...
Really nice one ​

Post pics and videos of me and my girls workouts using Microsoft bands #sweepstakes

I make a collage for my friend for his birthday at tonight coollllll.
#sweepstakes Posted from Windows Central for Windows 10

I'd probably do a collage of my trip to the netherlands! #sweepstakes

I'm gonna create a collage of the trips I've taken my nephews on. Their parents will probably enjoy it more than they do, but it'll help remember them (the trips) better. #sweepstakes


I'd love to make funny gifs, and maybe some cool collage of pictures I've taken. :) #sweepstakes

A collage of my kids with animated GIFs of them laughing. #sweepstakes

I'd make a collage of my wife and son. #sweepstakes

Just installed, now trying to capture a holiday with friends in a collage, so I can seems it to them #sweepstakes

I will build a photo collage of last summer wishing that it'll be here sooner. #sweepstakes

A collage of my sailboat! #sweepstakes

Going to create a collage of my snowboarding exploits and one of my cats being adorable. #sweepstakes

I would love to use PickPlayPost on my new 950 XL the best phone on the planet.

I'm going to San Francisco for a hackathon in a couple of hours, so probably a collage of people coding and SF views #sweepstakes

Three images: two in the first row, and a large one at the bottom. Up-left: GIF showing Team Iron-man. Up-right: GIF showing Team Captain America. Bottom: Still photo of the Civil War logo, playing that best part of the Avenrgers theme song. :) #sweepstakes

I would collage food, nature scenes, and my corgi! #sweepstakes

A collage of pictures of my friends #sweepstakes

I will make a collage of photos from my son's wedding. #sweepstakes

Definitely getting a collage together of several of my capentry builds! #sweepstakes

I'd do a collage of my goddaughter and godson first. #Sweepstakes

For sure going to use this to build a collage of my quick trip to New Orleans! #sweepstakes

I like finding about these apps. Thanks #sweepstakes

I'd make a collage of all the prizes I can't win as I don't live in North America....

I would create a collage of my recent travels :) #sweepstakes

I would use the camera and app to take pictures of me spending time with my wife and kids #sweepstakes

I'm going to create a two framed collage showing a video/slide show of the recent hi-res mapping of our Galaxy (created by the Apex Telescope in Chile using the 700+ observations stitched together to create the clearest mapping of the Milky Way EVER) and a nice clear image snapshot of the Milky Way. #sweepstakes

My collage are of my mon plants. it's a shame, always Windows Gem are only for US and Canada :( Make worldwide #sweepstakes

I'd use it to make collages of my beautiful children! #sweepstakes

I think I would make a collage with family pics. #sweepstakes

I'd make a collage of puppies, kittens, and pie. Because everyone loves puppies, kittens, and pie. #sweepstakes

This looks like a really good app #sweepstakes

I'd make a collage of all my gadgets with it...
#sweepstakes

I would like to create photo collage where are all my class mates. From 1 class to latest class. Sory for my english, but i'm from Slovakia #sweepstakes

I'd create a collage of my daughters Dr Who outfits!

I would create a collage of my dog doing crazy things...!!! #sweepstakes

My vacation. Forgot the #sweepstakes

Looks like a fun app! #sweepstakes

I would make a collage of all of my various phones!!!!! #sweepstakes

The first collage I am going to make is of my son's soccer team in action. I take pretty respectable pictures with my Nikon with 42X Optical zoom but I don't always have that with me, especially if the boys are just scrimaging or practicing. I would love to have an app that is on my phone and PC that I can utilize to make unique creations to help promote the team and showcase the kids' talent. I think I can create some really great collages using the 950 XL and Pic Play Post. #sweepstakes

I would create a collage of my kids, wife and pets, duh. #sweepstakes

I'll create a collage of my dogs playing in the snow. #sweepstakes

A photo collage with the last meeting whiteboard sketches. #sweepstakes

I'd make collage of my kids fooling themselves in the saturday morning (out of school). :)) #sweepstakes

Probably try it out first with picture of cats and dogs, and get the feel of the app. #sweepstakes

I built a collage for my mom. They have everything from slide show, videos, gif an music from either your phone or from online resources, very very convinicent. You can either export it as a gif or video. Everything was smooth, no crashing. Advertisments are minimal and reasonable (usually apear while waiting for export files). Enjoy it so far. Definitely recommended #sweepstakes

I'd make a collage of my friends! #sweepstakes

Will try this out #sweepstakes

I'd make a GIF to convey how happy I am. #sweepstakes

My children and thier adventures!
#sweepstakes

Photo collage of my kids riding their broom stick horses. #sweepstakes

Pics of the kids sent to the grandparents!!!! Downloading now. #sweepstakes

this look awesome app, but if add support share to instagram, then it will be gold #sweeptakes

I'll make a collage of BlackBerry, Androids and IPhones I've had up to my current Lumia device!! #sweepstakes

I would make a collage with all of our pets overlaid with the audio of my dog talking like a human. #sweepstakes

I would make a Hawaii trip collage. #sweepstakes

Nothing would be cooler than adding audio clips to my concert pictures! #sweepstakes

Definately would make collages of my family and me, including the family pets #sweepstakes

I would include the app's mixed media capabilities into my health reporting. #sweepstakes

Love to use this app..my first collage will be playing with my dog along with some barkings of him #sweepstakes

I would create a collage of my kids growing up. #sweepstakes

A collage of my adventures when im saving the world... #sweepstakes

A collage of all my old phones. #sweepstakes

I would use to build a collage of pictures of my city, my friends and my familly since I might be moving out of here soon #sweepstakes

Its a good app, been using it for a long while now. Glad to see the developers working on 10. That said, it would be nice to use it on a new 950xl !

I would make a Japan trip Collage! #sweepstakes

I'd like to create a collage of myself from the past 10 years with all the different hairstyles I had. :) #sweepstakes

I make collage of my childhood pics. #sweepstakes

I would make the collage on my upgrading of phones
#sweepstakes

Probably use it to make a collage of my gf and I since she got me a better valentines day gift a couple weeks ago :) #sweepstakes

I'd make a collage of my animals. #sweepstakes

This would be great to put together a slideshow for my nephew's wedding party. Also for the kids' birthday parties. #sweepstakes

I have so many vacation pics I need to hyperorganize. PicPlayPost would be a perfect tool since it's a UWP App. Can't wait to get it on my devices. Thanks for the Gem. #sweepstakes

Probably a collage of my triathlon finishes. #sweepstakes

I'd work on a collage of a recent trip we took. #sweepstakes

creating collages of animals #sweepstakes

I'd make a collage of all my previous models of WindowsPhones - hopefully using a 950XL #sweepstakes

I will make a collage of my wonderfull family!! :) #sweepstakes

I'd make a collage of all my greatest achievements... In Xbox Live, of course. God forbid I actually do anything of import. #sweepstakes

First I would make a gif collage. On one half my 18 month old son would throw a ball, the other half would be me catching the ball.
Each gif would be taken at a different angle.
#sweepstakes

I'll create a collage of my family
#sweepstakes

A family collage would be awesome. Thanks #sweepstakes

I downloaded picplaypost and my first collage was of one of my sons. It included 3 pics and one video. I exported it to a GIF. It works rather well and is pretty cool. #sweepstakes

For me it would probably be a collage about all the different PC parts I've purchased over the years, starting from the late nineties xD #sweepstakes

I'll make a collage of the clouds above my house #sweepstakes

I'd make a collage of my kids as they grow up. It is hard to see the difference a year can make when you are with them everyday! #sweepstakes

My grandkids.#sweepstakes

I would create a collage of our backyard with before and after pictures
#sweepstakes

I would build a collage from the pictures I will take on my vacation next week #sweepstakes

i collage of some old pics of the family #sweepstakes

I would like to make a collage of my upcoming trip to Michigan later this year! #sweepstakes

I would make an awesome collage of my children and all their adventures! #sweepstakes Posted via the Windows Central App for Android

Probably make one of my kids and possibly include our pets in there as well. #sweepstakes

I will make a collage of all the apps that I have created for my senior project #sweepstakes

Collage of all my Canadian photos #sweepstakes Posted via the Windows Central App for Android

would love to win the 950Xl #sweepstakes would use PicPlayPost for our upcoming birth of our second son in July!!!!!

I will create first using the PicPlayPost a collage of my cooking recipe. #sweepstakes.

Let me win and i'll make a collage of the phone! #sweepstakes

I'm overdue for making a collage of my family so I think that will be first, follwed by one of my friends #sweepstakes

Collage of the Snow! #sweepstakes

my collage would be of my pregnant honey and our new born kiddo. #sweepstakes

I will create a collage of my favorite foods #foodislife #sweepstakes

I will use it to create a collage of forest lodging trip to Flora Bora with my friends. #sweepstakes

Will use it to show off all my windows 10 devices

I would use it to post a collage of a recent trip

Stoked to try Continuum!
#sweepstakes

I will create a collage of family and friends. #sweepstakes

I want to use PicPlayPost to build a collage of my kids growing up (so far). #sweepstakes

Who needs one particular occasion for making a collage. Hell I create collage ​of everything :D #sweetstakes

I'll be producing a collage if me and my two ladies #sweepstakes

Excellant way to have some fun with the pictures taken on the 950 XL #sweepstakes

I will build a collage of my dogs :) #sweepstakes Posted via the Windows Central App for Android

I'll make collages of the kids for the grandparents! #sweepstakes.

I'd create a collage of my daughter's recent wedding. #sweepstakes

Wow, I should check this out, sounds cool. #sweepstakes

Never used this app before, and it does look pretty interesting. I do want to mention that I'm digging the new look of this round of Hidden Gems. It is cleaner and fresher than the previous one. Keep it up! #sweepstakes

I'll put to play PicPlayPost to collage my journey of 1,051 km from Cape Town to Camden near Kuruman Tebele from Cape Town , South Africa

I will be building my first collage with photos of my family with PicPlayPost, because what's there to say, family=love :). #sweepstakes

I'd totally send a multipart picture of dinner to my girlfriend! I'm also interested to see this on Win 10 desktop. #sweepstakes

I would collage all my family! #sweepstakes

I would do a college of my home city #Winnipeg
#sweepstakes​

I'd use it for a trip I made to Colonial Williamsburg Summer before last, including performances by 'Thomas Jefferson' and 'Patrick Henry.' #sweepstakes - I'm entering the sweepstakes.

I've seen these collages on the internet for some time, but this seems like a great and easy way to create them on my Windows 10 Mobile phone. #sweepstakes

I would create a 4x4 of selfie collage with the 950XL to post to Instagram & FB

Of the most greatest cities in the world! #sweepstakes

I will use it to make a collage out of kids pictures. I'm entering the sweepstakes. Please pick me.

I could make a collage of Donald Trump Memes! #sweepstakes

Being my birthday today, I think I will do a collage of past to present bdays! #sweepstakes

I will use it for making a collage of kiteboarding season #sweepstakes

I would like to make a collage of my family's recent vacation to Arkansas.
I'd love to win the Lumia 950 XL to replace my Lumia 640.
#sweepstakes

I would make a collage of my dog's recent 5th birthday party. He had awesome peanut butter and bacon cupcakes. #sweepstakes

I would create a collage of my fav pictures of my children. #sweepstakes

This would be perfect to show all the trips I went with my family. Great app and easy to use. #sweepstakes

C'mon guys, your site has a worldwide audience and because of stupid "sponsor restrictions" (yeah sure...) it's only for North Americans...

No doubts, my first collage would be pictures of my dogs. #sweepstakes

I want it :) #sweepstakes

I've restored several classic BMW's, would be awesome to create a collage of the old cars from various restoration steps all together :) #sweepstakes

What will my first collage be? Oh Daniel, that's easy. I have a 20 month old daughter. THE CUTENESS WILL DEVOUR YOUR SOUL! #sweepstakes


style picplaypost #sweepstakes

A collage of various boulder and climbing routes #sweepstakes

I would create a 2x2 of selfie collage with the 950XL to post to Instagram & FB style picplaypost #sweepstakes

Going to create a collage of my trip to Italy #sweepstakes

I'm a photographer, so I'd probably make a collage showing the behind the scenes studio shots I take on my Lumia and showcase them alongisde the final edited photos I take on my dslr. #sweepstakes

I will create a collage of my summer holidays !. #sweepstakes.

ok, got the app already make a quick collage., yes it is cute and it works #sweepstakes

I have been fortunate to meet a lot of musicians and I use my Icon phone to record video and take pictures of those great times. My first collage will be photos of me with these artistic heroes and friends of mine. #sweepstakes

I will make family outings with the PicPlayPost app and share with family on Facebook. #sweepstakes Posted from Windows Central for Windows 10

I'm posting an entry to the 950XL sweepstake.. I'll probably make a collage of me and my immediate family first.

Would make a collage of all the Windows Central staff! haha! #sweepstakes

Photography - that's what Lumias are For!

I would collage of pictures of my family or relatives #sweepstakes

I love my wife and daughter and so I made a collage of photos and videos with my daughter and wife to post to 6tag))) #sweepstakes

My 4 cats doing what they do best... sleep and destroy my furniture. #sweepstakes

Build a collage of all my awesome Microsoft stuff... maybe it can include a new 950 XL in my future? ;) #sweepstakes

Ummmmm... a collage of Windows Central authors!!! #sweepstakes

One of the companies I manage just had a seminar, I'd create a collage of all the participants and post it to the fb page to show how much fun people had to help convince even more to come to the next one. #sweepstakes

I'd do a Family Collage - and leave myself out of it (so it's attractive for everyone else to review) =D. Kayne West should do the same (collages of him are so much prettier when he's not in them). #sweepstakes

i'll first build a college collage. #sweepstakes

create a collage of having fun outside #sweepstakes

I'll make a collage of my next visit to my girlfriend abroad, and the adventures on that trip. #sweepstakes

I will post pics of my next ski trip! #sweepstakes.

I would make a collage of me and my niece, because I really really love her. #sweepstakes

I want the 950xl of course, but I'd create a picture collage of my kids to put on a print for my hallway wall at home. Its barren at the moment, and needs something.. anything. #sweepstakes

A collage of landscapes #sweepstakes

I've been looking for an app like this! Caught my eye even before I saw the sweepstakes! Please add support for Lumia Living Images, as well as GIFs and I'll be the happiest little boy, in Christmas Land! #sweepstakes

I'm planning on making a collage of my ski trip this weekend. #sweepstakes ​

First collage I'm making is of my family. #sweepstakes

I want to create a collage of our family trips to share! #sweepstakes.

Considering some business uses to present visits to our international offices to the rest of my team located in the US and abroad. #sweepstakes

Thanks to the #sweepstakes I'll be downloading this app. What collage will I make? My first one will be of my son's graduation from US Army basic training and the second will be of his AIT graduation ceremony. #sweepstakes

I'd love to make a collage of my family. #sweepstakes

i would create a collage of my vacation last week #sweepstakes

Collage of the great outdoors and maybe some of my family...maybe. #sweepstakes

I will create a collage of my family!!! #sweepstakes

The first collage I would create would have to be of my dogs - all three of them. They are the only "kids" that I have that don't talk back! #sweepstakes

I'd use PicPlayPost to put together collages of my daughter and pregnant wife, due in July! #sweepstakes

With the girlfriend's birthday coming up, a collage of us would seem to be ideal, if not a little cheesy. #sweepstakes

I would create a collage of my college. #SWEEPSTAKES

I'd build a collage of my family #sweepstakes

How fortunate for someone to enjoy the combination of features to create a collage to recall those special moments in a collage of gifs and audio to express the whole of an event. I am going to retell a special Christmas morning with the excitement of grandkids and the discovery Santa has indeed enjoyed their treat of cookies and milk and rewarded them with lots of gifts for being so good! #sweepstakes

I would use PicPlayPost to make collages of my kid and be the annoying person on social media who inundates timelines with pictures of their kid! #sweepstakes

I would create a collage of my travel pics and enter #sweepstakes

I love my niece and nephew. I'd build a collage of all of their antics including family parties, birthdays, holidays captured over the years. #sweepstakes

Love the notion of a photo collage builer and the ease of sharing to other social platforms. Sounds a step above the same ol, same ol. This post is a sweepstakes entry

Definitely will use it to make collages of my beautiful family!!! #sweepstakes

Finally!!! I mean, I had to create collages with videos and photos in my wife's Android tablet. Finally there's a solution in Windows. Of course I would make tons of neat and nice collages since my daughter is becoming a musical artist, so it's interesting to have a tool of this type to make some content for her social networks. Sweet. And if by any chance I win the 950XL it would be the dream win/win for me... #sweepstakes

I love the page layout @Daniel. It's so beautiful.

I will be doing a collage of several buildings in my area. Architecture is awesome...and I'm also glad it's available for Windows 10 on my pc. #sweepstakes

I would use it to make rich collages of my family to share. #sweepstakes

collage of frosty scenes of winter , enter sweepstakes

This app is a dog collage waiting to happen. #sweepstakes

I'd use this to capture the goofy moments of my Siberian Huskies! #sweepstakes

I would show a collage of my fragrance collection. For a fragrance lovers! #sweepstakes.

I would create collages of my outdoor adventures hiking and snowshoeing. #sweepstakes

Creating awesome collages for my church website and even gifs would be awesome! #sweepstakes

Hobart has some beautiful natural settings for a set collages . #sweepstake

I would create collages from all my disc golf pictures with all my disc golf friends. #sweepstakes

I will create a collage of my baby Ozzie (chihuahua) He is so photogenic and this will be perfect for me to Make keepsakes of him! Thank you Windows Central You always rock! #sweepstakes

I would create a collage of my collection of collages that i collaged over the years. Did i mention that i collage? #sweepstakes.

I'm going to create a coolage of all of the comments from loyal WP users outside of the US and Canada. Hahaha!
#sweepstakes

This looks great, I'd create a collage of my children, becuase they just make me smile! #sweepstakes

I'd love to return to Windows with Win10 Mobile. With this app I'll create collages of my outdoor and fishing photos to share with friend and family. Good luck everyone! #sweepstakes

#sweepstakes look to make a collage of my favorite new york knick players

The first collage will include all the hiking i have done this year. Good luck :D. #sweepstakes

I would create a photo collage of my family #sweepstakes

This looks like it would be good for creating some collages of my kids, so I'd start there! #sweepstakes

Step by step instructional washing machine setup colllage

Family collage here I come! #sweepstakes

I would create a collage of my two crazy kids! She turns 86 this year and would love it! #sweepstakes

I'd create a collage of my kids. #sweepstakes

#sweepstakes I will make a cool pic with this app and when I am finished I will post it on this blog. Thanks hope that I will win. Posted via the Windows Central App for Android

I'll do a collage of my favorite girls, wives and daughters. #sweepstakes

A collage from a summer festival like WOMAD would be cool. #sweepstakes

I'll use the app to chronicle my various theme park adventures! #sweepstakes

I will build a collage of my fiance. #sweepstakes

I would build a collage with photos taken from my brand new 950 XL won in these #sweepstakes

I would use it to make a collage of winter changing to spring in 2016.

I have about a billion photos from a recent tradeshow conferences .. sounds like an easy way to send something to the boss ... #sweepstakes

I'll would make collages of my family. #sweepstakes

I probably shouldnt say what I'd create a collage of, but I want it anyway!

I can make a collage of Animated GIFs of my little girls. I use other apps currently, but this sounds like a great app to get Moving pictures on the collages! #sweepstakes

A huge collage of my Thailand pics! Simples! #sweepstakes

I did buy my wife a 950XL and at first she was unhappy as she really liked her Lumina 1020. Now she is very happy , but has not used the camera as much as she did with the 1020. She likes the pictures so far, but the 1020's 41 Megapixal camera is still pretty impressive and one reason why I have stayed with the 1020. Now I use mine first as a phone, then a smart phone (Web, calender, etc) and finally as a camera. I thought the 950XL would be too big for me, but now I am kind of itching for one. My wife has her phone in Korean language and when she finally decided she wanted a cell phone she wanted Windows as she was familiar with it and she liked Microsoft's rendering of the Korean letter or symbols. So I ditched my iPhone and got the two new 1020s the first day of their release. She really took to that phone and was very familiar with the Winphone 8.1 OS, hench her reluctance at the new Windows 10 phone. I am afraid to show her this PicPlayPost app as she will turn into a monster!!

I just installed it. Glad i found out about this app. Thank you windows central. #sweepstakes

I'm gonna do a burnout collage. #Sweepstakes

I would create a grand collage of photos taken from my Nokia N82, Nokia N8, Nokia 808 PureView and the Nokia Lumia 1020 to show the imaging forefathers of the Lumia 950 XL. #sweepstakes

I would start with a collage of fan art by me and a few family artists. #sweepstakes

What'd I create? Awesome origami collages! My desk's lined with them at work, I'll make some and post them up :)
#sweepstakes

It's the kids.
Sorry no dog. #sweepstakes

I'd make a collage of my kids .
#sweepstakes

Great for documenting life on the dark side((google)). Coming back if i win the #sweepstakes. Posted via the Windows Central App for Android

I'm going to go back into the photo archive and put together some travel collages. #sweepstakes

I will build a collage of all my cell phone cases, I cant sell. I must have over 100 cases. lol #sweepstakes

Animated gifs. Basically that. #sweepstakes

I would so use it to build a collage of pictures of my adorable dog! #sweepstakes

Just got a boat and an rv would be great to keep track an organize the fish i catch and the places i go

I'd make a collage of my kids #sweepstakes

My collage would consist of my favorite car of all time, the BMW 2002. Cheers! #sweepstakes

my collage trip/anniversary to Turkey! I had the ATIV S back then but surely wished I had a PureView Lumia to take pics with! #sweepstakes

I can't wait to creating fantastic alive collage of my trips into mountain nature. ​

I would do a collage with my sons pictures ... #sweepstakes

I'd make a collage of all the bands I see live #sweepstakes

I've been wanting to dabble in this again. I just started using photoshop again after a 10 year break! #sweepstakes

I've got a few weddings and other special events coming up I might try this on. #sweepstakes

i would make a collage of the various nature pictures i like to take. also of my daughter and friends and family. #sweepstakes

I will make a collage of my disc golf throws as gifs (hard G, haters). #sweepstakes

I would do a collage of my friends and family!! #sweepstakes

Heh, I'd likely end up trying to put together a cascading series of Gifs that fed into each other, though I've never used Gify before, so I'd have to see how that would work with this app. ;P I posted this comment as a Sweepstakes entry #sweepstakes (Copy & Pasted for Maximum Efficiency.)

I will make a collage of my family first using PicPlayPost. #sweepstakes

I will create a slide show of gif pictures of my closest friends and family to remember the good times that we have together. #sweepstakes.

I'd make a collage of our dogs. #sweepstakes

I would collage my family enjoying our camper, Jeeps, and the outdoors....#sweepstakes!

A nice change from the usual "we have 3432123" filters/"look at all the text overlays you can use" "I can flip pictures vertically AND horizontally" photo editing apps. Looking forward to doing collages of the family this weekend. #sweepstakes

Tried to install on my 640XL but I cannot install on the SD card - this device has so little memory, everything is stored on the SD card.
Perhaps winning the 950XL will give me enough memory for the phone install. #sweepstakes

I'd make a collage of my super awesome dogs and family! #sweepstakes

Definitely a collage of my recent apartment decorating! #sweepstakes

I would create a collage of my family and I. #sweepstakes

I wood love to take & create collage of my beautiful Daughter and my soon to be wife. The 950XL #Sweepstakes wood be a nice upgrade for me :) #sweepstakes

Last winter we went to several beautiful places (Lake Tahoe, Yosemite, etc.) will make a winter-collage :) #sweepstakes

I think I'll hammer out a collage of some winning shots by the Toronto Raptors who are having their best season in years!! Go Raptors!! #sweepstakes

I'd use it to make a summary of my summer holidays #sweepstakes

Collage of my cute little kid #sweepstakes

When I babysit the grandkids, I intentionally find as many things for them to do that "PawPaw" says is OK, but that "mom & dad" wouldn't. You know, go barefoot. (After parents leave, first thing is to take those shoes off immediately. They LOVE it) Climb trees. Play with sticks. Swing and JUMP from the hammock. Play in the RV. When roasting marshmallows, THEY get to hold the stick in the fire...............you get the idea. Well, with this app, I can create a complete collage capturing the no-no's and post it on FaceBook WHILE mom and dad are still out on the town wondering if the kids are doing okay with PawPaw. :) #sweepstakes (I already have a 950. If I were to win, runner up will get the prize)

I will create a Collage of my mother with all the wonderful memories that we have of our family. That will be a wonderful present for her birthday that I made myself with the help of PICPLAYPOST! #SWEEPSTAKES

I would build a collage with my 6 year-old daughter's artwork! She is amazing for her age!! #sweepstakes I posted this comment as a Sweepstakes entry

I might create a collage of the beautiful views from my college stadium and a few other places on campus covered in snow. #sweepstakes

Family trips and every other event that that's too good to forget. #sweepstakes

I will build a collage of my car. #sweepstakes

I will create a collage of my Mom and Dad. They will not be with me forever so want my favorite pictures of them in a nice collage, so will have them and the memories forever.

It's awesome that the app can be used by both phones and pcs. I've got so many pictures stored that I could use this for! #Sweepstakes

I'd make a collage of my cats, Thanx for the chance! I posted this comment as a Sweepstakes entry.

i take phone of the kids and all the crazy things they do. you need a fast camera with children because if you miss the pic, it will never happen the same way again, i would build my collage of the children. #sweepstakes.

Love this app on iOS and happy to see it going to WM. First collage will likely be some drone footage I've shot recently. #sweepstakes

This one looks really great and useful !!

Travel photos! #sweepstakes

collage of horses,, I posted this comment as a Sweepstakes entry.

With PicPlayPost, I'd build a collage from a recent family cruise. How fun! #sweepstakes

Does somebody knows any collage app that use a taller format? .. I mean, not only squares? .. Because you can take advantage of the new instagram picture format!

I'd build cat collages first. Everybody loves cat collages. #sweepstakes

I will make a collage of the new baby chicks my wife bought this morning. #sweepstakes

The first photo collage I would make is of my new grandbaby Ava who just turned 1 month. I could have alot of fun with this, thanks and great review! I posted this comment as a Sweepstakes entry.

Possibly a collage for someone's birthday #sweepstakes

It would have to be a picture collage of family and the amazing 950XL camera would do an awesome job at the pictures! Good luck everyone! #sweepstakes

I'll make a collage about all of my greatest experiences before heading off to college.
#sweepstakes

I'm going to create a collage about my photo session with my fiance before my wedding day :) #sweepstakes

Terrific that it works right along with my Windows 10. Advancements are so great.

I would make a collage of all my wonderful pet pictures! #sweepstakes

I'd make a collage of some of my awesome #Lumia830 skiing photos from last year's trip out to Snowbird Utah! :) #sweepstakes

Better than Phototastic! Makes for great holiday e-postcards of family adventures. #sweepstakes

"The modern social photographer"
When did Photographers become antisocial? Posted via the Windows Central App for Android

Hey, I would make a collage with my girlfriend, family and dogs!!! #sweepstakes

I'd use PicPlayPost to creata collage of my son and I adventuring in the woods. #sweepstakes

i will be using it for pictures of my kids

I love the idea that adding music to play along with my photos or even embedding animated GIFs will bring my art to life. Great for sharing with family/friends. I posted this comment as a Sweepstakes entry

I would create a collage of my outdoor adventures in colorado. #sweepstakes

Will love to use this with my new phone! #sweepstakes

Definitely Mila's (Our dog when I was small) pics. #sweepstakes Posted via the Windows Central App for Android

I will collage my WDW vacation. #sweepstakes

I would create a collage of my pets. #sweepstakes

Family vacation photos! I posted this comment as a Sweepstakes entry.

My wife has a lot of pictures of our new puppy, and her birthday is coming up, so I would make her a collage of puppy photos! #sweepstakes

I would make one of my wife and I and our 2 cats. #sweepstakes

I would create a collage of all our family moments

I would build a photo collage of my wedding photos using PicPlayPost. I am commenting for a sweepstakes entry. #sweepstakes

pictures from my recent trip #sweepstakes

When installing on W10M and also on Windows 10 PC, I got error: 0x80240024. Any advice ?

I would collage all my kids I posted this comment as a #Sweepstakes entry

I will have joyful pictures with it
#sweepstakes Posted via the Windows Central App for Android

I'm thinking about making a college of best pictures over the years.#sweepstakes Posted from Windows Central for Windows 10

Will make a collage of my recent Vegas trip. #sweepstakes

I would make a collage of a recent trip to Nevada. Desert, city, lake, lights. I'm entering the sweepstakes! #sweepstakes

Think I'll build a collage of my family over the past few years:) #sweepstakes

I will use it to organize our house construction pictures, and a timeline of the garden blooms this year! #sweepstakes

I would like to do a collage on all my start screenshots using each Lumia phone I have used in the past...Im entering
.#sweepstakes

Wow. Superb. It will surely help to create a collage of video and photos of my sun. Thnks for the beautiful creation#sweepstakes.

#sweepstakes are a lot of fun: Nice tools and even nicer prices to win. I love to follow and to win! Now enough said, just pass me the 950 XL :-) 'Oh and the 1st collage would be this weekends activities.

I would create a collage of some of the recent photos I took of my toddler. He is one heck of a funny boy! #sweepstakes

id use to collage all my freinds into one amazing picture #sweepstakes

I'll create a collage of the stray cat that I'm sheltering for a possible adoption poster. #sweepstakes

I would make a collage of the trips that I have taken. #sweepstakes.

I will make a collage with my twins spring school pictures. They look so cute! #Sweepstakes

I would collage all my kids as they are growing up. #sweepstakes

Why did I have to open a link in the WC app to read see and read the article, did anyone else have the same problem.

Maybe a collage of my kids. :) #sweepstakes

Obviously I will make a collage of my kids and dogs. #sweepstakes

I will make a collage of my trip to Long Beach #sweepstakes

My Super Bowl 50 vacation #sweepstakes

Interesting app, I'll give it a try. #sweepstakes I'm entering the sweepstakes

I would it for my large collection cat pictures #sweepstakes

This would be great for creating a collage showing all the good times my brothers and I had with our father growing up. My father is in the hospital with what appears to have been a stroke. I am sure he would love the memories. #sweepstakes

I would use it to capture the beauty of Los Angeles.
#sweepstakes

Interestingly, when I try to install it on my Lumia 950, the app refuses to install. Scrolling down a bit, the store entry says that rating the app is disabled for me because my phone supposedly doesn't have the required hardware for it to perform correctly. Then I look in the article, and the photos of the app in use are on none other than a Lumia 950. Anyone else having this issue? I've been wanting an app like this for some time. I can hardly wait to make some action collages of my recently deceased baby daughter. #sweepstakes

i would love to be the "super lucky windows central reader that will take home a Lumia 950 XL. I posted this comment as a Sweepstakes entry

Make a collage of the color red on the 950 XL, iPhone 6, and the Galaxy. I just need friends that has the iPhone and the Galaxy lol.
#sweepstakes

Best. Windows 10 Gem sweepstakes. Ever. Also the only time I'll willingly use a "#" symbol as a hashtag. #sweepstakes.

I would love to make a family collage with Picplaypost!!! I posted this comment as a Sweepstakes entry

Would be using to create a collage of my family. #sweepstakes

Definitely a collage of my 4 year old. #sweepstakes

I'll make a collage of some wild animals mixed with landscapes! #sweepstakes

I will make one of my kids #sweepstakes

I plan on makiing a cheese collage of all the cheese I eat over the course of a week. #sweepstakes

I will create a collage of all my previous smartphones before winning the 950 XL! #sweepstakes

I will make a collage of the one time that I went to new York with my family and show them my creation. #sweepstakes. Posted via the Windows Central App for Android

I would love to win a lumia 950 xl because I am trying to make this one cool app for Windows using visual Studio on my PC but I have no idea if it is going to work on Windows phone and I have no way of finding out. This is my first time try to do this. Hope I win please. Thank you. Posted via the Windows Central App for Android

I live in a forest and would like to create a collage of natural things...ex: plants,birds,flowers,animals,river,lakes etc. #sweepstakes

I would love to win a lumia 950 xl because I am trying to make this one cool app for Windows using visual Studio on my PC but I have no idea if it is going to work on Windows phone and I have no way of finding out. This is my first time try to do this. Hope I win please. Thank you. #sweepstakes Posted via the Windows Central App for Android

I would love to win a lumia 950 xl because I am trying to make this one cool app for Windows using visual Studio on my PC but I have no idea if it is going to work on Windows phone and I have no way of finding out. This is my first time try to do this. Hope I win please. Thank you. #sweepstakes. Posted via the Windows Central App for Android

Since i cannot download the app due to error 08x80240024 I wont be able to do any collages. #sweepstakes

I would use it to create some collages of my photography work to show people more easily what I do. #sweepstakes

I'd build a collage of all my favourite Windows Phones I've owned and desired over the years! :D #Lumia950IsBestPhone

Get a little extra creative with your photos with this interesting app. The collages look great! I posted this comment as a Sweepstakes entry. #Sweepstakes

Thanks for introducing PicPlayPost to me! I usually use Diptic for collages but PicPlayPost seems way cool with story telling and audio. I will use it to make collages of my 3 year old with audio for grandparents. It tells a cool story. #sweepstakes

this looks like fun... I will use the app to work with pictures from my 60th birthday party... so many friends and family that I need a collage to appreciate all the great moments... #sweepstakes

I would collage trip pics of my sig and I, maybe taken with a new 950 XL? ;D #sweepstakes

Family picture #sweepstakes

Sweepstakes entry. My twin daughers would collage animals as they both want to be Vets. They also love to spread animal abuse awareness. This would be amazing for them

I would build a set of pics that are of my family and garage toys. #sweepstakes

A collage of the kids as they have grown up #sweepstakes

I would take it on my family vacation
#sweepstakes

a collage of nature photos i took. #sweepstakes

I would take it on my family vacation
#sweepstakes

I would take it on family vacation #sweepstakes

I would make a collage of my family when I win the lumia 950xl !
#sweepstakes

I would make a collage of me haven't won the lumia 950xl
#sweepstakes

I would make one of Games i play. #sweepstakes

I woudl make a collage of all my flower pics.
I posted this comment as a Sweepstakes entry
#sweepstakes

This would be Great I Love taking lots of pictures- The first Collage I'd build would be of my Husbands 2 Grandchildren he doesn't get to see them much.

I'd make a collage of all the people I love #sweepstakes Posted via the Windows Central App for Android

I would create a photo collage of my kids from birth to present #sweepstakes

I will make a collage of all our fabulous home baking creations. #sweepstakes

Hmmm, this looks like a really nice photo, etc..., editing feature! I have so many on my current phone (this one does this and that one does that, etc...). It would be nice to have something that does everything in one app rather than using all of the time that I do using multiple apps. #sweepstakes

​it would be awesome to win this.............., gonna have to try this collage thing also...........#sweepstakes.

I would build a collage of all the different faces my new baby girl makes!!

I would make a collage of the past 10 years of Halloween costumes. #sweepstakes

My daughters upcoming birthday party collage. That would be awesome! #Sweepstakes

My collage will made from photos of me and my love!
#sweepstakes

I would make a collage of the voting process at my precinct.of the Presidential primary. #sweepstakes

I would make a collage of my two granddaughters! It doesn't get any better than that! Actually, it could get better, if I could win this phone. #sweepstakes

I'll be building a collage of some landscapes of my country. #sweepstakes

i would create a collage of all our Gateway Gatos group activites for the year, from our Cat Appreciation Day to our Annual Christmas Animal Posada. Please use this post as my entry to the sweepstakes #sweepstakes

I would make a collage of pictures taken with my 920 so I could reminisce when I have a 950XL. #sweepstakes

All about kids.
#sweepstakes

I would make a collage of me and my son, to make memories. #sweepstakes

I will create a collage of the things my family and I have done or will do. Also a collage of things i do and adventures i go on. #sweepstakes.

I definitely create a collage of my most beautiful makro images I take in nature and use it as my new Facebook header. #sweepstakes

I would document my next vacation. #sweepstakes

My baby girl would make a good collage. She's starting to get teeth! #sweepstakes

I will create a collage with my girlfriend. =) #sweepstakes

I will build a collage of me and my wife's trip to different places. #sweepstakes

Going fishing this weekend so I hope to made a fish collage. #sweepstakes

I would build a collage of all my family get togthers and family vacations! #sweepstakes

I'm interested in using continuim to replace my mobile computer.

i will make a series of my room mates angry 3 legged cat, Boots ... #sweepstakes

I would either create a collage of my 3 year old daughter..... or me golfing, it depends how selfish I am that day :) #sweepstakes

I would create an awesome collage of trips with my friends. #sweepstakes

I'll build a photo collage with great winter photos to remind me what it's like. No snow now, at least in the Champlain valley! Please enter me in the sweepstakes.

My vacation! #sweepstakes

I would love to create a collage of my recent trip to Vegas! #sweepstakes

I would collage all of my winter snow pictures #sweepstakes

family christmas celebration #sweepstakes

With PicPlayPost I will create my first Drone post with video, Living Images and a slideshow of nice pics taken from up above in a 180degrees panoramic. Lets see how it comes out.
#sweepstakes #windowscentral #Lumia640XL

All about the kids in the snow! #sweepstakes

Since it's the end of basketball season, I'd make a collage of my son's season.
#sweepstakes

With the new picplaypost, I will tell the stories of a new bartop and creating the perfect organic margarita and post with my new 950XL. #sweepstakes.

I would collage my family #sweepstakes

I would use the pictures of flowers I just took. #sweepstakes I posted this comment as a sweepstakes entry.

I posted this comment as a sweepstakes entry. This looks so cool and fun. I'd use it on pictures of my new granddaughter.

My first collage would probably be of my son's 8th grade graduation pictures.#sweepstakes

Pictures of the beach would be fun to use. I'm posting this as a sweepstakes entry. Thank you for offering it.

I would make a collage for my lady friend. This is a sweepstakes entry.

This will be perfect to capture moment of the life of my 3 year old little princess. A new collage every 6 months or so.
#sweepstakes

A collage of my travels throughout Asia. I've been meaning to do that. I posted this comment as a #Sweepstakes entry.

My first collage would be of the various feature phones and smart phones I've used, starting with the Nokia peanut phone-Motorola Razr-LG Wine-BB6230, BB7210, several BB-Bold models-BB Storm-Nokia900-Nokia920-Nokia830-Nokia640xl-Nokia950xl.

I'll definitely be making a collage of my family. #sweepstakes
I posted this comment as a Sweepstakes entry.

Finishing up my masters. Definitely a collage of all the good times (and hard times) here at McGill #sweepstakes

I would create a collage of my family. #sweepstakes

Awesome! I take a lot of pictures. The 950 XL and PicPlayPost seem like the perfect pairing. Please enter me in the sweepstakes so I can get both!

I would make a cute collage of my two girls. #sweepstakes

I am creating a collage of things I see outside my job. view at https://www.instagram.com/jaicam_productions/ #Sweepstakes #Windows10doesmore

I'd do one with my fiancee. #sweepstakes

I need this phone badly !!! I will do a collage of all the bands and concerts I will see this summer!!! #sweepstakes

Collage of my kids #sweepstakes

I will use PicPlayPost to piece together and share some of our favorite pics from our upcoming Disney Trip! #Sweepstakes

I would build some side-by-side comparions with some photos I took. #sweepstakes

Family vacation. #sweepstakes Posted via the Windows Central App for Android

I'd do a collage of the new blooms this spring. I posted this comment as a Sweepstakes entry.

I would build a collage of my children from birth to today. Then, I'd build a really cool piece of wall art for my house of our city's skyline. #sweepstakes

I would definitely be making a collage of my daughter and her silliness. #sweepstakes

I would use the app to put together nature shots #sweepstakes Posted via the Windows Central App for Android

I would make a collage of my cat #sweepstakes

I will create a collage about the family party's a have been to. #sweepstakes

Yea, an awesome collage maker!
I had already used it! With this I will shot a movement of myself and place them in a collage!! Thanks for the #sweepstakes

I would go all over Manhattan and Brooklyn and take pictures of all of my favorite places. Then I'd make an epic New York City collage featuring lots of pictures and audio. #sweepstakes !

Probably of our summer vacation. #sweepstakes

Windows 95 got Weezer when they had higher profile . Why not give WM 10 a moving collage of Kim Kardashian images to build the Windows 10 Mobile logo. Exclusive to WP users. That will give the platform some much needed exposure - #sweepstakes

I will make a collage of my children first. #sweepstakes

I would make a collage of all the photos I have taken of friends and family. #sweepstakes

it says i can make music videos! that would be fun! i want that I posted this comment as a #Sweepstakes entry.

I would make a collage of all my pets present and passed. #sweepstakes

I would build a family history. posting as an entry into the sweepstakes - #sweepstakes

I want to make a collage of our fun that we had in the snow storm a few weeks ago #sweepstakes

Computer stuff. #sweepstakes

I'd make a collage of my grandkids! #sweepstakes

I'd do a collage of my adorable niece and nephew! #sweepstakes

I would make a collage of all my favorite, delicious, mouth wateringly beautiful desserts. #sweepstakes

I would create a collage of the places i miss in Melbourne, Australia. This posting as an entry into the sweepstakes. #sweepstakes.

In would create a collage of places I miss in Melbourne, Austraia. I am posting this as an entry into the sweepstakes, #sweepstakes.

my wedding pics #sweepstakes

my wedding pics #sweepstakes

I'd have to make a collage of baby pictures of my daughter <3 I posted this comment as a #Sweepstakes entry

I would definitely make a collage of all of my Windows devices throughout the years!!! #sweepstakes

I would make some collages of some of my firends that are graduating later this year. #sweepstakes

I will make a college of my recent dog walks
#sweepstakes

I will create a collage of my dogs #sweepstakes

My collage is definitely going to be of my adorable grandchildren! I would love this to be the winning entry in the 950XL sweepstakes. Posted via the Windows Central App for Android

#sweepstakes Collage of my dog too... Posted via the Windows Central App for Android

I would love to own this phone - I would create a collage of my grandchildren!!! Awesome!!!

Appears to have alot of photo features - Love the collage feature - awesome!!

I am enteing this as a sweepstakes entry. I would use this for a collage.

I would collage my kids and dogs! #sweepstakes

I wouold collage the most important people in my life. #sweepstakes

First collage might be of all of the seasons. #sweepstakes

The ability to make collages and add sound effect is a great feature! #sweepstakes

I would make a collage of my 3 awesome kids and my dogs. It would be pretty epic! #sweepstakes

I would make a collage of the pictures I take on my cruise in a couple months with my new 950XL! #sweepstakes

Tons of collages for political campaign activities; field work and volunteer promotion! #sweepstakes

I would create a beautiful collage of my country, Swaziland's, beautiful hills and waterfalls. #sweepstakes

Yes ...!!! When Iam Reading This post I suddenly Got An Idea. My GrandMom is turning 75 by this April. She Is not Speaking With My father and family since 4-5 Years. I Had a good collection of Photos of My grandma with us. With Using This application PicPlayPost,I'll design a collage with Some song as Background. And present it as gift to her. It'll help her to recall magical Memories we spent and some where she feel happy and thank her life for all this Happenings. #sweepstakes

I will biulf a collage of all my foreign trips #sweepstakes

I believe I will make a collage of my 9 dogs. Something I've been wanting to do for some time now.
#sweepstakes

I will create a collage of my son coming in the door from school and calling his cousin to play Minecraft. #sweepstakes

i would create a collage of all the dogs i have had and fostered as well #sweepstakes

i would create a collage of all my family members #sweepstakes

My first collage would definitely have to be a family gathering. #sweepstakes

something involving the kids #sweepstakes

I'd most likely make a collage of our next visit to Austin. #sweepstakes

Just got back from vietnam - would love to create a collage of motorbiking along Hi Van Pass (as featured on Top Gear) and add in some audio & gifs from around the bustling streets of Ho Chi Minh City and the Cu Chi Tunnels to share with my family and friends back home :) #sweepstakes

i would make a collage of my trip to Paris #sweepstakes

Probably family beach trip. #sweepstakes

I'll create a collage of my Labradoodle #sweepstakes

Hey my moms birthday is coming up so I will make a picture collage of my brother and sisters for her! #sweepstakes

I would create a collage of my daughter and her many adventures!! #sweepstakes

A collage of my kids military service #sweepstakes

I would make a collage out of pictures of my beautiful daughter! #SWEEPSTAKES

I'll be making a collage of my 2years old son. #sweepstakes

I would do a collage of the sporting events I have attended. #Sweepstakes

I's make a family photo collage! #sweepstakes

I will do a collage of my last trip in New York #sweepstakes I posted this comment as a Sweepstakes entry

I will create a photo collage of my trip to Cuba. #sweepstakes

I'd make a collage of my family #sweepstakes

PicPlayPost looks and sounds useful! (I posted this comment as a Sweepstakes entry)

I would make a collage of my pets. #sweepstakes

I would collage me and my girlfriend #sweepstakes

I want to create a collage of my family members that have passed away due to cancer I want to gather all my pictures with all the memories I shared with them to share with my family so they can cherish it just as much as I will. #Sweepstakes

With four kids, I can do a lot of interesting kids with PicPlayPost. #sweepstakes

I will create a collage of the smoked brisket and pork butts I just made.' #sweepstakes

Pet collage. #sweepstakes

My first collage would be the 950xl and my 1520 side by side, then using continuum. #sweepstakes

I will create a collage of my trip with my bestie #sweepstakes

I will make a collage of the stunt that I did with my bike. #sweepstakes

I will make a collage of my dog!

I will make a collage of my dog! #sweepstakes

I would build a collage of my family. All of us and the cat too!

Collage of Saga comic book covers. #sweepstakes

i would build a collage of pictures of my family,thanks fot the chance :) #sweepstakes

My wife and 3 kids! #sweepstakes

Hello there. I would make a photo collage ​of my kids birthdays. Thanks. #sweepstakes

I would make a collage of my son playing hockey. #sweepstakes

Would love a collage of family and activities!

I'm an avid user of my current Lumia 925. Great camera on 925. I've been running WinM 10 and Win10, since released. Have loaded the app and working on college of my recovery from TBE, hemorrhagic stroke. In September '14, I had total paralysis on my right body. Now walk with a cane and frame. I have lots of photos my trainers aquired and a few selfies. 950xl would be a great boon. #sweepstakes

I would collage my kids! : )

The spring Snow Geese migration! I posted this comment as a Sweepstakes entry.

I would collage my two kids!
: ) #sweepstakes

I would make a collage of my family because sometimes it's hard to get everyone in a great group shot but with an app like this you can combine all the best shots of my family. #sweepstakes

I would do a collage of my sons at their recent Band and Chorus concerts. #sweepstakes

A collage of my kids! #sweepstakes

I'd make collages of family and work techies #sweepstakes

I would make a collage with photos of my true love and of my son enjoying life together as a family an a windows 10 fans #sweepstakes

I would create a collage of some of my best concert photos. I posted this comment as a Sweepstakes entry. #sweepstakes

I will collage our first anniversary and post it on FB as 25th was was my first anniversary. #sweepstakes

I'll create collages of my children, my wife and my goofy co-workers. #sweepstakes

i will make one the next time my gf visits me :P #sweepstakes

#sweepstakes I'll create collage's of my kids, my wife and my co-works daily pranks.

I will make a collage of my family growing together and showing how important family is above everything else to leave an imprint of our past for our future generations to see how true family love is and forever will be the best part of life
# sweepstakes.

I would share the experience I had with my brave new Lumia 950!!!!! #sweepstakes Posted via Galaxy Note 4

I would build a collage of my daughter through the years for a graduation gift. I think she would love to have it as a keepsake. #sweepstakes

I would collage all the funny faces our new baby girl makes while shes pooping!! #sweepstakes

I'd make a collage of my dogs! #sweepstakes

I would make a collage of my daughter, my wife and my new dog. I'd love to use the 950 XL for the camera. Mind you, I'd use all of the other incredible features on it too. Wish I could afford one but I can't. Still stuck on my 3 year old 822. A 950 XL would be awesome, I'd use the hell out of that thing. #SWEEPSTAKES

I will make a collage of various outdoor scenes from where I live in Northern Saskatchewan, Canada. #sweepstakes

I will create collages of next vacation. #sweepstakes.

I WOULD LIKE TO CREATE A COLLAGE OF MY FRIENDS AND MY FAMILY #sweepstakes

#hawaii beaches and sunsets - of course! #sweepstakes best of luck everyone...

I'd buld a collage of all our cute pet pictures! I posted this comment as a Sweepstakes entry #sweepstakes

I would use this outstanding app to collage my guitars... My art.. My kids... All the things i love (not in order lol)
#sweepstakes

my family portrait #sweepstakes

Love photo apps #sweepstakes

I'll use it to make a lovely birthday collage for my fiancée! #sweepstakes

I'll build a photo collage of all holidays I have spent with my family, Halloween, Thanksgiving, Christmas, New Year #Sweepstakes

I would make a photo collage of all my workout progress doing the Body Beast program. #sweepstakes

i will use it to collage one of our group music performance at President's Office #sweepstakes

I would make a collage of my grandparents/parents starting with a bunch of their old pictures from back in the 40s to present day ones. #sweepstakes

I would make a collage of my essential oil creations :) #sweepstakes

I'd make a collage of the retro video games #sweepstakes

My first photo collage will be of my trip to California. #sweepstakes I posted this comment as a Sweepstakes entry

A collage of my last vacation! #sweepstakes

I will make o a collage of my motorcycle trips. #sweepstakes

I will make a collage of my beautiful family with my grandparents on top.. followed by my parents.. and so on ^_^
#sweepstakes

I would create a collage of my recent Disneyland trip!
#sweepstakes

i'd create a collage of all my other windows phones :) #sweepstakes

I would create a collage about my two sons from they're birth to now i have pics of every moment proud dad in the house. that was the happy love collage sou the other one i do would be united all the crappie android phones with a crappie camera that i past owned and take a big pic with this lumia 950 xl and make a big collage to remind me do not buy crappie phones good day #sweepstakes.

I would create a collage of my holiday pictures.
We always go hiking in the summer so we can capture some beautiful nature shots. I'm also intrested in the GIF feature, it could be used to make some funny stuff ;) #sweepstakes

I would collage my college graduation pictures...

Will build of yard improvement been working on for last six months. #sweepstakes

I'll create a collage of beautiful scenery photos! #sweepstakes

Will make a collage of my college farewell!
#sweepstakes

I'd collage cakes. Cake is love, Cake is life. #sweepstakes

I would make a collage of Nokia flagship phones through the years to the present day Lumia's and obviously the lovely Lumia 950xl #sweepstakes

The Smile of Gabriel Aul?

I would love to make a PicPlayPost Collage of my cats, as I have three of them!) #sweepstakes

cherry blossoms that are blooming around town #sweepstakes

I'd love to make a collage of my recent experiments with cellphone astrophotography and the northern lights. #sweepstakes

I'll build a collage of my city - Sofia :)

I'm gonna make a collage for my parents anniversary with it and with lot of .gif in that... They will justb love it. #Sweeptakes

I would do a collage of family and pet photos. #sweepstakes

I'd make collages of the kids with added audio of their laughter n giggles #sweepstakes

I would do a collage with about of my new 950 XL which I will have won soon. #sweepstakes. #sweepstakes (just in case)

I will create a collage of my new watercooled PC that I've build. #sweepstakes

It's time to win now. #sweepstakes

Definitely a collage of myself,friends and my family #sweepstakes

Zombie strippers #sweepstakes

I would so use it to build a collage of pictures of my Memorable Moments #sweepstakes

Not really my cup of tea, but I'm sure my teen kids will find it useful. Thanks :) #SWEEPSTAKES

I'd build a photo collage of my new 2015 Mini Cooper Convertible named "GIZMO"! #sweepstakes

Probably my cats. Maybe I'd actually take more pictures. #SWEEPSTAKES

i want this phone #sweepstakes

I'm gonna make a collage of my cheap lumias next to the fancy one i am about to win.

I would create collage what a specific student accomplished in my class and send it to their parents as part of an online portfolio. #sweepstakes

I'd make a collage of my 2 daughters. #sweepstakes

The collage I would make with using Picplaypost and my Lumia 640xl is of my garden (once Spring and Summer) get here. The colors would be amazing with my Lumia 640xl and even more so with the 950 xl. Picplaypost would be a great addition.

I would make a collage of my kids first! #sweepstakes

I would collage my dogs's life with audio mixing, barking, howling... snoring

The collage I would make with PicPlayPost would be of my garden (once Spring and Summer) gets here in Canada. Using my Lumia 640xl would vibrant photos and would be even better with the 950xl. Good luck everyone
#sweepstake

I would create a collage of all the fun moments we've had with our golden retriever! #sweepstakes

I'd build a collage of my adorable baby girl :)
#sweepstakes

I'm going ti make a collage of breads I've baked. #sweepstakes

I'm going to use this app for all of the concerts that I go to. It will be nice to capture the moment with photos and audio and detail it in a way that makes it more memorable. #sweepstakes

I would do plenty on collages, the first one would probably the ramdom pictures I've taken of my university with my great Lumia Icon camera ;) #sweepstakes

#sweepstakes I would create a collage of family photos taken at Christmas as well as my family reunion last summer.

I'll make a collage of my son #sweepstakes

Some of the pictures from our trips, a collage of the best of each one would look nice #sweepstakes

I will use PicPlayPost to create a collage of my 3 sons as infants #sweepstakes Posted via the Windows Central App for Android

I will use PicPlayPost to create a photo collage of my 3 sons as infants. #sweepstakes Posted via the Windows Central App for Android

Planning to use it for a collage of my recent trip to France :) #sweepstakes

I would create a collage of wedding photos from my sons wedding. #sweepstakes

Family vacation photos #sweepstakes

I would defenetly collage some pics I took from different bridges of the traffic in my hometown Cali, Colombia, they're very interesting to see. #sweepstakes

i would make a collage with my growing family! #sweepstakes

Would be sweet for kid pics, or pics of remodeling projects...or anything for that matter! Does this qualify as a winning sweepstakes entry? #sweepstakes

I would build build a photo collage of my father and other family members that are no longer with us as a remembrance. I posted this comment as a sweepstakes entry.

I would build a photo collage with family pics and videos #sweepstakes

Use it for collage of all my phones from 1997 till now #sweepstakes​

I would build a collage of my next ghost hunt. #sweepstakes

I'm definitely going use the app to make a collage of some of my travel experiences! #sweepstakes

I would make a photo collage of my children! I posted this comment as a Sweepstakes entry #sweepstakes

This is Very Cool! I would make a collage of all my visits to the beaches.I love water pictures, raining, sunrise, suset at the beach.

A collage of me and my my for our birthday (yes we share a birthday 3/18)

I would collage my wedding photos! #sweepstakes

I would collage my recent trip to Disney World! #sweepstakes

I would make a collage of our cats #sweepstakes

Collage of current trip I am on. #sweepstakes

A collage of the little ones doing some crazy stuff! #sweepstakes

I will create a collage of my recent vacation to London! #Windows10DoesMore #sweepstakes

I would create a collage of hiking trips we take as a family #sweepstakes

I'd do my beach photos, All that sand!
#sweepstakes
I posted this comment as a Sweepstakes entry

Gonna be honest, dont know what I would use it for, but it looks neat. #sweepstakes

I'd make a photo collage of my niece! #sweepstakes

I will collage my last sunset pics with some incubus music to give a fine touch #sweepstakes

Can't wait to make a collage of the family

Can't wait to do a collage of the family #sweepstakes

A collage of my newborn daughter. #sweepstakes

Will make a collage of all the lakes i swim in this summer #sweepstakes.

a collage of all the racing events I attended #sweepstakes

I plan to create a collage of nature pictures I've been taken. #sweepstakes

I plan on making a collage of my vacation pictures from France. #sweepstakes

I've already a collage of my girlfriend and our kids of times spent together with music. I'm liking the app.
#sweepstakes

I'd take pics of my son #sweepstakes

I'd absolutely make a collage of my family, who celebrated a few cool landmarks this month including my 6th wedding anniversary and our daughter's third birthday! #sweepstakes

I'd create a collage of pictures of me and my girlfriend. It'd make a beautiful gift. #sweepstakes

Doesn't seem like my first post went up, so reposting. I'd absolutely make a collage of my family, who celebrated a few cool landmarks this month including my 6th wedding anniversary and our daughter's third birthday! #sweepstakes

I would make a collage of my grandson who is 1 1/2 yrs old. I only have a gazzillion pictures of him, how do I choose?! #sweepstakes

I like the looks of that and all the wonderful things it can do I posted this comment as a Sweepstakes entry.

A collage of my kids' graduation activities! #sweepstakes

My first PicPlayPost collage creation subjects are my grandkids! Love I can add music! I posted this comment as a Sweepstakes entry.

I'd like to build a collage of all the old hard drives, modems, routers, switches, hubs, scanners, printers, portable digital media players, digital cameras and other geegaws in my cave office, but I'm not sure if it has a large enough grid. #sweepstakes

I would collage my trips that I have taken . I have some awsome pics. #sweepstakes #entry

Fun looking app. I've tried a bunch of these but will look at this one too :) #sweepstakes

I would make a collage of the phone itself. Posted via the Windows Central App for Android

I would use PicPlayPost to build a collage of scenery from a hike in the Rocky Mountains. #sweepstakes

Love the collage feature. I posted this comment as a Sweepstakes entry. There will be a series of twelve Articles.

I will create a collage of all my fav concerts! #Sweepstakes

I would create professional presentations for our clients for their fundraising events. #sweepstakes

I would collage all my siblings and best friends

I woud make a collage of the cutest images I have of my cat so that I can be that annoying person who posts nothing but pictures of his pet(s) as if he had no other things going in his life (which I do not). ;-) #sweepstakes.

I'd make a collage of my sister's wedding #sweepstakes

Greatest office tool! Lighting the way for the next generation of office gear... Good luck all! #sweepstakes

Something as unoriginal as a travelbook for mine and my brother's family, having just returned from a two-week trip to our lost colony, the (now) US Virgin Islands...

Here's to hoping this app makes me look like a pro. #sweepstakes

I would create a collage of recent holidays, fantastic shots taken using the phenomenal weather conditions #sweepstakes

I will create a collage of my vintage camera collection #sweepstakes.

An app that allows you to create original .gifs would be nice. Or better yet a a screen recording app that also allows you to create gifs of what you recorded on screen. #sweepstakes.

I'd make a collage of my two month old daughter! #sweepstakes

I'd make a collage of my kids. #sweepstakes

I'll have to look into this app. Also, this is my contest entry. :) #sweepstakes

Sunsets. Love sunsets. #sweepstakes

My first collage will be our Barcelona trip, combining pictures and videos. Great contest, BTW. ✌ #sweepstakes

I use it to finally make a beautiful collage of all my family photos #sweepstakes

This would be great for creating a collage of my family. #sweepstakes

Pet cats probably #sweepstakes

I would create a collage of my favorite family photos.

The first photo collage I would build with PicPlayPost would be of my family. #sweepstakes

I would build a collage of my children's pics. #sweepstakes

Hope to use the updated and better camera version to do a modern collage, c u soon
#sweepstakes

A collage of my kids of course! #sweepstakes

I would build a collage of my favorite Pokemon to celebrate Pokemon20! #sweepstakes

A little cliché and cheesy, but I'll probably make a collage of the past year with my girlfriend, with pictures and video from different trips or outings we went on. And I'd love it if I could view it on the 950 XL's big, beautiful screen #sweepstakes

Going to male meme-tastic collages to show how true savagery is done. #sweepstakes

I would use it to make a collage for my honeymoon in August! Going to the Bahamas after I tie the knot :). #sweepstakes

I'd collage all my vacation pics! #sweepstakes.

I will make a collage of my wedding! #sweepstakes

I would make a collage of my 2 sons. #sweepstakes

I would love to shoot with the amazing camera on 950 XL #sweepstakes

I would start by rationalising my ohoto archive and creating some a more browsable set of 'summary' photos for each event. #sweepstakes

It would be a mix of my dog and my mini Cooper. PM me if you would like a copy. #sweepstakes

I would do a collage of the building of my house. It is quiet the journey! :) #sweepstakes

GIF collages of my family's winter vacation sounds awesome! #sweepstakes

Collage of vacation pics. #sweepstakes

#sweepstakes A collage of our fur baby Leela!

I'd make a collage of the trip my sister and I recently took to Los Angeles, our first trip to California. #sweepstakes

#sweepstakes a collage of vacations!

I'll definitely be making a collage of my family. #sweepstakes

The 1st photo collage I will build will be of my sons basketball game. It was his first time playing a sport in elementary school. I posted this comment as a #Sweepstakes entry.

i would make a family collage #sweepstakes

I would collage my 9 & 10 yr old's brother and sister school swim carnival wins and presentations. Sorry - just a little chest thumpingly biased. #sweepstakes

I would love to make a collage of my family. #sweepstakes

I would create a collage of the gorgeous spring flowers that are fixing to be in bloom... #sweepstakes.

I would love to win I posted this comment as sweepstake entry #sweepstakes

It would be great to use it to college my sons senior pictures #sweepstakes

I'd use it to create a quick overview of outdoor adventures - collage of the highlights, ready to share. #sweepstakes

I would make a collage of places in Houston. I've lived here for 8 years and after getting married and having two kids, we are moving back to New Jersey. I started a family and Houston is a part of me now. #sweepstakes

I would create a collage of my kids, and me, haha. #sweepstakes

I would use it to create collages of chronological pictures. #sweepstakes

I would use this to do a collage of my kids! I am posting as an entry into the sweepstakes.

I will make a collage of all my nieces artwork! They'll love it! #sweepstakes.

I just need a new phone. the current doesn't even text. #sweepstakes

Definitely collages of travels will be done! #sweepstakes

I would make of collage of moments with my 3 kids and 4 dogs #sweepstakes

I would build a collage of all my family & friends!!! Great device, big upgrade from mine by far... I posted this comment as a Sweepstakes entry.

I would do a collage of hair and makeup designs for weddings!

I would make a collage of buildings #sweepstakes

A collage of an upcoming family cruise! #sweepstakes

Probably something having to do with food prep...or on-location photo shooting! #sweepstakes

looks kind of complicated, like this comment box #sweepstakes

I would so use it to build a collage of pictures of my family #sweepstakes

I would create a collage of Danboard having adventures #sweepstakes

I will make a collage of all my beautiful photos to make hem even more beautiful. :) :p #sweepstakes Posted via the Windows Central App for Android

I would make the collage of photos of my broken Lumia 1020, to pay an homage to the eternal legend! #sweepstakes

My photo collage would consist of people in life pictures, People young and old and the things they do in life, Some happy, Some sad This my interest. #sweepstakes

I will make a collage of my three grandchildren. I posted this comment as a #Sweepstakes entry.

"I posted this comment as a Sweepstakes entry" Collage of family party will be cool. Thank-you. #sweepstakes

I'll build a collage of my old smartphone. #sweepstakes

Neuroanatomy. #sweepstakes

I would create a collage of everything that it blooming in my garden. #sweepstakes

I'd start with some collages of my cute grandsons #sweepstakes

I will create collage of my kids and our puppy playing. #sweepstakes

I would create a collage of my family pictures. # sweepstakes

I'd make a collage of this one amazing park (Discovery Green) where me and my girlfriend spent our first year anniversary together then again in our 4th year one. #Sweepstakes

I would create a collage of my family! #sweepstakes

The description is really interesting. Trying to master this kind of thing at my age is challenging...but fun!

I will make my collage of my family members from baby to adults #sweepstakes

I posted this comment as a Sweepstakes entry. Not sure what I will do.

I'm lucky enough to have four beautiful grandchildren so, needless to say, the very first photo collage I'd build with PicPlayPost would be of the four of them, Cobi, Carter, Claudia, & Tucker. What fun!! #sweepstakes

Will have fun playing with it. I posted this comment as a Sweepstakes entry #sweepstakes

I want to make a great looking family album. #sweepstakes.

I will create a collage of daily changes in my child. #sweepstakes. I posted this comment as a sweepstakes entry.

My first collage would likely be of my kids!! Just finished a big project of tagging everyone in about 20k pictures taken over the years, so we would have fun with this. I posted this comment as a Sweepstakes entry #sweepstakes

I'd make a collage of all the things I did on my vacations #sweepstakes

A collage of spring green. #sweepstakes

I would build a collage of our family's beach photos #sweepstakes

I would make a set of photos and collage of my wife and my travels and give to her as a birthday present. #Sweepstakes

I'd use it to build a collag of my friends! #sweepstakes

Baby pictures! #sweepstakes

I will use this app to post photos' of my family.
Enter me into the sweepstakes. #sweepstakes

I will create a collage of my cat's pictures.
#sweepstakes

i posted this comment as a sweepstakes entry #sweepstakes

I will create a collage of my cat's pictures. :D
#sweepstakes

love the carmera and would love to own this phone #Sweepstakes

I will make a collage of my fiance. <3 #sweepstakes

I created a collage of my recent Screen on my lumia735 :) #Sweepstakes

I'd create a collage of all my recent mobile app designs. #sweepstakes

I volunteer at a non-kill cat shelter and I will be putting together with the help of some other volunteers a collage of the cats we have at the shelter and each cat will be themed to try and raise exposure for the cats and to get more cats adopted.

This will help me create the collage of my grandson that I've been procrasting about...because I didn't know how to embed music with the pictures - THANKS! #sweepstakes


I'd build a collage around my trip to New York in December! #sweepstakes

Probably it would be plant or flower photo based. It is almost Spring! #sweepstakes

First will be a collage of the kids, then it'll be landscapes, wildlife... and on! #sweepstakes

a collage of nba 3 point shots in action! #sweepstakes

I would make a collage of my grandkids. It would be great to show all of them at once! I posted this comment as a Sweepstakes entry. #Sweepstakes

I'd make a collage of my dog Maggie. #sweepstakes

I'd build a Windows mobile collage - a 640, a 1520, and my 950XL!
#sweepstakes Posted via the Windows Central App for Android

I would attempt to make a collage of all the fall color pictures that I have accrued

I will be building my life journey with best moments captured in my life with PicPlayPost, because life is one shot enjoy every bit of it. #sweepstakes

I would make a collage of family photos. It would make a great wall-hanger. #sweepstakes

CREATE COLLAGE OF PICTURES OF MY GRANDCHILDREN#SWEEPSTAKES

I will create a collage of the recent fish I catch... And more of my outdoor adventures. #sweepstakes.

I'd build a photo collage of last year's family vacation. #sweepstakes

I'd create a collage with photos of me and my wife. #sweepstakes

I would make a collage of all my Disney pictures. #sweepstakes

I'd make a collage of my youngest daughter since it's her birthday next week. #Sweepstakes

I'll be making a collage for my parents wedding anniversary coming this summer! #Sweepstakes

I would build my first poto collage of my kids with PicPlayPost. This is for the sweepstakes #sweepstakes.

I'm sure I'll use it to build collages of my two kiddos. #sweepstakes

Perfect for a collage of my families antics! #sweepstakes #Lumia950XL

I will use this app to organize my hiking photos #sweepstakes

I will create a collage with my recent trip to Greece #sweepstakes

I'll use it to capture several moments of my cat doing ... cat things #sweepstakes

I created one with Pictures of all my Friends.

I'm going to create a collage of my "little" kittens!!! #sweepstakes

I would definitly do this.

I would create a collage to give the children we look after of their favourite things, as long as they were fine about it. # sweepstakes

Of course the cliche answer is my children playing but it's true. That's what makes me the happiest. #sweepstakes

I would make a nice collage of my kids doing funny stuff :) #sweepstakes

Hey there, i would love it to see all my pictures together in different, beautiful album's. Party's, friends, all my life memmories in one app! My grandma is also sick, and i will love it to have all her pictures, and of course her voice, in a album. Thank you! Posted via the Windows Central App for Android

#sweepstakes Posted via the Windows Central App for Android

I'd love to build a nice collage with me and my dog Buddy ;) thx #sweepstakes.

A collage of my kids. #sweepstakes

I will build a collage of all my pets! #sweepstakes.

I like the idea of the slideshow within the collage. It would certainly be family-centric and probably all about surfing and the beach! #sweepstakes

My first photo collage I'll most likely make with this app is when I get married in the coming weeks. It will make for a perfect companion app with my Lumia 1020. #sweepstakes

I'm now a member - looking forward to the current info!

I would create a collage of winter scenes. #sweepstakes

Definitely going to check the app out, but I'm really here for a chance to win the 950XL. #sweepstakes

My first PicPlayPost collage will be of all the vacation spots I hope to visit again. I'm excited to get my hands on the Lumia 950 XL! #sweepstakes

I would build a collage of photos of my grandfather and grandmother!

Probably one of my kids. You know, being a parent and all. #sweepstakes

I would make a photo collage of my house that I'm fixing up :). Would be cool to have an artsy before/after picture to put up :). #sweepstakes

I would make a collage of my family #sweepstakes

Have recently begun doing some carpentry/craft work, and this app would be perfect for illustrating the steps along the way as I progress through each build. The camera on that 950xl would be a huge upgrade over the 640 that I have now, and far better for showing off the detail on each new project. #sweepstakes

I'd make one of my cat and dog. I'd also love to make one taking new, pretty pictures with that 950 XL! #sweepstakes

To collage my family #sweepstakes

I would create a collage of all my nieces and nephews together during our next get together. -- #sweepstakes

I'd use the camera on the Lumia 950 XL and the PicPlayPost app to create high quality collages of all my Jeep adventures! #sweepstakes

I would make a collage of all the wild life we take pictures of! #sweepstakes

A collage of my child would be done first. #sweepstakes

Totally use it to make collages of my new baby girl! #sweepstakes

That camera is better than my stand alone point and shoot camera! #sweepstakes

I posted this comment as a Sweepstakes entry. #Sweepstakes My children are into theater/musical performance. That's where I take new skills and new software.

My neice's first birthday is coming up--I would love to make a collage of that! #sweepstakes

Would love to make a collage of Homrebrewing Beer! #sweepstakes

I'd do some vacation photos with it! I posted this comment as a Sweepstakes entry. #sweepstakes

I would do a collage of our recent trip to Australia. Thanks! (This is my #sweepstakes entry)

I'll use it to create a collage of my travel pictures. #sweepstakes

This would be awesome to decompress creatively! #sweepstakes

I would use it to post step-by-step collages of new recipes I create! I posted this comment as a Sweepstakes entry #Sweepstakes

I'd make a college collage! #sweepstakes

I would make a collage of my son! #sweepstakes

I would build a collage of the various landscapes I've taken pictures of. #sweepstakes

A collage of my last vacation. #sweepstakes

My first moving collage would be of my guitar jamming sessions. #sweepstakes

Taking a trip this summer. I would likely take many pics and having a collage would be pretty cool. #sweepstakes

Well, who wouldn't want one of these phones....not me! Winning stuff is so much more fun than buying. #sweepstakes

Build a collage of the Monster Truck ralley in Jacksonville, FL. Use Images, SlideShow and Youtube video all wrapped into one!

I love the ease of use of PicPlayPost and the creative collages are a lot of fun! #sweepstakes

A Spring Collage! #sweepstakes

What photo collage I'll build first with PicPlayPost - my life in my town, #sweepstakes

​I'd probably make a collage of my family, or an MMA GIF. #Sweepstakes

Create a collage of me and all my closest friends and family #sweepstakes

I plan to use it for my trip to San Francisco in a couple weeks! #sweepstakes

This looks like a cool product! #Windows10DoesMore #sweepstakes I posted this comment as a Sweepstakes entry

I would build a photo collage of my children! #sweepstakes

I just came back from a long hike at Yosemite Park. Too many photos to post consecutively, but with this app, I can share most in one or two collages because of its moving slides and GIFs capablity! Great and simple app! #sweepstakes

I'd make a funny collage of my dog when she gets the zoomies #sweepstakes

I would make a collage of all the things I would want in my dream home.

Perfect for regular outings! Why a regular casual instagram collage when you can do a video collage! Very cool. #sweepstakes

family photos #sweepstakes

Interesting app for photo artists. May end up toying with it for fun. #sweepstakes

My first collage would be of my children growing up over the years for great memories. #sweepstakes

probably a collage of my wedding photos. I posted this comment as a Sweepstakes entry.

I'll build a photo collage of my two adorable cats #sweepstakes

I would build a collage of my summer vacation this year! #sweepstakes

My life collage. "I posted this comment as a Sweepstakes entry" #sweepstakes

I would build a collage with photos of my dog. #sweepstakes

A collage of all of my Kitty Monkey Babies!

This would take my IG style pictures to a whole new level. #sweepstakes

I will create a collage of my cat. :) #sweepstakes

Definitely pictures of my dog. Every part of my social media has been taken over by her. #sweepstakes

First thing I would collage is family pics, especially Christmas pictures, then I could make Christmas cards out of them. I am posting as an entry into the sweepstakes #sweepstakes.

i will recreate a family photo

I would make a collage of all my beloved pets I have had over the years. This sounds so exciting! #sweepstakes

My photo collage will be of my 5 yr old granddaughter's first time fishing beginning with her finding her first fishing rod, reel, & Barbie tackle box all the way to when she caught her first fish. She hasn't caught anything yet, not even a tiny one, but the patience & determination on her face would make my photo collage priceless. #sweepstakes

Snow Tubing! #sweepstakes

I would create a collage of my kids' sporting activities #sweepstakes

I'll be making a collage of the sports team that I coach.
Being able to give them some glimpses back to the Tournament that we attend will be great! #sweepstakes

I have two weddings coming up in June & August this year. My oldest grandaughters are getting married & the youngest granddaughters are going to be flower girls. I would love to make photo collages w/ audio & GIFs of both these occasions w/ PicPlayPost & that hot LUMIA 950XL #sweepstakes

I'll build a photo collage of the grandkids first, the cats second! #sweepstakes

I will make something with my dog pictures. #sweepstakes

Yep, that's for me. #sweepstakes

My 1st Collage: Family + Nature + Fun + 10 yrs + Blisssss #sweepstakes

it does looks interesting I like to make some photos in my country Slovakia with it. #sweepstakes

#sweepstakes I'd make a collage of our son

I would make a collage of outings with my fiancee. #sweepstakes

I think I'd put together a collage of all the old smartphones the 950XL would replace! #sweepstakes

I will build a collge of my two boys playing outside after a long winter #Spring #sweepstakes

I would creat a photo collage of my family. #sweepstakes

I will first build a collage of my family and friends. #sweepstakes

I think this could be the windows phone with the applications I have been waiting for! Hopefully I can win some coworkers over as well! #sweepstakes

the awful vacation photos you show everyone! #sweepstakes

This app is a nice alternative for non-Lumia phones that missed out on some of the cool photo apps that came standard on the Lumia 920. The clean interface is also pretty cool. #sweepstakes

A collage of my cat Stinky of course. I posted this comment as a Sweepstakes entry. #Sweepstakes

I'd make a collage on the upcoming Mexico Missionary Trip, just to show the lifestyle of different if people living there. #sweepstakes

Collages of our time in Europe. Thanks, WC! #sweepstakes

I will be making a collage of pictures of my new baby. Due in 1 week, and need a better camera than I get on my 640! #sweepstakes

Perfect for me. #sweepstakes

Wondering if these can be used on my Windows PC...I don't see why not! #sweepstakes

I would try testing this for instagram photos. #sweepstakes

I would create a collage of the cakes I have made and decorated. #sweepstakes

My first collage would be of the awesome adventures i took last year with many fresh faces i met. #sweepstakes

I would create a series of collages on the environment for the purpose of creating awareness and information on our surroundings and how important it is to help preserve it. #sweepstakes

Would create a collage of my family's history. I posted this comment as a Sweepstakes entry

I'm going to be visiting a university for their grad program I'll make a collage for my frends and family back home to see what it's like there. #sweepstakes

I'd use it to get away from my desk, but still be productive
I posted this comment as a Sweepstakes entry
#sweepstakes

I could get back into photography with a combination of PicPlayPost and the powerful camera of the 950XL. #sweepstakes

I would do a collage of my dogs - I posted this comment as a Sweepstakes entry #Sweepstakes


#sweepstakes make a family collage

Would love to have this. #sweepstakes

My first collage would be of my new home, dog also included. #sweepstakes

Summer is coming so that means a Classic Car collage is in order, and a Lumia 950 XL would be perfect for this. #sweepstakes

I would make a collage of my children's pictures for a Mother's Day present to myself #sweepstakes

Just want the phone #sweepstakes

I would build a collage of lake pictures #sweepstakes

I'd create a collage from my recent trip to NYC! #sweepstakes

I would stop being jealous of my wife's 950XL. #sweepstakes

I plan to make some cooling moving collages with sound capturing my music production work in the studio. #sweepstakes

going to Jamaica in a couple weeks, will make a collage of the photos I take there. #sweepstakes

I'd use this app for my standup comedy #sweepstakes

Photo collage of me and my boyfriend and date night!! #Sweepstakes

I'd make a collage of my son and I with all his younger years on a single canvas. #sweepstakes