Map your photos with GeoPhoto, today's myAppFree deal
GeoPhoto is a simple Windows 10 app for viewing and plotting your photos and videos on a world map.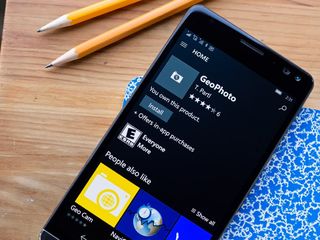 Available for Windows 10 PC and Mobile, GeoPhoto is an easy way to remember where you captured a photo or video footage, chart where your photo adventures have taken you, and add geotags to images that lack that information in their EXIF files.
This Windows 10 app is a free app, with the option to upgrade to a premium version for $2.99. However, with the help of this week's myAppFree promotion, you can pick up the GeoPhoto upgrade for free. The deal expires in 24 hours and is an excellent way to save a few bucks while adding a handy photography tool to your Windows 10 device.
GeoPhoto automatically populates a global map with your images based on the information contained in the image's EXIF file. If you have turned off recording the location information on your Windows 10 Mobile camera, you can add the location data manually.
Key features of GeoPhoto include:
Create slideshows from your images.
Add geotags to your photos or edit the existing tags.
Automatically group photos and videos.
Cloud support to view your OneDrive, Flickr, Instagram and 500px images on the map.
View the full EXIF files of your images.
The premium version that is covered by the myAppFree deal removes ad-support and gets rid of the limits on how many photos are mapped and how many images can be tagged manually.
GeoPhoto is a user-friendly option for mapping out your photographic adventures. I can see it coming in handy to track where you captured photos or where around the world your camera treks have taken you. You may not use GeoPhoto every day, but this myAppFree deal makes it easy to upgrade to the premium version and save some money.
Download GeoPhoto from the Windows Store (opens in new tab)
myAppFree
Windows Central is proud to partner with myAppFree to bring you savings on Windows 10 apps and games. myAppFree is a free Windows 10 app and service that highlights special deals for software in the Windows Store. Make sure you download the app to keep track of all the weekly specials.
Windows Central will continue to highlight select Windows 10 titles from myAppFree on a regular basis as a benefit to the Windows Central community. Many of these deals will be available for both Windows 10 Mobile and PC, doubling your savings.
Download myAppFree for Windows 10 PC and Mobile (opens in new tab)
Windows Central Newsletter
Get the best of Windows Central in your inbox, every day!
George is the Reviews Editor at Windows Central, concentrating on Windows 10 PC and Mobile apps. He's been a supporter of the platform since the days of Windows CE and uses his current Windows 10 Mobile phone daily to keep up with life and enjoy a game during down time.
I purchased this app when I got my Lumia 950 XL, because the camera app still is not saving location, and Microsoft is not fixing it even though it is on the feedback hub.

My Lumia 550 is having that kind of problem recently (it used to work flawless before), i hate it! I need geotag my shots, i may grab it until it get fixed

My camera app always saves location in photos (Lumia 730 DS with windows 10 latest production build).

I think you should enable this function from the Settings if you what it to work. There is no Windows Phone that does not allow you to save Locations of your photos. Expect if you are using flashed Lumia 1020 - you still will get locations of the photos but the highres pic will lack location, however the 5mp will have saved location.

it is enabled, but the location indicator doesn't show on the top bar when camera is in use,.

This one does NOT always appear in the camera app. It depends when it was last checked. Plus it runs in full screen so you won't see it. If you open the pictures with the photo app and check the properties it should show you the location if all your privacy settings are properly configured for the camera app

The photos are not saving location, it shows both in the app and on PC.
I checked the location indicator when in the camera app by scrolling down the action center, and I didn't find it.
Feedback hub is full of such incidents, and I don't know why MS hasn't figured out anything till now!

Ah yes sorry I didn't realize there were feedbacks for this. It does work for me on the fast ring insider build and 950XL. Does it happen with all pictures you take? Let's say if you take multiple pictures in a row is it the same?

My camera app on Windows 10 on the 950 XL always save the location. Did you enable it as suggested by the others? Do you use the original camera app? Did you check under privacy location?

All the setting are fine, theoretically they are on but the default app is not saving location, if i try another camera app from the store the location saves. then it is app related.

if you goto Settings - Privacy - location - Scroll down to the section "Choose apps that can use your precise location" is it set to on for the Camera app?


I check and double check that and still not working for me, it used to work before, i have NO idea what happens

Hmm, I noticed that the new 950 XL of my girl friend positions the photos way off position.

Can you give me the link so i can "talk" too?

Not at all. I've just downloaded it for free.

I have windows 10 mobile, i already have that app, but there is in-built app purchases of ₹189 or $2.99, right now.

I don't know why but when I download the app, it is still paid version. How do I redeem my MyAppFree Code/Coupon or whatever it is?

You install MyAppFree and install the free app from within it. However in my case, I see a different free app (a Night Stand Clock)

I managed to download the Pro / ad free version using my WP8. It seems that when you open the app from WP8 it gives you option to updated to PRO version for FREE.

Yes, after launch I was offered the free upgrade. On Windows 10 PC.

Mandatory App GeoPhoto! GET This now!

When Windows Central posts these articles, they are usually posted about 12 hours before MyAppFree updates it's app. Not sure if the poster is in the UK but they always have early access. I'm on the West coast and the next free app won't be available until 4:00pm local time. New apps are always released at that time.

hmm, GeoPhoto is not on my "app of the day" or "featured".....

Myappfree confirms, geophoto will be available tommorow CET time (in9,5h)

This is also an excellent app for use with Continuum

In Finland today's myAppFree deal is not GeoPhoto, but Night Stand Clock. Even so, I installed GeoPhoto on my phone (Lumia 640 XL, W10M) and tried to buy it for 0€ inside the app, but to no avail.

Hi all! :) I am Alessandro from myAppFree team. I confirm that the in-app content of Geophoto will be free for everyone tomorrow. At the moment, you can get it for Free on Windows 8 and Windows Phone 8, while tomorrow (or later today), it will become available also to Windows 10 and Windows 10 Mobile users. The reason is that Windows 10 Store has a cache that needs to refresh in order to show updated prices and that's why sometimes you see apps still paid when Windows Central writes about our offers. Moreover, sometimes Windows 10 Store stucks at price updates. We hope this will not be the case. Stay tuned for tomorrow :) For any questions, feel free to contact us! PS: Please upvote my comment to let people easily know about it :)

Thanks for the information!

FWIW, I went to the store hours ago to install it and it said I already owned it. I must have deleted it or forgot to reinstall it after some reset. Anyway, I re-installed it and went to the option to upgrade to Pro and it said the price was $0 (today). I did that but I don't see any indication it actually happened. I'm not going to go to the trouble of trying to exceed the limits of the "free" version. Plus if I click on the upgrade icon, it doesn't tell me I already did it, it just offers the upgrade again for $0. This was on my desktop PC. My question is: just how do you confirm the upgrade actually happened?

The in-app purchase of pro version is still not available for free. It still asks for ₹189.

Hi Debasish, Thanks for your message. Are you from India? Unfortunately, it seems that Windows Store in India has some issues right now. I just contacted GeoPhoto devs and they said that they made GeoPhoto's in-app purchases free worlwide (they also sent me a screenshot as proof). I am very sorry for this, but this is something that we cannot fix since it depends on Microsoft. In all the other countries it is Free.

But changing the region to US also did not work.....still is asks for $2.99

It reminds me of the Lumia app Photo Story or something. For ages I have been asking Microsoft to support geo in their OOB Photos app. Much nicer to access photos based on geo than folders and albums. Of course app should support adding geo to photos.

Lumia Storyteller you mean. I was just thinking about this too, even has a slideshow feature that you can export and share. I'd be glad to have this back.

app is brilliant, had it since I had my Lumia 920. Windows 10 version was great to connect to my NAS, took some time indexing 40k+ pictures lol.

Taking advantage of the free pro upgrade. 😀 But, app never upgrades. ☹ Checking settings always says "get pro version" Clicking on store link, doesn't seem to upgrade. When checking 'about' shows version 3.43 Thanks Ron

Highly recommend this app, especially FREE! One of my favorites, and a great way to remember those family vacations!

Can't access the store on the PC or my Phone. Anyone else?

Yes. It's down for some - UK for def. See later WC article

it's not free for me,i have adds ...and i can go with pro for $2.99

Looks interesting. I'd developers to add the option of donations after they've offered it for free. Sometimes finding out about the free app is the only time I've either discovered the app or been able to thoroughly test it.