Hidden trick enables Cortana on the New Xbox One Experience preview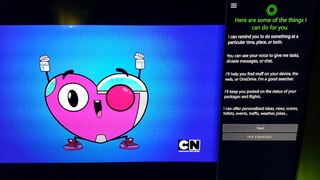 Though Cortana isn't supposed to be officially available yet on the New Xbox One Experience (NXOE) for preview members, it appears that a pioneering Reddit user has discovered a trick to get the feature working. To enable Cortana, here are the directions given by Reddit user xbxo_zone:
If those instructions sound a bit vague, YouTuber Aussie Gamer has a nicely laid out instructional video, which we've embedded below:
It sounds strange, but we've tested it out and it does indeed work. As you can see in the screenshot up top and Instagram embed below, Cortana offers up all of the same neat tricks that she does on other platforms, even including the voice-activated "Hey Cortana."
If you want to try out Cortana, no matter how rough around the edges it is right now, we'd suggest checking this out as soon as possible. The feature isn't officially supposed to be included in the NXOE until early 2016, and there's no telling how long this will stick around before Microsoft does something about it.
Sources: Reddit, Aussie Gamer (YouTube)
Daniel Rubino is the Editor-in-chief of Windows Central, head reviewer, podcast co-host, and analyst. He has been here covering Microsoft since 2007 when this site was called WMExperts (and later Windows Phone Central). His interests include Windows, Microsoft Surface, laptops, next-gen computing, and for some reason, watches. Before all this tech stuff, he worked on a Ph.D. in linguistics and ran the projectors at movie theaters, which has done absolutely nothing for his career.
And what does up up down down left right left right b a do?

Makes you sound really old.

This trick enables Developer Mode in Opera so no, it doesn't make anyone sound old.

It gives you 30 lives IRL.

Can someone who has installed Cortana on their Xbox pls try to see if you can use her to record clips & snap apps..i.e. "Hey Cortana, record that!"

Yeah! First time I've been able to try out Cortana. I'm in Sweden. :)

Vänta nu? Funkar coetana i Sverige?!:D

Inte på svenska, men kör man USA-region så kan man leka med henne. Förlåt om jag fick upp dina förhoppningar. Cortana i Sverige är minst ett år bort.

You missed a great opportunity to title the article "Enable Cortana on Xbox One Using This One Weird Trick"

Hah! I was so tempted to go there.

This thread 10/10 I wish we could use emojis :/

The new mode will shock you.

Not sure where else to say this, but have you tried the project your display thing on the new experience? I had to uninstall the xbone and re-install on my devices to get it to work. Idk if this is a common problem.

"You'll never believe this trick to enable Cortana on your Xbox One!"

Also, You'll never believe what this Single Redditor found in his spare time from home!

yeah, I just Used This Weird Trick.

You forgot the "#5 will shock you" part.

Is it still possible to get W10 preview for Xbox?
If yes - please share link to instructions

yeah, its being rolled out to xbox insiders. there are no instructions other than being a insider and accepting the new experience message they send. then when its your turn to get it they send it out.

Thanks, but I wasn't precise in my question. I wanted to know if: I still can get into XB inseiders rogram?

I just did it, its awesome!

Works but she is not available in Canada.. Ugg

Change your region to us. Reboot. Works!

i am not changing my region to usa. no thanks.

You know it's just your console and not your account right?

So what exactly do I do can't figure it out????

Kool Posted via the Windows Central App for Android

Still holding off updating the console for a while. Once you do the up, up, up, A is Cortana available all the time or do you have to do this whever firing up the Xbone? Are you region locked based on the sign in account or can you change to US where Cortana's features are ALL available?

You can just change to US. In settings. You will have to reboot

In WP store does not work if region changed due payment methods bound to a region. Same not the case with Xbox?

Uh, it's cool but if you don't have a solid connection it's kinda flimsy...I'm pretty sure it's only Windows 10 worthy but not totally Xbox ready. She's like an SNL cast member, a not ready for Prime time player lol =P

Isn't everything "flimsy" on Xbox One if you don't have a solid connection though?

This is the first universal app running on the Xbox :)

Once enabled, Cortana settings shows up under System Settings as well.

Are you able to navigate in the settings? As soon as I hit the Cortana settings, it snaps it, but I can't do anything from there? Posted via the Windows Central App for Android

Appointments are not enabled if you ask for them. Still pretty cool,

Thanks! Posted via the Windows Central App for Android

Feels like a MK fatality as a shortcut for test team

If you say "Hey Cortana, watch TV", not only will it work but she'll respond with her voice. My one concern though is that It's going to be weird when I say "Hey Cortana" and she responds on my TV, PC, and Phone all at once =/

Remember when they first announced the Xbox One and they were demoing Kinect by saying "Xbox, such-and-such" and if you saw it on an Xbox 360 the demo keynote would activate the voice commands?

Oh Crap, it dawned onto me that UK version will have the posh cortana voice nooooooooooooooooooooooooooooooooooooooooooooooooooooooooooooooooooooooooooooooooooooooooooooooooooooooooooooooooooooooooooooooooooooooooooooooooooooooooooooooooooooooooooooooooooooooooooooooooooooooooooooooooooooooooooooooooooooooooooooooooooooooooooooooooooooooooooooooooooooooooooooooooooooooooooooooooo. I much prefer Jen Taylor's voice, as Cortana should sound like.

She calls me chief on my Xbox, but by my name everywhere else.

Ew... Why on earth was Dan watching Teen Titans Go? That show's a disgrace to the Teen Titans name. He could've at least watched something decent when he got a picture for the article header.

Love that show soooooo much. Love that me watching it bothers you even more. Your misery is my joy.

Teen Titans GO is amazing! Me & my kids love it... One of our faves. Great choice, Dan. :)

@Daniel, Rofl. Thanks for the good laugh this morning.

Giant celery monsters. Run for your lives. (Yep, I'm trying to pull of sadism on a sadist)

It's so damn slick!!! "Hey Cortana" appears to respond much better than "Xbox"

I just want to make sure I understand. Once you do the trick the first time, hey Cortana works after that without doing the trick? That may make me want to opt in...

Yepp! I noticed that today. Hey, Cortana, blabkabla... Works great! :)

Awesome, man! Thanks for the reply. You pleased with the performance so far? Have you tried game streaming?

After I did the test, Cortana mentioned it needed to enable some pieces. I believe anyways I didn't really pay attention. Now, after i closed the snapped window, I'm able to use the voice "Hey Cortana". I asked questions like what's the weather tomorrow, will the cubs win the works series, etc. All worked as it would on the phone.

How do I sign up for XBOX PREVIEW PROGRAM?

Is the Win 10 Preview safe to use? Read about a lot of problems at the beginning (Games not starting, Party not working, etc..) I'm playing Destiny and FIFA a lot and also use Party chat most of the times. What are major bugs you guys are experiencing?

Media Player does not work correctly, which is a huge problem for me. When you start playing a movie, it will go around 30 seconds then a box will pop up "No video found" or somthing similar, as the video keeps playing in the background.

Can someone please invite me to the preview? Olivermills6. Thanks! :)

Can you create a dvr clip yet? I'm assuming not at this point. Hoping it's not patched by the time I get home. Supposed to be coming to Xbox preview users before next year anyway, so maybe they'll leave it

If you are not in the Preview now, it is highly unlikely you will get in, since they have started limiting it.

can one still get in the xbox insider program i heard that they had stopped accepting new people.. ​if one can still invite please can u add me gt: kvjoshi ​

Can someone please invite me please please please my gamer tag is frankie30
Windows Central Newsletter
Thank you for signing up to Windows Central. You will receive a verification email shortly.
There was a problem. Please refresh the page and try again.