Get a Microsoft HoloLens demo at select Microsoft Store locations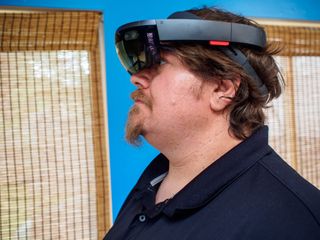 Microsoft is giving people a chance to check out its HoloLens headset, and its augmented reality tech, for free in a tour of Microsoft Store locations in the U.S. and Canada in September and October.
The list of store locations and dates include:
Sept 15-18: Palo Alto, California and Mississauga, Ontario
Sept, 22-25: Mission Viego, California and Calgary, Alberta
Sept. 29-Oct. 2: Dallas, Texas and Boston, Massachusetts
Oct. 6-9: Houston, Texas and Tysons Corner, Virginia
Oct 13-16: Chicago, Illinois and Atlanta, Georgia
Oct. 20-23: Bloomington, Minnesota and Orlando, Florida
You can pre-register to attend the HoloLens demo at one of those Stores ahead of time at the link above. Each demo will last 15 minutes and is intended for people ages 13 years old and above. Microsoft says there are a limited number of demo spots so you should make sure you are registered in order to confirm your date and time.
If you decide you want to go ahead and buy the HoloLens after the demo, you can purchase the current Developer Edition of the headset for $3,000 at the Microsoft Store site.
See at Microsoft Store (opens in new tab)
Windows Central Newsletter
Get the best of Windows Central in your inbox, every day!
As an ex-Philadelphian, you have my sympathies. I know it's a longshot but maybe you can take a trip and come down here to Florida to give the Hololens a go and take a vacation all at once. The weather down here is usually gorgeous in October, not too hot and not too cold.

Philly? How about the rest of the world? Again, again, again...

Let's be honest, God ignored Philadelphia :)

I wish Microsoft would quit doing these types of things. All that comes out of them are people whining and complaining that they are left out.

Why not the Toronto store? Who the hell wants to drive to Mississauga...

Luckily my office isn't too far from there.

Damn, you're lucky..im tempted to make the trek but probably won't.

C'mon, KillaRizzay, you can do it! It's only 25 minutes without traffic. You know you won't be sorry!

East of Toronto. Takes me about an hour to get to Mississauga

Thats for a dev kit. Fully intended to be overpriced to keep people from buying the limited quantity just for fun.

Or in Shreveport, just come by my house :)

30 miles from one of the locations...may have to stop by

It doesn't even fit the guy in this pic.

Hell yeah! Boston! Posted via the Windows Central App for Android

Boston is the closest to me and I am in Canada! Fifteen hour drive... Posted via the Windows Central App for Android.. But waiting for the HP Elite so I can get rid of this junkie Galaxy S5...

Look at that picture...can someone tell me why they cant make this Halo Lens to look like it is actually suppose to fit on your head? It always looks so awkward and goofy.

Maybe the fat guy is just playing stupid. I'm sure the gear can be adjusted.

It's the forward tilting angle of the lens. Everyone I have seen wearing them, it looks goofy on.

Sweet. I signed up for Sept 15 at Stanford Mall, Palo Alto... awesome

That guy has a big head o.o, no disrespect if course.

The hololens in this case is making his head look bigger. Like trying to fit a wedding ring on a grapefruit. Hopefully the consumer versions account for out of normal range head sizes. Posted via the Windows Central App for Android

Woo hoo! I'll be checking it out in Palo Alto on the 16th.

Anyone wanna meet up in mission viejo. That's orange county.

I just registered in Mission Viejo too!

Would have liked it if they came to Beachwood Place.

Disappointed that Arizona isn't included :(