Get your own custom wood skin cover for the Surface Book from Toast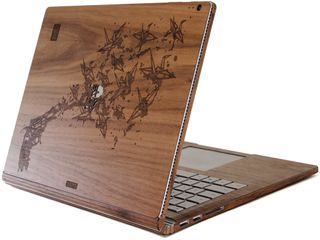 Microsoft's recently released 2-in-1 notebook, the Surface Book, has proven to be a popular item if its initial sales are any indication. But what if you wanted to change the look of the notebook, so it stands out from the crowd? One option it to get a custom wood cover from the team at Toast.
The company has been making custom covers for smartphones, tablets and notebooks for a little while now, and now the company posted images of its first cover made for a Surface Book customer, with a wood skin. Here's how Toast describes what they offer:
The current price for a custom cover for the Surface Book is $84.
Get your custom Surface Book cover from Toast
Source: Reddit
AWESOME is the only word that can define its looks....

Yep but I would leave the Microsoft logo open

Normally I'd say the same but the little branches covering it a little gives a very cool look.

I'd embed a backlit Apple logo in it instead and go to my local Starbucks to see how many people ask me where they can buy it because its so cool and must be the latest Apple product. Send them to Best Buy or something to have them explain it to the sales rep only to find out it's a MS product. But then again I'm feeling particularly evil today ...

Haha. That would be pretty funny!

You should totally do that. It'll be hilarious!

You won best thread comment

True. Really stands you out.

Please I want this here in India. Will India get this?

That's freaking AMAZING!!!! Good job to those guys... Gotta go check out their website :)

That looks awesome! Pretty good deal for only $84.

Will it leave any residue if you take it off? It looks great (not that the Surface Book looks bad stock). Also, how will it fare with heat? My Surface Book has been under pretty constant load for the past few weeks and gets warm to the touch during my day (even now, the touchscreen is even warm).

Toast is backed by high grade adhesives from 3M that will not leave behind any permanent residue. The covers are designed to allow full heat dissipation... been Toasting laptops for years, and just started doing game systems. The Surface line has also been certified by Microsoft. Marc Kennedy (Sr. Hardware Engineer for Surface) is a huge fan.

How much it will take to stick that cover over that hinge or the sides.. With so much perfection/? I mean a genuine question assuming i don't have steady/artistic hands but i have a surface book..

It's easy, and does not affect attachment / removal whatsoever. Toast also has a "butterfingers" replacement policy; if you mess anything up, send a picture and you'll get a replacement.

For the Surface Book, it shows me $99 ($129 with bottom cover)

I like the concept, as I could make the Surface book even shiny-er with a mirror finish or maybe the Lumia yellow to match my 1520 or if I get a 950 and one of those nice cases I could get the matching one for the surface book.

Nice, but expensive... On top of the already considerable price of the Surface Book, and calculating a max three year lifetime, I'm finding it a hard sale...

Let's not kid ourselves. Those who can afford a SB can surely afford this. IMO this is a good deal for the price.

Lol yeah those that buy the cheaper configurations are only in it for the short term

Although the Surface Book cover was designed to allow servicing without removal, in the unfortunate event that your SB needs to be replaced, Toast will give you half off a new cover. Also, not sure if you caught this part in the review: "We also keep your design on file for future covers at standard etching pricing."


God, this is so ugly. The Surface is a marvel of design, adding these things ruins it, IMHO. Makes it look cheaper.

I had this on my Surface 2 and loved it. Its a little bit much on the Surface Book IMO, but whatever floats your boat. I will get the cover for the Surface 4 when available.

This image is showing full coverage (top cover, side wraps, keyboard cover, etc). The top cover includes side wraps, and everything else is an optional add-on when placing the order. SP4 cover will be available this week. :)


Where is WC review of the Surface Book?!?!

It would be great if they made cases for the new Lumia's, IMO. So i asked them: any plans on adding covers for the Microsoft Lumia 950? TeamToast: Hi there. TeamToast: We do not have those plans, we craft a new cover when there is a high demand and we receive enough requests. how do i and fellow 950 users submit a request? TeamToast: Oh you could just email us at cs@toastmade.com and we'll get a to-do list going if we do receive several requests. ------ If anyone else is interested, let them know!

How about a wooden cover for a L950?

Fugly. Can use this as chopping board.

Whoa. Wood accents are fine but going full wood is a bit much.

This image is showing full coverage (top cover, side wraps, keyboard cover, etc). The top cover includes side wraps, and everything else is an optional add-on when placing the order.
Windows Central Newsletter
Thank you for signing up to Windows Central. You will receive a verification email shortly.
There was a problem. Please refresh the page and try again.