Getting an HTC 8S is now a breeze at WIND Mobile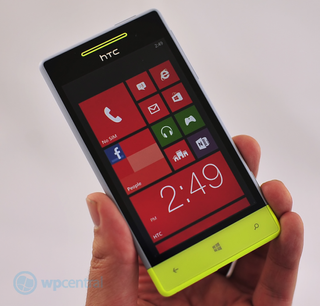 Canada's WIND Mobile has added the HTC 8S to their lineup, available in blue. The 8S will run you $299 outright, or as cheap as free, depending on which WINDTab plan you choose. It joins the Nokia Lumia 710 as WIND Mobile's second Windows Phone.
The HTC 8S is a mid-range Windows Phone 8 handset, offering up a 1GHz dual-core Snapdragon S4 CPU, 4" display (WVGA), Bluetooth 3.1, 512MB RAM, WiFi, non-replaceable 1700mAh battery, and Beats Audio. It also has 4GB storage, which is expandable via MicroSD slot. Check out our review for the full lowdown on the 8S.
Source: WIND Mobile; Via: MobileSyrup
I see what you did there.

GET IT BREEZE AND WIND LOL ..could u get an HTC 8s unlocked and use it on at&t and still be able to use data to browse web and send pictures???

Not this one. It has AWS frequencies. So it would work on T-Mob.

I can't get past how long it's taking for WP8 handsets to be released in different parts of the world. They sure are making it hard to upgrade. Still not a single WP8 in Mexico, so no wonder the numbers are so low.

Also, in the US, Cincinnati Bell has picked up this phone. Got it for my mother-in-law and I must say I am thoroughly impressed with it for a mid-range device. It feels just as good as the 8X IMO but it fits better in most people's hands because it is only a 4" screen.

I would get it and upgrade from my HTC Radar(On Wind) but the amount of internal storage is pitiful. if I know that WP8 would start allowing apps on the SD Card I would jump right on it

Apps take up such little space unless you are a big gamer. But I see your point. 16gb always suits me fine

when will it be on verizon

This may be a good upgrade for my Wife on wind. We've still got a samsung feature phone for her and she's always liked fiddling with my Focus when I can't use it (like while driving).

Edit: Reading 8s boards to get a bit more insight into the space concerns, I think even a light user like my wife might struggle with the 4gig size given the 2 gigs for the OS. I should just look at finding an unlocked 810.

I am on WIND and this is an interesting device. But man, I am having trouble getting over the 4GB storage thing. My wife has the Lumia 810, and with 8GB storage she has less than 1GB left, and she has no heavy games installed. (she likes word games only). Photos and music are all on the SD card. But after downloading a couple offline maps, and the damn "Other" section taking up almost 4GB, she has almost no space left! I cannot even imagine running on 4GB. I don't think it's practical AT ALL now that I've learned about the stupid "Other" section.


It's a Sin to release a phone with 4 - 8 GB especially considering the OS takes some of that memory.

When we see app install on the SD card this will be my first wp8 device come on MS sort it out.

So true I would have no problem with these phones if App could go on SD Cards

Well it's great to see it but come on where are the real phones? Wind has the Galaxy S3, Note 2, Galaxy Nexus, LG Nexus 7, Sony Experia Ion and most big name Phones. Where is the Nokia Lumia 920 or the HTC 8X or the the Samsung Ativ S. All Wind has ever offered is the Budget Windows Phones like the Radar and the 710. It's a complete joke over there. That's why I'm running the 920 on Wind and had to pay full price along with the unlocking BS

Has a review been done on this phone yet?

Camera Features 5 MP cameras Auto Focus & LED Flash 720p Recording Video recording
Price: - Rs. 18,590/=
More info: - http://bit.ly/YDeHXj
Windows Central Newsletter
Thank you for signing up to Windows Central. You will receive a verification email shortly.
There was a problem. Please refresh the page and try again.