Gigabyte's custom GeForce GTX 1080 card takes gaming to the extreme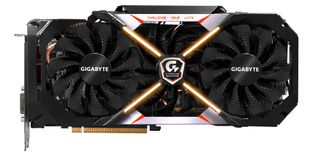 The NVIDIA GeForce GTX 1080 is a stellar gaming card in its own right, but AIB (add-in board) partners are starting to unveil variants of the card with custom cooling solutions and PCBs. First off the gate is Gigabyte with its GeForce GTX 1080 Xtreme Gaming, which offers RGB lighting and a new WindForce cooler.
Gigabyte's offering is built on a custom PCB, with a reinforced backplate for added stability. The WindForce cooler configuration sees three 100mm fans with angular blades, designed to effectively dissipate heat. The fans are off when the card is idling or if it's under a set temperature threshold, allowing for 0dB operation for low-intensive workloads.
When it comes to the numbers, the GTX 1080 Xtreme Gaming offers 8GB of GDDR5X video memory on a 256-bit wide memory bus, with a memory clock of 10010MHz. Display connectors include two HDMI 2.0b ports, one dual-link DVI-D, and three DisplayPort 1.4 ports. Power delivery is taken care of by two two 8-pin PCIe power connectors.
A unique feature with the card is Xtreme VR Link, which includes a front panel with two HDMI and USB 3.0 ports that can be slotted in a 5.25-inch drive bay. The accessory allows you to connect your VR headset to the front of your enclosure, instead of having to reach behind to find the HDMI connectors located at the back of the card.
The GTX 1080 Xtreme Gaming also features six composite heat-pipes that come in contact with the GPU, increasing cooling efficiency by 29%. Gigabyte is also offering a four-year warranty on the card.
No word as yet on pricing or availability, but we'll let you know once we hear more. Who's interested?
Windows Central Newsletter
Get the best of Windows Central in your inbox, every day!
Harish Jonnalagadda is a Senior Editor overseeing Asia for Android Central, Windows Central's sister site. When not reviewing phones, he's testing PC hardware, including video cards, motherboards, gaming accessories, and keyboards.
That VR front panel extension makes it very convenient. All VR supported cards must IMO come with an extension of similar sort. I wish future cards ditched AA and focus more on tech like VSR. Why do we need AA anymore when we have the power for VSR ?

Because AA is much faster then VSR.
Imagine running game in 4K on FullHD display, not even the best cards can do this at 60FPS in most modern games, but most of those cards can handle the best TXAA, or MSAA, with similar results.
Also SSAA does basically the same as VSR by upscaling the render resolution.

whats AA n VSR please? Posted via the Windows Central App for Android

I think it is time for me to build myself a new pc. Last one is over 6 years old.

Pretty neat, and it's time to save money to build a new PC! ;) Posted via the Windows Central App for Andr... err... what?

If only I had enough room in my case... And then I saw the price...

Gigabyte isn't the first. ASUS announced the Strix RGB card right after the 1080 launched. Posted via the Windows Central App for Android

That was 1070 If I remember correctly. It was even covered here at WC

As much as I would LOVE to have a 1080, for as well as the 1070 performs in comparison, and for as much cheaper as it is, and for the fact that I need to upgrade the CPU and Mobo (and maybe the power brick) before it makes sense to do either one, I think my aim, realistically, has to be for the amazing 1080's incredibly respectable "kid sister". Either one of them would totally blow my current 660ti completely out of the water! :-)

EVGA, your move. I need to spend my EVGA bucks and a 1080 would be a great replacement for my EVGA 780 SC ACX.

They already announced all of their variants. When you can actually buy them is another matter.

Give me one with an already attached waterblock. I'm building a new PC next year, so there's time.

Can i have one as a gift?

Not sure which kidney to sell to get one of these...

you dont have have to sell any, unless you are want to do 3 way SLI. :P they are pretty cheap compared to the Titan

Only 2-way possible with these cards

Will this work with an SLI bridge?