Giving your photos a little flair with HDR Photo Camera for Windows Phone 8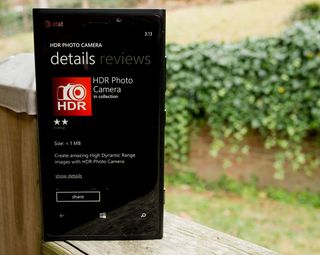 HDR Photo Camera is a Windows Phone 8 app that gives your Windows Phone camera the capability of creating HDR (High Dynamic Range) images.
HDR images have a high dynamic range between the lightest and darkest areas of the photo than what you would see in standard photos. Typically HDR images are created by taking several photos of the same subject at various exposure levels and merging them together to create the HDR image. The end result creates an image with more vibrant colors and greater dynamic range between the lighter and darker areas. It's a great technique for landscapes and scenes that have a nice blend of dark and light areas.
While you could use the exposure compensation setting on your Windows Phone camera, bracket several photos and merge them into one image with post-processing software, HDR Photo Camera does it all for you in a simple, straight forward package. It's a nice camera tool to add to your Windows Phone photography app library.
HDR Image (left) and non-HDR Image (right)
On the surface, HDR Photo Camera is a very simple and easy to use app for your Windows Phone Camera. Launch the app, line up your photo, hit the shutter button and hold the camera still. HDR Photo Camera will take three images of your subject at different exposure levels and merge them into one HDR image. You can see where the HDR processing pulls out the color of the bench in the darker areas and lightens the shadows in the water to pull out more color.
HDR Image (left) and non-HDR (right)
Images are saved in the Camera Roll of your Pictures Hub and shot at the 16:9 aspect resolution. Images are resized a little, down to about 7.1MP.
While images come out nice, you really need a steady hand in using HDR Camera. Any movement of the camera will cause blurry or alignment issues when the three photos are merged. I would highly recommend using a tripod (opens in new tab) or in the least, prop your Windows Phone on top of something steady to eliminate any movements. The optical stabilization on the Lumia 920 will not help you on this one. It is designed to reduce motion blur in a single image, not to keep your camera steady to take three consistent images.
Overall image quality is nice but I did see a little lens flare to the left edge of some of the pictures I took. It's more noticeable in the fountain picture than the other images. Just look at the upper third and lower third of the image to the left. Not sure what's causing this and luckily it's minor enough that it can be easily cropped out of the photo.
There is room for improvement with HDR Photo Camera. I would like to see the ability to switch to the 4:3 aspect ratio and the ability to turn off the flash. HDR Photo Camera runs everything on automatic with no way to tweak the settings at all.
There is an inability to delete a photo from within the app. You take a bad shot you'll have to live with it until you find your way into the Pictures Hub to delete it. My thoughts... if you can review a photo in HDR Camera Photo you need the ability to delete it.
Last little nit is that while the app ran smoothly for the most part, there were times it became laggy. The viewfinder would be slow to keep pace with any movements and at times the processing focused too much on the over-exposed image, resulting in a washed out image. When the app started acting up, I simply exited and re-launched and things ran as they should. On the surface HDR Camera Photo is a simple app but underneath the hood there's a lot to things and the performance glitches should be easily addressed in the next update.
While not perfect HDR Camera Photo is a nice photography app for your Windows Phone. It's in a good starting point that just needs a little fine tuning.
There's not a trial version available for HDR Camera Photo. It would be nice to have a trial version that was time limited or only let you capture but not save the images to give you a feel for the app. The full Windows Phone 8 version is currently running $2.49 and you can find HDR Camera Photo here at the (opens in new tab) Windows Phone Store.
Related Posts:
HTC 8X Camera Guide (opens in new tab)
Windows Phone Tripod Guide (opens in new tab)
George is the Reviews Editor at Windows Central, concentrating on Windows 10 PC and Mobile apps. He's been a supporter of the platform since the days of Windows CE and uses his current Windows 10 Mobile phone daily to keep up with life and enjoy a game during down time.
I have been looking for a good HDR app for Windows Phone. Way back in the day when I used to have an iPhone I had an app called ProHDR which was really fantastic. The pics I got with that app were amazing. This app just doesnt capture the dynamic ranges well enough. Hopefully the dev will keep releasing updates for the app as it does have potential but as it stands now I do not see myself using this app much as it doesnt bring the "wow" factor to my pics.

this looks like a really good app cant wait to get my 920 from warrenty.

Very disappointed with app....appears to have no settings. App loads tap screen flash goes off then app crashes. I cannot find any pics it may have captured. Should have trusted other reviews. This is on my HTC 8X

This app is horrible just read the reviews, specially if your phone is
A Lumia 920 ... , 920 has OIS hdr... Built in

OIS HDR? You sure about that? :)

Bad reviews, they need to make it all the way or take it out from windows store, it will make windows look bad

But it's rated only two stars. There's got to be something up with that. The other user reviews on the app make it seem like it's unfinished.

Doesn't work good enough. You can barely tell there's any hdr

Standard L920 pics look better. Pass.

Really bad app, can't recommend it

How did this app pass a Windows Phone review by Microsoft? It does not work on the 8X. I have rated and reviewed due to this, as have others, and it appears as though there is n o response from the developer.In addition to not working, it is feature poor. There is money to be made from developing better photo and video apps, devs, come on! Don't waste your money!

Nokia needs to make this in their lenses, and perfect it.

samsung zone has an app "photogram" it allows you to take HDR pics and add HDR effects to already clicked pics. but nice to see this getting available for everyone. not sure abt price.

The sample shots look a bit like unskilled photoshop edits.
Results may be better processing the RAW data for 3 exposures. That should at least be an option so that someone could choose to bracket on a tripod. However, if someone goes through the effort to bracket 3 exposures it seems like post processing on a PC is a better option. And if someone is going to do that a "real camera" would probably be used.


without an option to try, plus the 920 seems to have good HRD results anyways.. ill pass.

Wait, what do you mean by "the app resizes the photos to 7.1MP"?
Are you taking pictures at 4:3, at 8MP?
In 16:9, my Lumia 920 takes 3552*2000 pictures, and that's 7MP...
Thanks :)

I heard that Microsoft was also going to release their own HDR app for Windows Phone 8.

There is something wrong about the lumia 920's camera post portico. Maybe I'm the only one who's critical of it but pics aren't bright using flash. They all come out darker and orange. Its like the flash is slow the camera doesn't absorb enough light or whatever. I've sent complaints to Nokia as this is upsetting. My coworker bragged about how his GS3 had better, brighter, sharper, pics, than my Lumia 920 in front of all my other coworkers whom I bragged so much about the 920's top notch. I compared pics his against mine in same environment. I feel ashamed!

lubbalots, do you have exposure compensation or ISO set to something other than auto?

Everything is set to auto. We took pics using flash in same room and same environment, and I can say his pics on his GS3 are much brighter and more sharper. There is no excuse for this. I've done more test and taken more room pics and it all comes out orangy. Honestly I care less about the OIS than sharp bright clear pics which Nokia is supposedly famous for.

Works fine on Lumia 820, really shouldn't have brought it though $4!!! :/ At least it appears in the "lens" feature of the camera so that's nice haha :)

unfortunately, simply not working on an HTC 8x... As soon as you take a picture it hangs at 1/3 and exits the app.
Some serious debugging seems necessary. What a shame that this is published and put on sale in the store, why didn;t they check?
stormnl

i dont know... for me... FOR MEE!! ... the non-HDR photos look better

Not only for you, for all of us :-) I am going to pass this application.

Fantasia Painter.. 'nuff said.
Windows Central Newsletter
Get the best of Windows Central in in your inbox, every day!
Thank you for signing up to Windows Central. You will receive a verification email shortly.
There was a problem. Please refresh the page and try again.