Tripods: Lending a steady hand for your Windows Phone camera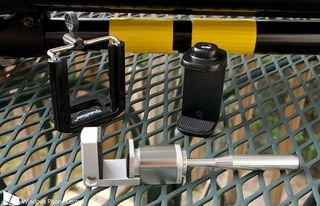 While there are a pile of Windows Phone photography apps to help you take quality and sometimes unique pictures with your Windows Phone camera, if you use this camera with regularity, there's one accessory you really need to consider investing in. A tripod and tripod mount. Okay, so that's actually two but they kinda go hand in hand...
A tripod will help you keep your Windows Phone steady to avoid motion blur with those low light photos, allow you keep your Windows Phone stationary while shooting video and with apps like Camera Timer (opens in new tab) (free) lets you jump in the picture at times. And we're not talking about a major investment. There are quality tripods out there that range from $20 and higher. Tripod mounts are in the same price range as well.
Tripods
Many Windows Phone users will already have a tripod for their stand alone digital camera or video camera. In these cases all you'll need is a tripod mount for your Windows Phone. For those will need a tripod, you can look at the desktop tripods such as Joby Gorilla Pods (opens in new tab) (about $12 and up) or a more traditional full size tripod that can be found for as little as $20 and as expensive as a few hundred dollars.
The Gorilla Pods are strong enough to handle the weight (yes, even the "heavy" Lumia 920) of our Windows Phone and flexible enough to handle a variety of situations. You can bend them at angles, wrap them around posts or just stand them upright. Personally, I like the Gorilla Pods with magnetic feet to give me a little more flexibility.
Tripod Mounts
Without a tripod mount built into our Windows Phones you'll need to invest in a mount that will hold your Windows Phone on the tripod. Here are three options that I've used and found to be capable of keeping things steady.
iStabilizer ($19.95): The iStabilizer has a padded arm that extends to hold your Windows Phone in place. The base is padded as well to prevent scratches and to hold things in place better. Every now and then the little rubber pad that protects your Windows Phone from the metal clamp will pop out while extending the iStabilizer. This is more of an inconvience than problem because the rubber pad slides back into place easily.
The iStabilizer handles the Nokia Lumia 900 and HTC 8X nicely. The HTC Titan II and Lumia 920 stretches the extension arm to it's limits though. If we see any Windows Phone much larger, I'm not sure the iStabilizer will work out. The iStabilizer is running $19.95 and you can find it here at the Windows Phone Central Accessory Store (opens in new tab).
Nokia HH-23 Tripod Mount ($14.99): The Nokia HH-23 was designed for the Pureview 808 phone but does rather nicely with our Windows Phones. The upper and lower pads on the Nokia Mount extends to pinch your Windows Phone. The padding is a little firm for my tastes but the mount does hold things in place nicely.
Where the iStabilizer is constructed of metal and plastic, the Nokia is completely plastic. It feels durable but the further you extend the mount, the plastic bows just a little. While the Nokia Mount will extend enough to handle the Lumia 920 and HTC Titan II, it is better suited for the narrower Windows Phones such as the Lumia 900 and HTC 8X.
You can find the Nokia HH-23 Tripod Mount here at Amazon.com. (opens in new tab)
i.Trek Mounts ($15 and up): The i.Trek tripod mounts are likely the sturdiest option and is designed more like a vise.
Made of aluminum, your Windows Phone is placed in the mount and you basically screw tighten the padded sections to hold the phone into place. You just need to be careful not to over tighten the mount or you may create enough pressure to damage the screen.
There are a few models of the i.Trek mounts that mainly vary by color or with/without an extension arm. You can mount your Windows Phone horizontally or vertically and the i.Trek can also double as a stand for your phone.
The i.Trek starts in the neighborhood of $15 and you can find the i.Trek here at Amazon.com. (opens in new tab)
Which is the best? Tough call. The more I use the i.Trek, the more I like it. The aluminum construction has a solid feel to it and it holds things in place nicely. You also have a vertical option with the i.Trek that you don't have with the Nokia or iStabilizer.
I like the compactness of the Nokia but the build quality is suspect. I would have liked to have seen Nokia use metal extension arms or something a little more sturdy. The iStabilizer works really well and can be bundled nicely with tripods and other accessories. The only real draw back being that you'll have to rely on your tripod to position your camera in the vertical position.
Again, whichever option you pursue, the investment can be minimal. You can find the iStabilizer mount bundled with a table top tripod here at the WPCentral.com Store (opens in new tab) for about $30.
Not everyone will need a tripod and mount for their Windows Phone but they can come in handy in using your camera. Just like the magnetic lens adapters, a tripod and mount are just another tool that can expand the capabilities of your Windows Phone camera.
Windows Central Newsletter
Get the best of Windows Central in your inbox, every day!
George is the Reviews Editor at Windows Central, concentrating on Windows 10 PC and Mobile apps. He's been a supporter of the platform since the days of Windows CE and uses his current Windows 10 Mobile phone daily to keep up with life and enjoy a game during down time.
Wow. It's like you read my mind.

No need, NOKIA LUMIA 920!!!!!!

even with the optical stabilization of the 920, I'm finding that a tripod can help with some of the night photography and if you have a pan or swivel head on the tripod it can help add a little consistency with panorama shots.

I'm not saying its useless, keep it coming, more gadgets like this can only help WP8 ecosystem, I was just showing off a little, great technology which can and I believe will be improved with time

Thank you! You just reminded me I had a tripod for my iPhone before lol... Gonna dig it out!

Seriously? I guess I'll commend their entrepreneurship, but it is rather silly dont you think? Just buy a real camera... :-)

With a Joby tripod, a 920 and the app ReadyClick you can save space and get good shots. And yes, seriously, the iPhone after-market for camera accessories is *huge*. That can only mean one thing: people buy and are using these gizmos.

If you haven't noticed, cell phones slowly replacing cameras

I disagree, maybe for the point and shoot, but not for even amateur photography.

I shoot with a D700 (full frame) and for a point n shoot, the Samsung EX2F--both are pretty high end cameras. I now leave them home when I can and will use my 920 and maybe sneak the Joby with me. It's not the camera that makes a photographer, it's how good the artist is. So I completely disagree with your assesment. So doesn't George, who's in the same boat.

What I want is a tripod that properly holds a wp and swivels at the camera axis to create perfect photosynths. Most tripods are universal and understandably so but they don't allow for a perfect synth. I guess I need photosynth to be released for WP8 first. :/

Just get a high end ball mount and a good tripod. I used one with no issues. No need for a "special" tripod.

This is great. I've been trying to find one for my Titan for a while so I could take better Photosynth panoramas. I'll try the i.Trek one.

Tripods also help for longer videos. No reason to wear out your arms if you don't have to.

So which iTrek is best for the 920?

I opted for the model with the extended handle. Figured it would give me more to grab hold of. It's still small enough to fit in a back pocket.

iStabilizer is working on a bigger version of their tripod to accomodate for phones like Galaxy S3 & Lumia 920. Should be out any day now.

As a point of reference, depending upon the type of image stabilization employed by a camera, tripods can be worse than useless. Lens based optical image stabilization typically produces poorer quality images when tripod mounted. That is why Nikon, among others, advise users to turn off vibration reduction based optical image stabilization when a camera is tripod mounted. Digital image stabilization is a different story. I am under the impression though that Nokia uses optical/lens based correction. Of course if one is going to carry a tripod, they might as well carry a real camera instead of relying upon a camera phone whose results are really just those of an average point and shoot. Nothing against Nokia or HTC (or Apple, Samsung, etc.) but there is not a phone camera in existence that produces anything more than a better camera phone image. That is still below any DSLR and most point and shoots.

First... most of the Windows Phone cameras are real cameras capable of capturing quality, printable images. They have long since outgrown the novelty stage. Do they measure up against a DSLR? Nope but within their own right, our Windows Phone cameras are real cameras. As far as the tripod causing more harm with optical stabilization systems, that is not always true. Some IS systems can dectect when no movement is present and shuts down. Older systems lacked that ability. Not sure with Nikon but I believe Canon's second generation IS systems are this way. In taking photos with the Lumia 920 from a tripod and not seeing any distortion from the stabilization I'm guessing it's a passive system as well.