Windows Phone Twitter clients glƏƏk! and Cowlick! updated with instant push notifications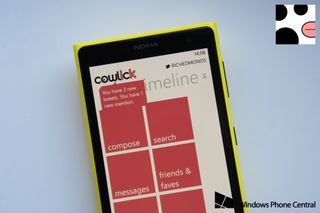 Liquid Daffodil is an established Windows developer with multiple apps available for both Windows and Windows Phone. glƏƏk! and Cowlick! are two Twitter clients for Microsoft's mobile platform and today we're covering two big updates recently pushed to the store. Pass the break to learn what's new.
Both glƏƏk! And Cowlick! have hit version 2, enabling optional instant push notifications for free. The developer is utilising Windows Azure as the backend for the added feature and will be monitoring usage over the next week or so to see how everything works out. This is simply a free beta trial, if you will.
It's worth noting that users can enable the new instant push notifications through in-app purchases in both apps (though the asking price is free). After the trial period ends (this Friday), the feature will set users back by $0.99, so it's worth helping the developer out and test the services now as you'll be able to keep the in-app purchase even after the price comes into play.
If you've never checked out glƏƏk! for Windows Phone, it's a rather old app that's been available on the platform for some time. Not only is it a fully featured Twitter client, but you've got custom notification sounds, color coding of tweeps, integration with Local Scout, the ability to view random tweets (known as pƏƏks) and much more. It's a heavy app for power users.
Cowlick! on-the-other-hand is a lightweight Twitter client, perfect for those who enjoy reading through tweets and don't wish to have bloatware in the form of features they rarely use. The app has also been fully updated for the latest version of Windows Phone 8, and supports great theming, including both white and "Reverse Cowlick" themes with granular control over accent colors, etc
You can download both glƏƏk! and Cowlick! from the Windows Phone Store for $1.99 and $1.49 respectively (QR codes below).
Windows Central Newsletter
Get the best of Windows Central in in your inbox, every day!
Rich Edmonds was formerly a Senior Editor of PC hardware at Windows Central, covering everything related to PC components and NAS. He's been involved in technology for more than a decade and knows a thing or two about the magic inside a PC chassis. You can follow him on Twitter at @RichEdmonds.
I downloaded gleek awhile back but stopped using it and I use tweet it now. But I may give gleek another go and try them out. Question...how hasn't gleek/cowlikck been hit by twitters draconian methods about token, I wonder.

Not enough downloads yet?

Hey same! Used to use Gleek but changed to tweet it recently.. I wonder if there's enough major changes for me to try gleek again

Does any of the clients have inline (preview) images?

Am I the only one who uses the official Twitter app? Because it seems like many are using these 3rd party ones. These look great, just I need to get used to it.

I use it as I have two accounts but the official seems to lack some cool features that the third party apps have that make me like them better and are well designed.

I also use the official. The only things missing (for me) are cache clearing (I always uninstall it when I feel it's already bulky), in-line photos, and the option to choose the trend location manually. Though they're all manageable.

Only thing good about the official client is the private APIs that Twitter does not give access to to 3rd party devs. Otherwise from a design and speed perspective, it's terrible.

I use it but I'm frustrated by the notification count which sticks at 1. No amount of contacting the twitter developers results in a response. Thwre's a reason I stopped using Tweet It but can't remember why.

Mehdoh for me, but I do like to dabble. Might give Gleek a revisit

I finally got mehdoh but it notifications don't work for me, ever. What I don't like about many of these apps is the number of clicks or time it takes to open a link and steps required to reply back. Metweets has the best feature when it comes to this. Click a tweet and a quick menu option pops up underneath it giving you several options to reply/retweet/favorite. All without opening up another window. Second feature is allowing you to double tap a tweet and it opens up the link taking straight to the browser. If mehdoh had these two features, it would be great.

I have Gleek but notifications seemed to have stopped working. Anyway way to find out which apps I have push notifications turned on for so I can stop some?

Hmm not sure. But maybe going into settings and swiping to applications tab and seeing which apps you have active there.

Yea, that was my thought too. I pretty much disabled everything

Push notifications can only be disabled within the app itself, and only if they give you the option. What you're looking at in background tasks is 'poll' notifications. Your best bet is uninstalling and reinstalling if the app doesn't give you a way to disable and re-enable push.

I use gleek on WP and win8.1

While it is always tempting to try out apps like these, Twitter official app wins hands down. Especially because of its simple design, neat UI, less clumsy timeline than most of the 3rd party apps. I have tried gleek, tweet it, mehdoh, peregrine. Since the official app doesn't have a pocket support, i use peregrine more often. Mehdoh uses a lot of RAM. Crashes for me. I have used Gleek for 2 days & Tweet it for 3 days. Inline media preview-less official app hasn't been a prob for me. So sticking with it.

Try metweets. I always go back to that app.

Same here. I wanted Tweet It! to work out since MeTweets hasn't been updated in ages, but I rarely ever got notifications in a timely manner, if at all. MeTweets, while a little sluggish, is spot-on as far as notifications go.

I Wish metweets had the ability to tweet the album in currently playing. The dev swears he's busy with his studies but an update is coming as well as a W8 version. I'll be waiting patiently. :)

Gleek is nowhere near as intuitive as Rovi was, or mehdoh, official twitter, tweet it, peregrine, hell even motweets before it turned into a spammy mess.

Am I the only one here that llikes Bennett mode? :) The one I don't understand is verge mode. What the heck is it?

If I recall correctly, in Verge mode, all errors/problems are reported as being Microsoft's fault.

What I hate is inability to see newest tweets first on peregrine, tweet it. What am I doing wrong?

What do you mean by reading newest first ? Unlike Mehdoh, it is set into default streaming mode. So it checks for new tweets as soon as you open the app. And it starts from where you left..

Bought gleek for my WP7 HD7 years ago. But stop using it for a while now. Tweet it & Twabbit are my main twitter clients. Will give Gleek a try. Thanks for the info.

The instan notifications are just good for toasts on the screen. They still take 30 minutes to be reflected on any live tiles. What's the point in announcing this new feature if it doesn't work as expected?!
Windows Central Newsletter
Thank you for signing up to Windows Central. You will receive a verification email shortly.
There was a problem. Please refresh the page and try again.