Glozzle - a mind blowing 3D puzzle game for Windows and Windows Phone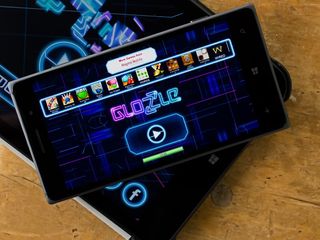 If you are tired of the run of the mill puzzle games, take a gander at the Windows Phone game Glozzle. What sets this puzzle game apart from the field is that it is presented in 3D fashion with pieces floating around as if the puzzle exploded. You spin the elements around in multiple directions so they line up just right, solving the puzzle. It may surprise you what the scattered puzzle pieces will transform into.
Available for low-memory Windows Phones and Windows 8 devices, Glozzle makes a nice first impression and with over 3,000 level the game has plenty of staying power. We took the Windows Phone version out for a test drive and while many may be over saturated with puzzle games, Glozzle is unique enough that it should spark some interest.
Glozzle's main menu layout is a little confusing. You have an introductory menu that appears as the game is loading and you will need to tap the Play button to get to a secondary main menu that has options to contact the developer, share the game, access Glozzle's settings and visit the developer's Facebook page. I think a singular main menu would have been better but as is, the dual menus will not make you pull out your hair.
Settings for Glozzle are brief with options to mute the music and sound effects, view the privacy policy for Magma Mobile games and reset your gaming progress.
Jumping into game play with Glozzle will present you with over 3,000 levels of game play that span three difficulty levels (easy, normal and hard). Glozzle's levels are progressively unlocked and can be replayed to improve your score. There are puzzles that repeat themselves between the difficulty levels but a soccer ball puzzle played in the hardest difficulty will have a lot more pieces to shuffle than it would in the easy difficulty. Plus, I doubt you will be able to tell it is a soccer ball in the hardest difficulty until you come close to finding a solution.
The first three levels with Glozzle are tutorial in nature and after that, you are on your own. Game scoring is based on how fast you can solve the puzzle and ranked from one to three stars (three being awarded for the faster times).
Game mechanics with Glozzle is really simple. Just tap/hold the screen and slide your finger around to move the puzzle into shape. When you first start a puzzle, it looks a little chaotic with pieces scattered everywhere. As you rotate, spin and slide the puzzle pieces the solution comes into focus and from there it is only an issue of lining everything up just right.
Puzzles cover a wide range of subjects that includes lightbulbs, animals, sports items, and even a Swiss Army Knife.
You do have a hint button, the light bulb button in the upper right corner, which will place to target circles on the game screen. When you line up the two circles on top of one another, the puzzle is solved. The only downside to hints is you are only afforded one hint per twenty-four hours.
While the concept sounds simple, the 3D imagery makes things tough as nails. You may get everything lined up on the vertical axis but then you have to pivot the image slightly on the horizontal access to fully line up the image. Then add the third axis and it takes a good bit of effort to solve these puzzles.
Don't be shocked if you rank zero stars as you get used to lining everything up. On the plus side, even if you score zero stars as long as you solve the puzzle you can advance to the next gaming level.
Overall Impression
Glozzle is a very challenging, sometimes mind blowing puzzle game for Windows 8 and Windows Phone. The game challenges your ability to manipulate the puzzle quickly and your ability to conceptualize an image from disorder.
At first, I thought puzzles needed labels or categories to give you some idea of what you were trying to build. But not knowing adds to the challenge and makes solving the puzzle a little more rewarding.
I wouldn't mind seeing more hints being available but with the ability to advance in levels as long as you solve the puzzle, you just learn to live with a no star score. Plus you can always go back and replay the level to improve your score.
Overall, Glozzle is a challenging, addictive puzzle game that can be a little frustrating but also entertaining in the same stroke. The game is free and ad-supported with a small ad-banner that stays out of the way.
Glozzle is a relatively new game in the Windows and Windows Phone Store but is already pulling in a 4.5 star rating (5 stars in the Windows Store), which is just about right for this puzzle game. If you try Glozzle, let us know what you think of the game in the comments below and remember to rate the game in the Stores to offer the developer a little feedback.
Windows Central Newsletter
Get the best of Windows Central in in your inbox, every day!
George is the Reviews Editor at Windows Central, concentrating on Windows 10 PC and Mobile apps. He's been a supporter of the platform since the days of Windows CE and uses his current Windows 10 Mobile phone daily to keep up with life and enjoy a game during down time.
Style remind me Bullet asylum

Looks like a challenging game. Will give it a try.

Finally. A glozzle that's right for me.

I saw a game review and went straight in on the story itself, not having read the blogger name. Then I read, "take a gander" and knew it was George P. Anyway, yes man, I'm grabbing this one. Thanks for the review.

I know a youtube celebrity named Glozell

Precision for solving the puzzles after the tutorials is much greater than that needed for the tutorials. Needs inversion of controls

I'm starting to get sad. I see a lot of great games that get published, but none with Xbox integration. Hopefully that'll change with Windows 10, cause Xbox was one of the features that made me jump on Windows Phone, coming from Windows Mobile. I'll never get anything else than a Windows smartphone, but they need to increase the Xbox games to cater to a lot of Xbox gamers. I know a lot of people that are interested in Windows Phone due to Xbox games, but the lack of new games is not making it a powerful incentive for them.

The lighbulb puzzle gives me fond memories of Red Alarm for the Virtual Boy! Oh how I loved the Virtual Boy....until I got neck cramps.

Why is it so important for some individuals with xbox integration? I dont own one (an xbox), so im quite curious about this, as I cant see any real benefits from it (except maybe some sad craving for instant gratification through achievments, and most games got those already), and why its almost the end of the world every time a game does not have it? xD

Sound like a euphemism for jizz to me.
Windows Central Newsletter
Thank you for signing up to Windows Central. You will receive a verification email shortly.
There was a problem. Please refresh the page and try again.