Go UP! - a simple jumper of a Windows Phone game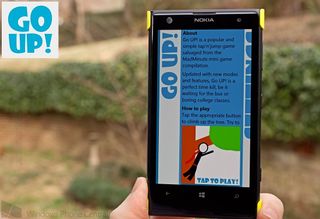 Go UP! is a simple Windows Phone game that tests your speed and judgment skills. Unlike other jumper games where you simply tap the screen to jump, with Go UP! you need to tap a corresponding button at the bottom of the screen that matches the label found on the tree limb you are jumping to. The goal is to jump as high as possible before time runs out.
One wrong button tap will send your player falling to their fate, ending the game early. Go UP! may be a little on the basic side for some but the developer did a good job of creating a Windows Phone game that will help pass the time.
Layout and Game Play
Go UP! Main Pages
Go UP! has a series of main pages that includes:
An About page that offers instructions on how to play the game and a launch tile that will send you into the game.
A Settings page that offers three game modes. You have two time modes (15 or 20 seconds) to see how high you can climb in a set time and a 50 Climb mode where you are timed on how long it takes you to climb fifty limbs.
High Score page that lists your top scores with each game mode.
The game screen layout has your score/time displayed at the top of the screen and your jump controls lining the bottom of the screen. Game play is simple. Each branch is labeled with two jump control button symbols. To jump to that branch, just tap the corresponding button that is at the bottom of the screen.
Some branches will have power-ups that, when landed on, will send you up a few branches or slow the timer.
Game play isn't difficult but when you add the pressure of the clock, Go UP! can be a slightly challenging Windows Phone game. The game will test your skills at speed and recognition. Recognize the right button to press to climb the tree, tap the right button and repeat the cycle quick enough to climb as many limbs as possible. You will be surprised how often your mind says tap the "A" button and your finger finds the "B" button instead.
Overall Impression
I have to admit, when I first looked at Go UP! the game didn't make that great of an impression on me. After playing the game for a short time, the old saying "you can't judge a book by its cover" kept coming to mind.
Go UP! Game Screens
Graphics are plain, the layout basic and the game concept simple. Yet as you get into game, the pace of Go UP! gives the game a slight challenge and appeal. I don't know if Go UP! can hold up to lengthy gaming sessions but for shorter bits of time the Windows Phone game should do just fine. The developer wanted to create a game to help you kill the time with and I think they are on the right track.
The developer is planning on beefing up Go UP! by adding custom challenges, an online leaderboard and more. As is, Go UP! is a nice foundation that the developer can build upon and if you are looking for a mini-game to help pass the time with, it is worth a try.
Go UP! is a free, ad-supported game that is available for both Windows Phone 7 and 8.x devices. You can pick up your copy of Go UP! here (opens in new tab) in the Windows Phone Store.
Windows Central Newsletter
Get the best of Windows Central in in your inbox, every day!
George is the Reviews Editor at Windows Central, concentrating on Windows 10 PC and Mobile apps. He's been a supporter of the platform since the days of Windows CE and uses his current Windows 10 Mobile phone daily to keep up with life and enjoy a game during down time.
On your marks get set GO :D

Down , this app isn't perfect :p

Hej! :) Developer here, collecting suggestions for the next update. If you read bellow, we already figure out the controls need a bit tweaking. Anything else you'd like fixed? Cheers! :)

Just one complain , make the gameplay lil easier or at least a toggle to turn the gameplay into easy/hard. Yes the controls need some tweaking but I will get used to them , when I will play it often ;) Btw thanx for supporting and building applications for our platform xoxo

I think u mean a toggle right?

Hahaha damn autocorrect sometimes sucks. Thanx :D

I'm not sure what you mean by easy/hard? But yeah, the control will be revamped, should make it a bit more fun to play. And I'm here to stay on Windows Phone, kinda commited to it since I became a Microsoft Student Partner :D This summer will be a fun one, I have some cool projects in the pipeline :) Cheers!

The game is somewhat hard for me to play :p , YAY ! Looking forward to your apps pal ;)

FINALLY some news after exactly 12 hours,6 mins and 6 seconds.Hope things go on more quickly after this,gonna try that game out right now :)

Sorry off topic, but, Why can't Doodle Jump be free??! Also, there's no trial available..

Maybe developer is crazy or just has done a favour on windows phone

Lol! But seriously, it has been there for ages on lagdroid!! And that too free.. People here in India very rarely buy games.. Humph.. Loss for the dev.

Ppl will obviously jump on free games that's y android has made his name in smartphone business. Ppl who don't have knowledge about android and just use it as an operating system wont be knowing that they are using an open source os. They will just use as games or apps are provided free to them.

Too sensitive controls,uninstalling
:(

Hej, developer here :) can you explane "too sensitive"? I assume you're not removing your fingers too fast so it catches on for the next branch? This is the second time someone mentioned this. I'll change how the controls work with the next update, so when you press and hold it it'll be just one button press until you remove your finger and press again. Looking forward to more feedback :)

Hello,yeah.that's exactly what I meant.when I press a button,the character just keeps on alternating between the branches.
But when I press it for a microsecond,he jumps fine meaning that the buttons are too sensitive.
I would be very happy of you could fix this in the next update because the game certainly looks like a good time killer. :)

This will be one of the things that will come with the next update. Cheers!

How about Shoot 1UP as Red stripe deal of the week?

Will Build announce new apps and games for windows phone?? With the new software updates and devices

Wish they do.. With support for 512 as well... Anybody played 'Daddy Was A Thief'? :P

Yeah didn't expected that Elop announced 2-3 apps for wp. I was excited and was waiting that he announced other apps too. Last year Joe Belfiore had announced many apps for Windows phone which I guess ported from any other os. He should not but if he announces android apps as a solution to wp then we need security or any other restriction too to stop wp from malware related problems.

Hmm looks like a nice game,the idea is pretty good..and it looks it's a Windows Phone Exclusive too!

Hmmmm... interesting, I should really add some funny noises like HHHNNNNNGGG when he falls down or WOOOHOOOO when you fly past the branches with the power up. :D

Yes :D waiting for the next update , take your time :)

This review made me ponder about the game

Wp need some titles with good graphics. Really.

Challenging, but a bit annoying and has bad graphics.

Dude Evn crappy bird had flap graphics... Yet it was ranked on top!

Wonder if Kris Kross would like this game :P

Nice little game. Needs a few tweaks, no sensitivity problems here btw Lumia 925. Sentence cuts off on intro though.

Sentence cuts off on the intro? It's a scroll viewer, scroll to see it all + power up info :)

It looks like a toddler made this crap. I suggest you stick to your day job... And if that's making apps, change your profession!

hey????? when is medscape coming to WP.....very poor medical apps we hace....
Windows Central Newsletter
Thank you for signing up to Windows Central. You will receive a verification email shortly.
There was a problem. Please refresh the page and try again.