Uncharted, The Last of Us and more are coming soon to your PC with PlayStation Now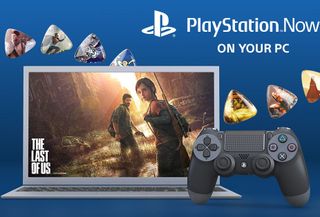 Sony has announced it will soon expand the reach of its streaming PlayStation Now subscription gaming service to Windows PCs. It will offer access to over 400 PlayStation 3 titles, including games like The Last of US and titles from the God of War, Uncharted and more to be played on the PC for the first time.
The official PlayStation Europe blog confirms that PlayStation Now will launch first on Wednesday, August 24 in the UK, Belgium and the Netherlands. The US PlayStation blog says that the North American launch of the service will follow, but did not offer a specific date. The service costs $19.99 for one month or $44.99 for three months; there is also a free seven-day trial. Sony says that PCs should have at least a 5Mbps Internet speed connection to access PlayStation Now, with a wired connection highly recommended. Here are its other hardware specs:
Windows 7 (SP1), 8.1 or 10
3.5 GHz Intel Core i3 or 3.8 GHz AMD A10 or faster
300 MB or more; 2 GB or more of RAM
Sound card; USB port
Sony also recommends using its DualShock 4 controller to play the games on PlayStation Now. PC gamers can connect the controller via a wired USB cable, or they can purchase the upcoming DualShock 4 USB Wireless Adaptor for $24.99.
The adaptor will be available to purchase in early September in the U.S. What do you think about the prospect of playing PlayStation 3 exclusives on the PC? Let us know your thoughts on PlayStation Now in the comments.
Windows Central Newsletter
Get the best of Windows Central in in your inbox, every day!
I've heard that PlayStation Now was pretty bad quality. Has it improved recently?

The quality all depends on your connection for the most part. Thier server are pretty capable now. When it first launched I would venture and say they were using servers running Windows NT because OMG that was the worse service I had ever used. From constant disconnects to massive image corruption.

Thanks for the clarification although, doing the math, I don't think this is a very good deal.

Lol they can't help but copy the kings!!! Way to go Microsoft, you have companies following your trend.

So MS offers Streaming of Xbox 360 games to PC? They only allow to stream from your Xbox One. Sony offers to stream games without owning any console

Which some would argue is shooting themselves in the foot.

Not at that price point... if I play The Last of Us and God of War it might be within the 7 day free tried, but no way in hell I'm paying $20 a month

Nobody should buy older gen console anymore since its so outdated.

Microsoft does not have a service like this. You don't know what you're talking about.

Another subscription. No thank you. And I already have the Xbox360 games so it for free ;)

Let's just hope they don't do it better.

For the subscription price you get unlimited access to all 400 games?

Why an adapter for wireless? The controller connects through bluetooth Posted via the Windows Central App for Android

Perhaps for desktops which don't have BT connectivity built in.

Yup. My desktop didn't have Bluetooth until I put it in.

How does this work? Do i need a PS3 or PS4?

Thanks for adding to the discussion with complete nonsense.

Just ban this guy/girl. He/she well deserves it.

Guy/girl/apache helicopter

Great news! Now I just need to wait until Persona 5 is released and available for PSNow. I wanted to get Persona 5, but I didn't want to buy a console just for the one game as I already have an Xbox One.

Aw bummer. It recommends having a sound card. I guess I'm out.

99% of PCs now days do not qualify.. I remember back in the 90s games required a sound card, but that was because there was no other option of getting outdio out, and the Sound Blaster was pretty much the only option

99% PCs these days have onboard audio... Lol lol.

Im pretty sure an integrated (on-board) sound card still qualifies

I think that was sarcasm.

$180 per year subscription price?

Well lets think about that for a sec.
$180/yr for all ~400 games
$40-60 for a controller
$25 Sony approved USB/BT adapter
$3-500 for a simple no-frills desktop or laptop That is really not too bad. I mean, my game rig alone cost me close to $2,000 in parts, not to mention game costs. For that kind of money we are talking abut running this subscription service and all hardware required for about 7.5 years. If that is your only gaming source then it is really a cheap way to go in comparison.

You did the math of a situation where you spend the most you can spend. Now let me do the math that makes more sense. PSNow Sub per year $180 PS4 controller. There's a good chance that you already have one. But if you don't it's price ranges from 40-55 (catch it on sale) The Blootooth adapter is unnecessary. You can just hook use a USB cable. Unless you want wireless connectivity. Then you can get the Sony wireless adapter ($25) or can also use a cheap Blootooth adapter as well. Finally for something like this. You do not to need to spend so much money on a PC/laptop. You can just get one for like $100 or something or a $250 laptop. Changes are that if you're looking into this, then you most likely already have a PC/laptop anyways. And even if you didn't have a computer for this
You're better off just buying the PS4 console and using PS Now on that. While also having the chance to play PS4 games on the console as well. Posted via the Windows Central App for Android, still love me some Windows Phones

@CaedanV... $2,000. Specs? I'm intrigued as to what you bought for all that money.

The necessary core internals ( CPU, MB, RAM, HDD, SND & PWR ) of my Main PC already shoot past that value with ease.
Adding the case, fan controller, cooling, custom wiring, some aesthetic parts will add another 2'000.-
Adding the monitors, keyboards, mice, soundsystem, will add another 7'000.- I obviously didn't buy all of it in one go...

PS fan boy, "No need for me to get an XB1 when I can play them all on PC!!!!!". XB1 fan boy, "No need for me to get a PS4 when I can play them all on PSNow!!!!!" The difference is that for XB PC games you need a pretty darn good setup for the exclusives like Quantum break but you own the game forever. PSNow streams to almost any PC...but once you cancel the service the gaming is bye, bye. I could see me signing up once a year for a month and powerplay PS exclusives.

Not quite, PSNow is only ps3 games (but doesn't require a console as the games are streamed right from sony). Ps4 games can be streamed to PC via remote play but you need a ps4 (as it is the host server streaming the game). Still cool **** tho. I can play my ps4 (which is at home) while on my work pc at my office. Just gotta take a dualshock to work.

This actually makes PlayStation Now a far more appealing service than it was until now.
I may consider subscribing to it once I move to the PS4K and don't renew my Xbox Gold membership.

No, you need another subscription next to an online gaming subscription. It makes it actually worse.

You're assuming I intend to subscribe to PlayStation Plus, correct?
Because I don't. I never subscribed to XBL because of multiplayer (I did it for the free games and discounts) and I have zero intentions of ever subscribing to PlayStation Plus ;)
And I know that PS+ also offers discounts and games but the thing is, here in Europe, it's waaay easier to get promotions on PS games than Xbox games. Because the vast vast majority of people uses PlayStation (which is why Sony releases these things first in Europe), prices go down quicker and promotions are more common.

Now make Scorpio able to run PC software, and really stick it to Sony.

I never thought of this. PlayStation Now UWP...

I would laugh SO much if this happened. "The new Xbox Scorpio... able to play Xbox Scorpio, Xbox One, Xbox 360 and PS3 games."

25 $ service + 25$ stick + 40 $ PS4 controller to play the few good PS3 exclusiv games? Kind pushing it there Sony.

Around the same price as Microsoft's wireless adapter... just goes to show how worthless a lot of the negative MS comments are, since when MS released theirs, it wasn't uncommon to see complaints that MS was "ripping people off as usual" and that it supposedly should have only cost $8-12, like Bluetooth adapters that work with PS controllers (potentially with issues and may require 3rd party drivers, though I'm sure Sony's adapter should eliminate those kinds of problems). Inexpensive laptops and tablets, especially that don't have disk space, could be great for a service such as this, when out and about on WiFi, yet those recommended specs are far beyond the average portable and low end PC, such as may often be used with media center devices connected to TVs, where this service may be best used. I suppose their recommendation is to ensure a good experience, though Xbox streamingly only recommends a 1.5GHz CPU. I don't get why Sony didn't match or get closer to Microsoft's CPU recommendations, especially when PS TV and Vita streams PS games over the internet with much less hardware.

Unless someone really wants to play every PS3 game ever made, for the amount they are charging yearly, it would be cheaper to buy a PS3 and get the games you want instead of having to keep up an expensive subscription to access these games and to insure you have good enough internet.

The value just isn't there really is it... For that money I'd want something more akin to a NOW TV subscription giving me all the latest games 4 months after release, rather than the Netflix style that this offers.

Can I use xbox one controller, that I use for 1000+ games on steam with psnow? It does not even need drivers, all included in Windows.

I tried it and thought the service was terrible. It is a game streaming service. I have TWC top tier internet of 100mbps and I still experienced lag. Nothing beats the backward compatibility that MS offers on the X1.

Cool that they're branching out but the service itself was garbage on PS4 to the point I would not consider it again unless I was reassured Sony had their crap together because the games while a little muddled visually, ran horribly with latency issues an input lag galore

Now think uwp, version of ps3 gaming, as in Xbox one plays ps3 games via streaming app.....

..and without another subscription.

Well well, I've been saying it for awhile Sony needs to bring a similar service to the PC. Finally they have although at that price point... hmm... Better have uncapped broadband lol.

All I want is God of War 3 on PC... That'd be incredible Posted via the Windows Central App

Man I love being a PC gamer

EA Access and EA Origin do it better i think. The requirment of a sound card i think is a bit of a odd requirement becuase not many people have sound cards these days its all built in, unless thats what they mean.

They don't mean an addon sound card, the built in sound device is a sound card in of itself. They just meant it to show that u need a sound output device to hear the game audio. Simple as that

Thanks for the reply, i guess they just need to word it better.

A dream come true.
GOD OF WAR , LAST OF US, uncharted.....
But 5mbps net speed is problem for me. :( And these specs are costlier than Console.

Same problem here, plus no plans to implement fibre to the cabinet in my area for at least half a decade apparently :(

Do you live in South Africa by any chance? we are so freaking far behind with fibre thats i went with LTE.

Basically they're copying Microsoft. If there's really no need to own xboxes now that games are coming to Microsoft stores then we can say the same to ps4 lololol

Finally. I can play some of these without using piece of ****** layout PlayStation controller

Almost $50 for just 3 months to play older PlayStation games on a pc? Not worth it.

Great! How about MS now release that Xbox 360 emulator for PC? I mean, it runs fine on Xbox One, which is a potato PC.
Windows Central Newsletter
Thank you for signing up to Windows Central. You will receive a verification email shortly.
There was a problem. Please refresh the page and try again.