Good tech news for April 3: Trees planted, masks delivered, and esports reign
Go ahead, take a break from the world and absorb some good news.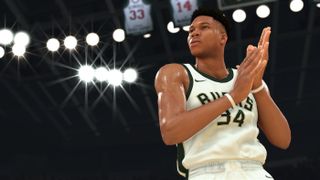 (Image credit: 2K Games)
Social distancing reigns supreme, we're stuck inside, and there's not much to do. But you don't have to head into the weekend without a pep in your step. We've rounded up some of the best tech (and some non-tech) stories of the day to, hopefully, put a smile on your face.
Today, we've got stories of trees planted, masks delivered, and the Canadian government joining forces with Amazon. Here's a look at our daily digest of good news for April 3, 2020. And if you want more good news from this week, check out yesterday's roundup.
Endzone sees Steam success, gives back to the environment
The folks at Assemble Entertainment have seen a pretty solid early access launch for Endzone - A World Apart with 17,500 units sold, and they're celebrating by giving back to the environment. The publisher announced today that, after crossing 100,000 wishlist entries on Steam, it "gave the order" to its non-profit partner OneTreePlanted to plant 4,000 trees in Australia!
Australia is still reeling from the forest fires that devastated the country last year, so every little bit helps. If you'd like to help out yourself, you can check out OneTreePlanted for more information on how to assist in their reforestation efforts.
The Patriots bring coronavirus relief to Massachusetts
What do you do when you're the Massachusetts governor and you find yourself in need of a plane load of masks? Call on the New England Patriots, apparently.
Massachusetts governor Charlie Baker called on the football team for help, and team owner Robert Kraft answered his call, TIME reports. The team's private plane carried a load of more than a million masks from China and landed in Boston on Thursday. The N95 masks are in high demand for healthcare workers on the front line of battling the COVID-19 pandemic.
"The Krafts were terrific," Baker said. "They were a phone call away and immediately went to work on the logistics associated with this and did not stop until they could make it happen. This was a total team effort on every level."
Amazon and Canada buddy up on medical supplies
Medical supplies are in short supply and high demand as healthcare workers continue to battle COVID-19 around the globe. In an effort to bolster its fight against the disease, Canada today signed an agreement with Amazon to ensure critical medical supplies are delivered across the country.
"For the past few weeks, our government has been working closely with industry to produce the supplies our healthcare workers need like masks, face shields, gowns, ventilators, and test kits," Canadian Prime Minister Justin Trudeau said today. "Today, I can announce that our government has signed an agreement with Amazon Canada to manage the distribution of this equipment to the provinces and territories."
The move comes as Canada has prioritized stocking and delivering medical supplies and household essentials over other goods.
ESPN fills the sports void with esports
If you're jonesing for some sports action, well, you're out of luck as far as traditional sports are concerned. But if you just want to see a little competition in action, you're in luck.
As reported by The Verge, ESPN will air 12 hours of esports on April 5. The coverage will tap three high profile games: NBA 2K, Madden NFL 20, and Rocket Leage as tournaments play throughout the day. You'll even be able to catch some F1 esports Virtual Grand Prix action.
It may not be sports as you know them, but the virtual tournaments will bring some much-needed levity in tough times.
Pets of the day
For today's pets of the day, we have a pair of dogs acting like cats, and a cat acting like, well, a typical cat. Charlie and Reuben are a pair of puppers belonging to Windows Central news writer Sean Endicott, and they're both very good boys. Zoe is Daniel Rubino's queen kitty, and she looks it in the pensive shot he provided.
Remember, if you want your pets included in our daily roundup, just tweet at us on the official Windows Central Twitter account and include your pet's name.
Image 1 of 2