Goodbye Groove Music: New Media Player rolls out to Windows 11
You can start 2022 with the new Media Player for Windows 11.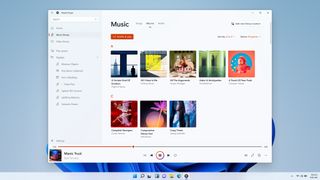 (Image credit: Microsoft)
What you need to know
The new Media Player is rolling out to Windows 11.
Microsoft started testing the updated Media Player app with Insiders in November 2021.
The app supports browsing and playing music and video files.
To start off the new year, Microsoft is shipping the new Media Player app to some PCs running Windows 11. The app replaces Groove Music and is the successor to the legacy Windows Media Player app ,the latter of which is still available from Microsoft (opens in new tab).
To get the new Media Player, your PC needs to be on Windows 11 Build 22000.346 or later. Even if you're running the latest build of Windows 11, you may not see the Media Player app at the moment. TechRadar reports that the app is rolling out gradually and that it may take some time to reach everyone.
The new Media Player app has a modern look that aligns with Windows 11. It also supports HDR for videos and album art and artist imagery for music. You can expand the app to full screen mode or compact it to control content through a mini player.
We have a complete guide on how to get started with the Media Player on Windows 11, including steps on how to manage playlists and how to edit track and album information.
If you use Groove Music, your library and playlists will move over to the new Media Player. While the new Media Player supports video, Microsoft's Movies & TV app (known as Films & TV in some regions) will remain available. Both the new Media Player and the Movies & TV app can play local content, but the Movies & TV app can also stream videos purchased through the Microsoft Store.
News Writer and apps editor
Sean Endicott brings nearly a decade of experience covering Microsoft and Windows news to Windows Central. He joined our team in 2017 as an app reviewer and now heads up our day-to-day news coverage. If you have a news tip or an app to review, hit him up at sean.endicott@futurenet.com (opens in new tab).
Groove was cool visually and offered artist images when in fullscreen, all that. We'll see how this one looks.

It is similar to Media Player, nothing has really changed except there is a bug in Media Player where some artist images don't fill uo the window, leaving with ugly blank letterbox. Idk if this one being pushed fixed it, but mine still have that. There is even a bug still that some album art won't load or taking too long. Not sure what is even the rush when video playback support is the only real feature added to the app, the rest are just visual. Bugs still exist.

As long as they don't get rid of Movies & TV.

ever head of VLC media player. movies and TV really/ lol welcome to the 90s

Wonderful (/S). Does it stream content from my OneDrive, like Groove used to do?

Yup. Good question. That's what I'm waiting for.

Nope, no other significant features has been added here. That OneDrive streaming feature was removed long ago and currently it just reads whatever is stored locally.

Well, you can still watch things from OneDrive but it needs to be downloaded first. However, it would be a good feature to add back in. Maybe it would also improve watching videos on OneDrive in thr browser too. OneDrive really needs to be inspired how well Google Photos works with its clean look, smoothness and functionality. OneDrive had improved but it's still a little clunky.

Doesbit support building and playing playlists of mixed media (audio files and video files)? Also, does it support UPNP (DLNA)?

Sadly DLNA seems a forgotten tech. I have been requesting such feature with Groove Music since the launch of Windows 10, Microsoft basically don't think its worth it and nobody listen anyways

I don't think it's forgotten. I bet it's killed on purpose. Surely it's against Life as a Service. It supports you having your own "offline" library, which is a threat to Netflix, Spotify, YouTube Music and what have you.

I was testing this in the dev channel and now the beta channel and it is rather barebones at the moment. Casting is available and while you can add OneDrive locations into the app it didn't work correctly for me the last time I tried it.

So it's basically the same **** under the hood as the Windows 10 version. Does it also keep adding your OneDrive folder eventhough you keep telling it to remove it from the library on every startup?

Anyone else here just use VLC as the default?

Mainly VLC yeah but something like Groove / Media player can be nice if VLC does not work properly with the video (rarely but I have it a few times over the years). On touchscreens Groove/Media is also more user friendly I believe.

I don't like VLCs interface. So I avoid using it unless I need to.

"Both the new Media Playe" spelling mistake, but I'm really bored about the media player honestly, I just want them to kill the DRM of the purchased movies

I still use Zune Player just for the visual aesthetics. This looks like reinventing the wheel again, from a barebones state. What will they do better?

Well nothing much new here except for updated looks and added video playback. At least so far pretty much the same as the Windows 10 Groove Music. It's not even remotely a new replacement to legacy Windows Media Player 12 as it is still pretty much barebones in comparison.

well now i have to use amazon media player because this is completely broken

all the egineers at microsift, some of the best in the world IMHo and they cant get a music player right, well they did once (groove music player) but those days are gone for groove. itunes app here i come

The New Media Player is presently listing all Movies Purchased through he Store as Unsupported Format. Other then that, is looks like groove.

is this avalible on windows 10 or just on windows 11?
Windows Central Newsletter
Thank you for signing up to Windows Central. You will receive a verification email shortly.
There was a problem. Please refresh the page and try again.