Google launches $1300 Chromebook Pixel. Does it stack up against the Surface Pro?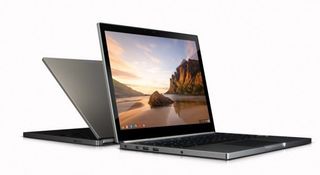 Google, like Microsoft, is a company in transition. This can be evidenced today by their entering into the "high end" Ultrabook market with their new Chromebook Pixel. It's an odd move not because the hardware is not nice (it is) but the pricing: $1299 (32GB) $1449 (LTE, 64GB).
For a company that prides itself on 'free' it's a different approach from the previous Chromebook strategy of low-cost devices.. To quote iMore's Rene Ritchie "When did Google become Apple?".
The other question is how does it stack up against Microsoft's Surface Pro? We'll take a look to see how things stand and if Google is making the right move here.
The Chromebook Pixel on paper is impressive. The name is derived from the device's main selling point: resolution. It sports a crazy 12.85" display with a 3:2 aspect ratio at an astonishing 2560 x 1700 (239 PPI). We just started to get used to our 1920x1080P 13.3" display on our Acer S7. There's little doubt in our mind that the Chromebook Pixel will look quite amazing for watching movies or viewing photos.
The problem though is the operating system. It runs Chrome OS, which for those of you unfamiliar is Google's "web application based" OS. It's not Android and it's certainly not Windows, which makes it an odd sell. You can't run Photoshop on it or any standard applications that most folks are used to, instead you are locked to Google's web apps: Gmail, YouTube, Google+, Hangouts, Play, Drive, etc.
For those who are completely enveloped in Google's services and don't mind limited off-line support, it could be an ideal sell.
Chromebook Pixel Specifications
12.85-inch, 400 nit display at 2560 x 1700 resolution (239 PPI)
Gorilla Glass multi-touch screen
32 GB storage
Backlit Chrome keyboard
HD Webcam
2 x USB 2.0 ports
Mini display port
2-in-1 card reader supporting: SD, MMC
Intel Core i5 Processor (Dual Core 1.8GHz)
Intel HD Graphics 4000
4 GB DDR3 RAM
59 Wh battery
For all intents and purposes, this is just a standard Intel Ultrabook with a higher resolution display and less memory. Same i5 processor, same weight (3.35 lbs), 4GB of RAM, HD Graphics 4000. They do step down on storage (32GB or 64GB) whereas a Windows 8 device will come with 128GB or 256GB of storage on board. The also only opt for 2x USB 2.0 whereas at least one USB 3.0 port is common these days, if not two. (Because of the spec similarities, we may give a bounty to the first person who throws Windows 8 on a Chromebook Pixel.)
Surface Pro specs
10.6" ClearType Full HD Display, 1920x1080 pixels, 16:9 (widescreen)
10-point multi-touch
3rd Gen Intel Core i5 Processor with Intel HD Graphics 4000
4GB RAM—Dual Channel Memory
Wi-Fi (802.11a/b/g/n)
Bluetooth 4.0 Low Energy technology
Battery 42 W-h
Two 720p HD LifeCams, front- and rear-facing with True Color
Full-size USB 3.0
microSDXC card slot
Headset jack
Mini DisplayPort
But it's that price thing that keeps getting in the way:
Chromebook Pixel: $1299 (32GB) or $1449 (64GB + 4G)
Surface Pro: $899 (64GB) or $999 (128GB) + $120 for keyboard
Lenovo Yoga: $999 (128GB), Windows 8 (convertible laptop/tablet)
Acer S7: $1299 (128GB), Windows 8, 1920x1080P display
Of course not one of those Windows 8 devices has such a high resolution display but then again, they do run a full desktop OS that can be used offline with no limitations. And for all the bad press the Surface Pro's battery gets, the Chromebook Pixel is rated "up to 5 hours" which we understand as PR speak for "a lot less in the real world". In other words, that high resolution, 400 nit display comes at a cost: battery life.
We get the fact that not everyone like Microsoft (Surface) or wants Windows 8 but considering you could literally buy a solid Ultrabook and load up Chrome OS yourself, we're not sure what the real advantage of the Chromebook Pixel. While photos and media will look stunning on such a display, with such a short battery life and the inability to run desktop class apps, it just seems very limited.
And limited is fine. That's why we have the Surface RT ($499). But despite people calling that price too high, it's at least in the ballpark of being reasonable (at least by comparison).
In short, this one is a bit of a head scratcher. It's certainly exciting to see what looks to be solid, quality hardware coming to the Ultrabook market and we can't blame Google for trying their hand at hardware (they're even rumored to be opening "stores" in 2013). At least they throw in 1TB of cloud storage (for 3 years), which is a nice gesture.
We just can't help but think this makes the Surface Pro look like a much better deal now (and we're doubtful if that was Google's intention).
Source: Google, Google Play (opens in new tab); via Android Central
Windows Central Newsletter
Get the best of Windows Central in in your inbox, every day!
Daniel Rubino is the Editor-in-chief of Windows Central, head reviewer, podcast co-host, and analyst. He has been covering Microsoft since 2007 when this site was called WMExperts (and later Windows Phone Central). His interests include Windows, laptops, next-gen computing, and for some reason, watches. Before all this tech stuff, he worked on a Ph.D. in linguistics, watched people sleep (for medical purposes!), and ran the projectors at movie theaters because it was fun.
That is one expensive browser laptop :) ...

Agreed. Funny how people complain about the Surface Pro's price (let alone the RT), but this can't do 1/2 of what the Pro can do and costs more to boot.

Yet it will sell more because people hate Microsoft for no reason and jerk off google

That's the sucky thing about this. Mindset is anything apple google "AMAZING" anything Microsoft "EW" its that mindset that's hurting the pro.

Marketing department at Microsoft should be fired, Microsoft doesnt know how to advertise their products, none of their advertisements show how user interface of their producst have changed, APPLE knows how to advertise their products the best. Instead of that crappy add for Surface RT they should have shown how simple it is to use and what kind of functionality it has.

I don't think this will sell more. I doubt they are expecting to sell many of them either, this looks like a halo device.

The Nexus Q didn't sell well and this won't either.

1/2? I might argue it can't even do 1/10th of what I would expect a $1,300 laptop to do.

Well, to be fair, I didn't want to get into a comment pissing match with someone on how little it can do.
Bottom line, it's way to overpriced to ever be a mainstream product.

Heck, my laptop is twice the price, which should mean that the chromebook should be able to do 1/4 by this discussion. I'm confident that it can't do 1/100th of what my Alienware m17x r4 can do.

I;m sure, It can't do 1/1000th of what my Amstrad 1512 could do 20 years ago, cause amstrad was a computer, not a browser.

In other news the Surface Pro 128 is now out of stock again on the Microsoft web site.

In this case I don't think any pro-Google feeling is helping. Judging from the comments on The Verge, everyone is incredulous that Google would release such a ridiculous product.

It cant even do as much as thr RT tablet.


Haha! Is this a joke? $1300? I just bought the Samsung Ativ tablet with windows 8 for $549.. Yeah.. Full blown OS that can do everything including browsing the web.

I read the article and immediately thought Google was making the case for Microsoft and the Surface. That and the first bonehead that shows up to an ISO meeting with one of these things is gonna get slapped up side his head.
This, in the end has got to be a vanity product for Google as I can't really see any OEMs clamoring to build and market this thing.

Looks like a very expensive digital internet connected picture frame to me.

HAHAHAHAHAHAHAHAHAHAHAHAHA! Thank you! I was looking for a good way to describe this. If it wasn't Google, I'd be saying this thing is going to cost somebody their job. But Google will figure a way to celebrate this thing successful or not.

I guess now its the google who smoke the weed. I mean really? I guess I'll choose surface RT over chromebook you can buy 2 of those with that price and you have an offline MS office too.

I smoke plenty of weed and have never thought that buying something like this POS is a good idea.

Dude, what they're smoking is MUCH stronger than weed. Looks to me like they're smoking ceasium mixed with uranium...

Chrome book is nice concept, nice to browse internet, i am sure most of the people use laptops at home to browse the net, i have CR48, the initial chrome book that Google gave it for free, the problem with the one i have is i can't watch 720P videos, its choppy like playing a slide show, if Google can figure out how to play 1080P videos on the cheaper (200 to 300$) chrome books that would be great. if you want to play 1080P videos then you need to beef up the hardware then it gets expensive, then i start thinking why can't i get a windows laptop for the same price.

wait when I saw this I thought it was aboslute joke? who would actually buy this? Then I found out it was real....someone at google is really going off the deep end.

2.0 is the future man 3.0 is for sissies.

Google has lost his mind... this is a crap thing... please...

my thoughts exactly.....goog gone cray


Google has lost their minds with this. They are trying to out Apple Apple on prices. Go to any of the apple centric sites right now and you will see Apple fanboys arguing that the Macbooks have better specs, better price, and run more programs than this Chromebook. Seriously, the irony is hilarious.

The iSheep are probably pissed off that their stuff isn't more costly than the pixel... Probably really pissed them off that there is a better product out there now, since price clearly dictates quality and cool/hip ness.

One has amazing resolution and LTE, other is crap.

I think this guy is a troll everything he writes is negative. Why is surface pro crap?

Because for a tablet not to have lte / 3g or any kind of carrier connection is the stupidiest decision MSFT ever made

Fact: Most people don't use embedded 3G/4G in tablets. It was researched by Microsoft (and they explained this on Reddit). Only 1/3 of tablets sold have 3G/4G and out of those only about 1/3 were used regularly. You need to realize that your needs don't necessarily represent the market's, hence why most tablets don't have this feature.

Thank you for this comment you saved me the time and effort :)

You dont think even for one second that maybe your opinion is just... Your opinion? I have a surface rt and never need a cell connection lol

The vast majority of people need to realize that about their opinions. ;-)

I could understand that point of view for the surface rt but surface pro is a work machine hybrid or not how many laptops you know come with lte on board. That's a nonsensical statement if you already have a mifi or a 4g stick just plug it in....

Maybe some of us do not want to pay for yet another overpriced data plan. Especially with tablets/laptops, WiFi is perfectly good enough for more users.

Oh we get how such a feature can be useful for some, no argument there. None of us are saying it's useless or stupid. But when mass producing a device and keeping costs in check comes into the equation, you either (1) Add 2 more SKUs (with and without 3G) or (2) keep just two SKUs and raise the cost for everyone, even though the majority won't use that feature. The thing is, basically no one is calling the Surface Pro a "failure" because of this one missing feature. It's hyperbole.

With the amount of money your dropping on this I think a mifi is in your price range... Get a cheap winrt tablet and it can still do more than this thing.

Most of us have real jobs the provide us with mifi, etc by default as a part of our corporate agreement with cellular carriers. GET A REAL JOB! MY COMPANY PROVIDE ME WITH ONE EVEN THOUGH I ONLY USE IT A FEW TIME A YEAR. GET WITH THE PROGRAM DUDE

Is your job hiring? Should i forward my resume my job doesnt give me shit but a crappy dell laptop that shits out so often me and i.t guy crack jokes about the ancient tech... Pretty bad when my strictly work laptop is older then my mothers desktop...

And no mifi or 4g sticks either... We have wifi in office and i have wifi home

You have a cell? Just do internet sharing. Its just as good and cheaper, at least with my carrier (bell) and relatively very few times I don't have wifi

Unlimited data with tethering for the win!! :P

I have an iPad retina and I just your internet sharing on my 4g phone. This way I don't have to buy an extra plan for a device that isn't always on like my phone. Also there are so many free WiFi hotspots in my area I don't even have to tether that much.

3g/4g is worthless to me. Not a stupid decision in the slightest. My only gripe was screen size. Needed to be a bit bigger...steps in yoga 13. :D. Just wish screen resolution was the same as the surface

Well you can buy a USB device from any 3g or 4g provided and plug it in.. it will work... none of the android tablets can do that i think.

Maybe he likes the Leapfrog kid computer aka the chrome thingy.

Wow, you really are a troll.

One has more functionality and a better price. Take the money you save and get a hotspot and still be ahead of the Google Pixel or whatever they decide to call it. The only advantage is the insane screen but that's it. Don't you got anything better to do?

One has very high resolution Google Docs, the other has software.

Don't forget the other still has the ability to use Google docs, if for some reason you wanted to use it over skydrives web apps

One is a computer, the other less than an oversized phone Dumb products for dumb people, indeed

AHAHAHAHAHAHAHAH did they legalize weed in California? Google is smoking a sh8 load of it.
ChromeOS is not a touch centric OS; they will need to add a touchscreen UI for this to work, and then they will have a hybrid OS like Windows 8 is. But at this point it makes ZERO sense when you can buy a real laptop for that price that does infinitely more.
ChromeOS should pander to the netbook crowd - low priced machines for basic tasks like browsing, doing emails, a few games.
I don't see anyone paying this much for a device that is limited in capability.
Maybe if ChromeOS could do more locally and allows client side application installation that would make sense but it would need a pretty large library of software.
This competes with ipad (ios), surface (windows rt) so the price should be around that market $500 or less. But they overspec'd the resolution so the price is going to be high, unfortunately they think it can compete with $1000 high end laptop market where it simply will be a huge failure.

Looks like shit, probably is shit.
Gonna buy a new laptop this summr with W8, i want a touch screen! Good solutions ?

im waiting for samsung series 7 ultra. Light, thin, powerful ultrabook with a better gpu than intel 4000. If you dont play games, i would go for Yoga. Best ultrabook available atm. If you really need portability or tablet form, surface Pro. Just make sure anything you buy comes with touchscreen. it´s another level of experience with win8.

I couldn't agree more on the portability point. I'm in and out of meetings all day, and am anxiously awaiting my March 1st Surface Pro. It'll replace the HP EliteBook I've been using for two years. I just wish the Wedge had gesture support. They'll hopefully add it soon. A dock would be nice as well.

The Dell XPS 12 convertible is nice too. Has a 1080p touch screen, carbon fiber body, and great battery life. I checked it out the other day. I though the hinge would be kind of flimsy but it's actually quite sturdy.

I'm a proud owner of the XPS 12, and am tickled pink with it. I use it as a laptop at work, a tablet around the house, flip it back and forth during school (because it looks cool, and Amazon Kindle & websites work great in portrait tablet) and "tent" it in bed to watch Netflix. Very sturdy hinge, beautiful screen.

Two of my friends have the Lenovo Yoga and they like it so far. Personally, if I weren't going for the Surface Pro then I would probably go for the Dell XPS 12. I like its conversion method the best. The Yoga is nice but it feels weird to have the keys on the back when its in tablet mode.

Same thing the type keyboard feels like, except you can remove the type cover

It has been pointed out that you can reverse the attachement of the keyboard so, whilst the keyboard is still atached, your fingers will actually be in contact withthe back of the keyboard!

I just bought the yoga after I played with all of the devices. Came down to surface and yoga. Yoga won. Costco has one for 999. Comes with 1 yr accidental warranty, folio cover, and kasperky software. Best deal I found

Also Best Buy has them on clearance. One store was trying to sell their last one (display unit) for 820 and the manager mentioned he was willing to take off more off that price! I told my sister but she passed on it and I don't have the money :(

This only exists because Google execs didn't want to walk around with a cheap looking Chromebook.

LOL!!!!!!!!!! GOOGLE IS AN IDIOT!!!! LMFAO!!!

I was gonna comment then I realized you Daniel, covered everything lol

Well no . . . you actually did comment . .

Not sure why Google is doing this... Their OS is no where near as good as Win 8 Pro...

It is essentially a browser with apps

I think they are aiming to win the worst gadget of the year for the second year in a row. Last year it was the Nexus Q, and this overpriced gizmo is a strong candidate for 2013.

I bet Google will be sending out quite a few RMAs.

Ahahahahah!!! WTF! 1300$ to browse the Internet!!!

Nicely written Daniel. Google glass intrigues me, this however, does not. If i went ultrabook/tab MS will get my $

Google, if you are reading this, fire your project manager that gave you the idea of making this heap of shit. You seriously think you will sell a $1,300 web-based 'sandboxed' toy? Seriously? You guys are fu**ing retarded.

LMAO! Google is retarded they think people are dumb.

In America, people ARE dumb. That's why apple is still selling the feature-less iPhone here and almost nowhere else.People in other countries simply wont shell out significant amounts of cash for a status symbol. They have common sense over there.

True but look at how much Apple markets their products. Specifications isn't everything. Look at the amount of advertising Samsung does as well and look at the amount of phones (or products in general) they move just because they have become a household name...

I disagree somewhat as, I have not once owned an iPhone. That said you are mostly correct :D

Apple ha craze all over world.... 5 of my friends use iPhone jus bcoz its iPhone from Apple... This is in India

Well, it does come with 1 TB of Google Drive storage which normally costs $50/month for 3 years. So if we do the math, 50 x 36 it comes out to 1800 so this might actually be a tempting buy for something who already was planning on using that much cloud storage. That being said, there aren't many people who were planning on paying $50/month for 1 TB of cloud service.

So why wouldn't someone just buy a 1TB hardrive, hook it up to a server, and be done with all that cloud crap??

This way, Google can go sifting through your data to provide you with relevant ads! Hooray!!! I hate Google...

And when your free time period is up, have fun transferring that TB of data somewhere else. That should only take several days to download.

So this leaves Windows as the only OS that has no laptop with a 'Retina' level of display.

So? That does not merit $1300 for a damn browser.

Yes it's overpriced, but it's got an incredible screen. And no 1080p is no longer industry leading. If you've actually used a Retina MacBook Pro you'd never say 1080p is enough for you. You should check it out and see how Apple makes OS X handle the incredible resolution whilst keeping everything perfectly visible and not at all tiny.

Eh, I'll be honest: I have the Acer S7 (1920x1080P) and the Yoga (1600x900). Sure there's a difference, but is it night and day for everyday tasks? I honestly can't say that it is.

You're confusing straight up high resolution with what Apple does with Retina. If you're keen on learning about it I suggest you read this highly informative piece from Anandtech on the software side of Retina display on a MacBook. http://www.anandtech.com/show/6023/the-nextgen-macbook-pro-with-retina-d...

If it is good enough for my television which has much more screen realestate then it is good enough for my laptop. How crisp are they trying to get, real life crisp??

"Retina" is a term that was made up by Apple. There are plenty of Windows tablets/laptops with 1080p screens. The only way I can see a pixel is if I stick the screen up to my face. Seems like "retina" to me.

Either way this is a browser with web apps lol not a real PC.

By Retina I mean over ~220PPI display without shrinking everything down so much that you need a microscope. It's how the OS handles the resolution. Currently Windows 8 sucks at handling high DPI.

Panasonic made a 4k tablet with Windows 8 on sporting an i5. That's like "Retina" on steroids lol.

It'll be interesting to see how Windows 8 handles that resolution.

Yes it will be indeed. I was a bit surprised when they released it at the CES show.

Think the chrome is peeling off...

This is really funny and perplexing stuff. Google is off their rockers if they think people who aren't Google fanatics are going to buy this. People complaining about the price of the Surface Pro better tear this one apart becasue $1300 is astronomical for what is neutered computer, and an ugly one at that. Its a big grey brick.

Watch as the tech press collectively wet their pants and proclaim this the best Ultrabook ever invented.

Help us all. I bet this sells well and people will still complain about the price of the Surface RT and Pro.

Eww (not the device, but Google and the OS)

Definitely interesting, however, it is really over priced! The most it should cost is $900.00.

And that's for the hardware lolol

Not sure if it would even be worth reformatting and throwing Win8 on as the ONLY selling point is the screen.

Was this think announced at The Onion?



Sharper text is the primary beneficiary of higher resolution. I don't know other places, but here in San Francisco, a lot of the public transit activities with cell phones or tablets are reading. Our eyes can easily tell higher resolution text vs. lower resolution one. I hope MS realize this one day and give us higher resolution Surfaces as well as removing the artifiical limitation of WP8. My main reason for upgrading to the 920 was resolution and I am enjoying my reading daily.

Microsoft is at least offering a real os...

With Clear Type, which when calibrated correctly is great.

anyone here can justify shedding out $1,300 for a browser? enquirer mind want know.

A couple things.
The first is, I can't imagine Google actually expects to sell any of these. If I had to guess, it's to drop on devs at I/O. The price is bananas.
Second, if you're ready to go all in on the cloud (and who is, really? Probably no one) then the 1TB of cloud storage for three years basically means you're making 500 dollars for buying this. Three years of 1TB Google Drive is 1800 dollars. For a corporation, that's actually a reasonable value proposition. Especially once you start adding in comparable software from Microsoft. 1300 dollars on a Chromebook Pixel get you a laptop for your employee, their email address, storage, and Google Docs (whatever you think of it). It's a complete package for 1300 bucks. How much would a fully kitted out corporate laptop cost from Lenovo? Not much less. A Thinkpad Twist with an i5 and Office is 1250.


While that's all true it just doesn't escape the fact that Chrome OS is severely limited for a lot of people, especially for those in enterprise. Sure some can survive "in the cloud" but I doubt most companies would risk putting everything there. At the end of the day, a Windows 8 Ultrabook will run laps around this thing for productivity, at least for the majority.

Totally agree. But if Google is serious about trying to kneecap Microsoft's enterprise advantage, this could be a serious foray in that direction because it's a much simpler, potentially lower-cost package for corporations that are ready to move that direction.

Edit: put slightly differently, how many different pieces is Google packaging together in one price that Microsoft wants you to pay for seperately?

This looks more like a proof of concept. Like 'look at what we can do if we throw the kitchen sink at Chrome OS'

If you are all-in on the cloud then you probably have office 365 and pay far less than the box price for a single enterprise user. I get your point though, just your comparables may be off. I haven't done the math myself

Good point--I think it would probably work out to around 20 dollars a user per year for Office 365? That does change the value proposition. I wonder how much the infastructure for each would cost for a corporation?

So is google going to supply ITB of storage for each individual in an enterprise with 50,000 people? What amount of bandwidth will they need to service that and how much will that cost? Volume licencing will cover costs of Office and most organizations dont kit out all their employees with $1300 PC's with 32GB of storage and when you take into account all the specialised software that is always in use this whole justification seems at bit far-fetched,

Do you mean what will it cost for the organization or for Google?

I think he is talknig both, Google, and Organization.

I think he is talking both, Google, and Organization.

1TB of skydrive-type storage is a ridiculous overkill.

This may actually be dumber than the Nexus Q

Na, the bar is set pretty high up with the Nexus Q

Chrome book? Wait a sec, isn't that the computer that you have to hooked up to internet to do everthing; even to work on documents? LOL and for $1,300 dollars?? Ha ha ha this must be a joke.

Another way for Google to make this appealing is to setup a cloud of servers with Windows on them and build a decent remote desktop app (maybe they already have one), not sure how Microsoft would like that though.

Wait what? $1300? What are they smoking? Windows rt is a hell of a lot more capable for way less. I don't even know who they expect to buy this. There are just so many superior alternatives.

Suddenly, the surface is making lot of sense now. A complete OS with millions of legacy and useful app, well built with a great ecosystem of service, including google service which are still available through the web browser, and the best software developing tools for developer to create applications at a better price. Maybe chromebook pixel is what the surface need because if you are truly going to get a device that make sense, there is no way you would get the chrome book pixel over a surface pro. In fact, it should be price as same as the RT since there is so much limitation on software.

I just keep hearing Samuel L Jackson saying "Bitch Please". After looking at this thing.

what I don't get is what on earth can you actually do with a "Chromebook"??? Given it's tremendous limitations I wouldn't pay for one at all, I'd get a device / OS with some actual programs and function. A free Chromebook is a waste of time, one that you have to pay for is a waste of time *AND* money.

This makes the Surface Pro look even better. Does the Chrome have touch screen? Wacom pen? Nooo.

It'll be at big lots in 6 months with all the other crappy android tablets.

Actually it does have touch

Get scroogled.

This is laughable, an android OS that pretty much has basic usage and can't really do much else for $1,200+ plus and no storage. Some people liek their stuff on their harddrive so they can access at any point in time with or without data connection.

This is laughable. Who do they think they are??Apple??

Pro has 5.5 hours and does infinitely more

Does it integrate well with my Nexus Q? If not, then it's crap. If it does, then it's crap2

its 2013.... and i still dont know what a chromebook is or does :')

It's now almost 2017, and Chromebooks are still weaker than the shittiest smartphone. I'm serious never get any chromebook, not even the higher end ones, your best app will be a calculator.

We have entered the Twilight zone. That is like double the cost of what Apple would sell something like that for.

This thing is absolutely stunning. That said, it is useless and expensive. No decent office tools for productivity. For movies, photos, get an iPad Retina--cheaper, better battery life, better screen. No real games either. What's the point? Its a $1300 piece of furniture.

Exactly. Google's trying to be like MS and Apple, and It can't be. IMO Google should lower its focus on lagdroid and chrome os and focus on what it does best: Services.

I saw the price. I Lol'd.
The end.

DOA. Surface pro is a much better experience and device, and I like the Chrome OS idea, but not for 1300 dolalrs. Thats rediculous.

I mean really? $1,300 for a laptop with an OS that's basically a browser?

I for the life of me can't figure this move. Dell and HP are struggling to sell some very good ultra books at a much better price point and "Giggle" answers with a $1300.00 laptop? Might be a market for it...but I'm gonna pass.

That resolution won't add anything noticable to viewing videos till 2/4k HD comes out. 1080p will still be 1080p on that monitor. You might get some upscaling, but how noticable could that really be...

I don't need a Macbook Pro-esque laptop with a browser as the OS and the fact that a multimillionaire search provider is stalking your every move, one search at a time.

I'm all good with my Surface Pro. Plus, with the hefty price tag for the chromebook, you could buy or build a custom high performance desktop with the money.

Seems like one trip to a malicious web site and you're screwed.

Yea hi def, heavy, web browser with yesterdays usb, preloaded with the biggest piece of spyware not detected by AVs- chrome

I don't understand the purpose of Chromebook. I guess even surface RT has wider range of use.

I'll take the surface pro. Thanks.

Hahaha! Ooh dear Google. You should just let us WP8 users use a real YouTube app and stop making this pish.

When is your surface pro unboxing and review coming?

Even at $150, Chrome OS is a bitter pill to swallow. What makes them think anyone will pay $1300 to be locked into a browser by Google? You need to have your money taken away if you can justify buying this.

I'm gonna say it's a POS because it only offers 32 or 64gb of storage. What bs is that! Only because people were ragging on Microsoft for the storage in the Surface. Only 64 Google!!?? Nope

Can't Microsoft make them unbundle the browser from their OS? Haahaa.

Maybe the DOJ will ban Google like the good old days when they sued Microsoft over IE

LOL

its basically a windows 7 taskbar rip off, free adsense/spyware chrome browser, a nice wallpaper background to fool people it functions like windows.

How can you compare high end ultrabooks without comparing their weight and dimensions? Especially if you are going to bring the S7 into the mix... It is so insanely light and thin it puts anything to shame (*cough* worst keyboard ever).
I have seen a chromebook before and I thought it was pretty handy for what it is meant to do: browse the web and edit very basic documents. I would have zero use for it but I could imagine recommending it to certain friends who do not have a lot of money and don't need to do a lot on their laptop.

Yes if the price was in Zimbabwe dollars

How will video look on a 3:2 screen? Even with that amount of pixels the letterbox will be terrible. Genuinely shocked at how pointless this appears.

After its been scaled up too, then distorted for the display shape (I missed the 3:2 as I was just amazed how useless the rest of it was, but a 16:9 or wider film will be tiny 1 to 1 on there)... But it has got a higher PPI so it must be good right?

Is it April already? This is a joke, right? If Apple makes a retina MBA, it won't cost that much.

This gives me another reason to get the Surface Pro.

Not even close...it's a $1300 browser ain't nobody got time for that..

I really need to see what the Chrome OS is... cuz it has me confused. What little I know seems like THAT would be better suited as a low(er) end tablet OS.
Either way, if this doesn't get someone at google fired nothing will.
But I gotta say... I am AMAZED at the balls on google to want to put this half-baked thing out there. Wow!

Can you install Internet Explorer on it?

Who in their right mind would pay $1,200 to have Google track and sell them as their product? I guess the deeply embeded Google spyware doesn't have the CBA they need to cover the cost of this joke.

So its a Tablet (mobile?) os with an ultrabook body and a crazy screen. Then there's the cloud with 1Tb for 3yrs. It make sense for businesses to take that.. but would they need that screen? And what after 3yr?seems expensive and once all your data is there you can't go away. Nope I'll stick with the RT and a 1Tb harddrive.

Who's gonna buy this thing? Like really?!

Google fanboys. I'm sure that's they are the only people this will appeal to.

Tell me this whole Chromebook for over $1300 is Google punking all of us because they can't be serious.

What makes you think that surface is a "Big deal" ? only 5% of the world population talk about the surface, just accept is a big flop.

I ain't paying 1.3k to watch YouTube gfto

Chrome is a piece of crap. Pixel or whatever the heck they call it is going to fail. Terribly.

I wonder if it will support formatting and running Windows 8?
Reviewer missed some business critical items btw...
No TPM support with the Scroogle OS but you get your data all stored in the "Cloud" so Google can search your resume and other personal files and serve up targeted advertising...
I swear I will fall down laughing if one of my IT Professional peers buys one of these things... WOW what a POS!

I think Google just took the most expensive Netbook away from Sony. Seriously, all that cash just to use a touch screen laptop that won't even work without wifi/data?

Wait did apple actually say they invented the term retina
...you do realize retinas are part of your eyes right....or did i just have a sheldon moment and totally miss blatant sarcasm.....

"There's little doubt in our mind that the Chromebook Pixel will look quite amazing for watching movies or viewing photos."
Here's some doubt then, all those movies are released at a maximum of 1920x1080P, so to view them on this chrome thing you need to scale them up which means altering the image. Maybe Google has included high quality scaling hardware (or software), but even the best quality can introduce digital artifacts.
The bets are that this display will actually be worse for viewing movies on.
Another total waste of time high resolution display, a 13" display is just way too small for the resolution for desktop applications too, and games don't need it, just imagine a MMO with the icons scaled small on that display, it would be unreadable.

As for paying that much for something that can only run Google's adware, lol.

If I can't install Windows or a good linux distro on it, then no, take this super high-res crap away, I don't need this resolution to browse the web.

What's all the Fuss about guys ..... You can't compare this to the Surface Pro ....
END of Story .


Games Apps Soundboards and more without installing !
To play, simple go with your WP Phone Browser to :
http://bb10.mogam.ch/

I am speechless.......Only an idiot would buy this....if your not connected its useless, why not buy a surf pro (more for less money) or since its just a damn browser with a shell why not by the Nexus 10 thats more productive than this thing....I will be on the lookout for sales numbers if they even get published

This is not going to look that much better watching 16:9 movies. The 3:2 screen means that there are going to be black borders on the top and bottom of the screen. Doing some basic maths, you lose a little more than 15% of the resolution trying to fit a16:9 video on it. The resolution of video would still be high though at 2560*1440, but your video viewing area would not be 12.85" anymore, it would be about 10.95".
Just sayin..

Nice hardware, but I'd never want to use Chrome OS.

Can anyone say, "Voodoo Envy"? This really does have the same industrial design as the envy laptop. And even though the Voodoo envy is an old laptop, I would still purchase one over this Chromebook Pixel laptop.

Who cares of this. Wait until malware comes

If only this thing had Windows 8 on it. I just got a Surface Pro and so far I love it. so fucking fast is my review.

The Sony Duo runs an i7 and has 4 times the memory for a similar price. Runs Windows 8 Pro. I think the answer is clear on even that decision.

My two year old laptop has a quad-core Core i7 @ 2.93 GHz, 8GB of RAM, 500GB hard drive, Nvidia discrete graphics, a 16" 1080p screen, a Blu-ray player, and Windows 7 Pro, runs Photoshop for all my photos, Sony Vegas Pro for video editing, Office 2010, plays my Blu-ray movies, plays all my games, AND... wait for it... can do EVERYTHING that the Chromebook can do, with BETTER BATTERY LIFE, for less than $1300, even back in 2011!

It supports SeaBIOS, so can you run Windows 8 on it? In that case, it might not be such a bad deal. With the exception of the limited storage, it looks like a nicer piece of kit than any W8 laptop out there.
Windows Central Newsletter
Thank you for signing up to Windows Central. You will receive a verification email shortly.
There was a problem. Please refresh the page and try again.