Google continues campaign to convince consumers to ditch new Microsoft Edge for Chrome
Google keeps trying to make people switch away from the new Microsoft Edge.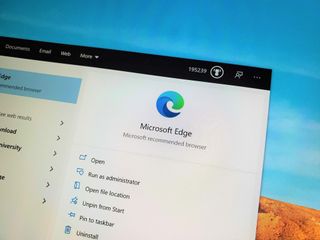 (Image credit: Windows Central)
What you need to know
Several Google services show pop-ups within the new Microsoft Edge to try to get people to switch to Google Chrome.
Google docs, Google's search page, Google News, and Google Translate show prompts to switch to Chrome.
Google also shows pop-ups in the Chrome web store to try to get people to switch to Chrome.
Google continues to try to make people switch away from the new Microsoft Edge. This time, pop-ups were spotted by MSPU within several Google services that prompt people to switch to Google Chrome. Google Docs, Google's search page, Google News, and Google Translate all show prompts to switch to Google Chrome.
Google's search page reads, "Switch to Chrome. Hide annoying ads and protect against malware on the web." Google docs states, "to use docs offline upgrade to Chrome."
Last week, people spotted warnings on the Chrome web store telling people to switch to Google Chrome to "use extensions securely."
Some of these prompts caused people to question Google's sincerity. Google's prompt in the Chrome web store doesn't link to any websites or studies that show that Chrome extensions run less securely on the new Microsoft Edge. Similarly, the prompt on Google's search page doesn't offer any evidence that Chrome is better at hiding ads or protecting PCs against malware.
Notably, MSPU points out that these pop-ups don't appear within any other Chromium-powered browsers such as Opera. That indicates that Google is spending time and effort to specifically dissuade people from using the new Microsoft Edge, and not just trying to get people to use Chrome over any other Chromium browser.
Microsoft and Google have used pop-ups and prompts in the past to similar effect. If you search for Google Chrome within Bing, the search engine suggests Microsoft Edge. It seems that these pop-up battles will continue going forward.
News Writer and apps editor
Sean Endicott brings nearly a decade of experience covering Microsoft and Windows news to Windows Central. He joined our team in 2017 as an app reviewer and now heads up our day-to-day news coverage. If you have a news tip or an app to review, hit him up at sean.endicott@futurenet.com (opens in new tab).
Since they did all this with old Edge, it makes sense to keep doing it with new Edge, so I wouldn't read too much into this (in terms of speculating that Edge is already making a dent in Chrome's install base, or similar). Though I do wonder about the effectiveness of these prompts. I imagine most people will just dismiss them annoyed.

I rarely even pay attention to ads most of the times its something that doesnt interest me at all. And nothing google offers would make me switch from microsoft services to google. Not only that ive invested heavily into Microsoft. Just like with Apple. I've invested once long ago less then 20 dollars in Google. That was all. Most of my buying is from Microsoft, Apple. I swear though when I see ads telling me to switch to this or that im like meh. Rather just stick with what I know and used for many years that I feel is suitable for my needs.

I suspect that the perspectives of most people on Windows Central will be the same; very few will switch to Chrome because of this. However, if a standard Windows user were to get this popup, they will fall for the click-bait and switch. And this is what Google wants.

It's a bit rich, Google suggesting people use their software to avoid adverts, most of which are probably provided by Google in the first place. The idea that Google want to help people see fewer adverts - the very core of their business - is preposterous. I don't mind Google spruiking their products but the blatant lies do not impress me much.

Guess chrome it's no good at blocking Google own annoying ads.. I shall pass 👌

It's like the Cola Wars of the 80's! ☺

I think Google is a bit more worried about the new Microsoft Edge because it provides the performance of Google Chrome but without all the built-in telemetry and spyware, so Edge Chromium does pose a legitimate threat to Google Chrome. I personally won't switch back to Chrome on desktop...Edge is just that good for me now.

@Culex316 "it provides the performance of Google Chrome but without all the built-in telemetry and spyware" Just how naive are you. Do you honestly believe that MS doesn't have their own telemetry and spyware in Chromium Edge?

Sure but not all telemetry is the same. There is a difference between a advertisement company collecting your data and a software company doing it.

@ochhanz You do know MS have their own ads, right? In fact MS have a thriving ad business in Bing. You guys are so naive.

Business model is totally different. Google main source of revenue is ~80% based on ads and consumer data. MS makes their use pay for their service. Default MS privacy in the new Edge are far more strict than Google

They don't have to try. Edge is half baked- sync not fully working also very slow, still a lot of bugs, so laggy on android. Also google owes google map and youtube which Ms cannot simply replace. Sorry too late for Microsoft.

I don't see any bugs in Edge on Android and it's as fast as any browser.

Is no secret to me that Google absolutely hates Microsoft and has for years tried to sabotage all their efforts with their software and apps. Sorry not sorry but Chrome was built to destroy windows/Microsoft from the inside out...

Do someone really still use Google services?

MS should add a build-in bullshit remover to remove these misleading prompt from Edge.

what a surprise /s scroogle style

Great and realistic avatar. Thumbs up

"Switch to Chrome. Hide annoying ads and protect against malware on the web.", oh the irony here :> . I do think what DragonPoo said maybe a part of the Edge users might eventually cave-in and switch. Personally I will just use Google services less, the alternatives are just as good if not better (Duckduckgo as search engine, Linguee for translation, a third party app for youtube, Here WeGo maps for maps etc).
Windows Central Newsletter
Thank you for signing up to Windows Central. You will receive a verification email shortly.
There was a problem. Please refresh the page and try again.