Is the Google Pixel 2 a good replacement for Windows users?
By Richard Devine last updated
In a world where Microsoft has given up on consumer mobiles, is the Google Pixel 2 a good fit?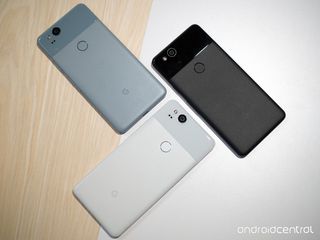 Google makes Android, and while it's the likes of Samsung that usually take the spotlight, the Pixel 2 is 2017's showcase for Android as a platform. While some other phone makers have a tendency to layer on their own custom user experiences, the Pixel is Android as Google intended.
So, you're getting the latest software mixed with the latest phone hardware. But if you're inside the Microsoft ecosystem, perhaps looking for a place to go now that Windows 10 Mobile is out to pasture, would the Pixel 2 be a good fit?
Latest software, no fluff
Aside from some custom apps and maybe a little sponsored pre-loading, Windows mobile users have been accustomed to getting a consistent user experience across whichever brand of phone they may have been using at the time. Carriers sometimes got in the way, but Microsoft did a pretty good job at keeping things in line and pushing out updates.
Even now, folks who are sticking with the platform can get updates first through the Insider's Program.
If you're the kind of mobile user who puts great importance on having the latest software and timely updates, the Pixel is probably the best Android phone to get. Google handles it directly, and it'll launch on the latest version of Android 8.0 Oreo. And you'll be good for at least a couple of years.
Great hardware
The open secret is that HTC makes the Pixel phone hardware for Google. And that means high quality. The company may have struggled in recent years with selling phones under its own brand, but the quality of the hardware made by the Taiwanese manufacturer has never been in doubt.
The Pixel 2 doesn't reinvent the wheel, but it's a harmony of metal and glass in two sizes. You'll either get a smaller phone with chunky bezels or a larger phone with skinny ones, but the quality will be the same whichever you choose.
And naturally, it ticks all the hardware boxes: Snapdragon 835 processor, 4GB of RAM, USB-C, fast charging, up to 128GB of storage and more.
More: Google Pixel 2 specs and the magic inside
A quality camera
The Google Pixel had an excellent camera in 2016. The Google Pixel 2 in 2017 also has an excellent camera. Take or leave the "class-leading" results on DxOMark, but if you've used Lumia phones before then a good camera is probably high on your shopping list.
Spec-wise the rear shooter is 12.2MP f/1.8 with 1.4μm pixels. Those are still numbers, though, albeit pretty good ones. Early signs are promising as our buddies at Android Central found out with an early unit and putting it up against the iPhone 8.
Pixel 2 vs. iPhone 8 camera: A real-world test
All Microsoft's apps and services
Microsoft's new approach to mobile involves servicing its customers whatever device they choose to put in their pocket. That means if you're a Windows mobile convert or just a heavy Windows desktop user, you'll be well taken care of.
Microsoft has a ton of apps on Android. From staples like Skype, OneNote, the Office suite and Outlook, to newer additions like the Microsoft Launcher and, coming soon, Microsoft Edge.
Windows 10's Phone Companion app has helped ease folks using Android phones into working with their PC, but it's going so much further. Cortana can help mirror notifications to your desktop, and with Edge on Android coming soon along with the continue on PC feature, you'll be able to go seamlessly between your mobile device and your Windows computer.
Best Microsoft apps for Android
The bottom line
The Pixel 2 embodies much of what Windows mobile fans have come to enjoy over the years. You get great hardware with a no-fluff software experience, an excellent camera, and timely updates.
Microsoft is doing its part, too, making it easier than ever to seamlessly go between an Android phone and a Windows PC, all the while improving its mobile applications for Google's platform. If you're thinking of moving over to an Android phone, this is one you should definitely consider.
Richard Devine is an Editor at Windows Central. A former Project Manager and long-term tech addict, he joined Mobile Nations in 2011 and has been found on Android Central and iMore as well as Windows Central. Currently you'll find him covering all manner of PC hardware and gaming, and you can follow him on Twitter and Instagram.
I certainly have pre-ordered mine!

Yep. Deal breaker for me. I got the Galaxy S8 at release (after finally giving up on W10) but was seriously about to get the Pixel 2 because I despise Samsung's bloat. No microSD killed it.

I think this is a very important point that should be mentioned as every Windows phone has had one, if I'm not mistaken. The original Pixel has one though.

That's what's killing it for me. No headphone jack and no microsd.

Because the fruit company started it, everyone else thinks it's okay to follow.

Except that the fruit company didn't start it. They just made it "popular" (?). Motorola (Android) phones were first to drop the headphone jack.

Same here. No headphone jack, no microSD. And without a headphone jack that most likely mean no FM radio as headphone cable is usually used as antenna for FM. I would love Pixel (and Nexus before) because of pure,Android, but without SD slot it's a no go.

Why? Has good storage. Don't use an SD card with my X3 and it's limited to 64GB.

Why? Clearly some people need mass storage. I for one enjoy not having to stream with my 100GB music already on board. I also like having my 10GB photo collection and my 20+GB personal video collection on hand. Then there's about 6GB of maps I have downloaded, and about 50GB of games and apps.

It's almost like we are stepping backwards. Lol

This is why this phone is a no go for me.

No headphone jack? Seriously? SH#$%! I've been looking at the Pixel, because having Android, then another layer, and then a Microsoft layer, in any language is not a good scenario. I haven't studied the Pixel 2 and didn't know that. Hmmmm well back to the books on that one.

No IP68, only IP67 which means is only going to protect you against splashes, you cannot use your phone to take photos underwater. And also agreed with comments above: No head phone jack no sale No microSD Card no sale

Samsung is keeping headphone jacks in their phones. Just an fyi after reading about the Note 8. Apparently Apple and Google claim they removed the port for better dust and water protection but the Note 8 with the port has a better protection level then both the iPhone and Pixel. I smell smoke and a**hole.

This review should mention the lack of a headphone jack and lack of external storage. Lack of wireless charging might also be useful information. The fact that it IS water resistant should also be mentioned.

I haven't used wired headphones with my mobile for years, maybe people should get with the times? I didn't care when Apple did it, I don't care that Google is doing it, and I also wouldn't care if Microsoft decided to ditch the thing. No wireless charging is a bit of a bummer, but then again, I haven't actually used one of my wireless chargers in months, I should actualy set one up on my work desk now that I think about it.

"I haven't used wired headphones with my mobile for years, maybe people should get with the times?" People don't have to stand for shittty sounding music just because a bunch of nerds in Cupertino wanted to remove an universal port so that they could charge fees for any jack-to-lightning port dongle sold. Or because some other idiots in Mountain View wanted to copy the iPhone. ;)

Hahaha I only use BT headphones, but that's funny... and true.

Buy decent BT headphones? Also I can pretty much guarantee that 99% of the people complaining about this are streaming their music and not running headphone amps either, so I really don't think that "audio quality" is the main gripe here.

Yes I stream my music, but my desktop and laptop already use adapters (the headset uses 4-pin 3.5mm to support mobile). The laptop uses USB to 2 3-pin 3.5mm jacks then 2x3.5mm-1x4-pin 3.5mm jack. Yes, two adapters just to use my headset on my laptop. If it starts getting to this level on mobile... I don't wanna have to use adapters, I already have issues keeping my headphones connected to my phone without an adapter. With an adapter I'll be surprised if I can keep them connected for more than two minutes.

Obviously, for some, it is.

Even Nokia 8 offers stock Android with an excellent support, camera and build quality.

All moto devices offer almost stock android experiences. They are not very popular in North America but are very good devices on the price points they are offered. Infact, in my 4 months with android I have also understood that with likes of Nova Launcher and stuff you can get stock(ish) experience on any android device.

Nokia 6 is having old specs in terms of h/w and processor is heating up very fast.

The Nokia 6 camera is poor. The Nokia 8 screen size too small for me. Hanging onto my Pixel XL for now.

That's what I said about Nokia 6. Maybe Nokia 8 will compete with latest android phones.

The camera on the Nokia 8 is absolute crap. Yes. I just wrote that.

While it's not crap, it's definitely nowhere near as good as it should be, and that makes me sad. I'm actually holding out for a potential 6 inch (ish) Nokia 9, hopefully with some camera improvements too. If not, then the Pixel 2 XL.

Nope, I'm be investing in a LG V30

Pretty solid phone man. Someone did a comparison of V30 with Red Weapon on youtube. 🤣

You ok with the OLED screen bruhaha?

Which is pretty much the good version of the iPixel 2 XL. Good choice ;)

Oneplus 5 the best android experience for windows users. Great price, beast specs and dark theme. About the camera we can still use lumias 950s.

For me carrying two phones is not an option. Either I moved on or not at all.

I have thought of this. I will use my Lumia 950 as music player (with songs in my sd through groove and Spotify). Also, i will use it as camera device when i trip and for continuum. Maybe, also, to play games for Xbox achievements. You don't really need to carry it all the time. OnePlus has a good camera. But Lumia has still one of the best cameras in the market and It's fool to ditch it when you have paid for it and it's in a good shape.

Samsung S8 or Note 8 might be the best options if you're looking for a good camera.

Yep. Nokia 6 is also great if you're on a budget too. I have one and it's working well with MFST launcher installed. Headphone jack, external storage included.

Everything that it has cool in it is completely overshadowed by the lack of a headphone jack. I won't buy expensive low quality Bluetooth headphones and I don't need the hassle of keeping another device with appalling battery life charged. I want the liberty to use a pair of hifi Sennheiser headphones without buying and carrying an adapter. So no it isn't anywhere near of replacing my Lumia 950XL. I would have really considered it if it had the headphone jack. Will just have to wait for other more sane manufacturers to come up with new Android 8 phones so I can look for a replacement.

This is understandable. Apparently, all adapters are not even created equal.

you can get phenomenal sounding BT headphones for 150-200 bucks. sound quality hasn't been an issue for a long time with BT.

Thanks and great info. What about the first Pixel? I'm not too familiar so just curious how that would be attempting to "Microsoft" it.

The same goes for the original Pixel. It still has another major software update next year and 2 more years of security updates. For some reason, Google decided to change the 2 year update promise to 3, just for the Pixel 2.

Guess it's time for windows central to merge with android central.

I was just thinking the same thing. I see as much garbage about Android as I do Windows these days.

Microsoft is investing in Android. Maybe you should pick a bone with Nutella?

I don't understand this comment. Considering that Microsoft has announced that their own platform will only get security patches and bug fixes, wouldn't that be a great time to share this information?

I thought they have slowing been doing that. I have been seeing more random Android stuff showing up on here over the last couple months.

Is Cortana available on these? and can it be the default AI?

Yes Cortana is an app that can be installed and set up as the default.

Yes and no. You can't make it default.

Exactly, native OS AI can't be change in any way.

That is one of the several drawbacks to moving from W10M.

You can change the default assistant app inside settings.

True but not on the Pixel in my experience... Unless it's somewhere else I don't know about.

It can be made default. When you first run it, it is one of the first questions it will ask you..nice.

but honestly after i used cortana on my new Huawei p10 for almost 3 weeks, its way much far worst than cortana on windows 10 mobile the first thing i miss is music recognition its not there, or don't forget that you cant say hey Cortana unless if you are inside the app itself, so i had to switch to Google assistant and im Hatley adjusting my mode to it.

Pfftt. Blast you Microsoft. Mind as well toss Windows 10 on ARM

Windows 10 on ARM has nothing to do with phones.

But nothing will stop Windows on ARM to be installed on a 5 or 6 inch screen computer that have a Sim card slot and install a phone app...

Other than the lack of a 5" UI and Microsoft possibly not allowing it on devices that small.

The HTC U11 is a better looking device that can do everything this can. Plus I'm not giving my money directly to Google. I switched off my L950 to this in the summer and found it a great device.

I always liked Android on HTC. What do you find to be the greatest feature on the U11?

Great screen, stunning glass back (assuming you think glass is OK), Sense is a very light weight launcher, no carrier bloatware since I bought it direct from HTC, fast (I've heard people still complain about lag in TouchWiz on the samsungs). Most people would probably say the best camera of this generation (certainly top 3 for all smartphones).

Plus HTC supported Windows Phone for a long time. Certainly longer than Samsung.

my question to current Android users (I haven't used it in 2 years) does it have a good replacement to CONTINUUM? how is the screen mirroring or whatever its called? That's one thing ill miss going back to android is the amazing experience of connecting the phone to wireless display adapter and using the phone as a mouse.

Samsung has their own version of Continuum, never used it, so I can't speak on it.

IMO there is nothing out there compareable to Microsofts version. Try to keep using your current continuum device until 2019. That is what I plan to do...

There are apps that create a desktop environment and windowed apps on any Android phone. There is no point on either platform, but I am willing to bet the experience is better and more powerful on Android.

Get the Galaxy S8. It has Samsung's version of Continuum, it has MICROSOFT SUPPORT (as in "Microsoft actually worked with Samsung to make sure things like Microsoft Word worked well on DeX) and it's also the best Android phone you can buy (that isn't currently overpriced). It's not exactly the same (you can't use the phone as a mouse) but the rest is pretty much the same but with apps. IF you ever found Continuum useful (I never did) you'll enjoy Samsung's DeX.

For me, iPhone is the closest thing to WM. I don't care how customizable an OS is, I just want it to work so Android will never be an option to me.

iPhone is closest to Windows Mobile...6, maybe. Using an iPhone is as backwards as using a Windows Phone 7 phone. If that's your jam, great. But users of real Windows will never find the walled gardens of iOS any good.

As long as my Lumia 1020 still works (with a 950 as a backup), the point is moot. And in no reality is Android a good choice.

And yet a million or more are sold everyday and almost all are repeat buyers. Can't be that bad.

how many are cheap burner phones?

What does a million or more have to do with ScubaDog? He is speaking about what works for him, not for other people.

With you there. Despite the recent announcement from Microsoft, I still see no reason whatsoever to move away from Windows Mobile and have no intention of doing so. Quite aside from the fact there is no reasonable alternative to switch to...

i think pixel 2 xl is the nearest device that ever made that looks so much like the lumia 950xl, i was putting the nexus 6p on that spot but when this came out the first thing came to my mind is l950 xl

Nokia 8? Nvm, it's a 5.3 incher.

OnePlus & LG > ________ Side note, it's quite ridiculous to put so much effort into promoting so many Android devices here, especially a Google branded device on a Windows centric site, even more so considering you guys have a sister site called Android Central for that exact reason. Fun fact...there's plenty of other Windows & Microsoft news out there to report on. Side note #2, the "new" design layout of this site is a massive confusing messy cluster. Hope you all have a great day!

Great article. The Pixel 2 (or even original Pixel) is great but if you care about Cortana, you can't make it default.

Know if making it default is possible on any other device?

No! I would recommend the LG V20 or the V30 Which will be a fabulous replacement for a Windows phone and then install Computer launcher. Which turns your phone into a Windows PC.

How are those phones different from a Pixel 2 XL?

The V30 has far better cameras, microSD support, wireless charging, a higher IP rating, MIL-STD 810G certification (this is a certification given to materials that can be transported by the armed forces in trucks to the battle front. In other words, it's a solid built phone), a great quad-DAC built in for music and a headphone jack. And it has a more complete version of Android which allows you to add useful things like an extra software button to bring down the notification tray (extremely useful on these increasingly bigger phones).

Would be great to have a series on Windows Central about what phones to switch to. Now that I'm looking for a replacement for my L950, I'm not sure where to go. From my reading over the past few days: iOS is a robust platform, secure, plenty of apps, MS support integrated - but little customization and outdated (with respect to other mobile devices) features and technologies. Android is flexible, customizable, plenty of apps and MS integration that is ?maybe? better than iOS (e.g. Samsung phones can unlock a PC); greater risk of security/privacy issues; OS that may/may not be upgrade-able; cutting edge hardware. I love my Lumia950 and the WM10 OS is finally where I wish it was 2 years ago. But with Groove leaving, app gap and now a clear message from MS that a Surface Phone and Progressive Web Apps won't save the day in 2018, it's time to switch.

Also feel like W10M is finally "done" as in feature complete and I'm happy with it. Window shopping for the day my L930 dies, but now I throw a yardsale-bought Android tablet in the bag with my Surface for those time I really need an an app on it.

Also feel like W10M is finally "done" as in feature complete and I'm happy with it. Window shopping for the day my L930 dies, but now I throw a yardsale-bought Android tablet in the bag with my Surface for those time I really need an an app on it.

Also feel like W10M is finally "done" as in feature complete and I'm happy with it. Window shopping for the day my L930 dies, but now I throw a yardsale-bought Android tablet in the bag with my Surface for those time I really need an an app on it.

"greater risk of security/privacy issues" This is actually a myth now. Android is as secure as iOS as Google, just like Apple and Microsoft, puts all their Google Play Apps through certification. In fact, the Google Play Store now goes one step further and allows you to scan the apps you've already installed to make sure there are no problems. As for what to get: currently either go for the Galaxy S7 (I'd say to ditch the S8. Let the S9 fix its shortcomings like the S7 fixed the S6's) or if you have more money to spend and what the latest specs, get the LG V30.

No Pixel - I am waiting for the Huawei Mate 10 - 20mpx dual cameras - should be an excellent replacement for the 950 eventually.

Me too. I just wonder how much it will cost. I don't like this recent price trend for phones.

What about Blackberry Motion?

Quite expensive but not comparable with Pixel2.

Since it's not officially announced (beyond a tweet), we don't know the specs and how well the device works. If you're interested in it there is nothing wrong with waiting for more details on it. Personally, I wouldn't just from one dead platform to another dead company.

What about the Samsung Galaxy S8 or S8+? It has a headphone jack, wireless charging, MicroSd slot, excellent camera, etc...

Agreed, I got an S8+ this weekend, and I'm loving it. I had a 950XL until the screen was destroyed.

Terrible screen aspect ratio. 21:9 is not something I would ever want on a phone. I could live with an aspect ratio like 18:9 which would allow for some virtual buttons to be displayed without obscuring the useful 16:9 area, but 21:9 I find just idiotic. Also curved screen edges serve no purpose. It's not a worthy replacement.

The S8 beats the crap out of the iPixel 2 just like the S7 beat the original iPixel. But Mobile Nations has a "strange" fetiche with the iPixels. Last year Android Central's coverage of it was beyond pathetic. It was like God had come to Earth in form of a phone. And even though everyone could see God was a pretty shittty guy, they kept praising it.

MS didn't give up they quit.

There's not much difference in the two.

Nope. Pixel 1 should suffice or S8. I'm not quite sure where is this Pixel 2 approach to user now.

Nope, no headphone jack, no SD card, and it's ugly. Looks like a 4 year old Samsung and whats with the weird two tone back?
Beside, all that, can you really trust a glorified ad company to not bake in some kind of tracking tech.

However, you'll be losing features if you go with the Pixel 2. Wireless charging has been in most Windows phones since the 920, and 950 series owners would lose the iris unlock. I considered the Pixel 2, but I decided to go with the Galaxy S8+ when my 950XL screen shattered (glass and screen destroyed). It has all the features from the 950 series and a few more. The fingerprint reader works really well, and the iris scan is insanely fast! Either phone is a great choice for someone switching from Windows mobile, but since both XL versions cost $850 I decided to go with the one that gives me more features and doesn't take away any.

Honestly I think it's a great phone for ANY OS fan. It has stock Android, dedicated software support for years, a stunning camera, and the openness of Android allows users to enjoy the same ecosystem benefits of all-Apple users (iMessage, FaceTime, iCloud Drive, Photos) without the lock-in. I would switch to it too, if I hadn't already been wearing my Apple Watch.

No microSD, no wireless charging. Sorry but those are deal breakers.

Wireless charging is so overrated.

Then you've never hopped in your car and just put the phone on/in the center console and had it start charging. No cables to futz with or get tangled up in everything else.

Honestly, I never fully appreciated my Lumia 950/950XL as well as the WM10 ecosystem until now.
You never know what you've got till its gone. It amazes me how features we have had for well over 4 to 5 years in the WM ecosystem is just 'new' in the Android and iOS world - and then other silly stuff like removing the headphone jack (for what??). I'm holding on to my 950XL. I'll get a cheap droid on the side for that inevitable app that might vanish someday from WM10. But for now, it is still WM10 for me, maybe I'll get an Elite X3 even.

Good work. I have the X3 and love it. Also the 950xl, and it still feels like a better phone. For necessary apps I just got the Moto 5S Plus. It's an awesome phone (for Android) battery life great, fast and responsive, little bloat, fp sensor great, good size (5.2"). It's not a WM but for what I need it for it's perfect. Oh, and price $350 Aus. Paid $1200 Aus for the HP and don't regret it one bit. Will have for years.

Hello everyone. Folks since Microsoft has retired Windows 10 mobile smart phones to a great degree and is putting lots of Microsoft software on Android smart phones NOW IT IS TIME for Microsoft to make and sell an Microsoft Androd smart phone that has the same start sceen as a Windows 10 mobile smart phone has with lots of Microsoft modern UI tiles. when you swipe the screen to the lleft you will get a standard Android screen full of little Android apps icons. This will make it very easy for Windows smart phone fans to use Android smart phone because it will operate to a degree like a Windows smart phone I will waut for the new Microsoft Windows 10 Andromeda OS mini tablet I think will come that has a cell phone in it's case.

No. No one cared for Pixel phones (single digit) and that will most probably continue. Samsung and Huawei will keep ruling the Android phone world.
To me they are pretty ugly and fail wireless charging, just to name one showstopper.

Whatever. Samsung is butt ugly at the back, looks like it's ten years old. The Pixel is much better looking, and will gain a lot of momentum this time. It's a definite contender for an Android. I think no headphone jack and no wireless charging don't matter at all. Who needs more than 64/128GB???

No its way to ugly to spend money on it

I prefer to support Nokia and it's again a great design and reliable hardware despite complains about that it's not manufactured where it was before - well, MS is the one to blame for that! We have to support this brand, specially there is a whole nation and country (Findlad) who was really 'funked' by MS corporate decisions ...or lack of real decision making before. But TBH I'm also thinking about switching just to iPhone, will see after about a year with Android. I really doubt how relevand will Microsoft be in future, what changes in W10 we could expect after all of this. Already software like Sketch is availble just of macOS, Apple have also a full range of devices and quite predictable and stable strategy. Would never expect that I will make statements like that :/ But was fooled by MS too many times. Now it all looks like it's all downhill since they started to transform W10 Mobile and W10 to something so away from design and UI/UX path which was presented with first WP7 and W8 :/

MS is not to blame. Nokia was dead before than took over. Get your facts straight. The same as Crackberry refusing to use touch screens because THEY preferred keyboard. The market dictated.

"Google makes Android"... Nope, they bought it.

They bought so long ago that with all the changes made in Android since it is now a Google product.

No, it is not good enough. I will keep my 950XL until it breaks. If really necessary I will buy something really cheap until a Surface Phone (or whatever to come) is available.

I've done laid down my ALCATEL idol 4 with Windows for the Note 8. The Dex Station works great with Windows Apps.

Love how it shows a picture of the XL and then right below only mentions HTC as the manufacturer. They only make the regular sized Pixel 2. LG makes the XL, which is why it is a far more attractive looking phone.

Nope, better get a Note 8 or S8. Or the option for those with lesser budget is Oneplus 5.

This is so far off what Win Phone users might be looking for it's not even remotely funny. No 3.5mm port, no expandable storage, no wireless charging, no easy access to battery. No not even on the list, maybe the camera is good yes but that's the only reason to consider it. The LGV20 might be a better fit for some, even though that is lacking in some areas

Until Google steps up to the bar in regards to device security and stopping data leakage then I won't touch them. I know of two companies that refuse to have any Android devices handling corporate data and the only two devices that was cleared for usage was Win Mobile and iOS. Personally I just find the whole Android OS a major cluster, and iOS too dumbed down. I've used both and it's so much harder to get to key information that's a single press on WinMo. Sure some will be down to familiarisation but I just find Android and iOS clunky.

This is exactly the reason why I decided to buy another L950 after I had broke my old one. Tried both an iPhone 6 and Samsung 7.

Yes, you're right. MS has said move on. What more do you need? As bad as their communication is, it's now said. I understand your pov completely but after my X3/950XL dies I'll HAVE to get something else.

Look at note 8 security features.......

The BlackBerry Motion offers more or less the same things, including monthly updates, for half the price 😅

Sure I mean I got a Lumia 950 XL to keep some privacy and now this site recommend a google phone...... 🙄🙄🙄🙄 Well perhaps I shall goo for a Black Phone 2 or an Iphone or even Samsung s7 edge when my Lumia 950 XL dies one day in like 5 years.... Muhahaha I have a real Windows 10 phone.

Ugly phone and colors also no headphone jack. No thanks! I personally like the OnePlus 5.

W/o live tiles no Android phone is a replacement for my L950XL. I consider any switch solely as a compromise

I have Never in my life used or owned any type of android or iPhone device and quite frankly just the thought of these, being my only choice
seriously leaves a Nasty taste in my mouth, I only upgraded from the 1020 - L950 about 5 months ago, So I Will be sticking with it
for a very long time yet and beyond.

He best Fiona is the note 8. Larger screen..split screens Microsoft apps...... designed for productivity. Plus DEX.....not to mention the s pen and software.

Nokia 6 ($230) and the latest flagship Nokia 8 ($600) are two good Android phones. They are less expensive compare to Samsung and Google phones. I switched to Nokia 6. This is the robust phone and quality is similar to Nokia Lumia 920 and Nokia Lumia 830. Ordered from Amazon, no bloating software, Android 7.1.1 OS and fast updates from HDM global who owns Nokia brand.

Sure, just promote a device with an OS that is about as secure as a leaky bucket holding water. At least iOS is somewhat secure. Not that I like it anymore than Android, but at least it is semi-secure.

What I do not get is that while you all sing the doom and jump on Android song Microsoft still sells the Windows 10 phones on their webstore. HP Elite X3 and Alcatel Idol 4s...... So no it will NOT be a good replacement.

Better nokia. 500 times better
Windows Central Newsletter
Get the best of Windows Central in in your inbox, every day!
Thank you for signing up to Windows Central. You will receive a verification email shortly.
There was a problem. Please refresh the page and try again.